Abstract
Since the genetic code is degenerate, several codons are translated to the same amino acid. Although these triplets were historically considered to be "synonymous" and therefore expected to be used at rather equal frequencies in all genomes, we now know that this is not the case. Indeed, since several coding sequences were obtained in the late '70s and early '80s in the last century, coming from either the same or different species, it was evident that (a) each genome, taken globally, displayed different codon usage patterns, which means that different genomes display a particular global codon usage table when all genes are considered together, and (b) there is a strong intragenomic diversity: in other words, within a given species the codon usage pattern can (and usually do) differ greatly among genes in the same genome. These different patterns were attributed to two main factors: first, the mutational bias characteristic of each genome, which determines that GC− poor species display a general bias towards A/T codons while the reverse is true for GC− rich species. Second, the differences in codon usage among genes from the same species are due to natural selection acting at the level of translation, in such a way that highly expressed genes tend to use codons that match with the most abundant isoacceptor tRNAs. Thus, these genes are translated at a highest rate, which in turn leads to avoid the limiting factor in translation which is the number of available ribosomes per cell. Although these explanations are still valid, new factors are almost constantly postulated to affect codon usage. In this mini review, we shall try to summarize them.
Access options
Buy single article
Instant access to the full article PDF.
USD 39.95
Price includes VAT (USA)
Tax calculation will be finalised during checkout.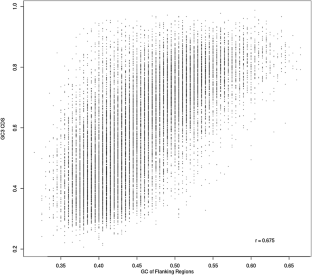 References
Akashi H (1994) Synonymous codon usage in Drosophila melanogaster: natural selection and translational accuracy. Genetics 136(3):927–935

Andersson G, Sharp P (1996) Codon usage in the Mycobacterium tuberculosis complex. Microbiology 142(Pt 4):915–925

Benisty H, Weber M, Hernandez-Alias X, Schaefer M, Serrano L (2020) Mutation bias within oncogene families is related to proliferation-specific codon usage. Proc Natl Acad Sci USA 117(48):30848–30856

Bernardi G (2000) Isochores and the evolutionary genomics of vertebrates. Gene 241(1):3–17

Bernardi G, Bernardi G (1985) Codon usage and genome composition. J Mol Evol 22(4):363–365

Bernardi G, Bernardi G (1986) Compositional constraints and genome evolution. J Mol Evol 24(1–2):1–11

Bulmer M (1991) The selection-mutation-drift theory of synonymous codon usage. Genetics 129:897–907

Cartegni L, Chew S, Krainer A (2002) Listening to silence and understanding nonsense: exonic mutations that affect splicing. Nat Rev Genet 3:285–298

Chaney J, Clark P (2015) Roles for synonymous codon usage in protein biogenesis. Annu Rev Biophys 44:143–166

de Miranda AB, Alvarez-Valin F, Jabbari K, Degrave WM, Bernardi G (2000) Gene expression, amino acid conservation, and hydrophobicity are the main factors shaping codon preferences in Mycobacterium tuberculosis and Mycobacterium leprae. J Mol Evol 1:45–55

Dhindsa R, Copeland B, Mustoe A, Goldstein D (2020) Natural selection shapes codon usage in the human genome. Am J Hum Genet 107(1):83–95

Duret L, Galtier N (2009) Biased gene conversion and the evolution of mammalian genomic landscapes. Annu Rev Genom Hum Genet 10:285–311

Eyre-Walker A, Hurst L (2001) The evolution of isochores. Nat Rev Genet 2(7):549–555

Frenkel-Morgenstern M, Danon T, Christian T, Igarashi T, Cohen L, Hou Y-M, Jensen L (2012) Genes adopt non-optimal codon usage to generate cell cycle-dependent oscillations in protein levels. Mol Syst Biol 8:572

Galtier N, Roux C, Rousselle M, Romiguier J, Figuet E, Glémin S, Bierne N, Duret L (2018) Codon usage bias in animals: disentangling the effects of natural selection, effective population size, and GC-biased gene conversion. Mol Biol Evol 35(5):1092–1103

Goñi N, Iriarte A, Comas V, Sonora M, Moreno P, Moratorio G, Musto H, Cristina J (2012) Pandemic influenza A virus codon usage revisited: biases, adaptation and implications for vaccine strain development. Virol J 9:263

Gouy M, Gautier C (1982) Codon usage in bacteria: correlation with gene expressivity. Nucleic Acids Res 10(22):7055–7074

Grantham R, Gautier C, Gouy M, Mercier R, Pavé A (1980) Codon catalog usage and the genome hypothesis. Nucleic Acids Res 8(1):r49–r62

Hanson G, Coller J (2018) Codon optimality, bias and usage in translation and mRNA decay. Nat Rev Mol Cell Biol 19(1):20–30

Ikemura T (1985) Codon usage and tRNA content in unicellular and multicellular organisms. Mol Biol Evol 2(1):13–34

Iriarte A, Jara E, Leytón L, Diana L, Musto H (2014) General trends in selectively driven codon usage biases in the domain archaea. J Mol Evol 79(3–4):105–110

Kames J, Alexaki A, Holcomb DD, Santana-Quintero LV, Athey JC, Hamasaki-Katagiri N, Katneni U, Golikov A, Ibla JC, Bar H, Kimchi-Sarfaty C (2020) TissueCoCoPUTs: novel human tissue-specific codon and codon-pair usage tables based on differential tissue gene expression. J Mol Biol 432(11):3369–3378

Kanaya S, Yamada Y, Kinouchi M, Kudo Y, Ikemura T (2001) Codon usage and tRNA genes in eukaryotes: correlation of codon usage diversity with translation efficiency and with CG-dinucleotide usage as assessed by multivariate analysis. J Mol Evol 53(4–5):290–298

Komar A (2016) The Yin and Yang of codon usage. Hum Mol Genet 25(R2):R77–R85

Lafay B, Lloyd A, McLean M, Devine K, Sharp P, Wolfe K (1999) Proteome composition and codon usage in spirochaetes: species-specific and DNA strand-specific mutational biases. Nucleic Acids Res 27(7):1642–1649

Lynn D, Singer G, Hickey D (2002) Synonymous codon usage is subject to selection in thermophilic bacteria. Nucleic Acids Res 30(19):4272–4277

Makhoul C, Trifonov D (2002) Distribution of rare triplets along mRNA and their relation to protein folding. J Biomol Struct Dyn 20(3):413–420

McInerney J (1998) Replicational and transcriptional selection on codon usage in Borrelia burgdorferi. Proc Natl Acad Sci USA 95(18):10698–10703

Moratorio G, Iriarte A, Moreno P, Musto H, Cristina J (2013) A detailed comparative analysis on the overall codon usage patterns in West Nile virus. Infect Genet Evol 14:396–400

Musto H, Rodriguez-Maseda H, Bernardi G (1995) Compositional properties of nuclear genes from Plasmodium falciparum. Gene 152(1):127–132

Musto H, Romero H, Zavala A, Bernardi G (1999) Compositional correlations in the chicken genome. J Mol Evol 49(3):325–329

Musto H, Cruveiller S, D'Onofrio G, Romero H, Bernardi G (2001) Translational selection on codon usage in Xenopus laevis. Mol Biol Evol 18(9):1703–1707

Musto H, Romero H, Zavala A (2003) Translational selection is operative for synonymous codon usage in Clostridium perfringens and Clostridium acetobutylicum. Microbiology 149(Pt 4):855–863

Novoa E, Ribas de Pouplana L (2012) Speeding with control: codon usage, tRNAs, and ribosomes. Trends Genet 28(11):574–581

Novoa EM, Jungreis I, Jaillon O, Kellis M (2019) Elucidation of codon usage signatures across the domains of life. Mol Biol Evol 36(10):2328–2339

Rima BK, McFerran NV (1997) Dinucleotide and stop codon frequencies in single-stranded RNA viruses. J Gen Virol 78:2859–2870

Romero H, Zavala A, Musto H (2000) Codon usage in Chlamydia trachomatis is the result of strand-specific mutational biases and a complex pattern of selective forces. Nucleic Acids Res 28(10):2084–2090

Romero H, Zavala A, Musto H, Bernardi G (2003) The influence of translational selection on codon usage in fishes from the family Cyprinidae. Gene 317(1–2):141–147

Scaiewicz V, Sabbía V, Piovani R, Musto H (2006) CpG islands are the second main factor shaping codon usage in human genes. Biochem Biophys Res Commun 343(4):1257–1261

Simón D, Cristina J, Musto H (2021) Nucleotide composition and codon usage across viruses and their respective hosts. Front Microbiol 12:646300

Tats A, Tenson T, Remm M (2008) Preferred and avoided codon pairs in three domains of life. BMC Genom 9:463

Zalucki Y, Beacham R, Jennings M (2009) Biased codon usage in signal peptides: a role in protein export. Trends Microbiol 17:146–150
Acknowledgements
We thank PEDECIBA and the Sistema Nacional de Investigadores, Uruguay, for partial financial support.
Additional information
Handling editor: David Liberles.
About this article
Cite this article
Iriarte, A., Lamolle, G. & Musto, H. Codon Usage Bias: An Endless Tale. J Mol Evol 89, 589–593 (2021). https://doi.org/10.1007/s00239-021-10027-z
Received:

Accepted:

Published:

Issue Date: