Abstract
Nucleic acid aptamers are novel molecular recognition tools that offer many advantages compared to their antibody and peptide-based counterparts. However, challenges associated with in vitro selection, characterization, and validation have limited their wide-spread use in the fields of diagnostics and therapeutics. Here, we extracted detailed information about aptamer selection experiments housed in the Aptamer Base, spanning over two decades, to perform the first parameter analysis of conditions used to identify and isolate aptamers de novo. We used information from 492 published SELEX experiments and studied the relationships between the nucleic acid library, target choice, selection methods, experimental conditions, and the affinity of the resulting aptamer candidates. Our findings highlight that the choice of target and selection template made the largest and most significant impact on the success of a de novo aptamer selection. Our results further emphasize the need for improved documentation and more thorough experimentation of SELEX criteria to determine their correlation with SELEX success.
Access options
Buy single article
Instant access to the full article PDF.
US$ 39.95
Tax calculation will be finalised during checkout.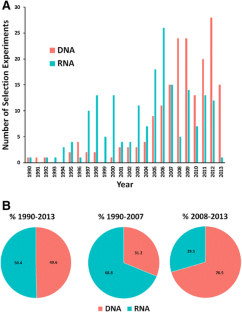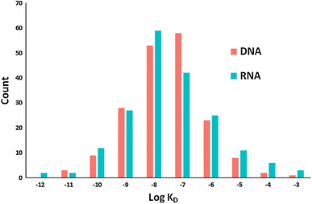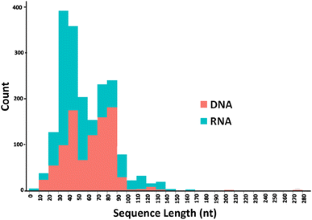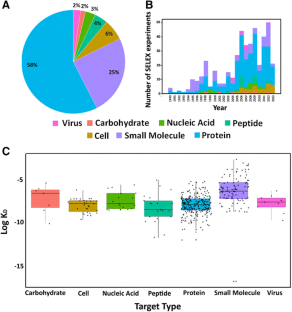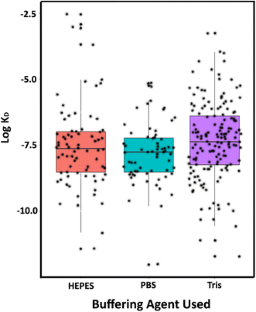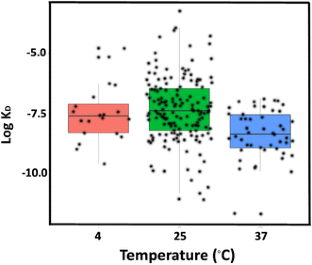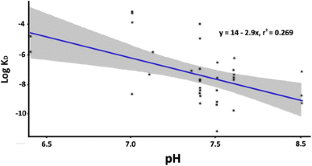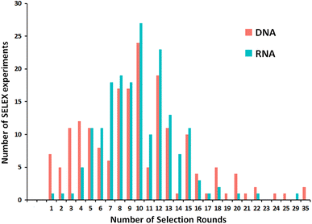 References
Alam KK, Chang JL, Burke DH (2015) FASTAptamer: a bioinformatic toolkit for high-throughput sequence analysis of combinatorial selections. Mol Ther Nucleic acids 4:e230. doi:10.1038/mtna.2015.4

Apweiler R, Bairoch A, Wu CH (2004) Protein sequence databases. Curr Opin Chem Biol 8:76–80. doi:10.1016/j.cbpa.2003.12.004

Baird GS (2010) Where are all the aptamers? Am J Clin Pathol 134:529–531. doi:10.1309/AJCPFU4CG2WGJJKS

Barrick JE, Breaker RR (2007) The distributions, mechanisms, and structures of metabolite-binding riboswitches. Genome Biol 8:R239. doi:10.1186/gb-2007-8-11-r239

Berezovski M, Musheev M, Drabovich A, Krylov SN (2006) Non-SELEX selection of aptamers. J Am Chem Soc 128:1410–1411. doi:10.1021/ja056943j

Bordeaux J et al (2010) Antibody validation. Biotechniques 48:197–209. doi:10.2144/000113382

Carothers JM, Oestreich SC, Szostak JW (2006) Aptamers selected for higher-affinity binding are not more specific for the target ligand. J Am Chem Soc 128:7929–7937. doi:10.1021/ja060952q

Carothers JM, Goler JA, Kapoor Y, Lara L, Keasling JD (2010) Selecting RNA aptamers for synthetic biology: investigating magnesium dependence and predicting binding affinity. Nucleic Acids Res 38:2736–2747. doi:10.1093/nar/gkq082

Carter CW Jr, Yin Y (1994) Quantitative analysis in the characterization and optimization of protein crystal growth. Acta Crystallogr Sect D 50:572–590. doi:10.1107/S0907444994001228

Catherine AT, Shishido SN, Robbins-Welty GA, Diegelman-Parente A (2014) Rational design of a structure-switching DNA aptamer for potassium ions. FEBS Open Bio 4:788–795. doi:10.1016/j.fob.2014.08.008

Cho EJ, Lee JW, Ellington AD (2009) Applications of aptamers as sensors. Annu Rev Anal Chem (Palo Alto, Calif) 2:241–264. doi:10.1146/annurev.anchem.1.031207.112851

Ciesiolka J, Illangasekare M, Majerfeld I, Nickles T, Welch M, Yarus M, Zinnen S (1996) Affinity selection-amplification from randomized ribooligonucleotide pools. Methods Enzymol 267:315–335

Cruz-Toledo J et al (2012) Aptamer base: a collaborative knowledge base to describe aptamers and SELEX experiments. Database 2012:bas006. doi:10.1093/database/bas006

Deigan KE, Ferre-D'Amare AR (2011) Riboswitches: discovery of drugs that target bacterial gene-regulatory RNAs. Acc Chem Res 44:1329–1338. doi:10.1021/ar200039b

Deng Q, German I, Buchanan D, Kennedy RT (2001) Retention and separation of adenosine and analogues by affinity chromatography with an aptamer stationary phase. Anal Chem 73:5415–5421

Ellington AD, Szostak JW (1990) In vitro selection of RNA molecules that bind specific ligands. Nature 346:818–822. doi:10.1038/346818a0

Ellington AD, Szostak JW (1992) Selection in vitro of single-stranded DNA molecules that fold into specific ligand-binding structures. Nature 355:850–852. doi:10.1038/355850a0

Famulok M, Hartig JS, Mayer G (2007) Functional aptamers and aptazymes in biotechnology, diagnostics, and therapy. Chem Rev 107:3715–3743. doi:10.1021/cr0306743

Fusco D, Barnum TJ, Bruno AE, Luft JR, Snell EH, Mukherjee S, Charbonneau P (2014) Statistical analysis of crystallization database links protein physico-chemical features with crystallization mechanisms. PLoS One 9:e101123. doi:10.1371/journal.pone.0101123

Gilbert W (1986) Origin of life: the RNA world. Nature 319:618

Gold L et al (2010) Aptamer-based multiplexed proteomic technology for biomarker discovery. PloS one 5:e15004. doi:10.1371/journal.pone.0015004

Gold L, Janjic N, Jarvis T, Schneider D, Walker JJ, Wilcox SK, Zichi D (2012) Aptamers and the RNA world, past and present. Cold Spring Harb Perspect Biol. doi:10.1101/cshperspect.a003582

Hall B, Micheletti JM, Satya P, Ogle K, Pollard J, Ellington AD (2009) Design, synthesis, and amplification of DNA pools for in vitro selection. In: Ausubel FM et al (eds) Current protocols in molecular biology, Chapter 24, pp 24–22. doi:10.1002/0471142727.mb2402s88

Hianik T, Ostatna V, Sonlajtnerova M, Grman I (2007) Influence of ionic strength, pH and aptamer configuration for binding affinity to thrombin. Bioelectrochemistry 70:127–133. doi:10.1016/j.bioelechem.2006.03.012

Hoinka J, Berezhnoy A, Sauna ZE, Gilboa E, Przytycka TM (2014) AptaCluster—a method to cluster HT-SELEX aptamer pools and lessons from its application. Res Comput Mol Biol 8394:115–128. doi:10.1007/978-3-319-05269-4_9

Jagannathan V, Roulet E, Delorenzi M, Bucher P (2006) HTPSELEX–a database of high-throughput SELEX libraries for transcription factor binding sites. Nucleic Acids Res 34:D90–D94. doi:10.1093/nar/gkj049

Jayasena SD (1999) Aptamers: an emerging class of molecules that rival antibodies in diagnostics. Clin Chem 45:1628–1650

Jhaveri S, Ellington A (2002) In vitro selection of RNA aptamers to a small molecule target. In: Beaucage SL et al. (eds) Current protocols in nucleic acid chemistry, Chapter 9, pp 9–5. doi:10.1002/0471142700.nc0905s08

Lee JF, Hesselberth JR, Meyers LA, Ellington AD (2004) Aptamer database. Nucleic Acids Res 32:D95–D100. doi:10.1093/nar/gkh094

Legiewicz M, Lozupone C, Knight R, Yarus M (2005) Size, constant sequences, and optimal selection. RNA (New York, NY) 11:1701–1709. doi:10.1261/rna.2161305

Li Y, Geyer CR, Sen D (1996) Recognition of anionic porphyrins by DNA aptamers. Biochemistry 35:6911–6922. doi:10.1021/bi960038h

Lozupone C, Changayil S, Majerfeld I, Yarus M (2003) Selection of the simplest RNA that binds isoleucine. RNA (New York, NY) 9:1315–1322

Luo X et al (2010) Computational approaches toward the design of pools for the in vitro selection of complex aptamers. RNA (New York, NY) 16:2252–2262. doi:10.1261/rna.2102210

Mascini M, Palchetti I, Tombelli S (2012) Nucleic acid and peptide aptamers: fundamentals and bioanalytical aspects. Angew Chem (Int Edin English) 51:1316–1332. doi:10.1002/anie.201006630

Mattice CM, DeRosa MC (2015) Status and prospects of aptamers as drug components. BioDrugs 29:151–165. doi:10.1007/s40259-015-0126-5

McKeague M, DeRosa MC (2012) Challenges and opportunities for small molecule aptamer development. J Nucleic Acids 2012:748913. doi:10.1155/2012/748913

McKeague M, DeRosa MC (2014) Aptamers and SELEX: tools for the development of transformative molecular recognition technology. Aptamers Synth Antib 1:12–16

McKeague M, Giamberardino A, DeRosa MC (2011) Advances in aptamer-based biosensors for food safety. In: Environmental Biosensors. Vernon Somerset, InTech, SBN: 9789533074863, pp 17–18–42

McKeague M et al (2015) Comprehensive analytical comparison of strategies used for small molecule aptamer evaluation. Anal Chem. doi:10.1021/acs.analchem.5b02102

McPherson A, Cudney B (2014) Optimization of crystallization conditions for biological macromolecules. Acta Crystallogr Sect F 70:1445–1467. doi:10.1107/S2053230X14019670

Neves MA, Reinstein O, Saad M, Johnson PE (2010) Defining the secondary structural requirements of a cocaine-binding aptamer by a thermodynamic and mutation study. Biophys Chem 153:9–16. doi:10.1016/j.bpc.2010.09.009

Nimjee SM, Rusconi CP, Sullenger BA (2005) Aptamers: an emerging class of therapeutics. Annu Rev Med 56:555–583. doi:10.1146/annurev.med.56.062904.144915

Ponomarenko JV, Orlova GV, Frolov AS, Gelfand MS, Ponomarenko MP (2002) SELEX_DB: a database on in vitro selected oligomers adapted for recognizing natural sites and for analyzing both SNPs and site-directed mutagenesis data. Nucleic Acids Res 30:195–199

Price WN 2nd et al (2009) Understanding the physical properties that control protein crystallization by analysis of large-scale experimental data. Nat Biotechnol 27:51–57. doi:10.1038/nbt.1514

Robertson DL, Joyce GF (1990) Selection in vitro of an RNA enzyme that specifically cleaves single-stranded DNA. Nature 344:467–468. doi:10.1038/344467a0

Sabeti PC, Unrau PJ, Bartel DP (1997) Accessing rare activities from random RNA sequences: the importance of the length of molecules in the starting pool. Chem Biol 4:767–774. doi:10.1016/S1074-5521(97)90315-X

Sefah K, Shangguan D, Xiong X, O'Donoghue MB, Tan W (2010) Development of DNA aptamers using Cell-SELEX. Nat Protoc 5:1169–1185. doi:10.1038/nprot.2010.66

Serganov A, Patel DJ (2007) Ribozymes, riboswitches and beyond: regulation of gene expression without proteins. Nat Rev Genet 8:776–790. doi:10.1038/nrg2172

Silverman SK (2009) Artificial functional nucleic acids: aptamers ribozymes, and deoxyribozymes identified by in vitro selection. Funct Nucleic Acids Anal Appl 1:47–108. doi:10.1007/978-0-387-73711-9_3

Stoltenburg R, Reinemann C, Strehlitz B (2005) FluMag-SELEX as an advantageous method for DNA aptamer selection. Anal Bioanal Chem 383:83–91. doi:10.1007/s00216-005-3388-9

Thodima V, Pirooznia M, Deng Y (2006) RiboaptDB: a comprehensive database of ribozymes and aptamers. BMC Bioinform 7(Suppl 2):S6. doi:10.1186/1471-2105-7-S2-S6

Tolle F, Brandle GM, Matzner D, Mayer G (2015) A versatile approach towards nucleobase-modified aptamers. Angew Chem. doi:10.1002/anie.201503652

Tuerk C, Gold L (1990) Systematic evolution of ligands by exponential enrichment: RNA ligands to bacteriophage T4 DNA polymerase. Science 249:505–510

Velez TE et al (2012) Systematic evaluation of the dependence of deoxyribozyme catalysis on random region length. ACS Comb Sci 14:680–687. doi:10.1021/co300111f

Waldrop MM (1989) Did life really start out in an RNA world? Science 246:1248–1249

Walsh R, DeRosa MC (2009) Retention of function in the DNA homolog of the RNA dopamine aptamer. Biochem Biophys Res Commun 388:732–735. doi:10.1016/j.bbrc.2009.08.084

Zhu G, Ye M, Donovan MJ, Song E, Zhao Z, Tan W (2012) Nucleic acid aptamers: an emerging frontier in cancer therapy. Chem Commun 48:10472–10480. doi:10.1039/c2cc35042d
Acknowledgments
We thank Dr. Alex Wahba, Dr. Heather Shanks-McElroy, Ben Dorion, and Amal Awad for useful discussions in designing this research and analyzing the data. This work was supported by funds from the Natural Sciences and Engineering Research Council (NSERC) (Grant to M.C.D.) and Health Canada (Grant to R.A-R.).
Author Contributions
The manuscript was written through contributions of all authors. M.M., E.M.M., M.D., and M.C.D. wrote the article.
Additional information
Authors Maureen McKeague and Erin M. McConnell contributed equally.
Electronic supplementary material
Below is the link to the electronic supplementary material.
About this article
Cite this article
McKeague, M., McConnell, E.M., Cruz-Toledo, J. et al. Analysis of In Vitro Aptamer Selection Parameters. J Mol Evol 81, 150–161 (2015). https://doi.org/10.1007/s00239-015-9708-6
Received:

Accepted:

Published:

Issue Date:
Keywords
Aptamer

In vitro selection

SELEX

Aptamer target

Database