Abstract
For many genes, ray-finned fish (Actinopterygii) have two paralogous copies, where only one ortholog is present in tetrapods. The discovery of an additional, almost-complete set of Hox clusters in teleosts (zebrafish, pufferfish, medaka, and cichlid) but not in basal actinopterygian lineages (Polypterus) led to the formulation of the fish-specific genome duplication hypothesis. The phylogenetic timing of this genome duplication during the evolution of ray-finned fish is unknown, since only a few species of basal fish lineages have been investigated so far. In this study, three nuclear genes (fzd8, sox11, tyrosinase) were sequenced from sturgeons (Acipenseriformes), gars (Semionotiformes), bony tongues (Osteoglossomorpha), and a tenpounder (Elopomorpha). For these three genes, two copies have been described previously teleosts (e.g., zebrafish, pufferfish), but only one orthologous copy is found in tetrapods. Individual gene trees for these three genes and a concatenated dataset support the hypothesis that the fish-specific genome duplication event took place after the split of the Acipenseriformes and the Semionotiformes from the lineage leading to teleost fish but before the divergence of Osteoglossiformes. If these three genes were duplicated during the proposed fish-specific genome duplication event, then this event separates the species-poor early-branching lineages from the species-rich teleost lineage. The additional number of genes resulting from this event might have facilitated the evolutionary radiation and the phenotypic diversification of the teleost fish.
This is a preview of subscription content, log in to check access.
Access options
Buy single article
Instant access to the full article PDF.
US$ 39.95
Price includes VAT for USA
Subscribe to journal
Immediate online access to all issues from 2019. Subscription will auto renew annually.
US$ 199
This is the net price. Taxes to be calculated in checkout.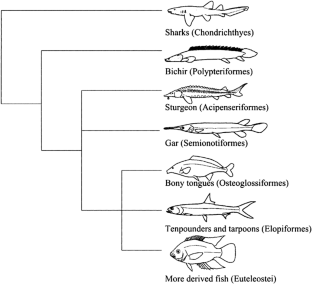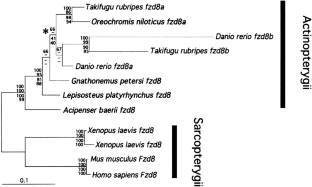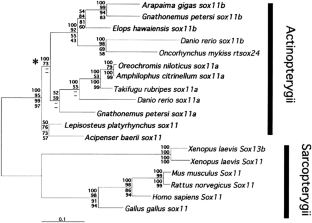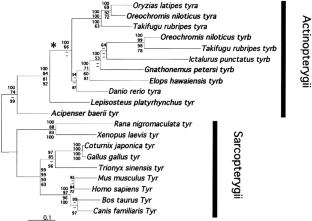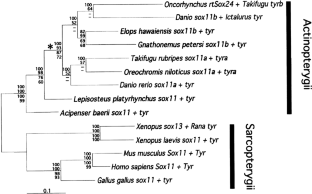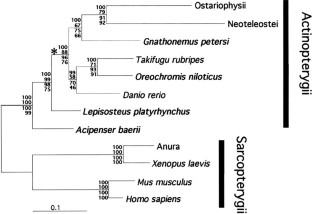 References
D Acampora M D'Esposito A Faiella M Pannese E Migliaccio F Morelli A Stornaiuolo V Nigro A Simeone E Boncinelli (1989) ArticleTitleThe human HOX gene family Nucleic Acids Res 17 10385–10402 Occurrence Handle1:CAS:528:DyaK3cXmtVGktbo%3D Occurrence Handle2574852

A Amores A Force YL Yan L Joly C Amemiya A Fritz RK Ho J Langeland V Prince YL Wang M Westerfield M Ekker JH Postlethwait (1998) ArticleTitleZebrafish hox clusters and vertebrate genome evolution Science 282 1711–1714 Occurrence Handle1:CAS:528:DyaK1cXnslGgtrY%3D Occurrence Handle9831563

A Amores T Suzuki Y Yan J Pomeroy A Singer C Amemiya JH Postlethwait (2004) ArticleTitleDevelopmental roles of pufferfish Hox clusters and genome evolution in ray-fin fish Genome Res 14 1–10 Occurrence Handle1:CAS:528:DC%2BD2cXlvVGntg%3D%3D Occurrence Handle14707165

S Aparicio J Chapman E Stupka N Putnam Jm Chia P Dehal A Christoffels S Rash S Hoon A Smit MDS Gelpke J Roach T Oh IY Ho M Wong C Detter F Verhoef P Predki A Tay S Lucas P Richardson SF Smith MS Clark YJK Edwards N Doggett A Zharkikh SV Tavtigian D Pruss M Barnstead C Evans H Baden J Powell G Glusman L Rowen L Hood YH Tan G Elgar T Hawkins B Venkatesh D Rokhsar S Brenner (2002) ArticleTitleWhole-genome shotgun assembly and analysis of the genome of Fugu rubripes Science 297 1301–1310 Occurrence Handle10.1126/science.1072104 Occurrence Handle1:CAS:528:DC%2BD38Xms1ejtr8%3D Occurrence Handle12142439

G Arratia (2001) ArticleTitleThe sister-group of Teleostei: Consensus and disagreements J Vert Paleontol 21 767–772

WM Barnes (1994) ArticleTitlePCR amplification of up to 35-kb DNA with high fidelity and high yield from λ bacteriophage templates Proc Natl Acad Sci USA 91 2216–2220 Occurrence Handle1:CAS:528:DyaK2cXivFSqsL8%3D Occurrence Handle8134376

BB Barbazuk I Korf C Kadavi J Heyen S Tate E Wun JA Bedell JD McPherson SL Johnson (2000) ArticleTitleThe syntenic relationship of the zebrafish and human genomes Genome Res 10 1351–1358 Occurrence Handle10.1101/gr.144700 Occurrence Handle1:CAS:528:DC%2BD3cXms1yjtbk%3D Occurrence Handle10984453

J Bowles G Schepers P Koopman (2000) ArticleTitlePhylogeny of the SOX family of developmental transcription factors based on sequence and structural indicators Dev Biol 227 239–255 Occurrence Handle1:CAS:528:DC%2BD3cXnvVelu7g%3D Occurrence Handle11071752

E Camp M Lardelli (2001) ArticleTitleTyrosinase gene expression in zebrafish embryos Dev Genes Evol 211 150–153 Occurrence Handle10.1007/s004270000125 Occurrence Handle1:CAS:528:DC%2BD3MXhslyitbw%3D Occurrence Handle11455427

EFL Chiang C-I Pai M Wyatt Y Yan J Postlethwait B Chung (2001) ArticleTitleTwo Sox9 Genes on Duplicated Zebrafish Chromosomes: Expression of similar transcription activators in distinct sites Dev Biol 231 149–163 Occurrence Handle1:CAS:528:DC%2BD3MXht1aru78%3D Occurrence Handle11180959

N Eldredge SM Stanley (1984) Living fossils Springer-Verlag New York

A Force M Lynch FB Pickett A Amores Y Yan J Postlethwait (1999) ArticleTitlePreservation of duplicate genes by complementary, degenerative mutations Genetics 151 1531–1545 Occurrence Handle1:CAS:528:DyaK1MXisV2rs7o%3D Occurrence Handle10101175

J Garcia-Fernandez PW Holland (1994) ArticleTitleArchetypal organization of the amphioxus Hox gene cluster Nature 370 563–566 Occurrence Handle1:CAS:528:DyaK2cXmslensLY%3D Occurrence Handle7914353

MA Gates L Kim ES Egan T Cardozo HI Sirotkin ST Dougan D Lashkari R Abagyan AF Schier WS Talbot (1999) ArticleTitleA genetic linkage map for zebrafish: Comparative analysis and localization of genes and expressed sequences Genome Res 9 334–347 Occurrence Handle1:CAS:528:DyaK1MXivVOrtrY%3D Occurrence Handle10207156

LB Giebel RK Tripathi KM Strunk JM Hanifin CE Jackson RA King RA Spritz (1991) ArticleTitleTyrosinase gene mutations associated with type IB ( "yellow") oculocutaneous albinism Am J Hum Genet 48 1159–1167 Occurrence Handle1:CAS:528:DyaK3MXlt1yrtb0%3D Occurrence Handle1903591

A Graham N Papalopulu R Krumlauf (1989) ArticleTitleThe murine and Drosophila homeobox gene complexes have common features of organization and expression Cell 57 367–378 Occurrence Handle1:CAS:528:DyaL1MXktFyltrg%3D Occurrence Handle2566383

L Grande WE Bemis (1996) Interrelationships of Acipenseriformes, with comments on "Chondrostei." MLJ Stiassny LR Parenti GD Johnson (Eds) Interrelationships of fishes Academic Press London 85–115

RP Harvey CJ Tabin DA Melton (1986) ArticleTitleEmbryonic expression and nuclear localization of Xenopus homeobox (Xhox) gene products EMBO J 5 1237–1244 Occurrence Handle1:CAS:528:DyaL28Xkslels78%3D Occurrence Handle3015593

SB Hedges S Kumar (2003) ArticleTitleGenomic clocks and evolutionary timescales Trends Genet 19 200–206 Occurrence Handle12683973

JP Huelsenbeck F Ronquist (2001) ArticleTitleMRBAYES: Bayesian inference of phylogenetic trees Bioinformatics 17 754–755

H Inagaki Y Bessho A Koga H Hori (1994) ArticleTitleExpression of the tyrosinase-encoding gene in a colorless melanophore mutant of the medaka fish, Oryzias latipes Gene 15 319–324

JG Inoue M Miya K Tsukamoto M Nishida (2001) ArticleTitleA mitogenomic perspective on the basal teleostean phylogeny: Resolving higher-level relationships with longer DNA sequences Mol Phylogenet Evol 20 275–285 Occurrence Handle1:CAS:528:DC%2BD3MXlsFSns7s%3D Occurrence Handle11476635

JG Inoue M Miya K Tsukamoto M Nishida (2003) ArticleTitleBasal actinopterygian relationships: A mitogenomic perspective on the phylogeny of the "ancient fish." Mol Phylogenet Evol 26 110–120 Occurrence Handle1:CAS:528:DC%2BD38Xps1Wht7c%3D Occurrence Handle12470943

H Kao S-C Lee (2002) ArticleTitlePhosphoglucose isomerases of hagfish, zebrafish, gray mullet, toad, and snake, with reference to the evolution of the genes in vertebrates Mol Biol Evol 19 367–374 Occurrence Handle1:CAS:528:DC%2BD38XivV2gtL4%3D Occurrence Handle11919278

H Kishino M Hasegawa (1989) ArticleTitleEvaluation of the maximum likelihood estimate of the evolutionary tree topologies from DNA sequence data, and the branching order in hominoidea J Mol Evol 29 170–179 Occurrence Handle1:CAS:528:DyaL1MXkvFCnsbc%3D Occurrence Handle2509717

S Kumar SB Hedges (1998) ArticleTitleA molecular timescale for vertebrate evolution Nature 392 917–920 Occurrence Handle10.1038/31927 Occurrence Handle1:CAS:528:DyaK1cXjtV2jur8%3D Occurrence Handle9582070

S Kumar K Tamura IB Jakobsen M Nei (2001) ArticleTitleMEGA2: molecular evolutionary genetics analysis software Bioinformatics 17 1244–1245 Occurrence Handle10.1093/bioinformatics/17.12.1244 Occurrence Handle1:CAS:528:DC%2BD38XmtVCktQ%3D%3D Occurrence Handle11751241

Y Kumazawa M Nishida (2000) ArticleTitleMolecular phylogeny of osteoglossoids: A new model for Gondwanian origin and plate tectonic transportation of the Asian arowana Mol Biol Evol 17 1869–1878 Occurrence Handle11110903

Y Kumazawa M Yamaguchi M Nishida (1999) Mitochondrial molecular clocks and the origin of euteleostean biodiversity: Familial radiation of Perciforms may have predated the Cretaceous/Tertiary boundary M Kato (Eds) The biology of biodiversity Springer-Verlag Hong Kong 35–52

HL Le G Lecointre R Perasso (1993) ArticleTitleA 28S rRNA-based phylogeny of the gnathostomes: First steps in the analysis of conflict and congruence with morphologically based cladograms Mol Phylogenet Evol 2 31–51 Occurrence Handle1:STN:280:ByuA283psFc%3D Occurrence Handle8081546

G Lecointre H Philippe HL Le ParticleVan H Le Guyader (1994) ArticleTitleHow many nucleotides are required to resolve a phylogenetic problem? The use of a new statistical method applicable to available sequences Mol Phylogenet Evol 3 292–309 Occurrence Handle1:CAS:528:DyaK2MXjsVWksLo%3D Occurrence Handle7697188

WH Li (1980) ArticleTitleRate of gene silencing at duplicate loci: A theoretical study and interpretation of data from tetraploid fishes Genetics 95 237–258 Occurrence Handle1:STN:280:Bi6D2cvovFE%3D Occurrence Handle7429144

JA Lister J Close DW Raible (2001) ArticleTitleDuplicate mitf genes in zebrafish: Complementary expression and conservation of melanogenic potential Dev Biol 237 333–344 Occurrence Handle10.1006/dbio.2001.0379 Occurrence Handle1:CAS:528:DC%2BD3MXmsFyiurk%3D Occurrence Handle11543618

M Lynch (2002) ArticleTitleGene duplication and evolution Science 297 945–947 Occurrence Handle1:CAS:528:DC%2BD38Xmt1ClsL8%3D Occurrence Handle12169715

M Lynch A Force (2000a) ArticleTitleThe probability of duplicate gene preservation by subfunctionalization Genetics 154 459–473 Occurrence Handle1:CAS:528:DC%2BD3cXms1KhsA%3D%3D

M Lynch A Force (2000b) ArticleTitleThe origin of interspecific genomic incompatibility via gene duplication Am Nat 156 590–605

M Lynch JS Conery (2000) ArticleTitleThe evolutionary fate and consequences of duplicate genes Science 290 1151–1155 Occurrence Handle10.1126/science.290.5494.1151 Occurrence Handle1:CAS:528:DC%2BD3cXotVChsb8%3D Occurrence Handle11073452

M Lynch JS Conery (2003) ArticleTitleThe evolutionary demography of duplicate genes J Struct Funct Genomics 3 35–44 Occurrence Handle10.1023/A:1022696612931 Occurrence Handle1:CAS:528:DC%2BD3sXhsFKqsLo%3D Occurrence Handle12836683

E Málaga-Trillo A Meyer (2001) ArticleTitleGenome duplications and accelerated evolution of Hox genes and cluster architecture in teleost fishes Am Zool 41 676–686

JP Martinez-Barbera H Toresson S Da Rocha S Krauss (1997) ArticleTitleCloning and expression of three members of the zebrafish Bmp family: Bmp2a, Bmp2b and Bmp4 Gene 198 53–59 Occurrence Handle9370264

TJS Merritt JM Quattro (2001) ArticleTitleEvidence for a period of directional selection following gene duplication in a neurally expressed locus of triosephosphate isomerase Genetics 159 689–697 Occurrence Handle1:CAS:528:DC%2BD3MXot1Srs7o%3D Occurrence Handle11606544

A Meyer M Schartl (1999) ArticleTitleGene and genome duplications in vertebrates: The one-to-four (-to-eight in fish) rule and the evolution of novel gene functions Curr Opin Cell Biol 11 699–704 Occurrence Handle10.1016/S0955-0674(99)00039-3 Occurrence Handle1:CAS:528:DyaK1MXotVKjsb0%3D Occurrence Handle10600714

A Meyer Y Van de Peer (Eds) (2003) Genome evolution: Gene and genome duplications and the origin of novel gene functions Kluwer Academic Dordrecht

A Meyer R Zardoya (2003) ArticleTitleRecent advances in the (molecular) phylogeny of vertebrates Annu Rev Ecol Syst 34 311–338 Occurrence Handle10.1034/j.1399-0039.2003.610105.x Occurrence Handle1:CAS:528:DC%2BD3sXisVKgtro%3D Occurrence Handle12622776

M Miya M Nishida (2000) ArticleTitleUse of mitogenomic information in teleostean molecular phylogenetics: A tree-based exploration under the maximum-parsimony optimality criterion Mol Phylogenet Evol 17 437–455 Occurrence Handle10.1006/mpev.2000.0839 Occurrence Handle1:CAS:528:DC%2BD3cXptVygurs%3D Occurrence Handle11133198

M Miya H Takeshima H Endo NB Ishiguro JG Inoue T Mukai TP Satoh M Yamaguchi A Kawaguchi K Mabuchi SM Shirai M Nishida (2003) ArticleTitleMajor patterns of higher teleostean phylogenies: A new perspective based on 100 complete mitochondrial DNA sequences Mol Phylogenet Evol 26 121–138 Occurrence Handle10.1016/S1055-7903(02)00332-9 Occurrence Handle1:CAS:528:DC%2BD38Xps1WhtL4%3D Occurrence Handle12470944

K Naruse S Fukamachi H Mitani M Kondo T Matsuoka S Kondo N Hanamura Y Morita K Hasegawa R Nishigaki A Shimada H Wada T Kusakabe N Suzuki M Kinoshita A Kanamori T Terado H Kimura M Nonaka A Shima (2000) ArticleTitleA detailed linkage map of medaka, Oryzias latipes: Comparative genomics and genome evolution Genetics 154 1773–1784 Occurrence Handle1:CAS:528:DC%2BD3cXjtVams70%3D Occurrence Handle10747068

M Nei P Xu G Glazko (2001) ArticleTitleEstimation of divergence times from multiprotein sequences for a few mammalian species and several distantly related organisms Proc Natl Acad Sci USA 98 2497–2502 Occurrence Handle10.1073/pnas.051611498 Occurrence Handle1:CAS:528:DC%2BD3MXhslKmsrc%3D Occurrence Handle11226267

J Nelson (1994) Fishes of the world Wiley New York

K Noack R Zardoya A Meyer (1996) ArticleTitleThe complete mitochondrial DNA sequence of the bichir (Polypterus ornatipinnis), a basal ray-finned fish: Ancient establishment of the consensus vertebrate gene order Genetics 144 1165–1180 Occurrence Handle1:CAS:528:DyaK28XntVels74%3D Occurrence Handle8913758

BB Normark AR McCune RG Harrison (1991) ArticleTitlePhylogenetic relationships of neopterygian fishes, inferred from mitochondrial DNA sequences Mol Biol Evol 8 819–834 Occurrence Handle1:CAS:528:DyaK38XhvVKmtA%3D%3D Occurrence Handle1663569

S Ohno (1970) Evolution by gene duplication Springer-Verlag New York

S Ohno (1999) ArticleTitleGene duplication and the uniqueness of vertebrate genomes circa 1970–1999 Semin Cell Dev Biol 10 517–522 Occurrence Handle1:CAS:528:DyaK1MXnvFOmsb4%3D Occurrence Handle10597635

C Patterson (1973) Interrelationships of holosteans H Greenwood RS Miles C Patterson (Eds) Interrelationships of fishes Zool J Linn Soc Lond Suppl 1 233–305

H Philippe (1993) ArticleTitleMUST, a computer package of Management Utilities for Sequences and Trees Nucleic Acids Res 21 5264–5272 Occurrence Handle1:CAS:528:DyaK2cXnt1yguw%3D%3D Occurrence Handle8255784

JH Postlethwait IG Woods P Ngo-Hazelett Y-L Yan PD Kelly F Chu H Huang A Hill-Force WS Talbot (2000) ArticleTitleZebrafish comparative genomics and the origins of vertebrate chromosomes Genome Res 10 1890–1902 Occurrence Handle1:CAS:528:DC%2BD3MXhtF0%3D Occurrence Handle11116085

R Rimini M Beltrame F Argenton D Szymczak F Cotelli ME Bianchi (1999) ArticleTitleExpression patterns of zebrafish sox11A, sox11B and sox21 Mech Dev 89 167–171 Occurrence Handle1:CAS:528:DC%2BD3cXhsFam Occurrence Handle10559493

C Risinger E Salaneck C Soderberg M Gates JH Postlethwait D Larhammar (1998) ArticleTitleCloning of two loci for synapse protein Snap25 in zebrafish: comparison of paralogous linkage groups suggests loss of one locus in the mammalian lineage J Neurosci Res 54 563–573 Occurrence Handle1:CAS:528:DyaK1cXnslOjuro%3D Occurrence Handle9843147

M Robinson-Rechavi O Marchand H Escriva V Laudet (2001) ArticleTitleAn ancestral whole-genome duplication may not have been responsible for the abundance of duplicated fish genes Curr Biol 11 R458–R459 Occurrence Handle1:CAS:528:DC%2BD3MXltVGjt7k%3D Occurrence Handle11448784

FJ Rodríguez A Oliver A Marìn JR Medina (1990) ArticleTitleThe general stochastic model of nucleotide substitution J Theor Biol 142 485–501 Occurrence Handle2338834

J Sambrook EF Fritsch T Maniatis (1989) Molecular cloning—A laboratory manual Cold Spring Harbor Laboratory Press Cold Spring Harbor, NY

HA Schmidt K Strimmer M Vingron A Haeseler Particlevon (2002) ArticleTitleTREE-PUZZLE: Maximum likelihood phylogenetic analysis using quartets and parallel computing Bioinformatics 18 502–504 Occurrence Handle10.1093/bioinformatics/18.3.502 Occurrence Handle1:CAS:528:DC%2BD38XivFKrsL0%3D Occurrence Handle11934758

HP Schultze Wiley EO (1984) The neopterygian Amia as a living fossil N Eldredge SM Stanley (Eds) Living fossils Springer-Verlag New York 153–159

H Shimodaira (2002) ArticleTitleAn approximately unbiased test of phylogenetic tree selection Syst Biol 51 492–508 Occurrence Handle10.1080/10635150290069913 Occurrence Handle12079646

H Shimodaira M Hasegawa (1999) ArticleTitleMultiple comparisons of log-likelihoods with applications to phylogenetic inference Mol Biol Evol 16 1114–1116 Occurrence Handle1:CAS:528:DyaK1MXltVyksrg%3D

A Sidow (1996) ArticleTitleGen(om)e duplications in the evolution of early vertebrates Curr Opin Genet Dev 6 715–722 Occurrence Handle1:CAS:528:DyaK2sXhsVWjsw%3D%3D Occurrence Handle8994842

J Spring (1997) ArticleTitleVertebrate evolution by interspecific hybridisation—Are we polyploid? FEBS Lett 400 2–8 Occurrence Handle1:CAS:528:DyaK28XnsFSmsrg%3D Occurrence Handle9000502

K Strimmer A Rambaut (2002) ArticleTitleInferring confidence sets of possibly misspecified gene trees Proc R Soc Lond B Biol Sci 269 137–142 Occurrence Handle11798428

JS Taylor Y Peer ParticleVan de I Braasch A Meyer (2001a) ArticleTitleComparative genomics provides evidence for an ancient genome duplication event in fish Philos Trans R Soc Lond B Biol Sci 356 1661–1679 Occurrence Handle1:CAS:528:DC%2BD38XitFCnsw%3D%3D

JS Taylor Y Peer ParticleVan de A Meyer (2001b) ArticleTitleRevisiting a recent test of the ancient fish-specific genome duplication hypothesis Curr Biol 11 R1005–R1007 Occurrence Handle1:CAS:528:DC%2BD38XisFel

JS Taylor Y Peer ParticleVan de A Meyer (2001c) ArticleTitleGenome duplication, divergent resolution and speciation Trends Genet 17 299–301 Occurrence Handle1:CAS:528:DC%2BD3MXjslSitLk%3D

JS Taylor I Braasch T Frickey A Meyer Y Peer ParticleVan de (2003) ArticleTitleGenome duplication, a trait shared by 22,000 species of ray-finned fish Genome Res 13 382–390 Occurrence Handle1:CAS:528:DC%2BD3sXit1Wgtrc%3D Occurrence Handle12618368

JD Thompson TJ Gibson F Plewniak F Jeanmougin DG Higgins (1997) ArticleTitleThe CLUSTAL_X windows interface: flexible strategies for multiple sequence alignment aided by quality analysis tools Nucleic Acids Res 25 4876–4882 Occurrence Handle10.1093/nar/25.24.4876 Occurrence Handle1:CAS:528:DyaK1cXntFyntQ%3D%3D Occurrence Handle9396791

Y Peer ParticleVan de JS Taylor I Braasch A Meyer (2001) ArticleTitleThe ghost of selection past: Rates of evolution and functional divergence of anciently duplicated genes J Mol Evol 53 436–446 Occurrence Handle11675603

Y Peer ParticleVan de T Frickey JS Taylor A Meyer (2002a) ArticleTitleDealing with saturation at the amino acid level: a case study based on anciently duplicated zebrafish genes Gene 295 205–211

Y Peer ParticleVan de JS Taylor J Jayabalan A Meyer (2002b) ArticleTitleWanda: A data base of duplicated fish genes Nucleic Acids Res 30 109–112

K Van de Poele W Vos ParticleDe JS Taylor A Meyer Y Peer ParticleVan de (2004) ArticleTitleMajor events in the genome evolution of vertebrates: Paranome age and size differs considerably between ray-finned fishes and land vertebrates Proc Natl Acad Sci USA 101 1638–1643 Occurrence Handle1:CAS:528:DC%2BD2cXhsFaqt7o%3D Occurrence Handle14757817

Y Wang JP Macke BS Abella K Andreasson P Worley DJ Gilbert NG Copeland NA Jenkins J Nathans (1996) ArticleTitleA large family of putative transmembrane receptors homologous to the product of the Drosophila tissue polarity Gene frizzled J Biol Chem 271 4468–4476 Occurrence Handle1:CAS:528:DyaK28XhtlSmtbY%3D Occurrence Handle8626800

EO Wiley HP Schultze (1984) Family Lepisosteidae (gars) as living fossils N Eldredge SM Stanley (Eds) Living fossils Springer-Verlag New York 160–165

J Wittbrodt A Meyer M Schartl (1998) ArticleTitleMore genes in fish? BioEssays 20 511–515

Z Yang (1997) ArticleTitlePAML: Program package for phylogenetic analysis by maximum likelihood CABIOS 13 555–556 Occurrence Handle1:CAS:528:DyaK2sXntlGnu7s%3D Occurrence Handle9367129

R Zardoya A Meyer (2001) Vertebrate phylogeny: limits of inference of mitochondrial genome and nuclear rRNA sequence data due to an adverse phylogenetic signal/homoplasy ratio P Ahlberg (Eds) Major events in early vertebrate evolution: Palaeontology phylogeny and development Taylor and Francis London 135–155

DJ Zwickl DM Hillis (2002) ArticleTitleIncreased taxon sampling greatly reduces phylogenetic error Syst Biol 51 588–598 Occurrence Handle12228001
Acknowledgments
We thank members of the Meyer lab, in particular, Yves Van de Peer and Walter Salzburger, for discussion. This work was supported by the University of Konstanz and by grants from the Deutsche Forschungsgemeinschaft and the Fond der Chemischen Industrie to A.M.
Additional information
[Reviewing Editor: Martin Kreitman]
About this article
Cite this article
Hoegg, S., Brinkmann, H., Taylor, J.S. et al. Phylogenetic Timing of the Fish-Specific Genome Duplication Correlates with the Diversification of Teleost Fish. J Mol Evol 59, 190–203 (2004). https://doi.org/10.1007/s00239-004-2613-z
Received:

Accepted:

Issue Date:
Keywords
Genome duplication

Gene duplication

Actinopterygii

sox
fzd
tyrosinase