Abstract
Sequences from nuclear mitochondrial pseudogenes (numts) that originated by transfer of genetic information from mitochondria to the nucleus offer a unique opportunity to compare different regimes of molecular evolution. Analyzing a 1621-nt-long numt of the rRNA specifying mitochondrial DNA residing on human chromosome 3 and its corresponding mitochondrial gene in 18 anthropoid primates, we were able to retrace about 40 MY of primate rDNA evolutionary history. The results illustrate strengths and weaknesses of mtDNA data sets in reconstructing and dating the phylogenetic history of primates. We were able to show the following. In contrast to numt-DNA, (1) the nucleotide composition of mtDNA changed dramatically in the different primate lineages. This is assumed to lead to significant misinterpretations of the mitochondrial evolutionary history. (2) Due to the nucleotide compositional plasticity of primate mtDNA, the phylogenetic reconstruction combining mitochondrial and nuclear sequences is unlikely to yield reliable information for either tree topologies or branch lengths. This is because a major part of the underlying sequence evolution model — the nucleotide composition — is undergoing dramatic change in different mitochondrial lineages. We propose that this problem is also expressed in the occasional unexpected long branches leading to the "common ancestor" of orthologous numt sequences of different primate taxa. (3) The heterogeneous and lineage-specific evolution of mitochondrial sequences in primates renders molecular dating based on primate mtDNA problematic, whereas the numt sequences provide a much more reliable base for dating.
Access options
Buy single article
Instant access to the full article PDF.
USD 39.95
Price excludes VAT (USA)
Tax calculation will be finalised during checkout.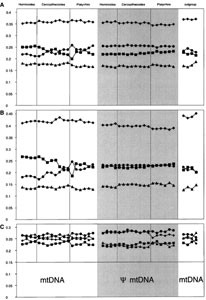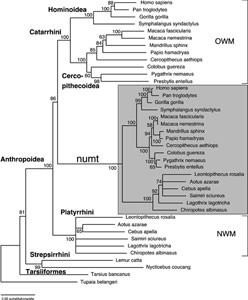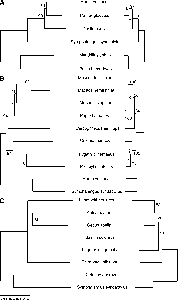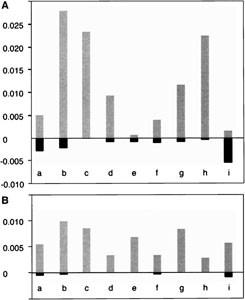 Similar content being viewed by others
References
Andrews TD, Jermiin LS, Easteal S (1998) Accelerated evolution of cytochrome b in simian primates: adaptive evolution in concert with other mitochondrial proteins? J Mol Evol 47:249–257

Arctander P, (1995) Comparison of a mitochondrial gene and a corresponding nuclear pseudogene. Proc R Soc Lond B Biol Sci 262:13–19

Arnason U, Adegoke JA, Bodin K, Born EW, Esa YB, Gullberg A, Nilsson M, Short RV, Xu XF, Janke A (2002) Mammalian mitogenomic relationships and the root of the eutherian tree. Proc Natl Acad Sci USA 99:8151–8156

Bensasson D, Zhang D, Hartl DL Hewitt GM (2001) Mitochondrial pseudogenes: evolution's misplaced witnesses. Trends Ecol Evol 16:314–321

Brown WM, Prager EM, Wang A, Wilson AC (1982) Mitochondrial DNA sequences of primates: tempo and mode of evolution. J Mol Evol 18:225–239

Collura RV, Stewart CB (1995) Insertions and duplications of mtDNA in the nuclear genomes of Old World monkeys and hominoids. Nature 378:485–489

Collura RV, Auerbach MR, Stewart CB (1996) A quick, direct method that can differentiate expressed mitochondrial genes from their nuclear pseudogenes. Curr Biol 6:1337-1339

Delson E (1992) Evolution of Old World monkeys. In: Jones JS, Martin RD, Pilbeam D, Bunney S (eds) Cambridge encyclopedia of human evolution. Cambridge University Press, Cambridge, pp 217–222

Fukuda M, Wakasugi S, Tsuzuki T, Nomiyama H, Shimada K, Miyata T (1985) Mitochondrial DNA-like sequences in the human nuclear genome. Characterization and implications in the evolution of mitochondrial DNA. J Mol Biol 186:257–266

Gibson A, Gowri-Shankar V, Higgs PG, Rattray M (2004) A comprehensive analysis of mammalian mitochondrial genome base composition and improved phylogenetic methods. Mol Biol Evol 22:251–264

Gutell RR, Fox GE (1988) A compilation of large subunit RNA sequences presented in a structural format. Nucleic Acids Res 16:175–313

Hasegawa M, Kishino H, Yano T (1985) Dating of the human-ape splitting by a molecular clock of mitochondrial DNA. J Mol Evol 22:160–174

Hazkani-Covo E, Sorek R, Graur D (2003) Evolutionary dynamics of large numts in the human genome: rarity of independent insertions and abundance of post-insertion duplications. J Mol Evol 56:169–174

Hixson JE, Brown WM (1986) A comparison of the small ribosomal RNA genes from the mitochondrial DNA of Great Apes and humans: sequence, structure, and phylogenetic implications. Mol Biol Evol 3:1–18

Huelsenbeck JP, Ronquist F (2001), MRBAYES: Bayesian inference of phylogeny. Bioinformatics 17:754–755

MacFadden BJ (1990) Chronology of Cenozoic primate localities in South America. J Hum Evol 19:7–21

Mourier T, Hansen AJ, Willerslev E, Arctander P (2001) The Human Genome Project reveals a continuous transfer of large mitochondrial fragments to the nucleus. Mol Biol Evol 18:1833–1837

Mundy NI, Pissinatti A, Woodruff DS (2000) Multiple nuclear insertions of mitochondrial cytochrome b sequences in callitrichine primates. Mol Biol Evol 17:1075–1080

Nomiyama H, Fukuda M, Wakasugi S Tsuzuki T, Shimada K (1985) Molecular structures of mitochondrial-DNA-like sequences in human nuclear DNA. Nucleic Acids Res 13:1649–1658

Page SL, Goodman M (2001) Catarrhine phylogeny; noncoding DNA evidence for a diphyletic origin of the mangabeys and for a human-chimpanzee clade. Mol Phylogenet Evol 18:14–25

Penny D, Hasegawa M, Waddell PJ, Hendy MD (1999) Mammalian evolution: timing and implications from using the LogDeterminant transform for proteins of differing amino acid composition. Syst Biol 48:76–93

Perna NT, Kocher TD (1996) Mitochondrial DNA: molecular fossils in the nucleus. Curr Biol 6:128–129

Rambaut A, Bromham L (1998) Estimating divergence dates from molecular sequences. Mol Biol Evol 15:442–448

Robinson M, Gouy M, Gautier C, Mouchiroud D (1998) Sensitivity of the relative-rate test to taxonomic sampling. Mol Biol Evol 15:1091–1098

Sambrook J, Fritsch EF, Maniatis T (1989) Molecular cloning: A laboratory manual, 2nd ed. Cold Spring Harbor Laboratory Press, Cold Spring Harbor, NY

Schmitz J, Zischler H (2003) A novel family of tRNA-derived SINEs in the colugo and two new retrotransposable markers separating dermopterans from primates. Mol Phylogenet Evol 28:341–349

Schmitz J, Ohme M, Zischler H (2001) SINE insertions in cladistic analyses and the phylogenetic affiliations of Tarsius bancanus to other primates. Genetics 157:777–784

Schmitz J, Ohme M, Zischler H (2002a) The complete mitochondrial sequence of Tarsius bancanus: evidence for an extensive nucleotide compositional plasticity of primate mitochondrial DNA. Mol Biol Evol 19:544–553

Schmitz J, Ohme M, Suryobroto B, Zischler H (2002b) The colugo (Cynocephalus variegatus, Dermoptera): The primates' gliding sister? Mol Biol Evol 19:2308–2312

Schmitz J, Roos C, Zischler H (2005) Primate phylogeny: molecular evidence from retroposons. Cytogenet Genome Res 108:26–37

Singer SS, Schmitz J, Schwiegk C, Zischler H (2003) Molecular cladistic markers in New World monkey phylogeny (Platyrrhini, Primates). Mol Phylogenet Evol 26:490–501

Smith NGC, Eyre-Walker A (2003) Partitioning the variation in mammalian substitution rates. Mol Biol Evol 20:10–17

Springer MS, Stanhope MJ, Madsen O, de Jong WW (2004) Molecules consolidate the placental mammal tree. Trends Ecol Evol 19:430–438

Sprinzl M, Horn C, Brown M, Ioudovitch A, Steinberg S (1998) Compilation of tRNA sequences and sequences of tRNA genes. Nucleic Acids Res 26:148–153

Swofford DL (2000) PAUR*: Phylogenetic analysis using parsimony (*and other methods). Version 4. Sinauer Associates, Sunderland, MA

Tavare S, Marshall CR, Will O, Soligo C, Martin RD (2002) Using the fossil record to estimate the age of the last common ancestor of extant primates. Nature 416:726–729

Thomas R, Zischler H, Paabo S, Stoneking M (1996) Novel mitochondrial DNA insertion polymorphism and its usefulness for human population studies. Hum Biol 68:847–854

Thompson JD, Gibson TJ, Plewniak F, Jeanmougin F, Higgins DG (1997) The CLUSTAL_X windows interface: flexible strategies for multiple sequence alignment aided by quality analysis tools. Nucleic Acids Res 25:4876–4882

Tourmen Y, Baris O, Dessen P Jacques C Malthiery Y, Reynier P (2002) Structure and chromosomal distribution of human mitochondrial pseudogenes. Genomics 80:71–77

Yang Z (2000) Phylogenetic analysis by maximum likelihood (PAML). Version 30. University College London, London

Zhang D-X, Hewitt GM (1996) Nuclear integrations: challenges for mitochondrial DNA makrers. Trends Ecol Evol 11:247–251

Zischler H, Geisert H, Castresana J (1998) A hominoid-specific nuclear insertion of the mitochondrial D-loop: implications for reconstructing ancestral mitochondrial sequences. Mol Biol Evol 15:463–469
Acknowledgments
We acknowledge the excellent technical assistance of Martina Ohme and Claudia Schwiegk. Thanks go to Christian Roos for primate DNA and to Kira Gee for editorial assistance. Two anonymous reviewers are gratefully acknowledged for their helpful comments.
Additional information
[Reviewing Editor: Dr. Rafael Zardoya]
About this article
Cite this article
Schmitz, J., Piskurek, O. & Zischler, H. Forty Million Years of Independent Evolution: A Mitochondrial Gene and Its Corresponding Nuclear Pseudogene in Primates. J Mol Evol 61, 1–11 (2005). https://doi.org/10.1007/s00239-004-0293-3
Received:

Accepted:

Published:

Issue Date:

DOI: https://doi.org/10.1007/s00239-004-0293-3
Keywords