Abstract
Invertases catalyze the irreversible hydrolysis of sucrose to glucose and fructose. Plants contain two unrelated families of these enzymes: acid forms that derive from periplasmic invertases of eubacteria and are found in cell wall and vacuole, and neutral/alkaline forms evolved from the cytosolic invertases of cyanobacteria. Genomes of rice (Oryza sativa) and thale cress (Arabidopsis thaliana) contain multiple genes encoding these two families. Here for rice we identify the member genes of a cell-wall group (designated OsCIN1–9), a vacuolar group (OsVIN1–2), and two ancient neutral/alkaline groups: α (OsNIN1–4) and β (OsNIN5–8). In Arabidopsis these groups contain six, two, four and five members, respectively. It is believed that the vacuolar group evolved from the cell-wall group. We provide evidence that the N-terminal signal peptide that directs cell-wall invertases co-translationally into the endoplasmic reticulum for secretion was replaced in the vacuolar group by a sequence similar to the complex N-terminal motif that targets alkaline phosphatase post-translationally to the vacuolar membrane of yeast. Since the last common ancestor of Arabidopsis and rice, the two invertase families evolved equally rapidly via gene duplication and gene loss, but the acid invertase family underwent ∼10 events of intron loss compared with a single event of intron gain in the neutral/alkaline invertase family. Transcripts were detected for all rice invertase genes except OsCIN9. The acid invertase genes showed greater spatial and temporal diversity of expression than the neutral/alkaline genes.
Access options
Buy single article
Instant access to the full article PDF.
US$ 39.95
Tax calculation will be finalised during checkout.
Subscribe to journal
Immediate online access to all issues from 2019. Subscription will auto renew annually.
US$ 119
Tax calculation will be finalised during checkout.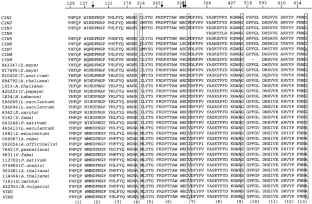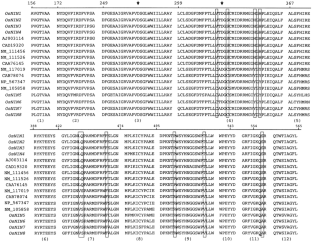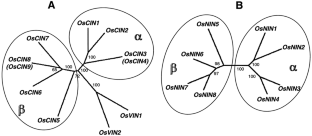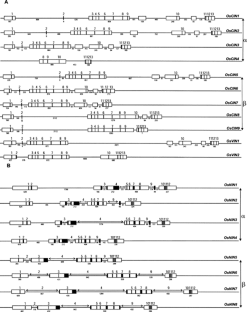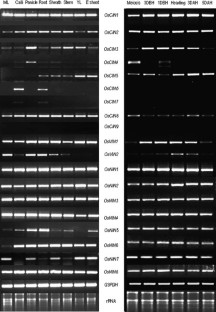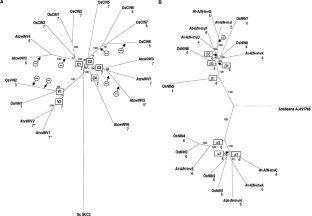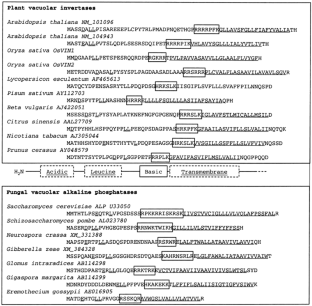 References
F Alberto C Bignon G Sulzenbacher B Henrissat M Czjzek (2004) ArticleTitleThe three-dimensional structure of invertase (beta-fructosidase) from Thermotoga maritima reveals a bimodular arrangement and an evolutionary relationship between retaining and inverting glycosidases J Biol Chem 279 18903–18910 Occurrence Handle1:CAS:528:DC%2BD2cXjsVKmtro%3D Occurrence Handle14973124

M Ares SuffixJr L Grate MH Pauling (1999) ArticleTitleA handful of intron-containing genes produces the lion's share of yeast mRNA RNA 5 1138–1139 Occurrence Handle1:CAS:528:DyaK1MXlvVSmtrk%3D Occurrence Handle10496214

G Avigad PM Dey (1997) Carbohydrate metabolism: storage carbohydrates PM Dey JB Harborne (Eds) Plant biochemistry Academic Press San Diego 143–204

PA Balk AD Boer Particlede (1999) ArticleTitleRapid stalk elongation in tulip (Tulipa gesneriana L. cv. Apeldoorn) and the combined action of cold-induced invertase and the water-channel protein γTIP Planta 209 346–354 Occurrence Handle1:CAS:528:DyaK1MXmtVGksbw%3D Occurrence Handle10502102

E Baroja-Fernandez FJ Munoz T Saikusa M Rodriguez-Lopez T Akazawa J Pozueta-Romero (2003) ArticleTitleSucrose synthase catalyzes the de novo production of ADPglucose linked to starch biosynthesis in heterotrophic tissues of plants Plant Cell Physiol 44 500–509 Occurrence Handle1:CAS:528:DC%2BD3sXkt1OhsL4%3D Occurrence Handle12773636

DC Bassham NV Raikhel (1997) ArticleTitleMolecular aspects of vacuole biogenesis Adv Bot Res 25 43–58 Occurrence Handle1:CAS:528:DyaK2sXnslCgtr8%3D

JD Bendtsen H Nielsen G Heijne Particlevon S Brunak (2004) ArticleTitleImproved prediction of signal peptides: SignalP 3.0 J Mol Biol 340 783–795 Occurrence Handle15223320

AS Bournay PE Hedley A Maddison R Waugh GC Machray (1996) ArticleTitleExon skipping induced by cold stress in a potato invertase gene transcript Nucleic Acids Res 24 2347–2351 Occurrence Handle1:CAS:528:DyaK28XktVagtb8%3D Occurrence Handle8710506

JE Bowers C Abbey S Anderson C Chang X Draye AH Hoppe R Jessup C Lemke J Lennington Z Li YR Lin SC Liu L Luo BS Marler R Ming SE Mitchell D Qiang K Reischmann SR Schulze DN Skinner YW Wang S Kresovich KF Schertz AH Paterson (2003) ArticleTitleA high-density genetic recombination map of sequence-tagged sites for sorghum, as a framework for comparative structural and evolutionary genomics of tropical grains and grasses Genetics 165 367–386 Occurrence Handle1:CAS:528:DC%2BD3sXosFalur4%3D Occurrence Handle14504243

S Brink UI Flugge F Chaumont M Boutry M Emmermann U Schmitz K Becker N Pfanner (1994) ArticleTitlePreproteins of chloroplast envelope inner membrane contain targeting information for receptor-dependent import into fungal mitochondria J Biol Chem 269 16478–16485 Occurrence Handle1:CAS:528:DyaK2cXkslKgtLg%3D Occurrence Handle8206957

C Burge S Karlin (1997) ArticleTitlePrediction of complete gene structures in human genomic DNA J Mol Biol 268 78–94 Occurrence Handle1:CAS:528:DyaK2sXjtlSqtL4%3D Occurrence Handle9149143

BA Chapman JE Bowers SR Schulze AH Paterson (2004) ArticleTitleA comparative phylogenetic approach for dating whole genome duplication events Bioinformatics 20 180–185 Occurrence Handle1:CAS:528:DC%2BD2cXms1ehsA%3D%3D Occurrence Handle14734308

JQ Chen CC Black (1992) ArticleTitleBiochemical and immunological properties of alkaline invertase isolated from sprouting soybean hypocotyls Arch Biochem Biophys 295 61–69 Occurrence Handle1:CAS:528:DyaK38XhvV2qu7w%3D Occurrence Handle1575518

MH Chen LF Huang HM Li YR Chen SM Yu (2004) ArticleTitleSignal peptide-dependent targeting of a rice alpha-amylase and cargo proteins to plastids and extracellular compartments of plant cells Plant Physiol 135 1367–1377 Occurrence Handle1:CAS:528:DC%2BD2cXmtVOrtbw%3D Occurrence Handle15235120

HL Chiang R Schekman S Hamamoto (1996) ArticleTitleSelective uptake of cytosolic, peroxisomal, and plasma membrane proteins into the yeast lysosome for degradation J Biol Chem 271 9934–9941 Occurrence Handle1:CAS:528:DyaK28XisFGqtLY%3D Occurrence Handle8626630

MG Claros P Vincens (1996) ArticleTitleComputational method to predict mitochondrially imported proteins and their targeting sequences Eur J Biochem 241 779–786 Occurrence Handle10.1111/j.1432-1033.1996.00779.x Occurrence Handle1:CAS:528:DyaK28XmvFCjurw%3D Occurrence Handle8944766

MJ Curtis TJ Wolpert (2002) ArticleTitleThe oat mitochondrial permeability transition and its implication in victorin binding and induced cell death Plant J 29 295–312 Occurrence Handle11844107

T Darsow CG Burd SD Emr (1998) ArticleTitleAcidic di-leucine motif essential for AP-3-dependent sorting and restriction of the functional specificity of the Vam3p vacuolar t-SNARE J Cell Biol 142 913–922 Occurrence Handle1:CAS:528:DyaK1cXls1eitbw%3D Occurrence Handle9722605

B Coninck ParticleDe K Le Roy I Francis S Clerens R Vergauwen A Halliday SM Smith A Laere ParticleVan W Ende ParticleVan den (2004) ArticleTitleArabidopsis AtcwINV3 and 6 are not invertases but are fructan exohydrolases (FEHs) with different substrate specificities Plant Cell Environ    

J Ehrmann SuffixJr A Kolek R Kod'ousek J Zapletalova S Lisova PG Murray J Drabek Z Kolar (2003) ArticleTitleIdentification of the gene for beta-fructofuranosidase of Bifidobacterium lactis DSM10140(T) and characterization of the enzyme expressed in Escherichia coli Curr Microbiol 46 391–397 Occurrence Handle1:CAS:528:DC%2BD3sXjs1ynsbg%3D Occurrence Handle12732943

O Emanuelsson H Nielsen S Brunak G Heijne Particlevon (2000) ArticleTitlePredicting subcellular localization of proteins based on their N-terminal amino acid sequence J Mol Biol 300 1005–1016 Occurrence Handle1:CAS:528:DC%2BD3cXks1OntrY%3D Occurrence Handle10891285

J Farrar (1996) ArticleTitleRegulation of shoot-root ratio is mediated by sucrose Plant Soil 185 13–19 Occurrence Handle1:CAS:528:DyaK2sXntlOltA%3D%3D

AL Feiber J Rangarajan JC Vaughn (2002) ArticleTitleThe evolution of single-copy Drosophila nuclear 4f-rnp genes: spliceosomal intron losses create polymorphic alleles J Mol Evol 55 401–413 Occurrence Handle1:CAS:528:DC%2BD38XnsVers7s%3D Occurrence Handle12355261

BS Gaut JF Doebley (1997) ArticleTitleDNA sequence evidence for the segmental allotetraploid origin of maize Proc Natl Acad Sci USA 94 6809–6814 Occurrence Handle1:CAS:528:DyaK2sXktF2rur0%3D Occurrence Handle11038553

N Gerrits SCHJ Turk KPM Dun Particlevan SHD Hulleman RGF Visser PJ Weisbeek SCM Smeekens (2001) ArticleTitleSucrose metabolism in plastids Plant Physiol 125 926–934 Occurrence Handle1:CAS:528:DC%2BD3MXhs1Kltrs%3D Occurrence Handle11161049

SI Gibson (2000) ArticleTitlePlant sugar-response pathways Part of a complex regulatory web. Plant Physiol 124 1532–1539 Occurrence Handle1:CAS:528:DC%2BD3MXitVWlsQ%3D%3D

DE Godt T Roitsch (1997) ArticleTitleRegulation and tissue-specific distribution of mRNAs for three extracellular invertase isoenzymes of tomato suggests an important function in establishing and maintaining sink metabolism Plant Physiol 115 273–282 Occurrence Handle1:CAS:528:DyaK2sXmt1ynur0%3D Occurrence Handle9306701

M Goetz T Roitsch (1999) ArticleTitleThe different pH optima and substrate specificities of extracellular and vacuolar invertases from plants are determined by a single amino-acid substitution Plant J 20 707–711 Occurrence Handle1:CAS:528:DC%2BD3cXpvFOrsQ%3D%3D Occurrence Handle10652142

N Haouazine-Takvorian Z Tymowska-Lalanne A Takvorian J Tregear B Lejeune A Lecharny M Kreis (1997) ArticleTitleCharacterization of two members of the Arabidopsis thaliana gene family, At beta fruct3 and At beta fruct4, coding for vacuolar invertases Gene 197 239–251 Occurrence Handle1:CAS:528:DyaK2sXlsFGms7c%3D Occurrence Handle9332372

T Hirose M Takano T Terao (2002) ArticleTitleCell wall invertase in developing rice caryopsis: molecular cloning of OsCIN1 and analysis of its expression in relation to its role in grain filling Plant Cell Physiol 43 452–459 Occurrence Handle1:CAS:528:DC%2BD38XjtFKntrs%3D Occurrence Handle11978873

D Iraqi FM Tremblay (2001) ArticleTitleAnalysis of carbohydrate metabolism enzymes and cellular contents of sugars and proteins during spruce somatic embryogenesis suggests a regulatory role of exogenous sucrose in embryo development J Exp Bot 52 2301–2311 Occurrence Handle1:CAS:528:DC%2BD3MXptVeis7Y%3D Occurrence Handle11709580

T Itoh S Akao W Hashimoto B Mikami K Murata (2004) ArticleTitleCrystal structure of unsaturated glucuronyl hydrolase, responsible for the degradation of glycosaminoglycan, from Bacillus sp. GL1 at 1.8 A resolution J Biol Chem 279 31804–31812 Occurrence Handle1:CAS:528:DC%2BD2cXlslOrtLg%3D Occurrence Handle15148314

S Kikuchi K Satoh T Nagata N Kawagashira K Doi N Kishimoto J Yazaki M Ishikawa H Yamada H Ooka I Hotta K Kojima T Namiki E Ohneda W Yahagi K Suzuki CJ Li K Ohtsuki T Shishiki Y Otomo K Murakami Y Iida S Sugano T Fujimura Y Suzuki Y Tsunoda T Kurosaki T Kodama H Masuda M Kobayashi Q Xie M Lu R Narikawa A Sugiyama K Mizuno S Yokomizo J Niikura R Ikeda J Ishibiki M Kawamata A Yoshimura J Miura T Kusumegi M Oka R Ryu M Ueda K Matsubara J Kawai P Carninci J Adachi K Aizawa T Arakawa S Fukuda A Hara W Hashizume N Hayatsu K Imotani Y Ishii M Itoh I Kagawa S Kondo H Konno A Miyazaki N Osato Y Ota R Saito D Sasaki K Sato K Shibata A Shinagawa T Shiraki M Yoshino Y Hayashizaki A Yasunishi (2003) ArticleTitleRice Full-Length cDNA Consortium; National Institute of Agrobiological Sciences Rice Full-Length cDNA Project Team; Foundation of Advancement of International Science Genome Sequencing & Analysis Group; RIKEN. Collection, mapping, and annotation of over 28,000 cDNA clones from japonica rice Science 301 376–379 Occurrence Handle10.1126/science.1081288 Occurrence Handle12869764

J Kim DJ Klionsky (2000) ArticleTitleAutophagy, cytoplasm-to-vacuole targeting pathway, and pexophagy in yeast and mammalian cells Annu Rev Biochem 69 303–342 Occurrence Handle1:CAS:528:DC%2BD3cXnt1ajtb8%3D Occurrence Handle10966461

DJ Klionsky SD Emr (1990) ArticleTitleA new class of lysosomal/vacuolar protein sorting signals J Biol Chem 265 5349–5352 Occurrence Handle1:CAS:528:DyaK3cXitlWmsLg%3D Occurrence Handle2180925

HS Lee A Sturm (1996) ArticleTitlePurification and characterization of neutral and alkaline invertase from carrot Plant Physiol 112 1513–1522 Occurrence Handle1:CAS:528:DyaK2sXkvVyg Occurrence Handle8972597

DG Levitt (1980) ArticleTitleThe mechanism of the sodium pump Biochim Biophys Acta 604 321–345 Occurrence Handle1:CAS:528:DyaL3MXpvVSnug%3D%3D Occurrence Handle6258641

MF Liaud DX Zhang R Cerff (1990) ArticleTitleDifferential intron loss and endosymbiotic transfer of chloroplast glyceraldehyde-3-phosphate dehydrogenase genes to the nucleus Proc Natl Acad Sci USA 87 8918–8922 Occurrence Handle1:CAS:528:DyaK3MXhsl2gsb8%3D Occurrence Handle2247465

M Lynch A Kewalramani (2003) ArticleTitleMessenger RNA surveillance and the evolutionary proliferation of introns Mol Biol Evol 20 563–571 Occurrence Handle1:CAS:528:DC%2BD3sXkvFCns7o%3D Occurrence Handle12654936

L Margulis D Sagan (2003) Acquiring genomes: the theory of the origins of the species. Basic Books New York

W Martin T Rujan E Richly A Hansen S Cornelsen T Lins D Leister B Stoebe M Hasegawa D Penny (2002) ArticleTitleEvolutionary analysis of Arabidopsis, cyanobacterial, and chloroplast genomes reveals plastid phylogeny and thousands of cyanobacterial genes in the nucleus Proc Natl Acad Sci USA 99 12246–12251 Occurrence Handle1:CAS:528:DC%2BD38XntlCks70%3D Occurrence Handle12218172

AH Millar LJ Sweetlove P Giegé CJ Leaver (2001) ArticleTitleAnalysis of the Arabidopsis mitochondrial proteome Plant Physiol 127 1711–1727 Occurrence Handle1:CAS:528:DC%2BD38XjtVWlsg%3D%3D Occurrence Handle11743115

T Murashige F Skoog (1962) ArticleTitleA revised medium for rapid growth and bioassays with tobacco tissue cultures Physiol Plant 15 473–497 Occurrence Handle1:CAS:528:DyaF3sXksFKm

K Nakai M Kanehisa (1992) ArticleTitleA knowledge base for predicting protein localization sites in eukaryotic cells Genomics 14 897–911 Occurrence Handle1:CAS:528:DyaK3sXhs1Clsbw%3D Occurrence Handle1478671

H Nielsen Jacob Engelbrecht Søren Brunak Gunnar Heijne Particlevon (1997) ArticleTitleIdentification of prokaryotic and eukaryotic signal peptides and prediction of their cleavage sites Prot Eng 10 1–6 Occurrence Handle1:CAS:528:DyaK2sXhsVersrs%3D

T Olsson M Thelander H Ronne (2003) ArticleTitleA novel type of chloroplast stromal hexokinase is the major phosphorylating enzyme in the moss Physcomitrella patens J Biol Chem 278 44439–44447 Occurrence Handle1:CAS:528:DC%2BD3sXoslWmurg%3D Occurrence Handle12941966

D Perlman HO Halvorson LE Cannon (1982) ArticleTitlePresecretory and cytoplasmic invertase polypeptides encoded by distinct mRNAs derived from the same structural gene differ by a signal sequence Proc Natl Acad Sci USA 79 781–785 Occurrence Handle1:CAS:528:DyaL38XhtlOjt74%3D Occurrence Handle7038684

RMD Page (1996) ArticleTitleTREEVIEW: An application to display phylogenetic trees on personal computers Comput Appl Biosci 12 357–358 Occurrence Handle1:STN:280:ByiD2MfgtlA%3D Occurrence Handle8902363

RC Piper NJ Bryant TH Stevens (1997) ArticleTitleThe membrane protein alkaline phosphatase is delivered to the vacuole by a route that is distinct from the VPS-dependent pathway J Cell Biol 138 531–545 Occurrence Handle1:CAS:528:DyaK2sXltlKhsr0%3D Occurrence Handle9245784

T Pons O Olmea G Chinea A Beldarrain G Marquez N Acosta L Rodriguez A Valencia (1998) ArticleTitleStructural model for family 32 of glycosyl-hydrolase enzymes Proteins 33 383–395 Occurrence Handle1:CAS:528:DyaK1cXntleit7Y%3D Occurrence Handle9829697

A Reddy F Maley (1996) ArticleTitleStudies on identifying the catalytic role of Glu-204 in the active site of yeast invertase J Biol Chem 271 13953–13957 Occurrence Handle1:CAS:528:DyaK28Xjs1OisLo%3D Occurrence Handle8662946

F Rook N Gerrits A Kortstee M Kampen Particlevan M Borrias P Weisbeek S Smeekens (1998) ArticleTitleSucrose-specific signalling represses translation of the Arabidopsis ATB2 bZIP transcription factor gene Plant J 15 253–263 Occurrence Handle1:CAS:528:DyaK1cXlslWqt7o%3D Occurrence Handle9721683

B Rost J Liu (2003) ArticleTitleThe PredictProtein server Nucleic Acids Res 31 3300–3304 Occurrence Handle1:CAS:528:DC%2BD3sXltVWjs7o%3D Occurrence Handle12824312

SM Sherson HL Alford SM Forbes G Wallace SM Smith (2003) ArticleTitleRoles of cell-wall invertases and monosaccharide transporters in the growth and development of Arabidopsis J Exp Bot 54 525–531 Occurrence Handle1:CAS:528:DC%2BD3sXhsFKgtbg%3D Occurrence Handle12508063

JCM Smeekens (2000) ArticleTitleSugar-induced signal transduction in plants Ann Rev Plant Physiol Plant Mol Biol 51 49–81 Occurrence Handle1:CAS:528:DC%2BD3cXlsVymtr8%3D

A Sturm (1999) ArticleTitleInvertases. Primary structures, functions, and roles in plant development and sucrose partitioning Plant Physiol 121 1–8 Occurrence Handle1:CAS:528:DyaK1MXmtFGls7o%3D Occurrence Handle10482654

A Sturm MJ Chrispeels (1990) ArticleTitlecDNA cloning of carrot extracellular β-fructosidase and its expression in response to wounding and bacterial infection Plant Cell 2 1107–1119 Occurrence Handle1:CAS:528:DyaK3MXlt1yktrg%3D Occurrence Handle2152110

DL Swofford (2002) PAUP*. Phylogenetic analysis using parsimony (*and other methods). Version 4 Sinauer Associates Sunderland, MA

BW Tague CD Dickinson MJ Chrispeels (1990) ArticleTitleA short domain of the plant vacuolar protein phytohemagglutinin targets invertase to the yeast vacuole Plant Cell 2 533–546 Occurrence Handle1:CAS:528:DyaK3cXls12isLk%3D Occurrence Handle2152175

KA Tucker F Reggiori WA Dunn SuffixJr DJ Klionsky (2003) ArticleTitleAtg23 is essential for the cytoplasm to vacuole targeting pathway and efficient autophagy but not pexophagy J Biol Chem 278 48445–48452 Occurrence Handle1:CAS:528:DC%2BD3sXpt1GjtL0%3D Occurrence Handle14504273

C Unger M Hardegger S Lienhard A Sturm (1994) ArticleTitlecDNA cloning of carrot (Daucus carota) soluble acid beta-fructofuranosidases and comparison with the cell wall isoenzyme Plant Physiol 104 1351–1357 Occurrence Handle1:CAS:528:DyaK2cXkslCrt78%3D Occurrence Handle8016265

W Ende ParticleVan den B Coninck ParticleDe S Clerens R Vergauwen A Laere ParticleVan (2003) ArticleTitleUnexpected presence of fructan 6-exohydrolases (6-FEHs) in non-fructan plants. Characterization, cloning, mass mapping and functional analysis of a novel "cell-wall invertase-like" specific 6-FEH from sugar beet (Beta vulgaris L.) Plant J 36 697–710 Occurrence Handle14617070

W Ende ParticleVan den A Michiels J Roover ParticleDe P Verhaert A Laere ParticleVan (2000) ArticleTitleCloning and functional analysis of chicory root fructanl-exohydrolase I (1-FEH I): A vacuolar enzyme derived from a cell-wall invertase ancestor? Mass fingerprint of the 1-FEH I enzyme Plant J 24 447–456 Occurrence Handle11115126

W Ende ParticleVan den A Michiels D Wonterghem ParticleVan SP Clerens J Roover ParticleDe AJ Laere ParticleVan (2001) ArticleTitleDefoliation induces fructan 1-exohydrolase II in Witloof chicory roots. Cloning and purification of two isoforms, fructan 1-exohydrolase IIa and fructan 1-exohydrolase IIb. Mass fingerprint of the fructan 1-exohydrolase II enzymes Plant Physiol 126 1186–1195 Occurrence Handle11457968

W Ende ParticleVan den AJ Laere ParticleVan (1995) ArticleTitlePurification and properties of a neutral invertase from the roots of Cichorium intybus Physiol Plant 93 241–248

W Vargas A Cumino GL Salerno (2003) ArticleTitleCyanobacterial alkaline/neutral invertases Origin of sucrose hydrolysis in the plant cytosol? Planta 216 951–960 Occurrence Handle1:CAS:528:DC%2BD3sXjvFGjsbc%3D

I Vijn S Smeekens (1999) ArticleTitleFructan: More than a reserve carbohydrate? Plant Physiol 120 351–360 Occurrence Handle1:CAS:528:DyaK1MXktFWrurc%3D Occurrence Handle10364386

A Vitale MJ Chrispeels (1992) ArticleTitleSorting of proteins to the vacuoles of plant cells Bioessays 14 151–160 Occurrence Handle1586369

JJ Vowels GS Payne (1998) ArticleTitleA dileucine-like sorting signal directs transport into an AP-3-dependent, clathrin-independent pathway to the yeast vacuole EMBO J 17 2482–2493 Occurrence Handle1:CAS:528:DyaK1cXjsVWgsr8%3D Occurrence Handle9564031

M Warchol S Perrin JP Grill F Schneider (2002) ArticleTitleCharacterization of a purified beta-fructofuranosidase from Bifidobacterium infantis ATCC 15697 Lett Appl Microbiol 35 462–467 Occurrence Handle1:CAS:528:DC%2BD3sXlvFSmtQ%3D%3D Occurrence Handle12460425

LE Williams SJ Nelson JL Hall (1992) ArticleTitleSolute/proton co-transport in plasma membrane vesicles from Ricinus cotyledons, and a comparison with other tissues Planta 22 541–550

J Xu WT Avigne DR McCarty KE Koch (1996) ArticleTitleA similar dichotomy of sugar modulation and development expression affects both paths of sucrose metabolism: evidence from maize invertase gene family Plant Cell 8 1209–1220 Occurrence Handle1:CAS:528:DyaK28XksFKkurc%3D Occurrence Handle12239414

EM Zdobnov R Apweiler (2001) ArticleTitleInterProScan–an integration platform for the signature-recognition methods in InterPro Bioinformatics 17 847–848 Occurrence Handle1:CAS:528:DC%2BD3MXotFehsro%3D Occurrence Handle11590104

M Zoratti I Szabo (1995) ArticleTitleThe mitochondrial permeability transition Biochim Biophys Acta 1241 139–176
Acknowledgments
We gratefully acknowledge financial support by grants from the German Federal Minister for Economic Cooperation and Development and the Swiss Development Coorporation. We thank project coordinators Dr. Renee Lafitte and Dr. Hei Leung. Dr. Arumugam Kathiresan and Dr. Kenneth McNally provided excellent technical advice. We thank Mr. Leonardo Estenor for assistance with plant growth and RNA extraction. Wim Van den Ende is a Postdoctoral Research Fellows of the Fund for Scientific Research-Flanders (Belgium) (FWO-Vlaanderen). Wim Van den Ende and André Van Laere are also supported by grants from KULeuven.
Additional information
Reviewing Editor: Dr. Rüdiger Cerff
About this article
Cite this article
Ji, X., Van den Ende, W., Van Laere, A. et al. Structure, Evolution, and Expression of the Two Invertase Gene Families of Rice. J Mol Evol 60, 615–634 (2005). https://doi.org/10.1007/s00239-004-0242-1
Received:

Accepted:

Issue Date:
Keywords
Cell wall

Vacuole

Cytosol

Mitochondrion

Chloroplast

Oryza sativa
Arabidopsis thaliana

Subcellular targeting

Intron loss