Abstract
Protein evolution is imprinted in both the sequence and the structure of evolutionary building blocks known as protein domains. These domains share a common ancestry and can be unified into a comparatively small set of folding architectures, the protein folds. We have traced the distribution of protein folds between and within proteomes belonging to Eukarya, Archaea, and Bacteria along the branches of a universal phylogeny of protein architecture. This tree was reconstructed from global fold-usage statistics derived from a structural census of proteomes. We found that folds shared by the three organismal domains were placed almost exclusively at the base of the rooted tree and that there were marked heterogeneities in fold distribution and clear evolutionary patterns related to protein architecture and organismal diversification. These include a relative timing for the emergence of prokaryotes, congruent episodes of architectural loss and diversification in Archaea and Bacteria, and a late and quite massive rise of architectural novelties in Eukarya perhaps linked to multicellularity.
This is a preview of subscription content,
to check access.
Access this article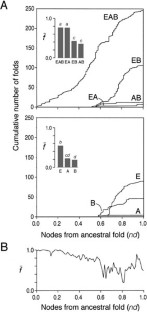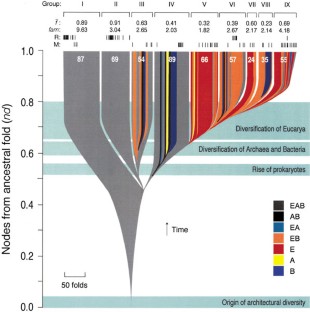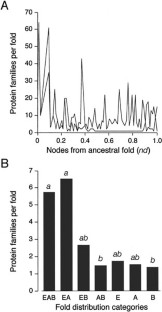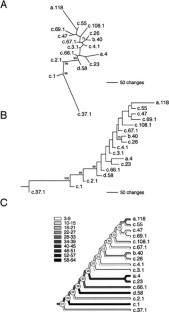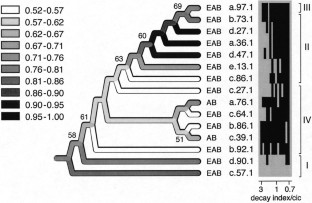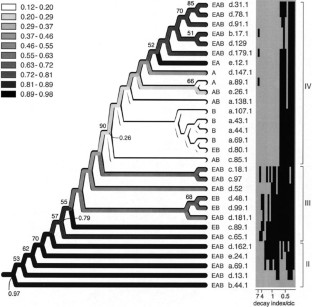 References
LW Ancel W Fontana (2000) ArticleTitlePlasticity, evolvability, and modularity in RNA J Exp Zool (Mol Dev Evol) 288 242–283 Occurrence Handle10.1002/1097-010X(20001015)288:3<242::AID-JEZ5>3.0.CO;2-O Occurrence Handle1:CAS:528:DC%2BD3cXnsFChs70%3D

L Aravind R Mazumder S Vasudevan EV Koonin (2002) ArticleTitleTrends in protein evolution inferred from sequence and structure analysis Curr Opin Struct Biol 12 392–399 Occurrence Handle10.1016/S0959-440X(02)00334-2 Occurrence Handle1:CAS:528:DC%2BD38Xlt1Shs78%3D Occurrence Handle12127460

WD Bauer U Mathesius (2004) ArticleTitlePlant responses to bacterial quorum sensing signals Curr Opin Plant Biol 7 429–433 Occurrence Handle10.1016/j.pbi.2004.05.008 Occurrence Handle1:CAS:528:DC%2BD2cXlsVWhtbk%3D Occurrence Handle15231266

G Caetano-Anollés (2002) ArticleTitleEvolved RNA secondary structure and the rooting of the universal tree of life J Mol Evol 54 333–345 Occurrence Handle11847559

G Caetano-Anollés D Caetano-Anollés (2003) ArticleTitleAn evolutionarily structured universe of protein architecture Genome Res 13 1563–1571 Occurrence Handle10.1101/gr.1161903 Occurrence Handle12840035

M Carlile (1982) ArticleTitleProkaryotes and eukaryotes: Strategies and successes Trends Biochem 7 128–130 Occurrence Handle10.1016/0968-0004(82)90199-2 Occurrence Handle1:CAS:528:DyaL38XhvFGmsLw%3D

SA Chervitz L Aravind G Sherlock CA Ball EV Koonin SS Dwight MA Harris K Dolinski S Mohr T Smith S Weng JM Cherry D Botstein (1998) ArticleTitleComparison of the complete protein sets of worm and yeast: Orthology and divergence Science 82 2022–2028 Occurrence Handle10.1126/science.282.5396.2022

C Chothia AM Lesk (1986) ArticleTitleThe relation between the divergence of sequence and structure in proteins EMBO J 5 823–826 Occurrence Handle1:CAS:528:DyaL28XitVals7o%3D Occurrence Handle3709526

C Chothia J Gough C Vogel SA Teichmann (2003) ArticleTitleEvolution of the protein repertoire Science 300 1701–1703 Occurrence Handle10.1126/science.1085371 Occurrence Handle1:CAS:528:DC%2BD3sXksVKisLc%3D Occurrence Handle12805536

RR Copley P Bork (2000) ArticleTitleHomology among (βα)8 barrels: implications for the evolution of metabolic pathways J Mol Biol 303 627–640 Occurrence Handle10.1006/jmbi.2000.4152 Occurrence Handle1:CAS:528:DC%2BD3cXotlyitb0%3D Occurrence Handle11054297

RR Copley J Schultz CP Ponting P Bork (1999) ArticleTitleProtein families in multicellular organisms Curr Opin Struct Biol 9 408–415 Occurrence Handle10.1016/S0959-440X(99)80055-4 Occurrence Handle1:CAS:528:DyaK1MXks1Wqs7s%3D Occurrence Handle10361098

AFW Coulson J Moult (2002) ArticleTitleA unifold, mesofold, and superfold model of protein fold use Proteins 46 61–71 Occurrence Handle10.1002/prot.10011 Occurrence Handle1:CAS:528:DC%2BD38XksFahtw%3D%3D Occurrence Handle11746703

V Daubin NA Moran H Ochman (2003) ArticleTitlePhylogenetics and the cohesion of bacterial genomes Science 301 829–832 Occurrence Handle10.1126/science.1086568 Occurrence Handle1:CAS:528:DC%2BD3sXmtVGqs7g%3D Occurrence Handle12907801

J Felsenstein (1985) ArticleTitleConfidence limits on phylogenies: An approach using the bootstrap Evolution 39 783–791

J Felsenstein (2004) Inferring phylogenies Sinauer Associates Sunderland, MA

D Frishman H-W Mewes (1997) ArticleTitleProtein structural classes in five complete genomes Nature Struct Biol 4 626–628 Occurrence Handle10.1038/nsb0897-626 Occurrence Handle1:CAS:528:DyaK2sXltlWgsLY%3D Occurrence Handle9253410

D Frishman K Albermann J Hani K Heumann A Metanomski A Zollner H-W Mewes (2001) ArticleTitleFunctional and structural genomics using PEDANT Bioinformatics 17 44–57 Occurrence Handle10.1093/bioinformatics/17.1.44 Occurrence Handle1:CAS:528:DC%2BD3MXit1Cjsbk%3D Occurrence Handle11222261

S Gavrilets (1997) ArticleTitleEvolution and speciation on holey adaptive landscapes Trends Ecol Evol 12 307–312 Occurrence Handle10.1016/S0169-5347(97)01098-7

M Gerstein (1997) ArticleTitleA structural census of genomes: Comparing bacterial, eukaryotic and archaeal genomes in terms of protein structure J Mol Biol 274 562–576 Occurrence Handle10.1006/jmbi.1997.1412 Occurrence Handle1:CAS:528:DyaK1cXht12nsg%3D%3D Occurrence Handle9417935

M Gerstein (1998) ArticleTitlePatterns of protein-fold usage in eight microbial genomes: A comprehensive structural census Proteins 33 518–534 Occurrence Handle10.1002/(SICI)1097-0134(19981201)33:4<518::AID-PROT5>3.0.CO;2-J Occurrence Handle1:CAS:528:DyaK1cXotVartbo%3D Occurrence Handle9849936

M Gerstein H Hegyi (1998) ArticleTitleComparing genomes in terms of protein structure: Surveys of a finite parts list FEMS Microbiol Rev 22 277–304 Occurrence Handle10.1016/S0168-6445(98)00019-9 Occurrence Handle1:CAS:528:DyaK1cXns1KqtrY%3D Occurrence Handle10357579

M Gerstein M Levitt (1997) ArticleTitleA structural census of the current population of protein sequences Proc Natl Acad Sci USA 94 11911–11916 Occurrence Handle10.1073/pnas.94.22.11911 Occurrence Handle1:CAS:528:DyaK2sXntFSms7o%3D Occurrence Handle9342336

N Glansdorff (2000) ArticleTitleAbout the last common ancestor, the universal life-tree and lateral gene transfer: A reappraisal Mol Microbiol 38 177–185 Occurrence Handle10.1046/j.1365-2958.2000.02126.x Occurrence Handle1:CAS:528:DC%2BD3cXotVGqtrc%3D Occurrence Handle11069646

JP Gogarten WF Doolittle JG Lawrence (2002) ArticleTitleProkaryotic evolution in light of gene transfer Mol Biol Evol 19 2226–2238 Occurrence Handle1:CAS:528:DC%2BD38Xps12hsL4%3D Occurrence Handle12446813

A Grant D Lee C Orengo (2004) ArticleTitleProgress towards mapping the universe of protein folds Genome Biol 5 107 Occurrence Handle10.1186/gb-2004-5-5-107 Occurrence Handle15128436

JP Grime (1977) ArticleTitleEvidence for the existence of three primary strategies in plants and its relevance to ecological and evolutionary theory Am Nat 111 1169–1194 Occurrence Handle10.1086/283244

TF Hansen (2003) ArticleTitleIs modularity necessary for evolvability? Remarks on the relationship between pleiotropy and evolvability Biosystems 69 83–94 Occurrence Handle10.1016/S0303-2647(02)00132-6 Occurrence Handle12689723

JK Harris ST Kelley GB Spiegelman NR Pace (2003) ArticleTitleThe genetic core of the universal ancestor Genome Res 13 407–412 Occurrence Handle10.1101/gr.652803 Occurrence Handle1:CAS:528:DC%2BD3sXit1Wgt7w%3D Occurrence Handle12618371

A Harrison F Pearl R Mott J Thornton C Orengo (2002) ArticleTitleQuantifying the similarities within fold space J Mol Biol 323 909–926 Occurrence Handle10.1016/S0022-2836(02)00992-0 Occurrence Handle1:CAS:528:DC%2BD38Xot1Knu7w%3D Occurrence Handle12417203

LH Hartwell JJ Hopfield S Leibler AW Murray (1999) ArticleTitleFrom molecular to modular cell biology Nature 402 C47–C52 Occurrence Handle10.1038/35011540 Occurrence Handle1:CAS:528:DyaK1MXnslKms70%3D Occurrence Handle10591225

H Hegyi J Lin D Greenbaum M Gerstein (2002) ArticleTitleStructural genomics analysis: Characteristics of atypical, common, and horizontally transferred folds Proteins 47 126–141 Occurrence Handle10.1002/prot.10078 Occurrence Handle1:CAS:528:DC%2BD38XislGhur8%3D Occurrence Handle11933060

MA Huynen E Nimwegen Particlevan (1998) ArticleTitleThe frequency distribution of gene family size in complete genomes Mol Biol Evol 15 583–589 Occurrence Handle1:CAS:528:DyaK1cXislensLw%3D Occurrence Handle9580988

GP Karev Y Wolf AY Rzhetsky FS Berezovskaya EV Koonin (2002) ArticleTitleBirth and death of protein domains: A simple model of evolution explains power law behavior BMC Evol Biol 2 18 Occurrence Handle10.1186/1471-2148-2-18 Occurrence Handle12379152

GP Karev Y Wolf EV Koonin (2003) ArticleTitleSimple stochastic birth and death models of genome evolution: Was there enough time for us to evolve? Bioinformatics 19 1889–1990 Occurrence Handle10.1093/bioinformatics/btg351 Occurrence Handle1:CAS:528:DC%2BD3sXot1CrsLc%3D Occurrence Handle14555621

SA Kauffmann (1993) The origins of order Oxford University Press New York

V Kunin CA Ouzounis (2003) ArticleTitleThe balance of driving forces during genome evolution in prokaryotes Genome Res 13 1589–1594 Occurrence Handle10.1101/gr.1092603 Occurrence Handle1:CAS:528:DC%2BD3sXls1Kruro%3D Occurrence Handle12840037

V Kunin I Cases AJ Enright V de Lorenzo CA Ouzounis (2003) ArticleTitleMyriads of protein families, and still counting Genome Biol 4 401 Occurrence Handle10.1186/gb-2003-4-2-401 Occurrence Handle12620116

D Lee A Grant D Buchan C Orengo (2003) ArticleTitleA structural perspective on genome evolution Curr Opin Struct Biol 13 359–369 Occurrence Handle10.1016/S0959-440X(03)00079-4 Occurrence Handle1:CAS:528:DC%2BD3sXkvVKns78%3D Occurrence Handle12831888

E Limpens C Franken P Smit J Willemse T Bisseling R Geurts (2003) ArticleTitleLysM domain receptor kinases regulating rhizobial Nod factor-induced infection Science 302 630–633 Occurrence Handle10.1126/science.1090074 Occurrence Handle1:CAS:528:DC%2BD3sXotlWqt7o%3D Occurrence Handle12947035

J Lin M Gerstein (2000) ArticleTitleWhole-genome trees based on the occurrence of fold and orthologs: Implications for comparing genomes on different levels Genome Res 10 808–818 Occurrence Handle10.1101/gr.10.6.808 Occurrence Handle1:CAS:528:DC%2BD3cXkt1eisLk%3D Occurrence Handle10854412

L Lo Conte SE Brenner TJP Hubbard C Chothia A Murzin (2002) ArticleTitleSCOP database in 2002: Refinements accommodate structural genomics Nucleic Acids Res 30 264–267 Occurrence Handle10.1093/nar/30.1.264 Occurrence Handle1:CAS:528:DC%2BD38Xht12rsr8%3D Occurrence Handle11752311

AN Lupas CP Ponting RB Russell (2001) ArticleTitleOn the evolution of protein folds: Are similar motifs in different protein folds the result of convergence, insertion, or relics of an ancient peptide world? J Struct Biol 134 191–203 Occurrence Handle10.1006/jsbi.2001.4393 Occurrence Handle1:CAS:528:DC%2BD3MXms1alt78%3D Occurrence Handle11551179

M Lynch JS Conery (2000) ArticleTitleThe evolutionary fate and consequences of duplicate genes Science 10 1151–1155 Occurrence Handle10.1126/science.290.5494.1151

M Lynch JS Conery (2003a) ArticleTitleThe evolutionary demography of duplicate genes J Struct Funct Genomics 3 35–44 Occurrence Handle10.1023/A:1022696612931 Occurrence Handle1:CAS:528:DC%2BD3sXhsFKqsLo%3D

M Lynch JS Conery (2003b) ArticleTitleThe origins of genome complexity Science 302 1401–1404 Occurrence Handle10.1126/science.1089370 Occurrence Handle1:CAS:528:DC%2BD3sXptVGjsrs%3D

WP Maddison (1991) ArticleTitleSquared-change parsimony reconstructions of ancestral states for continuous-valued characters on a phylogenetic tree Syst Zool 40 304–314

WP Maddison DR Maddison (1999) MacClade: Analysis of phylogeny and character evolution, version 3.08. Sinauer Associates Sunderland, MA

U Mathesius S Mulders M Gao M Teplitski G Caetano-Anollés BG Rolfe WD Bauer (2003) ArticleTitleExtensive and specific responses of a eukaryote to bacterial quorum sensing signals Proc Natl Acad Sci USA 100 1444–1449 Occurrence Handle10.1073/pnas.262672599 Occurrence Handle1:CAS:528:DC%2BD3sXhtF2nsrY%3D Occurrence Handle12511600

MJ McFall-Ngai (2001) ArticleTitleIdentifying 'prime suspects': Symbioses and the evolution of multicellularity Comp Biochem Phys B Biochem Mol Biol 129 711–723 Occurrence Handle10.1016/S1096-4959(01)00406-7 Occurrence Handle1:STN:280:DC%2BD3MznvVyqsw%3D%3D

E Mossell (2003) ArticleTitleOn the impossibility of reconstructing ancestral data and phylogenies J Comp Biol 10 669–678 Occurrence Handle10.1089/106652703322539015

A Murzin SE Brenner T Hubbard C Clothia (1995) ArticleTitleSCOP: A structural classification of proteins for the investigation of sequences and structures J Mol Biol 247 536–540 Occurrence Handle10.1006/jmbi.1995.0159 Occurrence Handle1:CAS:528:DyaK2MXltVGgsr4%3D Occurrence Handle7723011

N Nagano CA Orengo JM Thornton (2002) ArticleTitleOne fold with many functions: The evolutionary relationships between TIM barrel families based on their sequences, structures and functions J Mol Biol 321 741–765 Occurrence Handle10.1016/S0022-2836(02)00649-6 Occurrence Handle1:CAS:528:DC%2BD38Xms1Wmurg%3D Occurrence Handle12206759

S Nee EC Holmes RM May PH Harvey (1994) ArticleTitleExtinction rates can be estimated from molecular phylogenies Phil Trans R Soc Lond B Biol Sci 344 77–82 Occurrence Handle1:STN:280:ByiD3s3js1A%3D

CA Orengo AD Michie S Jones DJ Jones MB Swindells JM Thornton (1997) ArticleTitleCATH: a hierarchic classification of protein domain structures Structure 5 1093–1108 Occurrence Handle10.1016/S0969-2126(97)00260-8 Occurrence Handle1:CAS:528:DyaK2sXmt1Wgs74%3D Occurrence Handle9309224

L Patthy (2003) ArticleTitleModular assembly of genes and the evolution of new functions Genetica 118 217–231 Occurrence Handle10.1023/A:1024182432483 Occurrence Handle1:CAS:528:DC%2BD3sXksFWntLw%3D Occurrence Handle12868611

D Penny MD Hendy AM Poole (2003) ArticleTitleTesting fundamental evolutionary hypotheses J Theor Biol 223 377–385 Occurrence Handle10.1016/S0022-5193(03)00099-7 Occurrence Handle12850457

H Philippe J Laurent (1998) ArticleTitleHow good are deep phylogenetic trees? Curr Opin Genet Dev 8 6161–623 Occurrence Handle10.1016/S0959-437X(98)80028-2

A Poole DC Jeffares D Penny (1998) ArticleTitleThe path from the RNA world J Mol Evol 46 1–17 Occurrence Handle1:CAS:528:DyaK1cXks1WisA%3D%3D Occurrence Handle9419221

J Qian NM Luscombe M Gerstein (2001) ArticleTitleProtein family and fold occurrence in genomes: Power-law behavior and evolutionary model J Mol Biol 313 673–681 Occurrence Handle10.1006/jmbi.2001.5079 Occurrence Handle1:CAS:528:DC%2BD3MXotVyntb8%3D Occurrence Handle11697896

MC Rivera JA Lake (2004) ArticleTitleThe ring of life provides evidence for a genome fusion origin of eukaryotes Nature 431 152–155 Occurrence Handle10.1038/nature02848 Occurrence Handle1:CAS:528:DC%2BD2cXntlGks78%3D Occurrence Handle15356622

A Rokas PWK Holland (2000) ArticleTitleRare genomic changes as a tool for phylogenetics Trends Ecol Evol 15 454–459 Occurrence Handle11050348

A Rzhetsky SM Gomez (2001) ArticleTitleBirth of scale-free molecular networks and the number of distinct DNA and protein domains per genome Bioinformatics 17 988–996 Occurrence Handle10.1093/bioinformatics/17.10.988 Occurrence Handle1:CAS:528:DC%2BD3MXot1Gnsr4%3D Occurrence Handle11673244

C Semple M Steel (2002) ArticleTitleTree reconstruction from multi-state characters Adv Appl Math 28 169–184 Occurrence Handle10.1006/aama.2001.0772

B Snel P Bork MA Huynen (2002) ArticleTitleGenomes in flux: The evolution of Archaeal and Proteobacterial gene content Genome Res 12 17–25 Occurrence Handle10.1101/gr.176501 Occurrence Handle1:CAS:528:DC%2BD38XksV2rsQ%3D%3D Occurrence Handle11779827

E Sober M Steel (2002) ArticleTitleTesting the hypothesis of common ancestry J Theor Biol 218 395–408 Occurrence Handle12384044

M Steel D Penny (2000) ArticleTitleParsimony, likelihood, and the role of models in molecular phylogenetics Mol Biol Evol 17 839–850 Occurrence Handle1:CAS:528:DC%2BD3cXjvFygsrY%3D Occurrence Handle10833190

DL Swofford (1999) Phylogenetic analysis using parsimony and other programs (PAUP*), version 4. Sinauer Associates Sunderland, MA

DL Swofford WP Maddison (1987) ArticleTitleReconstructing ancestral character states under Wagner parsimony Math Biosci 87 199–229 Occurrence Handle10.1016/0025-5564(87)90074-5

K Thiele (1993) ArticleTitleThe holy grail of the perfect character: The cladistic treatment of morphometric data Cladistics 9 275–304 Occurrence Handle10.1006/clad.1993.1020

JL Thorley RDM Page (2000) ArticleTitleRadCon: phylogenetic tree comparison and consensus Bioinformatics 16 486–487 Occurrence Handle10.1093/bioinformatics/16.5.486 Occurrence Handle1:CAS:528:DC%2BD3cXlvVKqt7c%3D Occurrence Handle10871273

SH White (1994) ArticleTitleGlobal statistics of protein sequences: implications for the origin, evolution, and prediction of structure Annu Rev Biophys Biomol Struct 23 407–439 Occurrence Handle10.1146/annurev.bb.23.060194.002203 Occurrence Handle1:CAS:528:DyaK2MXitVartA%3D%3D Occurrence Handle7919788

M Wilkinson JL Thorley P Upchurch (2000) ArticleTitleA chain is no longer than its weakest link: double decay analysis of phylogenetic hypotheses Syst Biol 49 754–776 Occurrence Handle10.1080/106351500750049815 Occurrence Handle1:STN:280:DC%2BD38zntVOisw%3D%3D Occurrence Handle12116438

CR Woese (2000) ArticleTitleThe universal ancestor Proc Natl Acad Sci USA 95 6854–6859 Occurrence Handle10.1073/pnas.95.12.6854

CR Woese O Kandler ML Wheelis (1990) ArticleTitleTowards a natural system of organisms: Proposal for the domains Archaea, Bacteria, and Eucarya Proc Natl Acad Sci USA 87 4576–4579 Occurrence Handle1:STN:280:By%2BB1c%2FktFw%3D Occurrence Handle2112744

YI Wolf SE Brenner PA Bash EV Koonin (1999) ArticleTitleDistribution of protein folds in the three superkingdoms of life Genome Res 9 17–26 Occurrence Handle1:CAS:528:DyaK1MXhtVWltLc%3D Occurrence Handle9927481

YI Wolf IB Rogozin NV Grishin EV Koonin (2002) ArticleTitleGenome trees and the tree of life Trends Genet 18 472–479 Occurrence Handle10.1016/S0168-9525(02)02744-0 Occurrence Handle1:CAS:528:DC%2BD38Xmtleltbo%3D Occurrence Handle12175808

S Wright (1932) ArticleTitleThe roles of mutation, inbreeding, crossbreeding and selection in evolution Proc Sixth Int Congr Genet 1 356–366
Acknowledgments
We would like to thank Jay Mittenthal (University of Illinois) and Dietz Bauer (Ohio State University) for valuable comments and suggestions.
Additional information
Reviewing Editor : Dr. David Pollock
About this article
Cite this article
Caetano-Anollés, G., Caetano-Anollés, D. Universal Sharing Patterns in Proteomes and Evolution of Protein Fold Architecture and Life. J Mol Evol 60, 484–498 (2005). https://doi.org/10.1007/s00239-004-0221-6
Received:

Accepted:

Issue Date:

DOI: https://doi.org/10.1007/s00239-004-0221-6
Keywords