Abstract
The relationship among the three cellular domains Archaea, Bacteria, and Eukarya has become a central problem in unraveling the tree of life. This relationship can now be studied as the completely sequenced genomes of representatives of these cellular domains become available. We performed a bioinformatic investigation of the Encephalitozoon cuniculi proteome. E. cuniculi has the smallest sequenced eukaryotic genome, 2.9 megabases coding for 1997 proteins. The proteins of E. cuniculi were compared with a previously characterized set of eukaryotic signature proteins (ESPs). ESPs are found in a eukaryotic cell, whether from an animal, a plant, a fungus, or a protozoan, but are not found in the Archaea and the Bacteria. We demonstrated that 85% of the ESPs have significant sequence similarity to proteins in E. cuniculi. Hence, E. cuniculi, a minimal eukaryotic cell that has removed all inessential proteins, still preserves most of the ESPs that make it a member of the Eukarya. The locations and functions of these ESPs point to the earliest history of eukaryotes.
Access options
Buy single article
Instant access to the full article PDF.
USD 39.95
Price excludes VAT (USA)
Tax calculation will be finalised during checkout.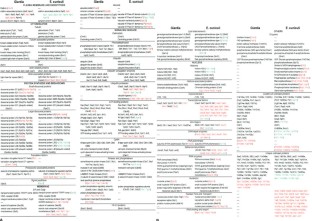 References
SF Altschul TL Madden AA Schaffer J Zhang Z Zhang W Miller DJ Lipman (1997) ArticleTitleGapped BLAST and PSI-BLAST: A new generation of protein database search programs Nucleic Acids Res 25 3389–3402 Occurrence Handle1:CAS:528:DyaK2sXlvFyhu7w%3D Occurrence Handle9254694

G Arents EN Moudrianakis (1995) ArticleTitleThe histone fold: A ubiquitous architectural motif utilized in DNA compaction and protein dimerization Proc Natl Acad Sci USA 92 11170–11174

SL Baldauf AJ Roger I Wenk-Siefert WF Doolittle (2000) ArticleTitleA kingdom-level phylogeny of eukaryotes based on combined protein data Science 290 972–976 Occurrence Handle10.1126/science.290.5493.972 Occurrence Handle1:CAS:528:DC%2BD3cXnvVWksL0%3D Occurrence Handle11062127

DA Benson MS Boguski DJ Lipman J Ostell BF Ouellette BA Rapp DL Wheeler (1999) ArticleTitleGenBank Nucleic Acids Res 27 12–17 Occurrence Handle10.1093/nar/27.1.12 Occurrence Handle9847132

GV Beznoussenko AA Mironov (2002) ArticleTitleModels of intracellular transport and evolution of the Golgi complex Anat Rec 268 226–238

JL Bouzat LK McNeil HM Robertson LF Solter JE Nixon JE Beever HR Gaskins G Olsen S Subramaniam ML Sogin HA Lewin (2000) ArticleTitlePhylogenomic analysis of the alpha proteasome gene family from early-diverging eukaryotes J Mol Evol 51 532–543

RR Copley J Schultz CP Ponting P Bork (1999) ArticleTitleProtein families in multicellular organisms Curr Opin Struct Biol 9 408–415

RF Doolittle (1995) ArticleTitleThe origins and evolution of eukaryotic proteins Philos Trans R Soc Lond B Biol Sci 349 235–240

RF Doolittle AL York (2002) ArticleTitleBacterial actins? An evolutionary perspective Bioessays 24 293–296

CM Fraser JD Gocayne O White et al. (1995) ArticleTitleThe minimal gene complement of Mycoplasma genitalium Science 270 397–403 Occurrence Handle1:CAS:528:DyaK2MXovVeku7o%3D Occurrence Handle7569993

HV Goodson WF Hawse (2002) ArticleTitleMolecular evolution of the actin family J Cell Sci 115 2619–2622

S Gribaldo H Phillippe (2002) ArticleTitleAncient phylogenetic relationships Theor Population Biol 61 391–408

H Hartman A Fedorov (2002) ArticleTitleThe origin of the eukaryotic cell: A genomic investigation Proc Natl Acad Sci USA 99 1420–1425

DG Higgins PM Sharp (1988) ArticleTitleCLUSTAL: A package for performing multiple sequence alignment on a microcomputer Gene 73 237–244 Occurrence Handle10.1016/0378-1119(88)90330-7 Occurrence Handle1:CAS:528:DyaL1MXhtV2ns74%3D Occurrence Handle3243435

W Kabsch KC Holmes (1995) ArticleTitleThe actin fold FASEB J 9 167–174

MD Katinka S Duprat E Cornillot G Metenier F Thomarat G Prensier V Barbe E Peyretaillade P Brottier P Wincker F Delbac H El Alaoui P Peyret W Saurin M Gouy J Weissenbach CP Vivares (2001) ArticleTitleGenome sequence and gene compaction of the eukaryote parasite Encephalitozoon cuniculi Nature 414 450–453 Occurrence Handle10.1038/35106579 Occurrence Handle1:CAS:528:DC%2BD3MXovFamsbo%3D Occurrence Handle11719806

FJ Kull RD Vale RJ Fletterick (1998) ArticleTitleThe case for a common ancestor: Kinesin and myosin motor proteins and G proteins J Muscle Res Cell Motil 19 877–886

AR Mushegian EV Koonin (1996) ArticleTitleA minimal gene set for cellular life derived by comparison of complete bacterial genomes Proc Natl Acad Sci USA 93 10268–10273 Occurrence Handle10.1073/pnas.93.19.10268 Occurrence Handle1:CAS:528:DyaK28XlslGktb0%3D Occurrence Handle8816789

E Nogales KH Downing LA Amos J Lowe (1998) ArticleTitleTubulin and FtsZ form a distinct family of GTPases Nat Struct Biol 5 451–458

D Penny A Poole (1999) ArticleTitleThe nature of the last universal common ancestor Curr Opin Genet Dev 9 672–677

S Razin (1997) ArticleTitleThe minimal cellular genome of mycoplasma Indian J Biochem Biophys 34 124–130

RD Vale (2000) ArticleTitleAAA proteins: Lords of the ring J Cell Biol 150 F13–F19 Occurrence Handle10.1083/jcb.150.1.F13 Occurrence Handle1:CAS:528:DC%2BD3cXltVGhsb8%3D Occurrence Handle10893253

F Van den Ent L Amos J Lowe (2001) ArticleTitleProkaryotic origin of the actin cytoskeleton Nature 413 39–44

CR Vossbrinck JV Maddox S Friedman BA Debrunner-Vossbrinck CR Woese (1987) ArticleTitleRibosomal RNA sequence suggests microsporidia are extremely ancient eukaryotes Nature 326 411–414 Occurrence Handle10.1038/326411a0 Occurrence Handle1:CAS:528:DyaL2sXktVWrsr4%3D Occurrence Handle3550472

C Wang J Xi TP Begley LK Nicholson (2001) ArticleTitleSolution structure of ThiS and implications for the evolutionary roots of ubiquitin Nat Struct Biol 8 47–51
Acknowledgments
This research was supported in part by NSF Grandt DBI-0205512. Support for this work was provided by the Medical College of Ohio Foundation. We would also like to thank Ms. Lisa Johnston for her excellent secretarial assistance.
Additional information
Reviewing Editor: Dr. Manyuan Long
About this article
Cite this article
Fedorov, A., Hartman, H. What Does the Microsporidian E. cuniculi Tell Us About the Origin of the Eukaryotic Cell?. J Mol Evol 59, 695–702 (2004). https://doi.org/10.1007/s00239-003-0085-1
Received:

Accepted:

Issue Date:

DOI: https://doi.org/10.1007/s00239-003-0085-1
Keywords