Abstract
Pyoderma gangrenosum is a rare skin condition which is difficult to diagnose as it often presents similarly to common complications such as wound infection, tissue ischemia and necrotizing fasciitis. We present a patient who underwent immediate DIEP free flap breast reconstruction and developed post-surgical pyoderma gangrenosum (PSPG), initially with non-characteristic signs and symptoms. Our patient first developed severe headache, fever and erythema surrounding her wound. The classical signs of painful ulcers with undermined bluish borders and surrounding violaceous rash were not seen for nearly 4 weeks. This, in combination with positive wound culture, made for a challenging diagnosis in an elective breast reconstruction patient. Diagnosis of PSPG relies on clinical signs first and is supported by wound swab culture and sensitivity and tissue biopsy for histopathology. The treatment of choice for PSPG is high-dose systemic steroids followed by an oral prednisolone taper over a period of 4–6 weeks. Early diagnosis of PSPG can optimize outcomes and reduce morbidity. We should consider PSPG as a differential diagnosis when post-operative wound infection is suspected, particularly if a non-classical pattern is seen. We could also consider discussion of PSPG as a rare, yet serious complication during the consent process.
Level of evidence: Level V, diagnostic study.
Access options
Buy single article
Instant access to the full article PDF.
US$ 39.95
Tax calculation will be finalised during checkout.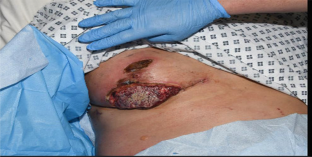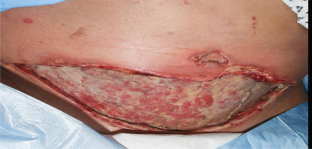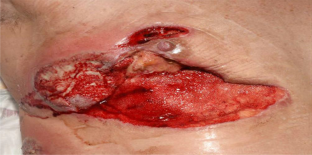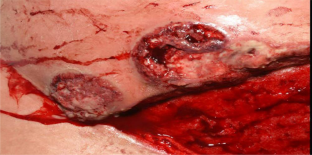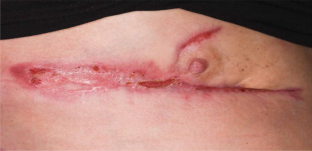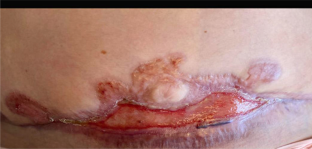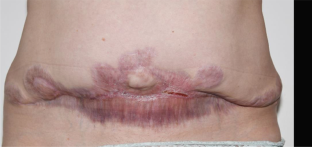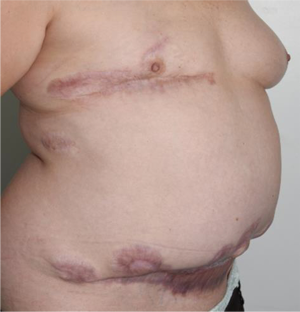 References
1.

Zelones JT, Nigriny JF (2017) Pyoderma gangrenosum after deep inferior epigastric perforator breast reconstruction: systematic review and case report. Plast Reconstr Surg Glob Open 5(4):e1239. https://doi.org/10.1097/GOX.0000000000001239

2.

Zuo KJ, Fung E, Tredget EE, Lin AN (2015) A systematic review of post-surgical pyoderma gangrenosum: identification of risk factors and proposed management strategy. J Plast Reconstr Aesthet Surg 68:295–303

3.

Ehrl DC, Heidekrueger PI, Broer PN (2018) Pyoderma gangrenosum after breast surgery: a systematic review. J Plast Reconstr Aesthet Surg 71(7):1023–1032. https://doi.org/10.1016/j.bjps.2018.03.013

4.

Patel DK, Locke M, Jarrett P (2017) Pyoderma gangrenosum with pathergy: a potentially significant complication following breast reconstruction. J Plast Reconstr Aesthet Surg 70:884–892. https://doi.org/10.1016/j.bjps.2017.03.013

5.

Li WY, Andersen JC, Jung J, Andersen JS (2019) Pyoderma gangrenosum after abdominal free tissue transfer for breast reconstruction: case series and management guidelines. Ann Plast Surg 83(1):63–68. https://doi.org/10.1097/SAP.0000000000001782

6.

Shahi V, Wetter DA (2015) Pyoderma gangrenosum associated with solid organ malignancies. Int J Dermatol 54(9):e351–7. https://doi.org/10.1111/ijd.12796

7.

Caterson SA, Nyame T, Phung T, Lee B, Tobias AM (2010) Pyoderma gangrenosum following bilateral deep inferior epigastric perforator flap breast reconstruction. J Reconstr Microsurg 26:475–479. https://doi.org/10.1055/s-0030-1261699

8.

Tuffaha SH, Sarhane KA, Mundinger GS et al (2016) Pyoderma gangrenosum after breast surgery: diagnostic pearls and treatment recommendations based on a systematic literature review. Ann Plast Surg 77:e39–44. https://doi.org/10.1097/SAP.0000000000000248

9.

Schintler MV, Grohmann M, Donia C, Aberer E, Scharnagl E (2010) Management of an unfortunate triad after breast reconstruction: pyoderma gangrenosum, full-thickness chest wall defect and acinetobacter baumannii infection. J Plast Reconstr Aesthet Surg 63(7):e564e7

10

Poucke SV, Jorens PG, Peeters R et al (2004) Pyoderma gangrenosum: a challenging complication of bilateral mastopexy. Int Wound J 1:207e13
Ethics declarations
Ethics approval
All procedures performed in studies involving human participants were in accordance with the ethical standards of the institutional and/or national research committee and with the 1964 Helsinki Declaration and its later amendments. No ethical approval was required for this case report.
Consent to participate
Informed written consent was obtained from patient.
Consent for publication
Patient signed written consent regarding publishing her data and photographs.
Conflict of interest
Md Abu Sayed, Richard A J Wain and Siobhan O'Ceallaigh declare no competing interests.
Additional information
Publisher's note
Springer Nature remains neutral with regard to jurisdictional claims in published maps and institutional affiliations.
About this article
Cite this article
Sayed, M.A., Wain, R.A.J. & O'Ceallaigh, S. Pyoderma gangrenosum after immediate deep inferior epigastric perforator flap breast reconstruction: a case report. Eur J Plast Surg (2021). https://doi.org/10.1007/s00238-021-01882-6
Received:

Accepted:

Published:
Keywords
Pyoderma gangrenosum

Post-surgical pyoderma gangrenosum

DIEP free flap

Immediate breast reconstruction