Abstract
Background
Carpal tunnel syndrome (CTS) is the most frequent and well-known form of median nerve entrapment and accounts for 90% of all entrapment neuropathies. The outcomes of CTS release surgery are usually evaluated with patient-reported outcome measures. To compare the accuracy of Quick-DASH versus CTS-6 evaluation tools in assessing the outcome of surgical treatment for carpal tunnel syndrome.
Methods
We conducted a study involving 60 cases undergoing carpal tunnel release at our institute to consider the accuracy of QUICK-DASH and CTS-6 evaluation tools. The results were assessed by self-administering questionnaires filled by patients on 3 different occasions: pre-operatively, 1 month, and 6 months post-operatively. The accuracy of QUICK-DASH and CTS-6 assessment tools was analyzed independently using the dependent t-test and Wilcoxon matched pairs test.
Results
A positive correlation was found between the mean change in both Quick-DASH and CTS-6 scoring systems. However, CTS-6 showed higher responsiveness to changes from baseline to 1 month and 6 months respectively compared to Quick-DASH.
Conclusions
Quick-DASH and the CTS-6 evaluation tools both are highly responsive to change after surgery for carpal tunnel syndrome and reflect the clinical improvement in terms of disabilities and symptoms respectively. The higher responsiveness to CTS-6 could be attributed to the fact that the CTS-6 is a disease-specific measure of symptoms, whereas the Quick-DASH is a region-specific measure of function. Our study provides additional support for CTS-6 given accessing treatment outcomes, as it is easier and less time-consuming to adapt.
Level of evidence: Not gradable
Access options
Buy single article
Instant access to the full article PDF.
US$ 39.95
Tax calculation will be finalised during checkout.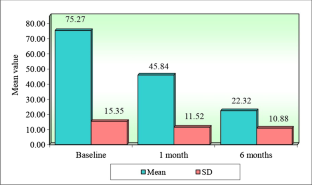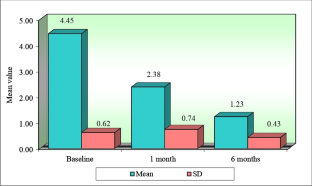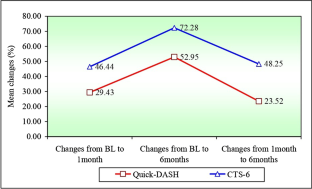 References
1.

Ibrahim I, Khan WS, Goddard N, Smitham P (2012) Carpal tunnel syndrome: a review of the recent literature. Open Orthop J 6:69–76. https://doi.org/10.2174/1874325001206010069

2.

İlhan D, Toker S, Kilincioğlu V, Gülcan E (2008) Assessment of the Boston Questionnaire in diagnosis of idiopathic carpal tunnel syndrome: comparing scores with clinical and neurophysiological findings. Düzce Tıp Fakültesi Derg 10(3):4–9

3.

Lyrén P-E, Atroshi I (2012) Using item response theory improved responsiveness of patient-reported outcomes measures in carpal tunnel syndrome. J Clin Epidemiol 65(3):325–334. https://doi.org/10.1016/j.jclinepi.2011.08.009

4.

Rosales RS, Delgado EB, Díez de la Lastra-Bosch I (2002) Evaluation of the Spanish version of the DASH and carpal tunnel syndrome health-related quality-of-life instruments: cross-cultural adaptation process and reliability. J Hand Surg Am 27(2):334–343. https://doi.org/10.1053/jhsu.2002.30059

5.

Tunnel C (2006) Evaluation of boston questionnaire applied at late post-operative period of carpal tunnel syndrome operated with the paine retinaculatome through palmar port. Acta Ortop Bras 14(3):126

6.

Imaeda T, Toh S, Wada T et al (2006) Validation of the Japanese Society for Surgery of the Hand Version of the Quick Disability of the Arm, Shoulder, and Hand (QuickDASH-JSSH) questionnaire. J Orthop Sci Off J Jpn Orthop Assoc 11(3):248–253. https://doi.org/10.1007/s00776-006-1013-1

7.

Rosales RS, Martin-Hidalgo Y, Reboso-Morales L, Atroshi I (2016) Reliability and construct validity of the Spanish version of the 6-item CTS symptoms scale for outcomes assessment in carpal tunnel syndrome. BMC Musculoskelet Disord 17:115. https://doi.org/10.1186/s12891-016-0963-5

8.

Hegmann KT, Merryweather A, Thiese MS et al (2018) Median nerve symptoms, signs, and electrodiagnostic abnormalities among working adults. J Am Acad Orthop Surg 26(16):576–584. https://doi.org/10.5435/JAAOS-D-17-00034

9.

Worker Health Information from the National Health Interview Survey. In: https://www.cdc.gov/niosh/topics/nhis/data2015.html. Accessed 6 Jun 2021

10.

Alfonso C, Jann S, Massa R, Torreggiani A (2010) Diagnosis, treatment and follow-up of the carpal tunnel syndrome: a review. Neurol Sci 31(3):243–252. https://doi.org/10.1007/s10072-009-0213-9

11.

MacDermid JC, Doherty T (2004) Clinical and electrodiagnostic testing of carpal tunnel syndrome: a narrative review. J Orthop Sports Phys Ther 34(10):565–588. https://doi.org/10.2519/jospt.2004.34.10.565

12.

Urits I, Gress K, Charipova K, Orhurhu V, Kaye AD, Viswanath O (2019) Recent advances in the understanding and management of carpal tunnel syndrome: a comprehensive review. Curr Pain Headache Rep 23(10):70. https://doi.org/10.1007/s11916-019-0811-z

13.

Wang L (2018) Guiding treatment for carpal tunnel syndrome. Phys Med Rehabil Clin N Am 29(4):751–760. https://doi.org/10.1016/j.pmr.2018.06.009

14.

Prime MS, Palmer J, Khan WS, Goddard NJ (2010) Is there light at the end of the tunnel? Controversies in the diagnosis and management of carpal tunnel syndrome. Hand (N Y) 5(4):354–360. https://doi.org/10.1007/s11552-010-9263-y

15.

Martins RS, Siqueira MG (2017) Conservative therapeutic management of carpal tunnel syndrome. Arq Neuro-Psiquiatria 75:819–824

16.

Huisstede BM, van den Brink J, Randsdorp MS, Geelen SJ, Koes BW (2018) Effectiveness of surgical and postsurgical interventions for carpal tunnel syndrome-a systematic review. Arch Phys Med Rehabil 99(8):1660-1680.e21. https://doi.org/10.1016/j.apmr.2017.04.024

17.

Kaplan J, Roth C, Melillo A, Koko E, Fuller D, Perry A (2020) Analysis of surgical options for patients with bilateral carpal tunnel syndrome. J Orthop 22:86–89. https://doi.org/10.1016/j.jor.2020.03.060

18.

Yücel H, Seyithanoğlu H (2015) Choosing the most efficacious scoring method for carpal tunnel syndrome. Acta Orthop Traumatol Turc 49(1):23–29. https://doi.org/10.3944/AOTT.2015.13.0162

19.

de Campos CC, Manzano GM, de Andrade LB, CasteloFilho A, Nóbrega JAM (2003) Tradução e validação do questionário de avaliação de gravidade dos sintomas e do estado funcional na síndrome do túnel do carpo. Arq Neuro-Psiquiatria 61:51–55

20.

Levine DW, Simmons BP, Koris MJ et al (1993) A self-administered questionnaire for the assessment of severity of symptoms and functional status in carpal tunnel syndrome. J Bone Joint Surg Am 75(11):1585–1592. https://doi.org/10.2106/00004623-199311000-00002

21.

Atroshi I, Lyrén P-E, Gummesson C (2009) The 6-item CTS symptoms scale: a brief outcomes measure for carpal tunnel syndrome. Qual Life Res 18(3):347–358. http://www.jstor.org/stable/40302504. Accessed 6 Jun 2021
Ethics declarations
Ethical approval
All procedures performed in studies involving human participants were in accordance with the ethical standards of the institutional research committee and with the 1964 Helsinki Declaration and its later amendments. This is an observational study with no intervention on patients. The Kaher's Jawaharlal Nehru Medical College Ethics Committee has confirmed that no ethical approval is required.
Informed consent
Informed consent was obtained from all individual participants included in the study. Patients were explained regarding masking the identification details and only the data will be used for the statistical analysis.
Conflict of interest
Rajesh S. Powar and Kiran S. Mahapure declare no conflict of interest.
Additional information
Publisher's Note
Springer Nature remains neutral with regard to jurisdictional claims in published maps and institutional affiliations.
Presentation: The manuscript was presented at the Annual Conference of Indian Association of Plastic Surgeons, APSICON, November 2018 at Lucknow, India (selected under J. L. Gupta Award Category).
About this article
Cite this article
Powar, R.S., Mahapure, K.S. Accuracy of Quick-DASH tool versus CTS-6 tool in evaluating the outcome of carpal tunnel release. Eur J Plast Surg (2021). https://doi.org/10.1007/s00238-021-01880-8
Received:

Accepted:

Published:
Keywords
Carpal tunnel syndrome

QUICK-DASH score

CTS-6 score

Carpal tunnel release