Abstract
Background
Internal mammary vessels are often used as recipient vessels during free flap breast reconstruction, especially in delayed reconstruction. Vessel dissection occasionally results in incidental identification of internal mammary lymph nodes (IMLNs). Some studies have reported the positivity of these nodes but few studies have focused on delayed reconstruction and no other study examined the difference between patients with and without artificial materials.
Methods
This is a retrospective review of patients undergoing delayed free flap breast reconstruction using internal mammary vessels. If IMLNs were accidentally identified during preparation of recipient vessels, the authors sent it for pathological review. Patient characteristics, tumor staging, IMLN positivity, treatment alteration after operation, and outcome were studied.
Results
Overall, 174 patients underwent delayed free flap breast reconstruction; internal mammary vessels were exposed in 167 patients. Of these, 68 IMLNs (65 patients, 38.9%) were identified and sampled. IMLNs were identified in 40 patients (43.0%) in patients with artificial materials such as tissue expander, silicone implant, and injected foreign material for breast augmentation, while in 25 patients (33.8%) without them. Three patients (4.6%) were tumor positive. One patient was found to have multiple metastasis and two of three patients had an increase in cancer stage after reconstruction. Two patients had changes in cancer treatment after reconstruction. All patients with positive IMLNs were alive at the last follow-up.
Conclusions
During delayed free flap breast reconstruction, IMLNs are identified more frequently in patients with artificial materials than patients without them. Its positivity is rare, but it might affect breast cancer reevaluation and treatment after reconstruction.
Level of evidence: Level IV, diagnostic study.
Access options
Buy single article
Instant access to the full article PDF.
US$ 39.95
Tax calculation will be finalised during checkout.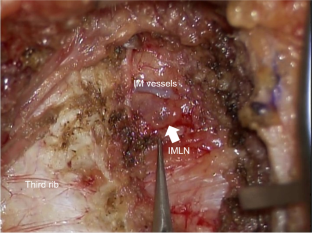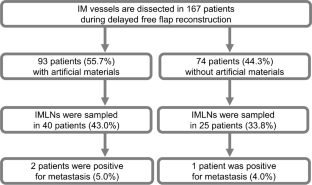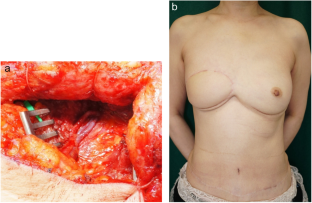 Ethics declarations
Ethical approval
All procedures performed in studies involving human participants were in accordance with the ethical standards of the institutional and/or national research committee and with the 1964 Helsinki Declaration and its later amendments. This is a retrospective study. Ethical approval was not required for this type of study.
Consent to participate
Informed consent was obtained from all individual participants included in the study. Additional informed consent was obtained from all individual participants for whom identifying information is included in this article.
Consent for publication
Patients signed informed consent regarding publishing their data and photographs.
Conflict of interest
Misako Nakazono, Toshihiko Satake, Yui Tsunoda, Mayu Muto, Kouichi Hirotomi, Kazutaka Narui, Takashi Ishikawa, and Jiro Maegawa declare no competing interests.
Additional information
Publisher's note
Springer Nature remains neutral with regard to jurisdictional claims in published maps and institutional affiliations.
About this article
Cite this article
Nakazono, M., Satake, T., Tsunoda, Y. et al. Internal mammary lymph node biopsy during delayed free flap breast reconstruction: case series and review of the literature. Eur J Plast Surg (2021). https://doi.org/10.1007/s00238-021-01879-1
Received:

Accepted:

Published:
Keywords
Free flap breast reconstruction

Internal mammary lymph node

Lymph node biopsy

Autologous breast reconstruction

Delayed breast reconstruction