Abstract
Extramammary Paget's disease (EMPD) is a rare, locally aggressive cutaneous adenocarcinoma which typically involves the anogenital region. The prognosis heavily depends on early diagnosis with definitive surgical treatment. To reduce local recurrence, wide radical resection with margin control and Moh's micrographic surgery are conventionally recommended. We describe a case of a 65-year-old female with extensive perineal EMPD involving the vulva, vagina, ectocervix, urethra, and anal canal, extending to the sacral region. She required pelvic exenteration and skin resection with 5-cm margins. A rectus abdominis myocutaneous flap (OFRAM) was designed with a fleur-de-lis skin paddle, with the vertical limb extended in an oblique fashion. We name this the OFRAM design and it allows maximal recruitment of abdominal tissue for the reconstruction of massive pelvic defects. The oblique limb obliterated the pelvic floor defect after the pelvic exenteration, while the horizontal limbs were used to resurface the perineal defect. One week later, after formal histology confirmed oncologic clearance, a gluteal keystone flap was used to resurface the remnant posterior defect. We discuss the disease pathology and reconstructive options in such cases.
Level of Evidence: Level V, therapeutic study.
Access options
Buy single article
Instant access to the full article PDF.
US$ 39.95
Tax calculation will be finalised during checkout.
Subscribe to journal
Immediate online access to all issues from 2019. Subscription will auto renew annually.
US$ 79
Tax calculation will be finalised during checkout.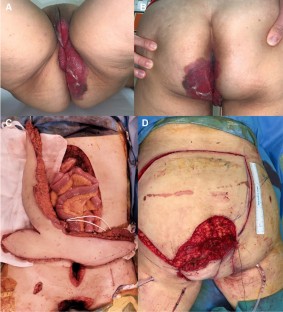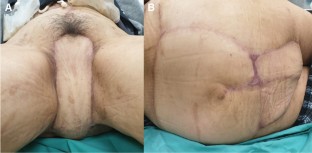 References
1.

Siesling S, Elferink M, Dijck JV et al (2007) Epidemiology and treatment of extramammary Paget disease in the Netherlands. Eur J Surg Oncol 33(8):951–955

2.

Lam C, Funaro D (2010) Extramammary Paget's disease: summary of current knowledge. Dermatol Clin 28(4):807–826

3.

Chong T, Chia HY, Chen QP et al (2018) A 15-year retrospective review of extramammary Paget disease (EMPD) at National Skin Centre, Singapore. J Am Acad Dermatol 79(3):AB3

4.

Chanda JJ (1985) Extramammary Pagets disease: Prognosis and relationship to internal malignancy. J Am Acad Dermatol 13(6):1009–1014

5.

Simonds RM, Segal RJ, Sharma A (2018) Extramammary Pagets disease: a review of the literature. Int J Dermatol 58(8):871–879

6.

Hatta N, Yamada M, Hirano T et al (2008) Extramammary Paget's disease: treatment, prognostic factors and outcome in 76 patients. Br J Dermatol 158(2):313–318

7.

O'Kelly F, Lundon D, Hegarty PK (2016) Extramammary Paget's disease. In: Pagliaro L ed. Rare Genitourinary Tumors. Springer pp 311–321

8.

Lloyd J, Flanagan A (2000) Mammary and extramammary Pagets disease. J Clin Pathol 53(10):742–749

9.

Kodama S, Kaneko T, Saito M et al (1995) A Clinicopathologic study of 30 patients with Pagets disease of the vulva. Gynecol Oncol 56(1):63–70

10.

Pierie JP, Choudry U, Muzikansky A et al (2003) Prognosis and management of extramammary Paget's disease and the association with secondary malignancies. J Am Coll Surg 196(1):45–50

11.

Parker LP, Parker JR, Bodurka-Bevers D et al (2000) Pagets Disease of the vulva: pathology, pattern of involvement, and prognosis. Gynecol Oncol 77(1):183–189

12.

Murata Y, Kumano K (2005) Extramammary Paget's disease of the genitalia with clinically clear margins can be adequately resected with 1 cm margin. Eur J Dermatol 15:168–170

13.

McDaniel B, Brown F, Crane JS (2020) Extramammary Paget disease. In: StatPearls. Treasure Island (FL): StatPearls Publishing

14.

Lopes Filho LL, Lopes IMRS, Lopes LRS et al (2015) Mammary and extramammary Paget's disease. An Bras Dermatol 90(2):219–225

15.

Coldiron BM, Goldsmith BA, Robinson JK (1991) Surgical treatment of extramammary pagets disease. A report of six cases and a reexamination of mohs micrographic surgery compared with conventional surgical excision. Cancer 67(4):933–938

16.

Mann J, Lavaf A, Tejwani A et al (2012) Perianal Paget disease treated definitively with radiotherapy. Curr Oncol 19(6):e496–e500

17.

Sanderson P, Innamaa A, Palmer J et al (2013) Imiquimod therapy for extramammary Paget's disease of the vulva: a viable non-surgical alternative. J Obstet Gynecol 33(5):479–483

18.

Sawada M, Kato J, Yamashita T et al (2018) Imiquimod 5% cream as a therapeutic option for extramammary Paget's disease. J Dermatol 45(2):216–219

19.

Liau MM, Yang SS, Tan KB et al (2016) Topical imiquimod in the treatment of extramammary Paget's disease: a 10 year retrospective analysis in an Asian tertiary centre. Dermatol Ther 29(6)

20.

Cai H, Xu W, Yu B et al (2018) Docetaxel combined with cisplatin for metastatic extramammary Paget disease. Clin Genitourin Cancer 16(4):e899–e901

21.

Nakamura Y, Tanese K, Hirai I et al (2020) Weekly docetaxel monotherapy for metastatic extramammary Paget's disease: retrospective single-institution analysis. J Dermatol 47(4):418–422

22.

Choi J-H, Jue M-S, Kim E-J et al (2013) Extramammary Paget disease: minimal surgical therapy. Ann Dermatol 25(2):213–217

23.

Payapvipapong K, Nakakes A, Tanaka M (2017) Lava lakestructure and cloud-like structureless area: new clues for diagnosing extramammary Paget disease. J Eur Acad Dermatol Venereol 31:e459–e461

24.

Peng X, Qian W, Hou J (2017) 5-aminolevulinic acid (5-ALA) fluorescence-guided Mohs surgery resection of penilescrotal extramammary Paget's disease. Biosci Trends 11:595–599

25.

Wan M, Ma H, Zhao Y et al (2018) Clinical benefits of preoperative conventional fluorescence diagnosis in surgical treatment of extramammary Paget disease. Dermatol Surg 44:375–382

26.

Yélamos O, Hibler BP, Cordova M et al (2017) Handheld reflectance confocal microscopy for the detection of recurrent extramammary Paget disease. JAMA Dermatol 153:689–693

27.

Mughal M, Baker R, Muneer A et al (2013) Reconstruction of perineal defects. Ann R Coll Surg Engl 95(8):539–544

28.

Wee JTK, Joseph VT (1989) A New technique of vaginal reconstruction using neurovascular pudendal-thigh flaps. Plast Reconstr Surg 83(4):701–709

29.

Yii N, Niranjan N (1996) Lotus petal flaps in vulvo-vaginal reconstruction. Br J Plast Surg 49(8):547–554

30.

Shukla HS, Hughes LE (1984) The rectus abdominis flap for perineal wounds. Ann R Coll Surg Engl 66:337–339

31.

Sinna R, Qassemyar Q, Benhaim T et al (2010) Perforator flaps: a new option in perineal reconstruction. J Plast Reconstr Aesthet Surg 63(11):e766–e774

32.

Gottlieb LJ, Krieger LM (1994) From the reconstructive ladder to the reconstructive elevator. Plast Reconstr Surg 93(7):1503

33.

Deskoulidi PI, Diamantopoulos PK, Maltzaris NA et al (2018) Perineal reconstruction with a diamond-shaped perforator Flap. Plast Reconstr Surg Glob Open 6:e1697

34.

Cho SW, Chang H, Kwon ST (2016) Three-directional reconstruction of a massive perineal defect after wide local excision of extramammary Paget's disease. Arch Plast Surg 43(5):461–465

35.

Mcmenamin D, Clements D, Edwards T et al (2011) Rectus abdominis myocutaneous flaps for perineal reconstruction: modifications to the technique based on a large single-centre experience. Ann R Coll Surg Engl 93(5):375–381

36.

Nelson RA, Butler CE (2009) Surgical outcomes of VRAM versus thigh flaps for immediate reconstruction of pelvic and perineal cancer resection defects. Plast Reconstr Surg 123(1):175–183

37.

Stein MJ, Karir A, Ramji M et al (2019) Surgical outcomes of VRAM versus gracilis flaps for the reconstruction of pelvic defects following oncologic resection. J Plast Reconstr Aesthet Surg 72(4):565–571

38.

Combs P, Mathes D (2011) Comparison of Vram and Oram flaps for pelvic and perineal reconstruction. Plast Reconstr Surg 127:24
Ethics declarations
Ethical approval
All procedures performed in studies involving human participants were in accordance with the ethical standards of the institutional and/or national research committee and with the 1964 Helsinki Declaration and its later amendments or comparable ethical standards. This is a case report. For this kind of study no ethical approval is required.
Informed consent
Informed consent was obtained from the patient included in the study.
Patient consent
Patient signed informed consent regarding publishing her data and photographs. The participant has consented to the submission of the case report to the journal.
Conflict of interest
Zhao Kai Low, Claramae Shulyn Chia, Kae Jack Tay, and Manzhi Wong declare no conflict of interest.
Additional information
Publisher's note
Springer Nature remains neutral with regard to jurisdictional claims in published maps and institutional affiliations.
About this article
Cite this article
Low, Z.K., Chia, C.S., Tay, K.J. et al. Staged pelvic exenteration followed by oblique fleur-de-lis rectus abdominis myocutaneous (OFRAM) flap and keystone flap reconstruction for extramammary Paget's disease. Eur J Plast Surg (2021). https://doi.org/10.1007/s00238-021-01844-y
Received:

Accepted:

Published:
Keywords
Extramammary Paget's disease

Pelvic exenteration

Rectus abdominis myocutaneous flap

Keystone flap

Perineal reconstruction