Abstract
Background
The aim of this retrospective study is to analyze and compare the cost of two-step breast reconstruction with expander/implant versus total prepectoral breast reconstruction (BR) with acellular dermal matrix (ADM). Patients' satisfaction was also evaluated.
Methods
A retrospective investigation was performed on the patients who underwent breast reconstruction between December 2017 and October 2019 by Plastic and Reconstructive Microsurgery at Careggi University Hospital in Florence and divided into group A (prepectoral BR with breast implants and ADM) and group B (BR with breast expander and implant). Complications, patients' satisfaction with BREAST-Q questionnaire, and complete cost analysis for each type of reconstruction have been analyzed and compared.
Results
Seventy-two patients were recruited for the study, divided into group A (32 patients) and group B (40 patients). The total number of complications is 8 cases out of 36 (22.22%) in the group of cases and 10 out of 42 (23.80%). For patients' satisfaction, the statistical analysis does not show significant differences both with a parametric and with non-parametric tests. Total overall cost of expander/prosthesis with BR is 7308.83 €, while the cost of immediate prepectoral reconstruction is around 8062.76 € showing an increase in expenditure compared to the control group of 753.93 €. This difference corresponds to 9.35% of the price of prepectoral BR.
Conclusions
Our results showed no major differences among the two techniques. The minor difference in costs for prepectoral technique is justified with main advantages of a reduce number of hospitalizations and, consequently, waiting list for breast reconstruction.
Level of evidence: Not gradable.
This is a preview of subscription content,
to check access.
Access this article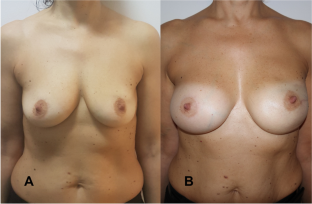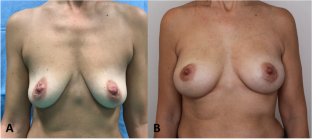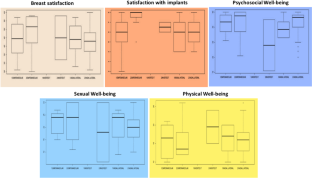 Similar content being viewed by others
References
Goldhirsch A, Winer EP, Coates AS, Gelber RD, Piccart-Gebhart M, Thürlimann B, Senn HJ (2013) Personalizing the treatment of women with early breast cancer: highlights of the St Gallen International Expert Consensus on the Primary Therapy of Early Breast Cancer 2013. Ann Oncol 24:2206–2223

Freeman MD, Jared MG, Salzberg CA (2018) The evolution of mastectomy surgical technique: from mutilation to medicine. Gland Surg 7(3):308–315

Radovan C (1982) Breast reconstruction after mastectomy using the temporary expander. Plast Reconstr Surg 69(2):195–208

Boneti C, Yuen J, Santiago C, Diaz Z, Robertson Y, Korourian S, Westbrook KC, Henry-Tillman RS, Klimberg VS (2011) Oncologic safety of nipple skin-sparing or total skin-sparing mastectomies with immediate reconstruction. J Am Coll Surg 212(4):686–693 (discussion 693–685)

Pusic AL, Klassen AF, Scott AM, Klok JA, Cordeiro PG, Cano SJ (2009) Development of a new patient-reported outcome measure for breast surgery: the BREAST-Q. Plast Reconstr Surg 124(2):345–53

Klassen AF, Pusic AL, Scott A, Klok J, Cano SJ (2009) Satisfaction and quality of life in women who undergo breast surgery: a qualitative study. BMC Womens Health 9:11

BRAXON ADM. Available online: http://quamedical.nl/index.php?item=braxon-adm&action=article&group_id=10000024&aid=57&lang=nl. Latest access: 14 May 2020

Ciancio F, Innocenti A, Cagiano L, Portincasa A, Parisi D (2017) Skin-reducing mastectomy and direct-to-implant reconstruction in giant phyllodes tumour of breast: case report. Int J Surg Case Rep 41:356–359. https://doi.org/10.1016/j.ijscr.2017.11.009

Ciancio F, Innocenti A, Annoscia P, Vestita M, Giudice G (2018) Discussion: optimizing patient selection for direct-to-implant immediate breast reconstruction using wise-pattern skin-reducing mastectomy in large and ptotic breasts. Aesthetic Plast Surg 42(1):340–341. https://doi.org/10.1007/s00266-017-0995-8

Portincasa A, Ciancio F, Cagiano L, Innocenti A, Parisi D (2017) Septum-enhanced mammaplasty in inferocentral pedicled breast reduction for macromastia and gigantomastia patients. Aesthetic Plast Surg 41(5):1037–1044. https://doi.org/10.1007/s00266-017-0868-1

Ciancio F, Parisi D, Portincasa A, Innocenti A (2017) Innovative management of implant exposure in ADM/implant-based breast reconstruction with negative pressure wound therapy. Aesthetic Plast Surg 41(5):1237–1238. https://doi.org/10.1007/s00266-017-0850-y

Jafferbhoy S, Chandarana M, Houlihan M, Parmeshwar R, Narayanan S, Soumian S, Harries S, Jones L, Clarke D (2017) Early multicentre experience of pre-pectoral implant based immediate breast reconstruction using Braxon®. Gland Surg 6(6):682–688

Danino MA, Efanov JI, Dimitropoulos G, Moreau M, Maalouf C, Nelea M, Izadpanah A, Giot JP (2018) Capsular biofilm formation at the interface of textured expanders and human acellular dermal matrix: a comparative scanning electron microscopy study. Plast Reconstr Surg 141:919–928

Brohim RM, Foresman PA, Hildebrandt PK, Rodeheaver GT (1992) Early tissue reaction to textured breast implant surfaces. Ann Plast Surg 28:354–362

Susini T, Renda I, Giani M, Vallario A, Nori J, Vanzi E, Innocenti A, Lo Russo G, Bianchi S (2019) Changing trends in mastectomy and breast reconstruction. Analysis of a single-institution experience between 2004–2016. Anticancer Res 39(10):5709–5714. https://doi.org/10.21873/anticanres.13770

Wagner RD, Braun TL, Zhu H (2019) A systematic review of complications in prepectoral breast reconstruction. J Plast Reconstr Aesthet Surg 72(7):1051–1059

Ciancio F, Parisi D, Portincasa A, Innocenti A (2017) Discussion: a new method of salvaging breast reconstruction after breast implant using negative-pressure wound therapy and instillation. Aesthetic Plast Surg 41(2):466–467. https://doi.org/10.1007/s00266-016-0734-6

Feng LJ, Amini SB (1999) Analysis of risk factors associated with rupture of silicone gel breast implants. Plast Reconstr Surg 104(04):955–963

Anker CJ, Hymas RV, Ahluwalia R, Kokeny KE, Avizonis V, Boucher KM, Neumayer LA, Agarwal JP (2015) The effect of radiation on complication rates and patient satisfaction in breast reconstruction using temporary tissue expanders and permanent implants. Breast J 21(3):233–240

Cattelani L, Polotto S, Arcuri MF, Pedrazzi G, Linguadoca C, Bonati E (2018) One-step prepectoral breast reconstruction with dermal matrix-covered implant compared to submuscular implantation: functional and cost evaluation. Clin Breast Cancer 18(4):e703–e711. https://doi.org/10.1016/j.clbc.2017.11.015

Parisi D, Ciancio F, Portincasa A, Innocenti A (2017) Direct-to-implant breast reconstruction without the use of an acellular dermal matrix is cost effective and oncologically safe. Plast Reconstr Surg 140(6):820e–821e. https://doi.org/10.1097/PRS.0000000000003836
Ethics declarations
Ethical approval
All procedures followed were in accordance with the ethical standards of the responsible committee on human experimentation (institutional and national) and with the Helsinki Declaration of 1975, as revised in 2008. For this retrospective study no formal consent is required.
Consent to participate
Informed consent was obtained from all patients for being included in the study. Additional consent was obtained to share their photographs.
Conflict of interest
The authors declare no conflict of interest.
Additional information
Publisher's note
Springer Nature remains neutral with regard to jurisdictional claims in published maps and institutional affiliations.
About this article
Cite this article
Innocenti, A., Melita, D. Two-stage expander/implant breast reconstruction versus prepectoral breast reconstruction with acellular dermal matrix: a cost analysis. Eur J Plast Surg 45, 601–615 (2022). https://doi.org/10.1007/s00238-021-01829-x
Received:

Accepted:

Published:

Issue Date:

DOI: https://doi.org/10.1007/s00238-021-01829-x
Keywords