Abstract
Recent advancements in adjuvant therapy have led to improved survival in metastatic melanoma. Despite this, patients can be left with residual metastases that may benefit from surgical resection. There may be difficulty in access to certain anatomical locations (i.e., the pelvis) with standard open surgical techniques. We aimed to investigate whether 3D laparoscopy can be a useful adjunct in this setting. Four consecutive patients with abdominopelvic metastatic melanoma are presented. All four patients previously had primary surgery for cutaneous melanoma of the lower limb and were receiving adjuvant therapy for metastatic disease. In all four patients, liver metastases resolved following interval PET-CT scanning but a single abdominopelvic metastasis showed no response to systemic therapy. All patients underwent resection of these metastases as a joint procedure with both a 3D laparoscopic surgeon and a melanoma surgeon. All pre-operatively identified residual metastases were completely excised using 3D laparoscopy. Interval PET-CT scanning at 6 weeks showed no evidence of metastatic disease (n = 4). Our Specialist Skin Cancer Multidisciplinary Team (SSMDT) has access to open, 3D laparoscopic, and robotic surgeries which we offer on an individualized basis to our patients with oligometastatic disease. Although we have no statistically significant quantitative data to support this, we believe that 3D laparoscopy is an important surgical adjunct which we can more flexibly and efficiently deploy versus robotic surgery, enabling patient to benefit from 3D optics with reduced propensity for delay. Further collaborative research is warranted to establish whether its use reduces morbidity and improves outcomes.
Access options
Buy single article
Instant access to the full article PDF.
US$ 39.95
Tax calculation will be finalised during checkout.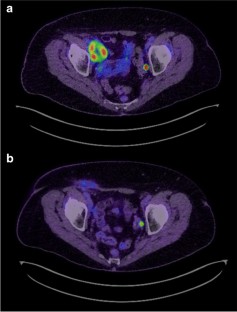 References
1.

NICE. Melanoma: assessment and management: National Institute for Health and Care Excellence 2015 Available from: https://www.nice.org.uk/guidance/ng14/chapter/1-Recommendations#managing-stage-iv-melanoma. Accessed 25 Feb 2021

2.

Pasquali S, Hadjinicolaou AV, ChiarionSileni V, Rossi CR, Mocellin S (2018) Systemic treatments for metastatic cutaneous melanoma. Cochrane Database Syst Rev 2:Cd011123

3.

National Comprehensive Cancer Network. NCCN clinical practice guidelines in oncology: melanoma. Available from: https://www.nccn.org/professionals/physician_gls/pdf/cutaneous_melanoma.pdf. Accessed 25 Feb 2021

4.

Faries MB, Thompson JF, Cochran AJ, Andtbacka RH, Mozzillo N, Zager JS et al (2017) Completion dissection or observation for sentinel-node metastasis in melanoma. N Engl J Med 376(23):2211–2222

5.

Faut M, Kruijff S, Hoekstra HJ, van Ginkel RJ, Been LB, van Leeuwen BL (2018) Pelvic lymph node dissection in metastatic melanoma to the groin should not be abandoned yet. Eur J Surg Oncol 44(11):1779–1785

6.

Deutsch GB, Flaherty DC, Kirchoff DD, Bailey M, Vitug S, Foshag LJ et al (2017) Association of surgical treatment, systemic therapy, and survival in patients with abdominal visceral melanoma metastases, 1965–2014: relevance of surgical cure in the era of modern systemic therapy. JAMA Surg 152(7):672–678

7.

Medina BD, Choi BH, Rodogiannis KG, Moran U, Shapiro RL, Pavlick A et al (2020) Metastasectomy for melanoma is associated with improved overall survival in responders to targeted molecular or immunotherapy. J Surg Oncol 122(3):555–561. https://doi.org/10.1002/jso.25987

8.

Ross AD, Kumar P, Challacombe BJ, Dasgupta P, Geh JLC (2013) The addition of the surgical robot to skin cancer management. Ann R Coll Surg Engl 95(1):70–72

9.

Fergo C, Burcharth J, Pommergaard HC, Kildebro N, Rosenberg J (2017) Three-dimensional laparoscopy vs 2-dimensional laparoscopy with high-definition technology for abdominal surgery: a systematic review. Am J Surg 213(1):159–170
Ethics declarations
Ethics approval
All procedures performed in studies involving human participants were in accordance with the ethical standards of the institutional and/or national research committee and with the 1964 Helsinki Declaration and its later amendments or comparable ethical standards. This study was undertaken as a service evaluation of an existing technology to improve the skin cancer pathway. The Research Ethics Committee of our institution approved this study (ID: 52571).
Consent to participate
Participants provided clinical informed consent to have 3D laparoscopic technology used for their procedure.
Consent for publication
Participants consented for their case studies to be published.
Conflict of interest
Michael Gallagher, Andrew R McKean, Kuen Yeow Chin, Benjamin Aldridge, Abrie Botha, and Jenny L C Geh declare no competing interests.
Additional information
Publisher's note
Springer Nature remains neutral with regard to jurisdictional claims in published maps and institutional affiliations.
About this article
Cite this article
Gallagher, M., McKean, A.R., Chin, K.Y. et al. 3D laparoscopic surgery as an alternative approach for the surgical management of abdominopelvic melanoma metastases. Eur J Plast Surg (2021). https://doi.org/10.1007/s00238-021-01823-3
Received:

Accepted:

Published:
Keywords
Melanoma

Metastatectomy

3D laparoscopy

Skin cancer

Innovation

Minimally invasive surgery