Abstract
Background
Hyperspectral imaging (HSI) is a new device for monitoring microcirculation. The aim of this study is to describe hyperspectral imaging after free tissue.
Methods
We assessed 22 patients from our department who underwent hyperspectral imaging monitoring. Four parameters were measured: tissue oxygenation, tissue hemoglobin index, deep tissue near-infrared perfusion index, and water distribution. Measurements were taken from normally perfused flaps, areas of locally impaired perfusion, and complete flap malperfusion daily within the first 7 days. Statistical differences were determined using Student's t tests. Receiver operating characteristic curves were illustrating the reliability of each parameter.
Results
Ten free anterolateral thigh flaps and eight free latissimus dorsi flaps were included. One flap was subsequently lost. Of 184 total measurements, 119 were taken in normally perfused flap areas, 63 in areas of locally impaired perfusion due to partial flap necrosis, and 2 were taken of a flap without perfusion due to arterial occlusion. In the latter case, tissue oximetry and tissue hemoglobin index were 3% (normally perfused flaps 37.5±12.6% (p<0.05) and 23.7±19.4% (p<0.05), respectively), whereas for locally impaired perfusion tissue, hemoglobin index was raised to 76.8±19.9% (p<0.05) and tissue oximetry and deep tissue near-infrared perfusion index were reduced to 28.8±15.8% (p<0.05) and 24.0±16.9% (p<0.05), respectively. A tissue hemoglobin index of ≥ 53% had a sensitivity of 92% and a specificity of 93% for the detection of locally impaired perfusion. Other parameters were less reliable.
Conclusions
HSI is a useful tool for flap monitoring after microsurgical tissue transfer. It provided accurate information which correlated with clinical assessments and guided decision-making regarding revision because it can easily detect impaired flap perfusion dueto arterial occlusion or venous stasis. It also defined locally impaired perfused tissue at theflapborder.
Level of evidence: Level IV, diagnostic study.
Access options
Buy single article
Instant access to the full article PDF.
US$ 39.95
Tax calculation will be finalised during checkout.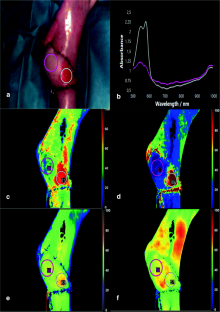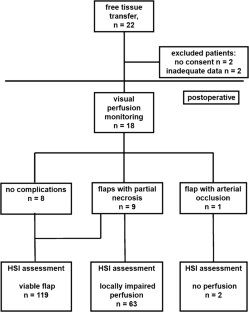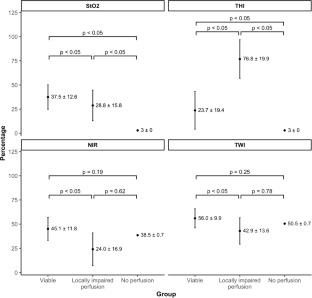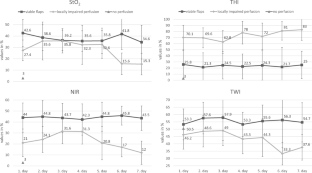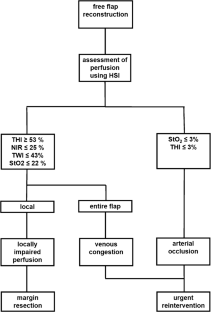 Data availability
The author provides transparency on re-use of material included in the manuscript.
References
1.

Ludolph I, Lehnhardt M, Arkudas A, Kneser U, Pierer G, Harder Y, Horch RE (2018) Plastic reconstructive microsurgery in the elderly patient - consensus statement of the German Speaking Working Group for Microsurgery of the Peripheral Nerves and Vessels. Handchir Mikrochir Plast Chir 50(2):118–125

2.

Chiu YH, Chang DH, Perng CK (2017) Vascular complications and free flap salvage in head and neck reconstructive surgery: analysis of 150 cases of reexploration. Ann Plast Surg 78(3 Suppl 2):S83–S88

3.

Nuara MJ, Sauder CL, Alam DS (2009) Prospective analysis of outcomes and complications of 300 consecutive microvascular reconstructions. Arch Facial Plast Surg 11(4):235–239

4.

Zhang Y, Gazyakan E, Bigdeli AK, Will-Marks P, Kneser U, Hirche C (2019) Soft tissue free flap for reconstruction of upper extremities: a meta-analysis on outcome and safety. Microsurgery 39(5):463–475

5.

Taylor GI, Doyle M, McCarten G (1990) The Doppler probe for planning flaps: anatomical study and clinical applications. Br J Plast Surg 43(1):1–16

6.

Debelmas A, Camuzard O, Aguilar P, Qassemyar Q (2018) Reliability of color Doppler ultrasound imaging for the assessment of anterolateral thigh flap perforators: a prospective study of 30 perforators. Plast Reconstr Surg 141(3):762–766

7.

Burnier P, Niddam J, Bosc R, Hersant B, Meningaud JP (2017) Indocyanine green applications in plastic surgery: a review of the literature. J Plast Reconstr Aesthet Surg 70(6):814–827

8.

Smit JM, Zeebregts CJ, Acosta R, Werker PM (2010) Advancements in free flap monitoring in the last decade: a critical review. Plast Reconstr Surg 125(1):177–185

9.

Smit JM, Acosta R, Zeebregts CJ, Liss AG, Anniko M, Hartman EH (2007) Early reintervention of compromised free flaps improves success rate. Microsurgery 27(7):612–616

10.

Holmer A, Tetschke F, Marotz J, Malberg H, Markgraf W, Thiele C, Kulcke A (2016) Oxygenation and perfusion monitoring with a hyperspectral camera system for chemical based tissue analysis of skin and organs. Physiol Meas 37(11):2064–2078

11.

Jansen-Winkeln B, Holfert N, Kohler H, Moulla Y, Takoh JP, Rabe SM, Mehdorn M, Barberio M, Chalopin C, Neumuth T, Gockel I (2019) Determination of the transection margin during colorectal resection with hyperspectral imaging (HSI). Int J Colorectal Dis 34(4):731–739

12.

Mehdorn M, Kohler H, Rabe SM, Niebisch S, Lyros O, Chalopin C, Gockel I, Jansen-Winkeln B (2020) Hyperspectral imaging (HSI) in acute mesenteric ischemia to detect intestinal perfusion deficits. J Surg Res 254:7–15

13.

Maier-Hein L, Gockel I, Speidel S, Wendler T, Teber D, März K, Tizabi M, Nickel F, Navab N, Müller-Stich B (2020) Intraoperative Bildgebung und Visualisierung. Der Onkologe 26(1):31–43

14.

Chin MS, Chappell AG, Giatsidis G, Perry DJ, Lujan-Hernandez J, Haddad A, Matsumine H, Orgill DP, Lalikos JF (2017) Hyperspectral imaging provides early prediction of random axial flap necrosis in a preclinical model. Plast Reconstr Surg 139(6):1285e–1290e

15.

Shapey J, Xie Y, Nabavi E, Bradford R, Saeed SR, Ourselin S, Vercauteren T (2019) Intraoperative multispectral and hyperspectral label-free imaging: a systematic review of in vivo clinical studies. J Biophotonics 12(9):e201800455

16.

Marotz J, Schulz T, Seider S, Cruz D, Aljowder A, Promny D, Daeschlein G, Wild T, Siemers F (2020) 3D-Perfusion analysis of burn wounds using hyperspectral imaging. Burns. 47:157–170

17.

Duann JR, Jan CI, Ou-Yang M, Lin CY, Mo JF, Lin YJ, Tsai MH, Chiou JC (2013) Separating spectral mixtures in hyperspectral image data using independent component analysis: validation with oral cancer tissue sections. J Biomed Opt 18(12):126005

18.

Jobsis FF (1977) Noninvasive, infrared monitoring of cerebral and myocardial oxygen sufficiency and circulatory parameters. Science 198(4323):1264–1267

19.

Irwin MS, Thorniley MS, Dore CJ, Green CJ (1995) Near infra-red spectroscopy: a non-invasive monitor of perfusion and oxygenation within the microcirculation of limbs and flaps. Br J Plast Surg 48(1):14–22

20.

Kagaya Y, Miyamoto S (2018) A systematic review of near-infrared spectroscopy in flap monitoring: current basic and clinical evidence and prospects. J Plast Reconstr Aesthet Surg 71(2):246–257

21.

Newton E, Butskiy O, Shadgan B, Prisman E, Anderson DW (2020) Outcomes of free flap reconstructions with near-infrared spectroscopy (NIRS) monitoring: a systematic review. Microsurgery 40(2):268–275

22.

Lin SJ, Nguyen MD, Chen C, Colakoglu S, Curtis MS, Tobias AM, Lee BT (2011) Tissue oximetry monitoring in microsurgical breast reconstruction decreases flap loss and improves rate of flap salvage. Plast Reconstr Surg 127(3):1080–1085

23.

Ricci JA, Vargas CR, Lin SJ, Tobias AM, Taghinia AH, Lee BT (2016) A novel free flap monitoring system using tissue oximetry with text message alerts. J Reconstr Microsurg 32(5):415–420

24.

Koolen PG, Vargas CR, Ho OA, Ibrahim AM, Ricci JA, Tobias AM, Winters HA, Lin SJ, Lee BT (2016) Does increased experience with tissue oximetry monitoring in microsurgical breast reconstruction lead to decreased flap loss? The learning effect. Plast Reconstr Surg 137(4):1093–1101

25.

Saad N, Wang H, Karamanos E (2020) Tissue oximetry readings accurately predict late complications in patients undergoing free flap breast reconstruction: exploring the optimal cut point value. J Reconstr Microsurg 36(7):534–540

26.

Kolbenschlag J, Sogorski A, Harati K, Daigeler A, Wiebalck A, Lehnhardt M, Kapalschinski N, Goertz O (2015) Upper extremity ischemia is superior to lower extremity ischemia for remote ischemic conditioning of antero-lateral thigh cutaneous blood flow. Microsurgery 35(3):211–217

27.

Schulz TMJ, Stukenberg A, Reumuth G, Houschyar KS, Siemers F (2020) Hyperspectral imaging for postoperative flap monitoring of pedicle flaps. Handchir Mikrochir Plast Chir 52:316–324

28.

Thiem DGE, Frick RW, Goetze E, Gielisch M, Al-Nawas B, Kammerer PW (2020) Hyperspectral analysis for perioperative perfusion monitoring-a clinical feasibility study on free and pedicled flaps. Clin Oral Investig. https://doi.org/10.1007/s00784-020-03382-6
Ethics declarations
Conflict of interest
Torsten Schulz, Sebastian Leuschner, Frank Siemers, Jörg Marotz, Khosrow Siamak Houschyar, and Cord Christian Corterier declare that they have no conflict of interest.
Ethical approval
The study was approved by the Ethics Committee of the Ärztekammer Sachsen-Anhalt, Germany (Approval # 35-17). The study was performed following the principles of the Helsinki Declaration update of 2008.
Consent to participate
Informed consent was obtained from all individual participants included in the study.
Consent for publication
Patients signed informed consent regarding publishing their data and photographs.
Additional information
Publisher's note
Springer Nature remains neutral with regard to jurisdictional claims in published maps and institutional affiliations.
About this article
Cite this article
Schulz, T., Leuschner, S., Siemers, F. et al. Assessing flap perfusion after free tissue transfer using hyperspectral imaging (HSI). Eur J Plast Surg 44, 497–506 (2021). https://doi.org/10.1007/s00238-021-01784-7
Received:

Accepted:

Published:

Issue Date:
Keywords
Hyperspectral imaging

Latissimus dorsi flaps

Anterolateral thigh flaps

Locally impaired perfusion

Malperfusion

The trial was registered at the German clinical trial register retrospectively (DRKS00022799) on 06.08.2020.