Abstract
Background
Microsurgical procedures were initially believed to be feasible only in younger patients. On the one hand, operative times may be prolonged, and on the other, older patients usually present with other comorbidities. However, without the option of microsurgical reconstructive procedures, the only curative treatment for patients with bone and soft tissue sarcomas in the lower extremity is limb amputation.
Methods
This was a retrospective observational study of two cohorts of patients (group A, > 75 years old, n = 20; and group B, < 75 years old, n = 21) to compare their outcomes after lower limb salvage surgery. Selection criteria included all patients who underwent free flap reconstruction after sarcoma resection in the lower limb between 2017 and 2019. Exclusion criteria included smoking, severe comorbidities, inability to ambulate, or inadequate vessels in the preoperative image studies. Length of stay, complications, and rates of flap failure, recurrence, and amputations were compared.
Results
Average age, BMI, and presence of other comorbidities for groups A and B were 80 and 61 years old, 26 and 24 kg/m2, and 50 and 45%, respectively. Most patients (53%) had leg defects and were reconstructed with an ALT flap (60%) anastomosed to the anterior tibial artery (60%). Flap failure was observed in one group A patient. The average surgical time was 9 h. The patients followed 10 days of total bed rest and a dangling protocol was started on day 11. The mean hospital stay was 16 days and patients underwent physical therapy afterward. Postoperative surgical and medical complications in groups A and B occurred in 7/20 and 2/21, and 5/20 and 5/21 patients (25%), respectively. Age or ASA status had no effect on the incidence of complications. Radiotherapy was given postoperatively in all patients. At 1-year follow-up, all patients were alive; 27% had a recurrence or metastatic disease. The amputation rate was 25% and 0% in groups A and B, and was the only variable that reached statistical significance (p = 0.021).
Conclusions
Based on our findings, limb salvage surgery can be performed successfully in selected old patients with lower limb sarcomas. It should be considered as a treatment option in this group of patients as it offers a safe alternative to amputation with an acceptable risk of complications, good flap success rates, and functional outcomes.
Level of evidence: Level III, therapeutic; risk/prognostic study.
Access options
Buy single article
Instant access to the full article PDF.
USD 39.95
Price excludes VAT (USA)
Tax calculation will be finalised during checkout.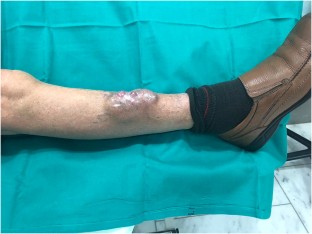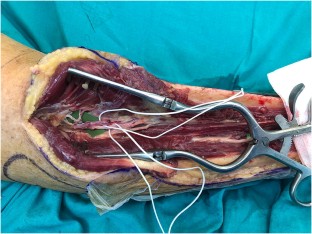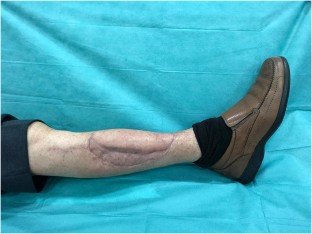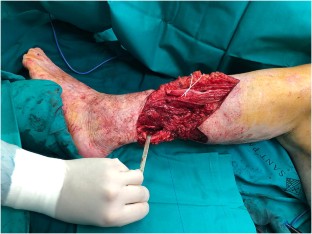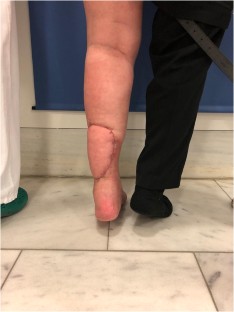 Data availability
Data and material are available, if they are requested to the corresponding author.
References
Stiller CA, Trama A, Serraino D, Rossi S, Navarro C, Chirlaque MD, Casali PG, RARECARE Working Group (2013) Descriptive epidemiology of sarcomas in Europe: report from the RARECARE project. Eur J Cancer 49:684–695

Shiu MH, Castro EB, Hajdu SI, Fortner JG (1975) Surgical treatment of 297 soft tissue sarcomas of the lower extremity. Ann Surg 182:597–602

Yang JC, Chang AE, Baker AR, Sindelar WF, Danforth DN, Topalian SL, DeLaney T, Glatstein E, Steinberg SM, Merino MJ, Rosenberg SA (1998) Randomized prospective study of the benefit of adjuvant radiation therapy in the treatment of soft tissue sarcomas of the extremity. J Clin Oncol 16:197–203

Lindberg RD, Martin RG, Romsdahl MM, Barkley HT (1981) Conservative surgery and postoperative radiotherapy in 300 adults with soft-tissue sarcomas. Cancer 47:2391–2397

Suit HD, Mankin HJ, Wood WC, Proppe KH (1985) Preoperative, intraoperative, and postoperative radiation in the treatment of primary soft tissue sarcoma. Cancer 55:2659–2667

Jebsen NL, Trovik CS, Bauer HCF, Rydholm A, Monge OR, Hall KS, Alvegård T, Bruland ØS (2008) Radiotherapy to improve local control regardless of surgical margin and malignancy grade in extremity and trunk wall soft tissue sarcoma: a scandinavian sarcoma group study. Int J Radiat Oncol Biol Phys 71:1196–1203

Kontogeorgakos VA, Eward WC, Brigman BE (2019) Microsurgery in musculoskeletal oncology. Eur J Orthop Surg Traumatol 29:271–278

Heidekrueger PI, Heine-Geldern A, Ninkovic M, Herter F, Schmauss D, Aung T, Broer PN (2016) Microsurgical reconstruction in patients greater than 80 years old. Microsurgery 37:546–551

Okamoto M, Yoshimura Y, Aoki K, Kito M, Tanaka A, Suzuki S, Kato H (2017) Clinical outcomes of patients 80 years of age and older with soft tissue sarcoma. J Orthop Sci 22:951–957

Özkan Ö, Özgentas HE, Islamoglu K, Boztug N, Bigat Z, Dikici MB (2005) Experiences with microsurgical tissue transfers in elderly patients. Microsurgery 25:390–395

Al-Refaie WB, Habermann EB, Dudeja V, Vickers SM, Tuttle TM et al (2010) Extremity soft tissue sarcoma care in the elderly: insights into the generalizability of NCI Cancer Trials. Ann Surg Oncol 17:1732–1738

Muss HB (2009) Cancer in the elderly: a societal perspective from the United States. Clin Oncol (R Coll Radiol) 21:92–98

Nakamura T, Oi T, Asanuma K, Hagi T, Sudo A (2018) Tumor resection may improve survival in patients with soft tissue sarcoma aged 75 years and older. Anticancer Res 39:331–334

Yoneda Y, Kunisada T, Naka N, Nishida Y, Kawai A, Morii T, Takeda K, Hasei J, Yamakawa Y, Ozaki T (2014) Favorable outcome after complete resection in elderly soft tissue sarcoma patients: Japanese Musculoskeletal Oncology Group study. Eur J Surg Oncol (EJSO) 40:49–54

Coskunfirat OK, Chen HC, Spanio S, Tang YB (2005) The safety of microvascular free tissue transfer in the elderly population. Plast Reconstr Surg 115:771–775

Serletti JM, Higgins JP, Moran S, Orlando GS (2000) Factors affecting outcome in free-tissue transfer in the elderly. Plast Reconstr Surg 106:66–70

Beausang ES, Ang EE, Lipa JE, Irish, et al. (2003) Microvascular free tissue transfer in elderly patients: the Toronto experience. Head Neck 25:549–553

Bianchi B, Copelli C, Ferrari S, Ferri A, Sesenna E (2009) Free flaps: outcomes and complications in head and neck reconstructions. J Craniomaxillofac Surg 37:438–442

Ferrari S, Copelli C, Bianchi B, Ferri A, Poli T, Ferri T, Sesenna E (2013) Free flaps in elderly patients: outcomes and complications in head and neck reconstruction after oncological resection. J Craniomaxillofac Surg 41:167–171

Howard MA, Cordeiro PG, Disa J, Samson W, Gonen M, Schoelle RN, Mehrara B (2005) Free tissue transfer in the elderly: incidence of perioperative complications following microsurgical reconstruction of 197 septuagenarians and octogenarians. Plast Reconstr Surg 116:1659–1668

Klein HJ, Fuchs N, Mehra T, Schweizer R, Giesen T, Calcagni M, Plock JA (2016) Extending the limits of reconstructive microsurgery in elderly patients. J Plast Reconstr Aesthet Surg 69:1017–1023

Parsemain A, Philouze P, Pradat P, Ceruse P, Fuchsmann C (2018) Free flap head and neck reconstruction: feasibility in older patients. J Geriatr Oncol 10:577–583

Silva ADM, Furtado G, Dos Santos IP et al (2019) Functional capacity of elderly with lower-limb amputation after prosthesis rehabilitation: a longitudinal study. Disabil Rehabil Assist Technol 5:1–5

Peters TT, Post SF, van Dijk BA et al (2015) Free flap reconstruction for head and neck cancer can be safely performed in both young and elderly patients after careful patient selection. Eur Arch Otorhinolaryngol 272:2999–3005

Romero-Ortuno R, Kenny RA (2012) The frailty index in Europeans: association with age and mortality. Age Ageing 41:684–689

Bracaglia R, D'Ettorre M, Gentileschi S, Tambasco D (2014) Was the surgeon a satisfactory informant? How to minimize room for claims. Aesthet Surg J 34(4):632–635
Ethics declarations
Conflict of interest
Andreé Ibarra Estupiñán, Manuel Fernández Garrido, Leyre Olivares Domínguez, Paúl Zamora Alarcón, Jordi Riba Vílchez, Albert Gómez Carrillo, Laura Torrano Romero, Jaume Masiá Ayala, and Carmen Vega García declare that there is no conflict of interest.
Ethical approval
This study was approved by the local ethics committee. All procedures followed were in accordance with the ethical standards of the responsible committee on human experimentation (institutional and national) and with the Helsinki Declaration of 1975, as revised in 2008.
Patient consent
Patients signed informed consent regarding publishing their data and photographs.
Informed consent
Consent for participation from each patient or the legally authorized representative/next of kin of dead patients was obtained.
Code availability
Not applicable
Additional information
Publisher's note
Springer Nature remains neutral with regard to jurisdictional claims in published maps and institutional affiliations.
About this article
Cite this article
Ibarra Estupiñán, A., Fernández Garrido, M., Olivares Domínguez, L. et al. Lower limb salvage in patients older than 75 years old affected of soft tissue sarcoma: beyond the limits. Eur J Plast Surg 44, 467–474 (2021). https://doi.org/10.1007/s00238-020-01768-z
Received:

Accepted:

Published:

Issue Date:

DOI: https://doi.org/10.1007/s00238-020-01768-z
Keywords
Free flap

Sarcoma

Lower limb

Elderly