Abstract
Background
Breast augmentation is one of the most common plastic surgery operations performed with high patient's satisfactory results. However, preserving the sensation is an important part of achieving optimum results for patient's wellness and satisfaction.
Methods
Skin sensation was tested preoperatively using Semmes-Weinstein monofilaments over 5 points on the nipple-areola complex of each breast: one point on the nipple and four points on the areola subdivided into four quadrants. The tactile thresholds were recorded preoperatively with postoperative follow-up at 2, 6 and 12 weeks for all patients undergoing subglandular and subfascial augmentation mammaplasty through the inframammary incision.
Results
Five percent of cases had partial sensory alteration ofNAC after undergoing subfascial augmentation mammoplasty, while 28%of patients who underwent subglandular augmentation had a decrease in NAC sensitivity.
Conclusions
Patients who underwent subfascial augmentation mammaplasty were at a decreased risk of nipple-areola complex sensitivity alteration through the preservation of nerve supply compared to those who underwent subglandular augmentation.
Level of evidence: Level III, risk/prognostic study.
Access options
Buy single article
Instant access to the full article PDF.
US$ 39.95
Tax calculation will be finalised during checkout.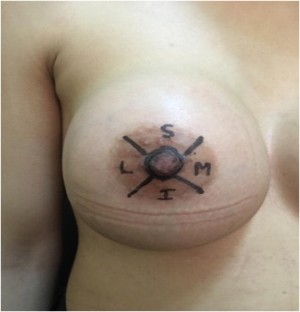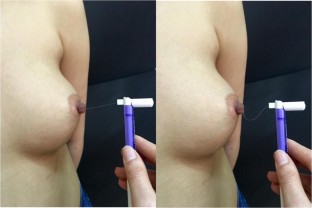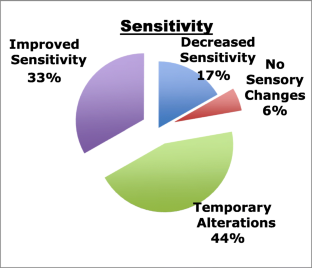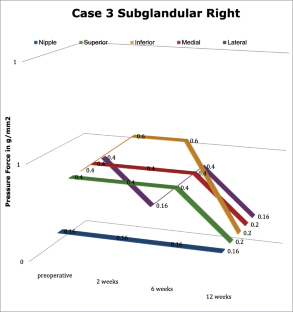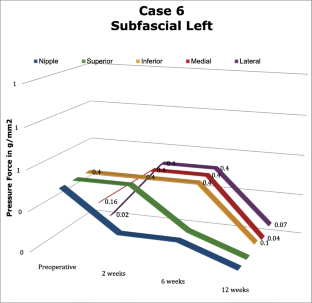 References
1.

Mallucci P, Branford OA (2012) Concepts in aesthetic breast dimensions: analysis of the ideal breast. J Plast Reconstr Aesthet Surg 65(1):8–16

2.

Schlenz I, Rigel S, Schemper ME, Kuzbari R (2005) Alteration of nipple and areola sensitivity by reduction mammaplasty: a prospective comparison of five techniques. Plast Reconstr Surg 115:743–751

3.

Craig RD, Sykes PA (1970) Nipple sensitivity following reduction mammaplasty. Br J Plast Surg 23:165–172

4.

Farina MA, Newby BG, Alani HM (1980) Innervation of the nipple-areola complex. Plast Reconstr Surg 66:497–501

5.

Sarhadi NS, Shaw-Dunn J, Soutar DS (1997) Nerve supply of the breast with special reference to the nipple and areola: Sir Astley Cooper revisited. Clin Anat 10(4):283–288

6.

Asaga, Emi, and Kenjiro Takemura. "Tactile evaluation based on human tactile perception mechanism." Science Direct. 01 Dec. 2013. Web. 27 Mar. 2016

7.

Bell-Krotoski JA: "Sensibility testing: history, instrumentation and clinical procedures", Rehabilitation of the Hand and Upper Extremity, Volume 1, Elsevier Mosby 2011, Chapter 11 Pages 132–145)

8.

Hamdi M, Greuse M, DeMey A, Webster MHC (2001) A prospective quantitative comparison of breast sensation after superior and inferior pedicle mammaplasty. Br J Plast Surg 54:39–42

9.

Courtiss EH, Goldwyn RM (1976) Breast sensation before and after plastic surgery. Plast Reconstr Surg 58:1–13

10.

Prado A, Andrades P, Benitez S, Parada F. Aesthetic Plast Surg. 2008 Sep;32(5):748-52. Epub .Areola-nipple perception threshold to faradic electricity: a new measure of sensibility of the breasts

11.

Kompatscher P, Schuler C, Beer GM. The transareolar incision for breast augmentation revisited. Aesthetic Plast Surg . 2004;282

12.

Brown T (2016) Objective sensory changes following subfascial breast augmentation. Aesthet Surg J 36(7):784–789

13.

Ducic I, Zakaria HM, Felder JMIII, Fantus S (2014) Nerve injuries in aesthetic breast surgery: systematic review and treatment options. Aesthet Surg J 346:841–856
Ethics declarations
Conflict of interest
Mohamed Ashraf, Injy Kinawi, Khaled Sadik, Tareq Mahboub and Ahmed Elnaggar declare that they have no conflicts of interest.
Ethical approval
All procedures performed in studies involving human participants were in accordance with the ethical standards of the institutional and/or national research committee and with the 1964 Helsinki Declaration and its later amendments or comparable ethical standards. The Ethics Committee from the Faculty of Medicine of Cairo University reviewed and approved this study (Ref: CU - I - 220414).
Informed consent
Verbal and written informed patient consent from all individual participants included in the study.
Patient consent
Patient consent Patients signed informed consent regarding publishing their data and photographs.
Additional information
Publisher's note
Springer Nature remains neutral with regard to jurisdictional claims in published maps and institutional affiliations.
About this article
Cite this article
Ashraf, M., Kinawi, I., Sadik, K. et al. Assessment of NAC sensation after subglandular and subfascial augmentation mammaplasty: a comparative study. Eur J Plast Surg 44, 443–450 (2021). https://doi.org/10.1007/s00238-020-01767-0
Received:

Accepted:

Published:

Issue Date:
Keywords
Hypomastia

Breast atrophy

Subfascial augmentation

Subglandular augmentation

NAC sensation

Semmes-Weinstein monofilaments