Abstract
Background
Treatment of chronic osteomyelitis (OM) usually comprises surgical excision of infected bone and soft tissue, dead space management, and soft tissue closure. When soft tissue revision results in defects too large for direct closure, assistance from plastic surgeons is needed. This study reports outcomes for patients with OM treated by plastic and orthopedic surgeons in a one-stage operation with an antibiotic-loaded biocomposite (ALB) and a local or free flap.
Methods
We report a series of 11 consecutive patients with OM treated from February 2017 to September 2019. The treatment protocol included surgical debridement, tissue sampling, dead space management using ALB, stabilization as needed, and soft tissue closure with a local or free flap.
Results
Mean age at surgery was 62 years (39–79), mean BMI 28 kg/m2 (23–39). Multiple comorbidities were present. Local flaps were used in six patients, one reverse lateral arm flap, one soleus flap, two gastrocnemius flaps, one latissimus dorsi flap, and one fascia plantaris flap. Free flaps were used in five patients, three gracilis muscle flaps and two antero-lateral thigh (ALT) flaps. Mean follow-up was 28 months (15–42). Nine patients (81.8%) healed uneventfully after the one-stage surgical intervention, while two patients (18.2%) experienced partial or complete flap necrosis and required additional surgery. No patients required amputation, and no mortalities were reported.
Conclusions
One-stage treatment of OM using ALB, performed by a multidisciplinary team, led to zero amputations in a highly comorbid population, where amputation would otherwise have been unavoidable.
Level of evidence: Level IV, therapeutic study.
Access options
Buy single article
Instant access to the full article PDF.
US$ 39.95
Tax calculation will be finalised during checkout.
Subscribe to journal
Immediate online access to all issues from 2019. Subscription will auto renew annually.
US$ 79
Tax calculation will be finalised during checkout.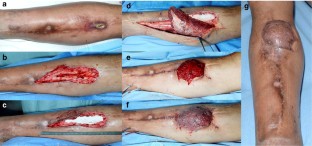 Data availability
All data and materials comply with field standards.
References
1.

Panteli M, Giannoudis PV (2016) Chronic osteomyelitis: what the surgeon needs to know. EFORT Open Rev 1:128–135

2.

Schmitt SK (2017) Osteomyelitis. Infect Dis Clin N Am 31:325–338

3.

McNally MA, Ferguson JY, Lau ACK, Diefenbeck M, Scarborough M, Ramsden AJ et al (2016) Single-stage treatment of chronic osteomyelitis with a new absorbable, gentamicin-loaded, calcium sulphate/hydroxyapatite biocomposite: a prospective series of 100 cases. Bone Jt J 98-B:1289–1296

4.

Cho SH, Song HR, Koo KH, Jeong ST, Park YJ (1997) Antibiotic-impregnated cement beads in the treatment of chronic osteomyelitis. Bull Hosp Jt Dis N Y N 56:140–144

5.

Walenkamp GH, Kleijn LL, de Leeuw M (1998) Osteomyelitis treated with gentamicin-PMMA beads: 100 patients followed for 1-12 years. Acta Orthop Scand 69:518–522

6.

Ferguson J, Diefenbeck M, McNally M (2017) Ceramic biocomposites as biodegradable antibiotic carriers in the treatment of bone infections. J Bone Jt Infect 2:38–51

7.

Raina D, Gupta A, Petersen M, Hettwer W, Nally M, Tägil M et al (2015) A biphasic bone substitute with gentamycin regenerates bone in osteomyelitis with muscle acting as an osteoinductive niche. Orthop Proc 97-B:24–24

8.

Nilsson M, Wang JS, Wielanek L, Tanner KE, Lidgren L (2004) Biodegradation and biocompatability of a calcium sulphate-hydroxyapatite bone substitute. J Bone Joint Surg (Br) 86:120–125

9.

Dvorzhinskiy A, Perino G, Chojnowski R, Van Der Meulen M, Ross F, Bostrom M et al (2015) Cerament bone void filler with gentamicin increases bone formation and decreases detectable infection in a rat model of debrided osteomyelitis. Orthop Proc 97-B:9–9

10.

Hogan A, Heppert VG, Suda AJ (2013) Osteomyelitis. Arch Orthop Trauma Surg 133:1183–1196

11.

Reddy V, Stevenson TR (2008) MOC-PS(SM) CME article: lower extremity reconstruction. Plast Reconstr Surg 121:1–7

12.

Theocharidis V, Katsaros I, Sgouromallis E, Serifis N, Boikou V, Tasigiorgos S, Kokosis G, Economopoulos KP (2018) Current evidence on the role of smoking in plastic surgery elective procedures: a systematic review and meta-analysis. J Plast Reconstr Aesthetic Surg JPRAS 71:624–636

13.

McMillan DE (1984) The microcirculation in diabetes. Microcirc Endothel Lymphat 1:3–24

14.

Fowler MJ (2008) Microvascular and macrovascular complications of diabetes. Clin Diabetes 26:77–82

15.

Franken JM, Hupkens P, Spauwen PHM (2010) The treatment of soft-tissue defects of the lower leg after a traumatic open tibial fracture. Eur J Plast Surg 33:129–133
Ethics declarations
Conflict of interest
Anne Kathrine Lorentzen, Lilan Engel, Hans Gottlieb, and Magnús Pétur Bjarnason Obinah declare that they have no conflicts of interest.
Ethical approval
The local research ethics committee has confirmed that no ethical approval is needed for this retrospective study.
Informed consent
All required informed consent was obtained from patients, including signed informed consent regarding publishing photographs.
Funding
No funding was received for this study.
Additional information
Publisher's note
Springer Nature remains neutral with regard to jurisdictional claims in published maps and institutional affiliations.
About this article
Cite this article
Lorentzen, A.K., Engel, L., Gottlieb, H. et al. One-stage treatment of chronic osteomyelitis with an antibiotic-loaded biocomposite and a local or free flap. Eur J Plast Surg 44, 367–374 (2021). https://doi.org/10.1007/s00238-020-01754-5
Received:

Accepted:

Published:

Issue Date:
Keywords
Osteomyelitis

Free flap

Local flap

Biocomposite