Abstract
The endoscopic brow lift is the most widely used for the rejuvenation of the upper face nowadays. Even though this procedure has such advantages, there are reports about complications associated with this procedure, including bleeding and hematoma, lagophthalmos, alopecia, and nerve injury. But, there is almost no research reporting on diplopia occurring after an endoscopic brow lift. We would like to report on an analysis about the causes of diplopia with a research literature review since diplopia occurred in 6 cases out of 426 cases of the endoscopic brow lift performed from January 2013 to April 2020. There were characteristic findings of left superior oblique muscle palsy in all 6 patients. The subjective symptoms of double vision were improved in all patients at the follow-up appointment 2 to 4 months after surgery. There is no information on the incidence or mechanisms about diplopia which occurs in endoscopic brow lift. Diplopia should be considered as a possible complication during surgery, and it will be necessary to further discuss the anatomical understanding and cautions in surgical procedures.
Level of evidence: Level V, therapeutic study
Access options
Buy single article
Instant access to the full article PDF.
USD 39.95
Price includes VAT (USA)
Tax calculation will be finalised during checkout.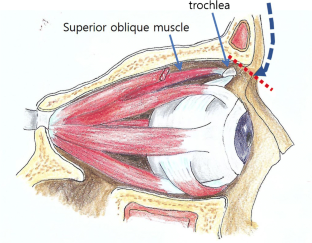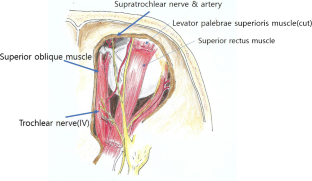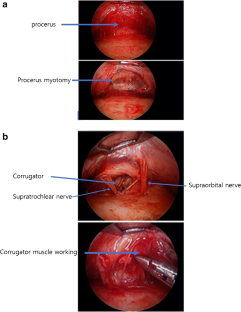 References
1.

Terella AM, Wang TD (2013) Technical considerations in endoscopic brow lift. Clin Plast Surg 40:105–115

2.

Cho MJ, Carboy JA, Rohrich RJ (2018) Complications in brow lifts: a systemic review of surgical and nonsurgical brow rejuvenations. Plast Reconstr Surg Glob Open 6:e1943 1–e1943 5

3.

Mavrikakis I, Desousa JL, Malhotra R (2008) Periosteal fixation during subperiosteal brow lift surgery. Dermatol Surg 34:1500–1506

4.

Harley RD, Nelson LB, Flanagan JC, Calhoun JH (1986) Ocular motility disturbances following cosmetic blepharoplasty. Arch Ophthalmol 104:542–544

5.

Syniuta LA, Goldberg RA, Thacker NM, Rosenbaum AL (2003) Acquired strabismus following cosmetic blepharoplasty. Plast Reconstr Surg 111:2053–2059

6.

Mazow ML, Avilla CW, Morales HJ (2006) Restrictive horizontal strabismus following blepharoplasty. Am J Ophthalmol 141:773–774

7.

Galli M (2012) Diplopia following cosmetic surgery. Am Orthoptic J 62:19–21

8.

Ortiz-Basso T, Vigo R, Prémoli EJ (2014) Horizontal diplopia following upper blepharoplasty. Case Rep Ophthalmol 5:289–291

9.

Lee JY, Cho K, Choi DD, Park KA, Woo KI, Kim YD, Oh SY (2018) Superior rectus muscle insertion injury following cosmetic upper lid blepharoplasty: a case report. BMC Ophthalmol 18:187–190

10.

Whipple KM, Lim LH, Korn BS, Kikkawa DO (2013) Blepharoplasty complications prevention and management. Clin Plast Surg 40:213–224
Ethics declarations
Conflict of interest
The authors declare that they have no conflicts of interest.
Ethical approval
This study was approved by the Institutional Review Board of Daegu Catholic University Medical Center (IRB No. CR-20-150-L) and performed in accordance with the principles of the Declaration of Helsinki.
Patient Consent
The patients provided written informed consent for the publication of their data and the use of their images.
Additional information
Publisher's note
Springer Nature remains neutral with regard to jurisdictional claims in published maps and institutional affiliations.
About this article
Cite this article
Shim, J.S., Chung, J.M. & Kim, T.M. Diplopia following endoscopic brow lift. Eur J Plast Surg 44, 537–542 (2021). https://doi.org/10.1007/s00238-020-01746-5
Received:

Accepted:

Published:

Issue Date:
Keywords
Endoscopy

Brow

Forehead

Diplopia

Complication