Abstract
Background
The lower eyelid changes with aging include atrophy of the orbital septum with subsequent forward herniation of orbital fat, descent of the sub-orbicularis oculi muscle fat, ptosis of the orbicularis oculi muscle, weakening of the orbito-malar ligament and the development of laxity of the eyelid skin, the tarsus and the canthal tendons. In this article we aim at describing our experience of using a modified lower lid blepharoplasty with fat repositioning in patients with lower lid fat prolapse and tear trough deformity.
Methods
A retrospective, non-randomised non-comparative interventional consecutive case series of patients seeking surgical treatment. Patients underwent surgery between April 2010 and October 2019 by a single surgeon (BL). Patient demographics, clinical examination, preoperative and postoperative clinical photography, outcomes and complications were recorded. Follow-up was initially at 2 weeks and finally at 16–20 weeks. Outcomes were recorded as subjective improvement and degree of patient satisfaction.
Results
A total of 150 patients were recruited in the study period. The mean age at the time of surgery was 49. One hundred forty-one (94%) patients were very satisfied with the final outcome of their surgery, 5 were satisfied and 4 were dissatisfied. One patient developed a bilateral lower lid infection requiring abscess drainage. Seventeen other patients experienced minor complications in the postoperative period, including 2 with a unilateral lower lid infection requiring oral antibiotics, 3 with a temporary inferior oblique palsy, 1 with temporary unilateral infraorbital nerve dysfunction, 3 with residual prolapses of the lateral fat pads, 1 with a medial lower lid lump, 2 with a conjunctival granuloma, 2 with a temporary medial ectropion, 1 with persistent unilateral lower lid oedema, 1 with persistent bilateral lower lid oedema and 1 with unilateral lower lid retraction.
Conclusions
We report a high patient satisfaction with a low rate of significant complications following our modified lower lid transconjunctival blepharoplasty with fat repositioning.
Level of evidence: Level III, therapeutic study
Access options
Buy single article
Instant access to the full article PDF.
US$ 39.95
Tax calculation will be finalised during checkout.
Subscribe to journal
Immediate online access to all issues from 2019. Subscription will auto renew annually.
US$ 79
Tax calculation will be finalised during checkout.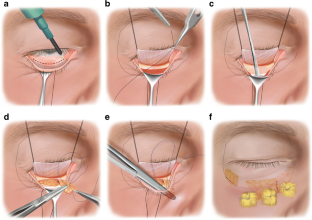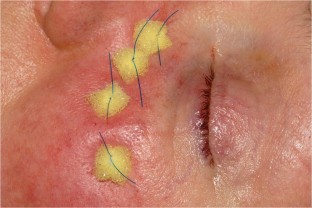 References
1.

Leatherbarrow B (2019) Oculoplastic surgery. Third edition Thieme, p 421–8

2.

Fagien S (2007) Putterman's cosmetic oculoplastic surgery, Fourth edn. Saunders Elsevier, Philadelphia, pp 18–19

3.

Baylis HI, Goldberg RA, Kerivan KM, Jsacobs JL (1997) Blepharoplasty and periorbital surgery. Dermatol Clin 15(4):635–647

4.

Bourget J (1924) Les hernies graisseuses de l'orbite. Notre traitement chirurgical. Bull Acad Natl Med 92:1227–1232

5.

Loeb R (1981) Fat pad sliding and fat grafting for levelling lid depressions. Clin Plast Surg 8(4):757–776

6.

Goldberg RA, Edelstein C, Balch K, Shorr N (1998) Fat repositioning in lower eyelid blepharoplasty. Semin Ophthalmol 13(3):103–106

7.

Hamra ST (1995) Arcus marginalis release and orbital fat preservation in midface rejuvenation. Plast Reconstr Surg 96(2):354–362

8.

Nassif PS (2007) Lower blepharoplasty: transconjunctival fat repositioning. Facial Plast Surg 23(1):27–42

9.

Rohrich RJ, Mahedia M, Hidalgo D, Shah N (2018) The evolving role of blending of the lid-cheek junction in lower blepharoplasty. Plast Reconstr Surg 142(2):377–382

10.

Davies BW, Hink EM, Durairaj VD (2014) Transconjunctival inferior orbitotomy: indications, surgical technique and complications. Craniomaxillofac Trauma Reconstr 7(3):169–174

11.

Morax S, Touitou V (2006) Complications of blepharoplasty. Orbit. 25(4):303–318

12.

Murri M, Hamill EB, Hauck MJ, Marx DP (2017) An update on lower lid blepharoplasty. Semin Plast Surg 31:46–50

13.

Gladstone HB (2005) Blepharoplasty: indications, outcomes and patient counselling. Skin Therapy Lett 10(7):4–7

14.

Leatherbarrow B, Saha K (2013) Complications of blepharoplasty. Facial Plast Surg 29(4):281–288

15.

Undavia S, Briceno C, Massry GG (2016) Quantified incision placement for postseptal approach transconjunctival blepharoplasty. Ophthal Plast Reconstr Surg 32(3):191–194

16.

Schwarcz R, Fezza JP, Jacono A, Massry GG (2016) Stop blaming the septum. Ophthal Plast Reconstr Surg 32(1):49–52

17.

Yoo DB, Peng GL, Massry GG (2013) Transconjunctival lower blepharoplasty with fat repositioning. A retrospective comparison of transposing fat to the subperiosteal vs supraperiosteal planes. JAMA Facial Plast Surg 15(3):176–181

18.

Ratnalingam V, Eu AL, Ng GL, Taharin R, John E (2010) Fibrin adhesive is better than sutures in pterygium surgery. Cornea. 29(5):485–489

19.

O'Sullivan F, Dalton R, Rostron CK (1996) Fibrin glue: an alternative method of wound closure in glaucoma surgery. J Glaucoma 5(6):367–370

20.

Mentens R, Stalmans P (2007) Comparison of fibrin glue and sutures for conjunctival closure in pars plana vitrectomy. Am J Ophthalmol 144(1):128–131

21.

Mommaerts MY, Beirne JC, Jacobs WI, Abeloos JS, De Clerc QCA, Neyt LF (1996) Use of fibrin glue in lower blepharoplasties. J Craniomaxillofac Surg 24(2):78–82

22.

Mohadjer Y, Holds JB (2006) Cosmetic lower eyelid blepharoplasty with fat repositioning via intra-SOOF dissection: surgical technique and initial outcomes. Ophthal Plast Reconstr Surg 22(6):409–413

23.

Momosawa A, Kurita M, Ozaki M, Miyamoto S, Kurachi I, Watanabe R, Harii K (2008) Transconjuctival orbital fat repositioning for tear trough deformity in young Asians. Aesthet Surg J 28(3):265–271
Ethics declarations
Conflict of interest
The authors declare that they have no conflict of interest.
Ethical approval
This retrospective study of case series did not require ethical approval from the Institutional Review Board, although it did adhere to the tenets of the 1964 Declaration of Helsinki.
Informed consent
Written informed consent was obtained from all patients for the use of clinical images and from Thieme Publications for images used.
Additional information
Publisher's note
Springer Nature remains neutral with regard to jurisdictional claims in published maps and institutional affiliations.
About this article
Cite this article
Cannon, P.S., Leatherbarrow, B. Lower eyelid transconjunctival blepharoplasty with fat repositioning: outcomes and complications. Eur J Plast Surg 43, 719–726 (2020). https://doi.org/10.1007/s00238-020-01671-7
Received:

Accepted:

Published:

Issue Date:
Keywords
Lower lid blepharoplasty

Fat repositioning

Complications

Outcomes

Satisfaction