Abstract
Diprosopus is a rare craniofacial anomaly and is considered a subgroup of conjoined twinning. It encompasses a broad spectrum of duplications from single structure doubling to two completely formed heads on one neck. The aetiology of diprosopus remains a controversial topic, and many hypotheses exist. A multifactorial causal relationship is feasible because of the coexistence of other internal system anomalies of cardiac, gastrointestinal, neurological and respiratory origin. Ovid and PubMed databases were searched, using the key words: "diprosopus", "craniofacial duplication" and "duplicated mandible". The identified literature and key referenced articles therein were examined. The purpose was to consolidate the existing body of knowledge on the aetiology and management of diprosopus in order to improve our understanding of this rare condition. Our case report is relatively unique in that it represents a complete duplication of the mandible. Other tissues that were duplicated include the tongue, floor of mouth and the lower lip. It was hypothesised that associated growth abnormalities of the facial skeleton could undergo spontaneous correction if the duplicated mandible and associated tissues were excised early. On review, surgery is the only treatment that can offer functional, aesthetic and psychological improvement. Most patients who were offered surgery (in the reviewed literature) had a partial facial duplication. Surgery is usually deferred until the patient is older when more soft tissue is available to perform the reconstruction and when there would possibly be less growth restriction due to growth centre manipulation. This finding on the timing of surgery was in direct conflict with our hypothesis.
Level of Evidence: Level V, therapeutic study.
This is a preview of subscription content, log in to check access.
Access options
Buy single article
Instant access to the full article PDF.
US$ 39.95
Price includes VAT for USA
Subscribe to journal
Immediate online access to all issues from 2019. Subscription will auto renew annually.
US$ 99
This is the net price. Taxes to be calculated in checkout.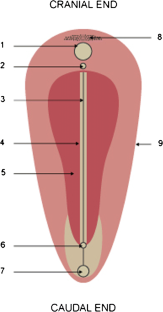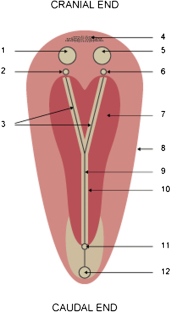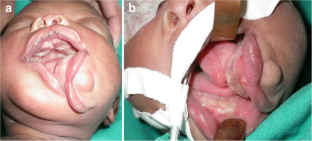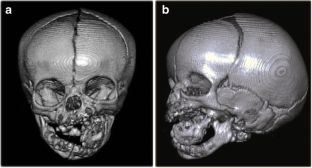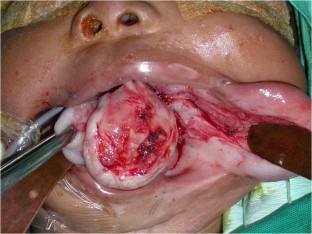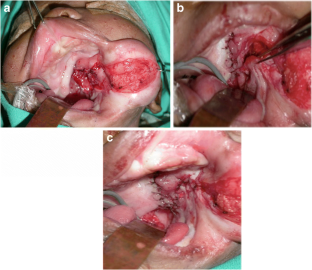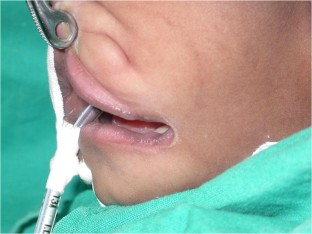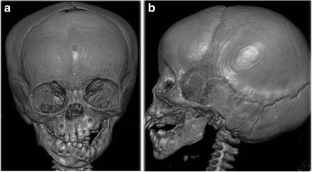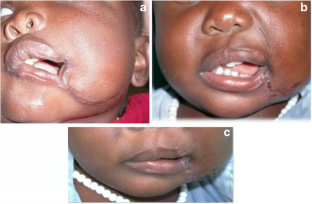 References
1.

Koseoglu K, Gok C, Dayanir Y, Karaman C (2003) CT and MR imaging findings of a rare craniofacial malformation: diprosopus. Am J Roentgenol 180(3):863–864

2.

Spencer R (1992) Conjoined twins: theoretical embryologic basis. Teratology 45(6):591–602

3.

Fernandes GL, Matsubara FK, Marques FK, Torloni MR, Sancovski M, Moron AF, Peixoto S (2010) Three-dimensional prenatal diagnosis of monocephalus diprosopus tetraophthalmos. J Ultrasound Med 29(3):501–503

4.

Costa MA, Borzabadi-Farahani A, Lara-Sanchez PA, Schweitzer D, Jacobson L, Clarke N, Hammoudeh J, Urata MM, Magee WP III (2014) Partial craniofacial duplication: a review of the literature and case report. J Cranio-Maxillofacial Surg. 42(4):290–295

5.

Martinez-Frias ML, Bermejo E, Mendioroz J et al (2009) Epidemiological and clinical analysis of a consecutive series of conjoined twins in Spain. J Pediatr Surg 44(4):811–820

6.

Haehnel S, Schramm P, Hassfeld S et al (2003) Craniofacial duplication (diprosopus): CT, MR imaging, and MR angiography findings. Radiology 226(1):210–213

7.

Turpin IM, Furnas DW, Amlie RN (1981) Craniofacial duplication (diprosopus). Plast Reconstr Surg 67(2):139–142

8.

Al Muti Zaitoun A, Change J, Booker M (1999) Diprosopus (partially duplicated head) associated with anencephaly: a case report. Pathol - Res Pract 195(1):45–50

9.

Edmonds LD, Layde PM (1982) Conjoined twins in the United States. Teratology 25:301–308

10.

Daskalakis G, Pilalis A, Tourikis I, Moulopoulos G, Karamoutzos I, Antsaklis A (2004) First trimester diagnosis of dicephalus conjoined twins. Eur J Obstet Gynecol Reprod Biol 112(1):110–113

11.

Tongsong T, Chanprapaph P, Pongsatha S (1999) First-trimester diagnosis of conjoined twins: a Report of three cases. Ultrasound Obstet Gynecol 14(6):434–437

12.

Groner JI, Teske DW, Teich S (1996) Dicephalus dipus dibrachius: an unusual case of conjoined twins. J Pediatr Surg 31(12):1698–1700

13.

Okazaki JR, Wilson JL, Holmes SM et al (1987) Diprosopus: diagnosis in utero. Am J Roentgenol 69(2):121–124

14.

Morabito R, Colonna MR, Mormina E, Stagno d'Alcontres F, Salpietro V, Blandino A, Longo M, Granata F (2014) Accessory oral cavity associated with duplication of the tongue and the mandible in a newborn: a rare case of diprosopus. Multi-row detector computed tomography diagnostic role. J Cranio-Maxillofacial Surg. 42(8):1924–1928

15.

Pengiran Suhaili DN, Somasundaram S, Lau SH, Ajura AJ, Roslan AR, Ramli R (2011) Duplication of lower lip and mandible-a rare diprosopus. Int J Pediatr Otorhinolaryngol 75(1):131–133

16.

Rai VS, Gaffney G, Manning N (1998) Antenatal diagnosis of complete facial duplication - a case report of a rare craniofacial defect. Prenat Diagn 18:618–620

17.

Sun L, Sun Z, Ma X (2013) Partial duplication of the mandible, parotid aplasia and facial cleft: a rare developmental disorder. Oral Surg Oral Med Oral Pathol Oral Radiol 116(3):e202–e209

18.

Kotrikova B, Hassfeld S, Steiner HH, Hähnel S, Krempien R, Mühling J (2007) Operative correction and follow-up of craniofacial duplication. Plast Reconstr Surg 119(3):985–991

19.

Amr SS, Hammouri MF (1995) Craniofacial duplication (diprosopus): report of a case with a review of the literature. Eur J Obstet Gynecol Reprod Biol 58:77–80

20.

Suryawanshi P, Deshpande M, Verma N et al (2013) Craniofacial duplication: a case report. J Clin Diagnostic Res 7(9):2025–2026

21.

Wu J, Staffenberg DA, Mulliken JB, Shanske AL (2002) Diprosopus: a unique case and review of the literature. Teratology 66:282–287

22.

Shaikh MF, Naik N, Shah C (2008) Duplication of hemi mandible and oral cavity, presentation of an adult patient - a case report. J Plast Reconstr Aesthetic Surg 61(2):183–185

23.

Borzabadi-Farahani A, Yen SLK, Yamashita DD et al (2012) Bilateral maxillary duplication: case report and literature review. Oral Surg Oral Med Oral Pathol Oral Radiol 113(5):29–32

24.

Borzabadi-Farahani A, Gross J, Sanchez-Lara PA, Yen SLK (2013) An unusual accessory mandible and a submucosal cleft palate - a case report and review of the literature. Cleft Palate-Craniofacial J 50(3):369–375

25.

Bhettay E, Beighton P, Nelson MM (1975) Epidemic of conjoined twins in southern Africa? Lancet 2:741–743

26.

Oostra RJ, Baljet B, Dijkstra PF, Hennekam RCM (1998) Congenital anomalies in the teratological collection of museum Vrolik in Amsterdam, the Netherlands. II: skeletal dysplasias. Am J Med Genet 77(2):116–134

27.

Strauss S, Tamarkin M, Engelberg S, Ben Ami T, Goodman RM (1987) Prenatal sonographic appearance of diprosopus. J Ultrasound Med 6:93–95

28.

Avery JK, Hayward JR (1969) Case Report: duplication of oral structures with cleft palate. Cleft Palate J 6(4):506–515

29.

Maisels D (1981) Reduplication of the mouth and mandible. Br J Plast Surg 34:23–25

30.

Kaufman MH (2004) The embryology of conjoined twins. Child's Nerv Syst 20(8–9):508–525

31.

Barr M (1982) Facial duplication : case, review and embryogenesis. Teratology 25(2):153–159

32.

Machin GA (1993) Conjoined twins: implications for blastogenesis. Birth Defects Orig Artic Ser 29(1):141–179

33.

Davies D, Morrison G, Miller BH (1973) Reduplication of the mouth and mandible. Br J Plast Surg 26:84–89

34.

Verdi G, Hersh J (1991) Partial duplication of the face: case report and review. Plast Reconstr Surg 87(4):759–762

35.

Stockard CR (1921) Developmental rate and structural expression: an experimental study of twins, "double monsters" and single deformities, and the interaction among embryonic organs during their origin and development. Thirty-two text figures and six plates. Am J Anat 28(2):115–278

36.

Mabogunje O, Lawrie J (1980) Conjoined twins in West Africa. Arch Dis Child 55:626–630

37.

Ferm V (1969) Conjoined twinning in mammalian teratology. Arch Environ Health 19:353–357

38.

Manjila S, Miller EA, Vadera S et al (2012) Duplication of the pituitary gland associated with multiple blastogenesis defects: duplication of the pituitary gland (DPG)-plus syndrome. Case report and review of literature. Surg Neurol Int 3:23

39.

Peacock ZS, Resnick CM, Faquin WC, Kaban LB (2011) Accessory mandibular condyle at the coronoid process. J Craniofac Surg. 22(6):2168–2171

40.

Cameron AC, McKellar GMW, Widmer RP (1993) A case of neurocristopathy that manifests facial clefting and maxillary duplication. Oral Surg Oral Med Oral Pathol 75:338–342

41.

Tharanon W, Ellis E, Sinn DP (1998) A case of maxillary and zygomatic duplication. J Oral Maxillofac Surg 56(6):770–774

42.

S a A-A, Rees M, de Chalain TM (2009) Our experiences managing a patient with mandibular duplication and cervical spinal fusion. J Craniofac Surg 20(6):2118–2122

43.

Chai C, Crary D (1971) Conjoined twinning in rabbits. Teratology 4:433–444

44.

Sun L, Sun Z, Ma X (2013) Congenital parotid ectopia in accessory maxilla and facial cleft anomalies: three cases report. Int J Pediatr Otorhinolaryngol 77(4):608–612

45.

Chagares DG, McGauran MH (1976) Craniofacial duplication (diprosopus) in a twin. Arch Pathol Lab Med 100(July):392–394

46.

Chen CP, Hsu CY, Su JW, Cindy Chen HE, Hwa-Ruey Hsieh A, Hwa-Jiun Hsieh A, Wang W (2011) Conjoined twins detected in the first trimester: a review. Taiwan J Obstet Gynecol 50(4):424–431

47.

Jaschevatzky OE, Goldman B, Kampf D, Wexler H, Grünstein S (1980) Etiological aspects of double monsters. Eur J Obstet Gynecol Reprod Biol 10(5):343–349

48.

Ekinci G, Balci S, Erzen C (2005) An anencephalic monocephalus diprosopus "headed twin": postmortem and CT findings with emphasis on the cranial bones. Turk J Pediatr 47(2):195–198

49.

Depew MJ, Lufkin T, Rubenstein JLR (2002) Specification of jaw subdivisions by dlx genes. Science 298(5592):381–385

50.

Heude E, Bouhali K, Kurihara Y, Kurihara H, Couly G, Janvier P, Levi G (2010) Jaw muscularization requires dlx expression by cranial neural crest cells. Proc Natl Acad Sci U S A 107(25):11441–11446

51.

Petzel MA, Erickson RP (1991) Disorganisation : a possible cause of apparent conjoint twinning. J Med Genet 28(March):712–714

52.

Donnai D, Winter R (1989) Disorganisation : a model for "early amnion rupture"? J Med Genet 26:421–425

53.

Bell RC (1971) A child with two tongues (oral-facial-digital syndrome). Br J Plast Surg 24:193–196

54.

Ball IA (1986) Klippel-Feil syndrome associated with accessory jaws (distomus). Br Dent J 161(20):20–23

55.

Fearon JA, Mulliken JB (1987) Midfacial duplication: a rare malformation sequence. Plast Reconstr Surg 79(2):260–264

56.

Sjamsudin J, David DJ, Singh GD (2001) An Indonesian child with orofacial duplication and neurocristopathy anomalies: case report. J Cranio-Maxillofacial Surg 29(4):195–197

57.

Thornton KM, Bennett T, Singh V, Mardis N, Linebarger J, Kilbride H, Voos K (2014) A case of diprosopus: perinatal counselling and management. Case Rep Pediatr 2014:1–4

58.

Rydnert J, Holmgren G, Nielsen K, Bergman F, Joelsson I (1985) Prenatal diagnosis of conjoined twins (diprosopus) with myelomeningocele. Acta Obstet Gynecol Scand 64:687–688

59.

Price JEJ, Zarem HA (1979) Duplication of the mandible. Plast Reconstr Surg 24:104–105

60.

Morita K, Iwasa T, Imaizumi F, Negishi A, Omura K (2008) A case of maxillary duplication with a soft palate reconstruction using a forearm flap. Int J Oral Maxillofac Surg 37(9):862–865

61.

Kocaaslan ND, Satir T, Celebiler O et al (2013) Duplication of the mandible in Klippel-Feil syndrome. J Plast Reconstr Aesthetic Surg 66:107–110

62.

Stewart C, Hughes LA, Thomson HG, Armstrong D, Forte V (2007) An apparent duplication of the mouth in a patient with midline dysraphism and a teratoid polyp: a 15-year postsurgical follow-up. Can J Plast Surg 15(4):227–229

63.

Chandra R (1978) Congenital duplication of lip, maxilla and palate. Br J Plast Surg 31:46–47

64.

Gupta DS (1975) Double palate. Oral Surg Oral Med Oral Path 40:53–55

65.

Dorf DS, Curtin JW (1982) Early cleft palate repair and speech outcome. Plast Reconstr Surg 70(1):74–81
Ethics declarations
Funding information
No financial disclosures.
Conflict of interest
Sieglinde Erica Rabe, Mahendra Daya and Anil Madaree declare that they have no conflict of interest.
Ethical approval
Ethical approval was obtained from the Biomedical Research Ethics Committee (BREC) at the University of Kwazulu-Natal, Durban, South Africa.
Informed consent
There was no signed informed consent from the mother of the patient. The patient was from rural Kwazulu-Natal. The Social Worker of Stanger area was contacted and they were unable to locate the patient nor her mother. The ethics committee (BREC) was informed about this, and permission was granted by them to use the information and photos of the patient for my masters in medicine (MMed) degree (which also includes publishing the article). The letter is included in the supplementary forms.
Additional information
Publisher's note
Springer Nature remains neutral with regard to jurisdictional claims in published maps and institutional affiliations.
About this article
Cite this article
Rabe, S.E., Daya, M. & Madaree, A. Diprosopus: a review of the aetiology and case report of early surgery in a 7-week-old infant with partial facial duplication. Eur J Plast Surg 42, 213–222 (2019). https://doi.org/10.1007/s00238-019-1495-7
Received:

Accepted:

Published:

Issue Date:
Keywords
Diprosopus

Duplicated mandible

Aetiology

Management

Craniofacial duplication