Abstract
Current treatment for end-stage cardiac disease has benefitted greatly from the development of left ventricular assist devices (LVADs). However, as the prevalence of LVADs increased, so too did the number of patients with complications. The smaller size of the HeartMate III (HMIII) device allows for it to be placed completely intrathoracic. This requires a new reconstructive strategy when deep pocket infection and hardware exposure ensue. We report our first case of flap coverage of an exposed HMIII after deep pocket infection and discuss the reconstructive challenges associated with this fully intrathoracic device. A 31-year-old female with worsening postpartum non-ischemic cardiomyopathy was transferred to our facility in end-stage heart failure. She underwent complete sternal-sparing placement of a HMIII via bilateral anterior thoracotomies, and eventually developed a deep pocket infection with intrathoracic abscess. Plastic Surgery reconstructed the wounds using bilateral pectoralis major muscle flaps. The patient enjoyed an uneventful postoperative course and was discharged home 2 weeks later on intravenous antibiotics. HMIII devices are completely intrathoracic, occupying the pericardial space anteriorly, which can make an infection difficult to access. Wound location largely dictated which flaps would be acceptable for reconstruction following debridement. Close cooperation between cardiac and reconstructive surgeons will once again be paramount to evolving the surgical care of HMIII patients with deep pocket infection.
Level of Evidence: Level V, therapeutic study.
Access options
Buy single article
Instant access to the full article PDF.
USD 39.95
Price excludes VAT (USA)
Tax calculation will be finalised during checkout.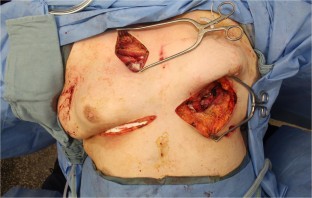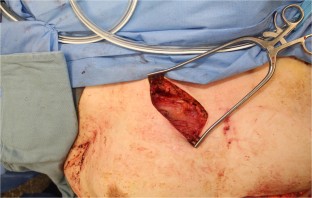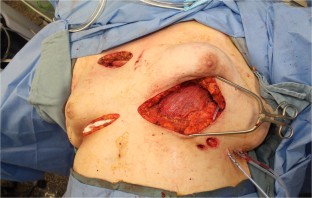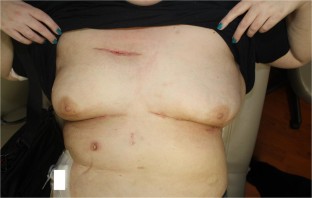 References
Slaughter MS, Rogers JG, Milano CA, Russell SD, Conte JV, Feldman D, Sun B, Tatooles AJ, Delgado RM 3rd, Long JW, Wozniak TC, Ghumman W, Farrar DJ, Frazier OH, HeartMate II Investigators (2009) Advanced heart failure treated with continuous-flow left ventricular assist device. N Engl J Med 361(23):2241–2251

Rogers JG, Pagani FD, Tatooles AJ, Bhat G, Slaughter MS, Birks EJ, Boyce SW, Najjar SS, Jeevanandam V, Anderson AS, Gregoric ID, Mallidi H, Leadley K, Aaronson KD, Frazier OH, Milano CA (2017) Intrapericardial left ventricular assist device for advanced heart failure. N Engl J Med 376(5):451–460

Mehra MR, Goldstein DJ, Uriel N, Cleveland JC Jr, Yuzefpolskaya M, Salerno C, Walsh MN, Milano CA, Patel CB, Ewald GA, Itoh A, Dean D, Krishnamoorthy A, Cotts WG, Tatooles AJ, Jorde UP, Bruckner BA, Estep JD, Jeevanandam V, Sayer G, Horstmanshof D, Long JW, Gulati S, Skipper ER, O'Connell JB, Heatley G, Sood P, Naka Y, MOMENTUM 3 Investigators (2018) Two-year outcomes with a magnetically levitated cardiac pump in heart failure. N Engl J Med 378(15):1386–1395

Rose EA, Gelijns AC, Moskowitz AJ, Heitjan DF, Stevenson LW, Dembitsky W, Long JW, Ascheim DD, Tierney AR, Levitan RG, Watson JT, Meier P, Ronan NS, Shapiro PA, Lazar RM, Miller LW, Gupta L, Frazier OH, Desvigne-Nickens P, Oz MC, Poirier VL, Randomized Evaluation of Mechanical Assistance for the Treatment of Congestive Heart Failure (REMATCH) Study Group (2001) Long-term use of a left ventricular assist device for end-stage heart failure. N Engl J Med 345(20):1435–1443

Park SJ, Tector A, Piccioni W, Raines E, Gelijns A, Moskowitz A, Rose E, Holman W, Furukawa S, Frazier OH, Dembitsky W (2005) Left ventricular assist devices as destination therapy: a new look at survival. J Thorac Cardiovasc Surg 129(1):9–17

Baddour LM, Bettmann MA, Bolger AF, Epstein AE, Ferrieri P, Gerber MA, Gewitz MH, Jacobs AK, Levison ME, Newburger JW, Pallasch TJ, Wilson WR, Baltimore RS, Falace DA, Shulman ST, Tani LY, Taubert KA, AHA (2003) Nonvalvular cardiovascular device-related infections. Circulation. 108(16):2015–2031

Topkara VK, Kondareddy S, Malik F, Wang IW, Mann DL, Ewald GA, Moazami N (2010) Infectious complications in patients with left ventricular assist device: etiology and outcomes in the continuous-flow era. Ann Thorac Surg 90(4):1270–1277

Trachtenberg BH, Cordero-Reyes A, Elias B, Loebe M (2015) A review of infections in patients with left ventricular assist devices: prevention, diagnosis and management. Methodist Debakey Cardiovasc J 11(1):28–32

Roussel LO, Khouri JS, Christiano JG (2017) Pedicled flap closure as an adjunct for infected ventricular assist devices. Ann Plast Surg 78(6):712–716

Wood KL, Ayers B, Sagebin F et al (2018) Complete sternal-sparing HeartMate 3 implantation: a case series of ten consecutive patients. Ann Thorac Surg 107:1160–1165

Schmitto JD, Hanke JS, Rojas SV, Avsar M, Haverich A (2015) First implantation in man of a new magnetically levitated left ventricular assist device (HeartMate III). J Heart Lung Transplant 34(6):858–860

Mehra MR, Naka Y, Uriel N, Goldstein DJ, Cleveland JC Jr, Colombo PC, Walsh MN, Milano CA, Patel CB, Jorde UP, Pagani FD, Aaronson KD, Dean DA, McCants K, Itoh A, Ewald GA, Horstmanshof D, Long JW, Salerno C, MOMENTUM 3 Investigators (2017) A fully magnetically levitated circulatory pump for advanced heart failure. N Engl J Med 376(5):440–450

Hanke JS, Rojas SV, Dogan G, Feldmann C, Beckmann E, Deniz E, Wiegmann B, Michaelis JE, Napp LC, Berliner D, Shrestha M, Bauersachs J, Haverich A, Schmitto JD (2017) First series of left ventricular assist device exchanges to HeartMate 3. Eur J Cardio-Thoracic Surg 51(5):887–892

Kretlow JD, Brown RH, Wolfswinkel EM et al (2014) Salvage of infected left ventricular assist device with antibiotic beads. Plast Reconstr Surg 133(1):28e–38e

Jacoby A, Stranix JT, Cohen O, Louie E, Balsam LB, Levine JP (2017) Flap coverage for the treatment of exposed left ventricular assist device (LVAD) hardware and intractable LVAD infections. J Card Surg 32(11):732–737

Echo A, Kelley BP, Bullocks JM, Morales DL (2012) The treatment of an unusual complication associated with a HeartMate II LVAD in an adolescent. Pediatr Transplant 16(4):E130–E133

Hutchinson OZ, Oz MC, Ascherman JA (2001) The use of muscle flaps to treat left ventricular assist device infections. Plast Reconstr Surg 107(2):364–373 http://www.ncbi.nlm.nih.gov/pubmed/11214051. Accessed November 29, 2018

Nelson JA, Shaked O, Fischer JP, Mirzabeigi MN, Jandali S, Kovach SJ III, Low DW, Acker MA, Kanchwala SK (2014) Complex wound management in ventricular assist device (VAD) patients. Ann Plast Surg 73:S165–S170

Sajjadian A, Valerio IL, Acurturk O, Askari MA, Sacks J, Kormos RL, Manders EK (2006) Omental transposition flap for salvage of ventricular assist devices. Plast Reconstr Surg 118(4):919–926

Shafii AE, Chamogeorgakis TP, Gonzalez-Stawinski G (2011) Omental flap transposition with intra-abdominal relocation for LVAD pump-pocket infection. J Heart Lung Transplant 30(12):1421–1422

Massey EJD, Gouveia PF, Nos C, Poulet B, Sarfati I, Clough KB (2013) A new level 1 oncoplastic technique for breast conserving surgery: rotation glandular flap. Breast. 22(2):186–189

Szychta P, Butterworth M, Dixon M, Kulkarni D, Stewart K, Raine C (2013) Breast reconstruction with the denervated latissimus dorsi musculocutaneous flap. Breast. 22(5):667–672

Amin K, Schechter E, Gajanan K, Kosutic D (2016) Latissimus dorsi intercostal artery perforator musculocutaneous flap in chest wall reconstruction. Microsurgery. 36(8):712–713
Ethics declarations
Conflict of interest
Drew C. Mitchell, Brian Ayers, Alap U. Patel, Miranda A. Chacon, Katherine Wood, Bryan Barrus, Sunil M. Prasad, Igor Gosev, and Jose G. Christiano declare that they have no conflict of interest.
Ethical approval
All procedures performed in studies involving human participants were in accordance with the ethical standards of the institution and with the 1964 Helsinki Declaration and its later amendments or comparable ethical standards.
Informed consent
Informed consent was obtained from all individual participants included in the study. Additional informed consent was obtained from all individual participants of whom identifying information is included in this article.
Additional information
Publisher's note
Springer Nature remains neutral with regard to jurisdictional claims in published maps and institutional affiliations.
Electronic supplementary material
About this article
Cite this article
Mitchell, D.C., Ayers, B., Patel, A.U. et al. Bilateral pectoralis major flaps for salvage of left ventricular assist device deep pocket infection. Eur J Plast Surg 43, 97–102 (2020). https://doi.org/10.1007/s00238-019-01554-6
Received:

Accepted:

Published:

Issue Date:

DOI: https://doi.org/10.1007/s00238-019-01554-6
Keywords
Left ventricular assistance device LVAD

Infection

Plastic and reconstructive surgery

Cardiothoracic surgery

Heartmate

Pectoralis major flap