Abstract
Lipedema, which has been known as an adipose tissue disorder characterized by abnormal fat deposition, mostly affects women. This condition can easily be ruled out regarding its diagnosis because it is commonly misdiagnosed as obesity. True diagnosing and optimal management of lipedema show a great importance. As patients suffer from lipedema, not only experiencing physical symptoms such as tenderness or a feeling of heaviness but also psychological symptoms such as anxiety, they cause negative influences on quality of life of a person with lipedema. This paper tries to review all aspects of lipedema from diagnosis to management and assessment options.
Access options
Buy single article
Instant access to the full article PDF.
US$ 39.95
Tax calculation will be finalised during checkout.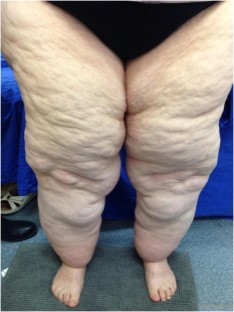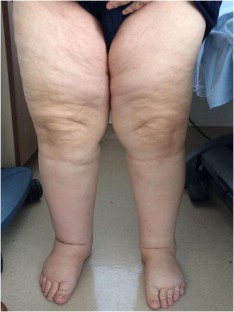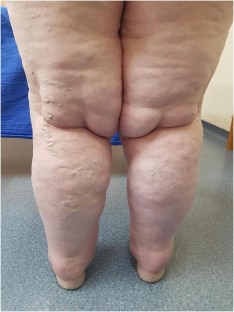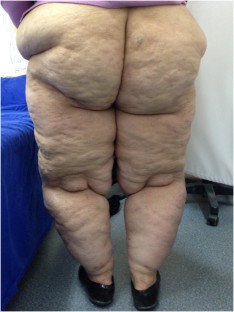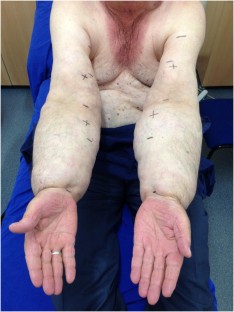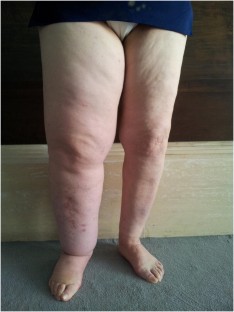 References
1.

Child AH, Gordon KD, Sharpe P et al (2010) Lipedema: an inherited condition. Am J Med Genet Part A 152:970–976

2.

Herpertz U (1995) Das lipödem. Z Lymphol 19(1):1–11

3.

Buck DW II, Herbst KL (2016) Lipedema: a relatively common disease with extremely common misconceptions. Plast Reconstr Surg Glob Open 4(9):e1403

4.

Földi MFE (2006) Földi's Textbook of Lymphology. Mosby/Elsevier GmbH Münih, Munchen, Germany

5.

Herbst KL (2012) Rare adipose disorders (RADs) masquerading as obesity. Acta Pharmacol Sin 33:155–172

6.

Okhovat J-P, Alavi A (2015) Lipedema: a review of the literature. Int J Low Extrem Wounds 14:262–267

7.

Fife CE, Maus EA, Carter MJ (2010) Lipedema: a frequently misdiagnosed and misunderstood fatty deposition syndrome. Adv Skin Wound Care 23:81–92

8.

Szél E, Kemény L, Groma G, Szolnoky G (2014) Pathophysiological dilemmas of lipedema. Med Hypotheses 83:599–606

9.

Godoy MFG, Buzato E, Brigidio PAF et al (2012) Is lymphostasis an aggravant of lipedema. Case Rep Dermatol 4:222–226

10.

Suga H, Araki J, Aoi N, Kato H, Higashino T, Yoshimura K (2009) Adipose tissue remodeling in lipedema: adipocyte death and concurrent regeneration. J Cutan Pathol 36:1293–1298

11.

Mayes J, Watson G (2004) Direct effects of sex steroid hormones on adipose tissues and obesity. Obes Rev 5:197–216

12.

Gavin KM, Cooper EE, Hickner RC (2013) Estrogen receptor protein content is different in abdominal than gluteal subcutaneous adipose tissue of overweight-to-obese premenopausal women. Metabolism 62:1180–1188

13.

Elias CF, Aschkenasi C, Lee C, Kelly J, Ahima RS, Bjorbæk C, Flier JS, Saper CB, Elmquist JK (1999) Leptin differentially regulates NPY and POMC neurons projecting to the lateral hypothalamic area. Neuron 23:775–786

14.

Forner-Cordero I, Szolnoky G, Forner-Cordero A, Kemény L (2012) Lipedema: an overview of its clinical manifestations, diagnosis and treatment of the disproportional fatty deposition syndrome–systematic review. Clin Obes 2:86–95

15.

Chen S-G, Hsu S-D, Chen T-M, Wang HJ (2004) Painful fat syndrome in a male patient. Br J Plast Surg 57:282–286

16.

Schook CC, Mulliken JB, Fishman SJ, Alomari AI, Grant FD, Greene AK (2011) Differential diagnosis of lower extremity enlargement in pediatric patients referred with a diagnosis of lymphedema. Plast Reconstr Surg 127:1571–1581

17.

Langendoen S, Habbema L, Nijsten T et al (2009) Lipoedema: from clinical presentation to therapy. A review of the literature. Br J Dermatol 161:980–986

18.

Fonder MA, Loveless JW, Lazarus GS (2007) Lipedema, a frequently unrecognized problem. J Am Acad Dermatol 57:S1–S3

19.

Schmeller W, Meier-Vollrath I (2006) Tumescent liposuction: a new and successful therapy for lipedema. J Cutan Med Surg 10:7–10

20.

Lohrmann C, Foeldi E, Langer M (2009) MR imaging of the lymphatic system in patients with lipedema and lipo-lymphedema. Microvasc Res 77:335–339

21.

Stemmer R (1976) A clinical symptom for the early and differential diagnosis of lymphedema. Vasa 5(3):261–262

22.

Curri S, Merlen J (1986) Microvascular disorders of adipose tissue. J Mal Vasc 11:303–309

23.

Wold LE, Hines EA, Allen EV (1951) Lipedema of the legs: a syndrome characterized by fat legs and edema. Ann Intern Med 34:1243–1250

24.

Beninson J, Edelglass JW (1984) Lipedema—the non-lymphatic masquerader. Angiology 35:506–510

25.

Birkballe S, Jensen MR, Nørregaard S et al (2014) Can tissue dielectric constant measurement aid in differentiating lymphoedema from lipoedema in women with swollen legs? Br J Dermatol 170:96–102

26.

Naouri M, Samimi M, Atlan M, Perrodeau E, Vallin C, Zakine G, Vaillant L, Machet L (2010) High-resolution cutaneous ultrasonography to differentiate lipoedema from lymphoedema. Br J Dermatol 163:296–301

27.

Dimakakos P, Stefanopoulos T, Antoniades P, Antoniou A, Gouliamos A, Rizos D (1997) MRI and ultrasonographic findings in the investigation of lymphedema and lipedema. Int Surg 82:411–416

28.

Duewell S, Hagspiel KD, Zuber J, von Schulthess GK, Bollinger A, Fuchs WA (1992) Swollen lower extremity: role of MR imaging. Radiology 184:227–231

29.

Foster K, Schwan H (1989) Dielectric properties of tissues and biological materials: a critical review. Crit Rev Biomed Eng 17:25–104

30.

Alanen E, Lahtinen T, Nuutinen J (1998) Measurement of dielectric properties of subcutaneous fat with open-ended coaxial sensors. Phys Med Biol 43:475–485

31.

Alanen E, Lahtinen T, Nuutinen J (1999) Penetration of electromagnetic fields of an open-ended coaxial probe between 1 MHz and 1 GHz in dielectric skin measurements. Phys Med Biol 44:N169–N176

32.

Bakar Y, Tuğral A, Üyetürk Ü (2017) Measurement of local tissue water in patients with breast cancer-related lymphedema. Lymphat Res Biol. https://doi.org/10.1089/lrb.2016.005

33.

Lahtinen T, Seppala J, Viren T et al (2015) Experimental and analytical comparisons of tissue dielectric constant (TDC) and bioimpedance spectroscopy (BIS) in assessment of early arm lymphedema in breast cancer patients after axillary surgery and radiotherapy. Lymphat Res Biol 13(3):176–185

34.

Mayrovitz H (2007) Assessing local tissue edema in postmastectomy lymphedema. Lymphology 40:87–94

35.

Bilancini S, Lucchi M, Tucci S, Eleuteri P (1995) Functional lymphatic alterations in patients suffering from lipedema. Angiology 46:333–339

36.

Brorson H, Ohlin K, Olsson G, Karlsson MK (2009) Breast cancer-related chronic arm lymphedema is associated with excess adipose and muscle tissue. Lymphat Res Biol 7:3–10

37.

Dylke E, Ward L, Meerkin J et al (2013) Tissue composition changes and secondary lymphedema. Lymphat Res Biol 11:211–218

38.

Dietzel R, Reisshauer A, Jahr S, Calafiore D, Armbrecht G (2015) Body composition in lipoedema of the legs using dual-energy X-ray absorptiometry: a case–control study. Br J Dermatol 173:594–596

39.

Peled AW, Kappos EA (2016) Lipedema: diagnostic and management challenges. Int J Women's Health 8:389–395

40.

Boursier V, Pecking A, Vignes S (2004) Comparative analysis of lymphoscintigraphy between lipedema and lower limb lymphedema. J Mal Vasc 29:257–261

41.

Szolnoky G, Borsos B, Barsony K et al (2008) Complete decongestive physiotherapy with and without pneumatic compression for treatment of lipedema: a pilot study. Lymphology 41:40–44

42.

Szolnoky G, Nagy N, Kovács R et al (2008) Complex decongestive physiotherapy decreases capillary fragility in lipedema. Lymphology 41:161

43.

Fetzer A (2016) Specialist approaches to managing lipoedema. Br J Commun Nurs 21:S30–S35

44.

Lipoedema U. The big survey: results. Presentation at the British lymphology society conference; 2013

45.

Schmeller W, Hueppe M, Meier-Vollrath I (2012) Tumescent liposuction in lipoedema yields good long-term results. Br J Dermatol 166:161–168

46.

Wienert V, Földi E, Juenger M et al (2009) Lipoedema guidelines of the German society for phlebology. Phlebologie 38:164–167

47.

Peled AW, Slavin SA, Brorson H (2012) Long-term outcome after surgical treatment of lipedema. Ann Plast Surg 68:303–307

48.

Fetzer A, Fetzer S (2015) Early lipoedema diagnosis and the RCGP e-learning course. Br J Commun Nurs 20:S22–S28

49.

Bosman J (2011) Lipoedema: poor knowledge, neglect or disinterest. J Lymphoedema 6:109

50.

Warren AG, Janz BA, Borud LJ et al (2007) Evaluation and management of the fat leg syndrome. Plast Reconstr Surg 119:9e–15e

51.

Dudek JE, Białaszek W, Ostaszewski P (2016) Quality of life in women with lipoedema: a contextual behavioral approach. Qual Life Res 25:401–408
Ethics declarations
Patient consent
Patients provided written consent for the use of their images.
Conflict of interest
Alper Tuğral and Yeşim Bakar declare that they have no conflict of interests.
Ethical approval
For this type of study, a formal consent from a local ethics committee is not required.
Additional information
Publisher's note
Springer Nature remains neutral with regard to jurisdictional claims in published maps and institutional affiliations.
About this article
Cite this article
Tuğral, A., Bakar, Y. An approach to lipedema: a literature review of current knowledge of an underestimated health problem. Eur J Plast Surg 42, 549–558 (2019). https://doi.org/10.1007/s00238-019-01519-9
Received:

Accepted:

Published:

Issue Date:
Keywords
Lipedema

Lymphedema

Body weight

Obesity