Abstract
Background
Arteriovenous malformations (AVMs) are abnormal connections between arterial feeding vessels and draining veins, devoid of a normal capillary bed. Treatment options include complete surgical excision or eradication. Following surgical excision, the defect can be closed primarily or covered with the preplanned local flap or skin graft. We aimed to assess various cases of AVMs and review the current literature to determine a treatment rationale and improve surgical outcomes.
Methods
A retrospective study including data of 21 patients with extra cranial scalp AVMs was carried out at our institute between 2010 and 2016. Fourteen patients underwent digital subtraction angiography; remaining patients were evaluated by MR/CT angiography. Eighteen patients underwent direct excision. Three patients with large AVMs (> 10 cm) underwent preoperative embolization followed by surgical excision.
Results
Of the 21 patients with extra cranial scalp AVMs, there were 11 males and 10 females with mean age of 24 years ranging from 3 to 41 years. The mean duration of symptom was 6.7 years. Superficial temporal artery (62%) was the most commonly involved feeder vessel. Eighteen patients underwent direct excision while three underwent embolization followed by excision. Two patients had recurrence of symptoms. There was partial flap necrosis in three patients which were managed with dressings and skin graft.
Conclusions
Surgical excision of AVMs, which includes ligation of all arterial feeders near the nidus and excision of nidus, is a safe option with lesser complications and gives good results. Preoperative embolization reduces vascularity and helps in easy identification of AVMs during surgery thus achieving complete excision and improving the prognosis of treatment especially in the large AVM.
Level of Evidence: Level IV, therapeutic study.
Access options
Buy single article
Instant access to the full article PDF.
USD 39.95
Price excludes VAT (USA)
Tax calculation will be finalised during checkout.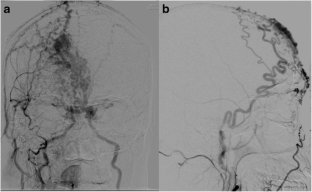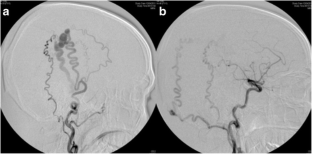 References
Hage ZA, Few JW, Surdell DL, Adel JG, Batjer HH, Bendok BR (2008) Modern endovascular and aesthetic surgery techniques to treat arteriovenous malformations of the scalp: case illustration. Surg Neurol 70:198–203

Mulliken JB, Burrows PE, Fishman SJ (2013) Mulliken and Young's vascular anomalies: hemangiomas and malformations. OUP, USA

Olivecrona H, Ladenheim J (1957) Congenital arterio-venous aneurysms of the carotid and vertebral artery systems. Springer, Berlin

Wassef M, Blei F, Adams D, Alomari A, Baselga E, Berenstein A et al (2015) Vascular anomalies classification: recommendations from the International Society for the Study of Vascular Anomalies. Pediatrics 136:e203–e214

Jung SH, Yim MB, Lee CY, Song DW, Kim IM, Son EI (2005) Treatment of scalp arteriovenous malformation. J Korean Neurosurg Soc 38:269–272

Matsushige T, Kiya K, Satoh H, Mizoue T, Kagawa K, Araki H (2004) Arteriovenous malformation of the scalp: case report and review of the literature. Surg Neurol 62:253–259

Kohout MP, Hansen M, Pribaz JJ, Mulliken JB (1998) Arteriovenous malformations of the head and neck: natural history and management. Plast Reconstr Surg 102:643–654

Chowdhury FH, Haque MR, Kawsar KA, Sarker MH, Momtazul Haque AFM (2013) Surgical management of scalp arterio-venous malformation and scalp venous malformation: an experience of eleven cases. Indian J Plast Surg 46:98–107

Corr PD (2007) Cirsoid aneurysm of the scalp. Singap Med J 48:e268–e269

Gurkanlar D, Gonul M, Solmaz I, Gonul E (2006) Cirsoid aneurysms of the scalp. Neurosurg Rev 29:208–212

Wharton SM, Nishikawa H (2003) Congenital vascular anomalies of the head and neck: interventional management in children. Eur J Plast Surg 26:67–71

Kumar A, Ahuja CK, Khandelwal N, Bakshi JB (2012) Cirsoid aneurysm of the right pre-auricular region: an unusual cause of tinnitus managed by endovascular glue embolisation. J Laryngol Otol 126:923–927

Goldenberg DC, Hiraki PY, Caldas JG, Puglia P, Marques TM, Gemperli R (2015) Surgical treatment of extracranial arteriovenous malformations after multiple embolizations: outcomes in a series of 31 patients. Plast Reconstr Surg 135:543–552
Ethics declarations
Funding
The study did not have any sponsors or funding sources.
Conflict of interest
Suraj Yeshwant Rane, Shashank Lamba, Amish Jayantilal Gohil, Ashish Kumar Gupta declare that they have no conflict of interest.
Ethical approval
All procedures performed in studies involving human participants were in accordance with the ethical standards of the institutional and/or national research committee and with the 1964 Helsinki declaration and its later amendments or comparable ethical standards. For this type of retrospective study, formal consent from a local ethics committee is not required.
Informed consent
Informed consent was obtained from all individual participants included in the study. Additional informed consent was obtained from all individual participants for whom identifying information is included in this article.
Patient consent
Patients provided written consent for the use of their images.
About this article
Cite this article
Rane, S.Y., Lamba, S., Gohil, A.J. et al. Compendium of scalp arteriovenous malformation (AVM) cases—a retrospective study and review. Eur J Plast Surg 41, 223–228 (2018). https://doi.org/10.1007/s00238-017-1364-1
Received:

Accepted:

Published:

Issue Date:

DOI: https://doi.org/10.1007/s00238-017-1364-1
Keywords
Arteriovenous malformation

Scalp AVM