Abstract
Background
Implant based reconstruction (IBR) is the most common form of breastreconstruction. IBR has advantages; uncomplicated surgery, no donor site and goodaesthetic outcome. However, disadvantages include infection with implant loss andphysical limitation to the size of breast which can be used. The use of surgical matricesto increase the size of implants used has gained in popularity, however concernsregarding increased complication rates exists. Here we describe our initial experienceusing a resorbable mesh in post mastectomy patients.
Methods
Post mastectomy patients after cancer surgery or for risk reducing surgerywere examined. We examined our initial experience over an 18 month period ofpatients undergoing reconstruction with the use of resorbable mesh and implant basedreconstruction. Patients were followed for major or minor complications including flap necrosis, implant loss, haematoma, seroma and infection rates.
Results
Few major complications were encountered. There were no instances of flap necrosis or haematoma formation. However, 5 reconstructed breasts (n=74, 6.7%)resulted in loss of the implant due to infection. These losses were associated withpatients who were either current or ex-smokers, or in patients who had or wereundergoing either radiation or chemotherapy. Minor complications such as superficialwound infections were seen in 8 of 74 (10.8%) reconstructed breasts. The overallcomplication rate was 17.5%, or 13 of 74 reconstructed breasts.
Conclusions
The use of resorbable mesh provides excellent cosmetic outcomes withminimal complications. To avoid major complications discretion should be used inpatients with risk factors such as smoking and radiation therapy.
Level of Evidence: Level IV, therapeutic study.
We're sorry, something doesn't seem to be working properly.
Please try refreshing the page. If that doesn't work, please contact support so we can address the problem.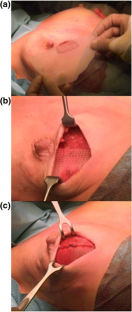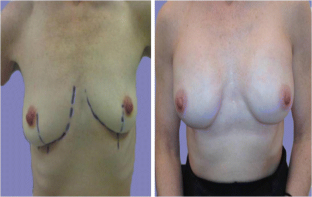 References
Veiga DF, Veiga-Filho J, Ribeiro LM et al (2011) Evaluations of aesthetic outcomes of oncoplastic surgery by surgeons of different gender and specialty: a prospective controlled study. Breast 20:407–412

Ng SK, Hare RM, Kuang RJ et al (2014) Breast reconstruction post mastectomy. Ann Plast Surg. doi:10.1097/SAP.0000000000000242

Harless C, Jacobson SR (2015) Current strategies with 2-staged prosthetic breast reconstruction. Gland Surg 4:204–211

Piper M, Peled AW, Sbitany H (2015) Oncoplastic breast surgery: current strategies. Gland Surg 4:154–163

Burns JL, Mancoll JS, Phillips LG (2003) Impairments to wound healing. Clin Plast Surg 30:47–56

Mitchell RE (2013) Porcine acellular dermis-assisted breast reconstruction: influence of adjuvant radiotherapy on complications and outcomes. Plast Reconstr Surgery Glob open 1(e77)

American Society of Plastic Surgeons. Plastic Surgery Procedural Statistics (ASPS) (2014). http://www.plasticsurgery.org/news/plastic-surgery-statistics.html (accessed 10 January 2016)

Reddy S, Colakoglu S, Curtis MS et al. (2011) Breast cancer recurrence following postmastectomy reconstruction compared to mastectomy with no reconstruction. Ann Plast Surg 66:466–471

Allweis TM, Boisvert ME, Otero SE et al (2002) Immediate reconstruction after mastectomy for breast cancer does not prolong the time to starting adjuvant chemotherapy. Am J Surg 183:218–221

Becker H, Lind JG (2013) The use of synthetic mesh in reconstructive, revision, and cosmetic breast surgery. Aesthetic Plast Surg 37:914–921

Hjort H, Mathisen T, Alves A, Clermont G, Boutrand JP (2012) Three-year results from a preclinical implantation study of a long-term resorbable surgical mesh with time-dependent mechanical characteristics. Hernia 16:191–197

Aston SJ, Rees TD (1976) Vicryl sutures. Aesthetic Plast Surg 1:289–293

LifeCell. AlloDerm® Regenerative Tissue Matrix. (2014). at x, http://www.lifecell.com/healthcare-professionals/lifecell-products/allodermr-regenerative-tissue-matrix/ (accessed 25 May 2016)

Barber MD, Williams L, Anderson ED et al (2015) Outcome of the use of acellular-dermal matrix to assist implant-based breast reconstruction in a single Centre. Eur J Surg Oncol 41:100–105

Gerber B, Marx M, Untch M, Faridi A (2015) Breast reconstruction following cancer treatment. Dtsch Ärzteblatt Int 112:593–600

Hanna KR, DeGeorge BR, Mericli AF, Lin KY, Drake DB (2013) Comparison study of two types of expander-based breast reconstruction: acellular dermal matrix-assisted versus total submuscular placement. Ann Plast Surg 70:10–15

Logan Ellis H, Asaolu O, Nebo V, Kasem A (2016) Biological and synthetic mesh use in breast reconstructive surgery: a literature review. World J Surg Oncol 14:121

Mendenhall SD, Anderson LA, Ying J et al (2015) The BREASTrial: stage I. Outcomes from the time of tissue expander and acellular dermal matrix placement to definitive reconstruction. Plast Reconstr Surg 135:29e–42e

Kim JY, Davila AA, Persing S et al (2012) A meta-analysis of human acellular dermis and submuscular tissue expander breast reconstruction. Plast Reconstr Surg 129:28–41

Clemens MW, Kronowitz SJ (2012) Acellular dermal matrix in irradiated tissue expander/implant-based breast reconstruction: evidence-based review. Plast Reconstr Surg 130:27S–34S
Ethics declarations
Ethical standards
For this type of retrospective study formal consent from a local ethics committee is not required.
Conflict of interest
Shiva Sharma, Susie Van Barsel, Mitchell Barry, 358 Malcolm R. Kell declare that they have no conflict of interest.
Patient consent
Patients provided written consent before their inclusion in this study. Additional consent was obtained for the use of their images.
Funding
None
About this article
Cite this article
Sharma, S., Van Barsel, S., Barry, M. et al. De novo experience of resorbable woven mesh in immediate breast reconstruction post-mastectomy. Eur J Plast Surg 40, 17–22 (2017). https://doi.org/10.1007/s00238-016-1227-1
Received:

Accepted:

Published:

Issue Date:

DOI: https://doi.org/10.1007/s00238-016-1227-1
Keywords
Breast

Reconstruction

Mesh

Post-mastectomy

Implant

Expander

Radiation

Brca

Oncology

Acelullar dermal matrix