Abstract
Background
Endoscopic excision of forehead lipoma is increasingly utilized for its inconspicuous scarring, good intraoperative visualization and low complication rates. Currently, studies comparing outcomes from endoscopic and open excision of forehead lipomas are lacking. This retrospective study compares the surgical outcomes of the two techniques.
Methods
The authors retrospectively reviewed medical records of all patients who had undergone forehead lipoma excision at a single institution between 2010 and 2015. Data collected included patient demographics, lesion size, mean operative time and postoperative complications. A comparison was made between the two groups of patients.
Results
Sixty-two patients underwent excision of their forehead lipoma (38 endoscopic and 24 open excisions). Patient groups were similar in terms of sex ratios, size of lesion, choice of anaesthesia, mean operative time and duration of follow-up. Swelling beyond 1 week in the endoscopic group was 1/38 (2.6 %) compared to 4/24 (16.7 %) in the open excision group (p = 0.07). Postoperative scalp numbness in the endoscopic group was 2/38 (5.2 %) versus 2/24 (8.3 %) in the open excision group (p = 0.64). Incidence of haematoma in the endoscopic group was 1/38 (2.6 %) compared to 2/24 (4.2 %) in the open excision group (p = 1). All 38 patients in the endoscopic group were satisfied with their scars compared with 4/24 (16.7 %) in the open excision group who reported dissatisfaction (p = 0.02).
Conclusions
Complication rates of both surgical techniques are similar. Given that the endoscopic technique results in cosmetically superior outcomes, with no increase in morbidity, the authors recommend the use of endoscopic technique for forehead lipoma excision.
Level of Evidence: Level III, therapeutic study.
Access options
Buy single article
Instant access to the full article PDF.
USD 39.95
Price includes VAT (USA)
Tax calculation will be finalised during checkout.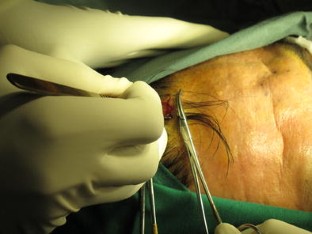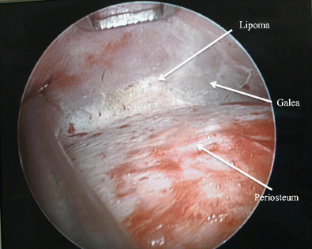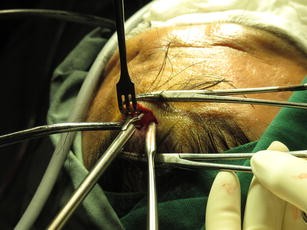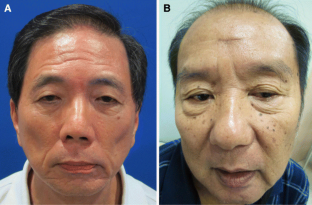 References
1.

Lin SD, Lee SS, Chang KP, Lin TM, Lu DK, Tsai CC (2001) Endoscopic excision of benign tumors in the forehead and brow. Ann Plast Surg 46(1):1–4

2.

Cronin ED, Ruiz-Razura A, Livingston CK, Katzen JT (2000) Endoscopic approach for the resection of forehead masses. Plast Reconstr Surg 105(7):2459–2463

3.

Chen CT, Huang F, Lin YT, Chen YR, Lin CH, Feng GM (2004) Endoscopically assisted removal of tumors in the frontal region. Chang Gung Med J 27(10):718–725

4.

Butts SC, Setlur J (2012) Excision of forehead and malar lesions using endoscopic techniques. J Craniomaxillofac Surg 23(4):1146–1148

5.

Papay FA, Stein JM, Dietz JR, Luciano M, Morales L Jr, Zins J (1997) Endoscopic approach for benign tumor ablation of the forehead and brow. J Craniomaxillofac Surg 8(3):176–180

6.

Minabe T, Momosawa A, Harii K (2009) Endoscopic and ultrasonic removal of a lipoma on the forehead with no facial scarring: practicality of patient's early return to work. Scand J Plast Reconstr Surg Hand Surg 43(1):22–28

7.

Park DH, Lee JW, Song CH, Han DG, Ahn KY (1998) Endoscopic application in aesthetic and reconstructive facial bone surgery. Plast Reconstr Surg 102(4):1199–1209

8.

Ramirez OM (1995) Endoscopically assisted biplanar forehead lift. Plast Reconstr Surg 96(2):323–333

9.

Chen CT, Lai JP, Tung TC, Chen YR (1999) Endoscopically assisted mandibular subcondylar fracture repair. Plast Reconstr Surg 103(1):60–65

10.

Chen CT, Chen YR (2001) Endoscopically assisted repair of orbital floor fractures. Plast Reconstr Surg 108(7):2011–2018

11.

Onishi K, Maruyama Y, Sawaizumi M (1995) Endoscopic excision of forehead osteoma. J Craniomaxillofac Surg 6(6):516–518

12.

Dutta S, Lorenz HP, Albanese CT (2006) Endoscopic excision of benign forehead masses: a novel approach for pediatric general surgeons. J Pediatr Surg 41(11):1874–1878

13.

TG LH, BK T, FC L (2008) Endoscopic resection of forehead lipoma: a subperiosteal single-portal approach. Indian J Plast Surg 41(2):141–144

14.

Im JT, Park BY, Lim SY et al (2014) Endoscopic excision of benign facial tumors: a decade of experience with 152 patients. Ann Plast Surg 72(5):556–559

15.

Sadick H, Huber M, Perkins SW et al (2014) Endoscopic forehead approach for minimally invasive benign tumor excisions. JAMA Facial Plast Surg 16(5):352–358

16.

Knize DM (1998) Reassessment of the coronal incision and subgaleal dissection for foreheadplasty. Plast Reconstr Surg 102(2):478–489

17.

Kokoska MS, Branham GH, Hamilton MM, Thomas JR (1997) Endoscopic excision of a forehead mass. Arch Otolaryngol Head Neck Surg 123(8):815–817

18.

Meningaud JP, Pitak-Arnnop P, Rigolet A, Bertrand JC (2006) Endoscopic excision of forehead lipomas. Int J Oral Maxillofac Surg 35(10):951–953

19.

Sykes JM (2007) Management of the aging face in the Asian patient. Facial Plast Surg Clin North Am 15:353–360

20.

Kim S, Choi TH, Liu W, Ogawa R, Suh JS, Mustoe TA (2013) Update on scar management: guidelines for treating Asian patients. Plast Reconstr Surg 132(6):1580–1589
Ethics declarations
Ethical standards
All aspects of this study have been approved by an appropriate ethics committee and comply with the 1964 Declaration of Helsinki and its later amendments. Protocols have been submitted and approval obtained from National Healthcare Group (NHG) Domain Specific Review Board (DSRB) (DSRB ref. no.: 2015/00445).
Conflict of interest
Hui Wen Ng, Yew Meng Samuel Ho, Siyun Michelle and Thien Chong Marcus declare that they have no conflict of interest.
Patient consent
All patients provided written consent before their inclusion in this study. Additional consent was obtained for the use of their images.
Funding
None
About this article
Cite this article
Ng, H.W., Ho, Y.M.S., Ho, S.M. et al. Forehead lipoma excision: a comparative study of open versus endoscopic technique. Eur J Plast Surg 39, 415–420 (2016). https://doi.org/10.1007/s00238-016-1225-3
Received:

Accepted:

Published:

Issue Date:
Keywords
Endoscopic

Open

Forehead

Lipoma

Complications