Abstract
Background
Acellular dermal matrices (ADMs) are increasingly being utilized in primary and secondary breast reconstruction as they confer several advantages, including soft tissue enhancement at the inferolateral pole of the breast. The senior authors have added fenestrations to ADMs to allow for more rapid expansion and improved breast aesthetics. The purpose of this study is to describe the benefits of ADM fenestration using a mathematical formula as a proof of concept for the effects of these modifications on breast shape.
Methods
The aggregate effect of symmetrically arranged fenestrations on the ADM's mechanical properties is explained by a uniform reduction in the effective Young's modulus of the graft in a direction perpendicular to the chest wall in the area of graft fenestration. Asymmetric reduction of the Young's modulus is achieved by concentration of the fenestrations at either the cephalic or caudal ends of the ADM.
Results
The relaxed Young's modulus facilitates an increased deflection of the ADM from its resting, unaltered state under the weight of the implant or tissue expander and is modeled using a one-dimensional boundary equation. The reduced inferior pole tension allows for enhanced expansion under the weight of the implant or tissue expander. The effects of asymmetrically arranged fenestrations are similarly modeled and appear to afford the surgeon greater precision in controlling inferior pole characteristics.
Conclusions
Acellular dermal matrix fenestration improves aesthetic outcome by facilitating greater inferior pole expansion. Mathematical models are provided to describe the modifications and elucidate the mechanism behind their effect on breast shape.
Level of Evidence: Not ratable
Access options
Buy single article
Instant access to the full article PDF.
US$ 39.95
Tax calculation will be finalised during checkout.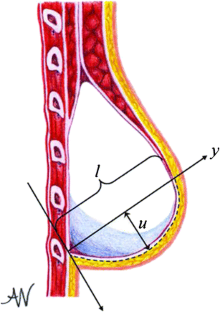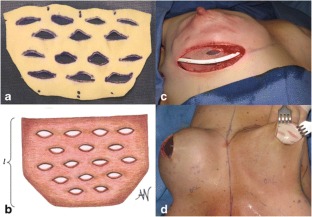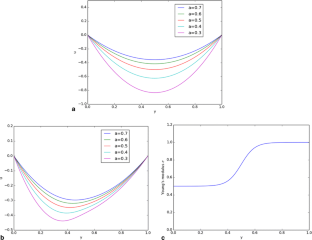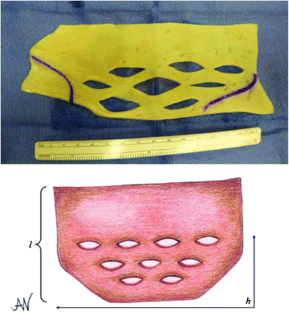 References
1.

Jansen LA, Macadam SA (2011) The use of AlloDerm in postmastectomy alloplastic breast reconstruction: part I. A systematic review. Plast Reconstr Surg 127(6):2232–2244

2.

Corp. L (2004) AlloDerm: regenerative tissue matrix. Life Cell Product Information. Branchburg, NJ: Life Cell Corporation

3.

Topol BM, Dalton EF, Ponn T et al (2008) Immediate single-stage breast reconstruction using implants and human acellular dermal tissue matrix with adjustment of the lower pole of the breast to reduce unwanted lift. Ann Plast Surg 61(5):494–499

4.

Salzberg CA (2006) Nonexpansive immediate breast reconstruction using human acellular tissue matrix graft (AlloDerm). Ann Plast Surg 57(1):1–5

5.

Namnoum JD (2009) Expander/implant reconstruction with AlloDerm: recent experience. Plast Reconstr Surg 124(2):387–394

6.

Breuing KH, Colwell AS (2007) Inferolateral AlloDerm hammock for implant coverage in breast reconstruction. Ann Plast Surg 59(3):250–255

7.

Spear SL, Parikh PM, Reisin E et al (2008) Acellular dermis-assisted breast reconstruction. Aesthetic Plast Surg 32(3):418–425

8.

Glasberg SB, Light D (2012) AlloDerm and Strattice in breast reconstruction: a comparison and techniques for optimizing outcomes. Plast Reconstr Surg 129(6):1223–1233

9.

Parikh PMSS, Menon N, Reisin E (2006) Immediate breast reconstruction with tissue expanders and AlloDerm (abstract). Plast Reconstr Surg 118:18

10.

Preminger BA, McCarthy CM, Hu QY et al (2008) The influence of AlloDerm on expander dynamics and complications in the setting of immediate tissue expander/implant reconstruction: a matched-cohort study. Ann Plast Surg 60(5):510–513

11.

Breuing KH, Warren SM (2005) Immediate bilateral breast reconstruction with implants and inferolateral AlloDerm slings. Ann Plast Surg 55(3):232–239

12.

Gamboa-Bobadilla GM (2006) Implant breast reconstruction using acellular dermal matrix. Ann Plast Surg 56(1):22–25

13.

Zienowicz RJ, Karacaoglu E (2007) Implant-based breast reconstruction with allograft. Plast Reconstr Surg 120(2):373–381

14.

Becker S, Saint-Cyr M, Wong C et al (2009) AlloDerm versus DermaMatrix in immediate expander-based breast reconstruction: a preliminary comparison of complication profiles and material compliance. Plast Reconstr Surg 123(1):1–6, discussion 107-108

15.

Antony AK, McCarthy CM, Cordeiro PG et al (2010) Acellular human dermis implantation in 153 immediate two-stage tissue expander breast reconstructions: determining the incidence and significant predictors of complications. Plast Reconstr Surg 125(6):1606–1614

16.

Chun YS, Verma K, Rosen H et al (2010) Implant-based breast reconstruction using acellular dermal matrix and the risk of postoperative complications. Plast Reconstr Surg 125(2):429–436

17.

Lanier ST, Wang ED, Chen JJ et al (2010) The effect of acellular dermal matrix use on complication rates in tissue expander/implant breast reconstruction. Ann Plast Surg 64(5):674–678

18.

Sbitany H, Serletti JM (2011) Acellular dermis-assisted prosthetic breast reconstruction: a systematic and critical review of efficacy and associated morbidity. Plast Reconstr Surg 128(6):1162–1169

19.

Martin JB, Moore R, Paydar KZ et al (2014) Use of fenestrations in acellular dermal allograft in two-stage tissue expander/implant breast reconstruction. Plast Reconstr Surg 134(5):901–904

20.

Tanner JC Jr, Vandeput J, Olley JF (1964) The mesh skin graft. Plast Reconstr Surg 34:287–292

21.

Vandeput JJ, Tanner JC, Boswick J (1997) Implementation of parameters in the expansion ratio of mesh skin grafts. Plast Reconstr Surg 100(3):653–656

22.

Liu AS, Kao HK, Reish RG et al (2011) Postoperative complications in prosthesis-based breast reconstruction using acellular dermal matrix. Plast Reconstr Surg 127(5):1755–1762

23.

Parks JR, Hammond SE, Walsh WW et al (2012) Human acellular dermis (ACD) vs. no-ACD in tissue expansion breast reconstruction. Plast Reconstr Surg 130(4):739–746
Funding
This study was not supported by any sources of funding.
Conflict of interest
Authors Garrett A. Wirth, Donald S. Mowlds, Patrick Guidotti, Ara A. Salibian, Audrey Nguyen, and Keyianoosh Z. Paydar declare that they have no conflict of interest.
Ethical approval
All procedures performed in studies involving human participants were in accordance with the ethical standards of the institutional and/or national research committee and with the 1964 Helsinki declaration and its later amendments or comparable ethical standards. For this type of study (retrospective), formal consent is not required.
About this article
Cite this article
Wirth, G.A., Mowlds, D.S., Guidotti, P. et al. Acellular dermal matrix fenestrations and their effect on breast shape. Eur J Plast Surg 38, 267–272 (2015). https://doi.org/10.1007/s00238-015-1090-5
Received:

Accepted:

Published:

Issue Date:
Keywords
Acellular dermal matrix

Breast reconstruction

Fenestrations

Inferior pole expansion

Mathematical model