Abstract
Background
Diabetic foot ulcers (DFUs), a leading cause of amputations, affect 15 % of people with diabetes. Wound coverage in these patients is changelling due to concurrent infection, neuropathy and vascular compromise. Though local muscle flaps were described by Ger et al. and popularized by Attinger et al., these small muscle flaps should be more routinary than they are now.
Methods
A retrospective review of all patients with DFUs with exposed bone and osteomyelitis reconstructed by abductor digiti minimi muscle flaps and free skin grafting between January 2010 and December 2011 was conducted.
Results
This study included eight patients. Six patients had ulcers over the heel and two on the lateral aspect of the forefoot. All flaps survived well with no donor site complications. There was partial loss of skin graft in three cases and infection and total loss in one other case.
Conclusions
Abductor digiti minimi is a safe and reliable flap that provides a durable cover.
Level of evidence: Level IV, therapeutic study.
Access options
Buy single article
Instant access to the full article PDF.
US$ 39.95
Tax calculation will be finalised during checkout.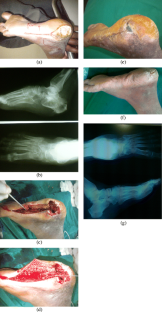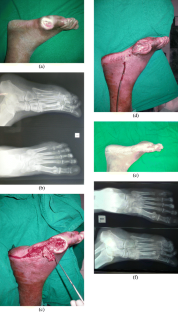 References
1.

Ger R (1966) The operative treatment of the advanced stasis ulcer: a preliminary communication. Am Surg 111:659–663

2.

Ger R (1968) The management of pre-tibial skin loss. Surgery 63:757–763

3.

Ger R (1970) Operative treatment of the advanced stasis ulcer using muscle transposition: a follow-up study. Am J Surg 120:376–380

4.

Ger R (1971) The techniques of muscle transposition in the operative treatment of traumatic and ulcerative lesions of the leg. J Trauma 11:502–510

5.

Ger R (1975) The surgical management of ulcers of the heel. Surg Gynecol Obstet 140:909–911

6.

Ger R (1996) The management of chronic ulcers of the dorsum of the foot by muscle transposition and free skin grafting. Br J Plast Surg 29:199–204

7.

Ger R et al (2005) Prevention of major amputations in non-ischemic lower limb lesions. J Am Coll Surg 201:898–905

8.

Altindas M, Ceber M, Kilic A et al (2013) A reliable method for treatment of nonhealing ulcers in the hindfoot and midfoot region in diabetic patients: reconstruction with abductor digiti minimi muscle flap. Ann Plast Surg 70(1):82–87

9.

Ducic I, Attinger CE (2011) Foot and ankle reconstruction: pedicled muscle flaps versus free flaps and the role of diabetes. Plast Reconstr Surg 128(1):173–80

10.

Stephen JM, Foad N (1997) Reconstructive surgery, principles, anatomy, & technique 2:1515–1526

11.

Kenneth O, Richard MG (1999) Arterial disease. Principles of Surgery 1:964

12.

Aulivola B, Hile CN, Hamdan AB et al (2004) Major lower leg amputation: outcome of a modern series. Arch Surg 139:395–399, discussion 399

13.

Ikonen TS, Sund R, Venermo M, Winell K (2010) Fewer major amputations among individuals with diabetes in Finland in 1997–2007: a population-based study. Diabetes Care 33:2598–2603

14.

Mayfield JA, Reiber GE, Maynard C, Czerniecki JM, Caps MT, Sangeorzan BJ (2000) Trend in lower limb amputation in the Veterans Health Administration, 1989–1998. J Rehab Res Dev 37:23–30

15.

Attinger C, Cooper P (2001) Soft tissue reconstruction for calcaneal fractures or osteomyelitis. Orthop Clin North Am 32:135–170

16.

Attinger CE, Ducic I, Zelen C (2000) The use of local muscle flaps in foot and ankle reconstruction. Clin Podiatr Med Surg 17:681–711

17.

Yoshimora Y, Nakajima T, Kami T (1985) Distally based abductor digiti minimi flap. Ann Plast Surg 14(4):375–377
Conflict of interest
None declared.
Ethical standards
This study has been approved by the appropriate ethics committee and have therefore been performed in accordance with the ethical standards laid down in the 1964 Declaration of Helsinki and its later amendments.
All persons gave their informed consent prior to their inclusion in the study.
About this article
Cite this article
Shirol, S.S., Nimbaragi, G., Prabhu, M. et al. Abductor digiti minimi muscle flap in reconstruction of diabetic foot ulcers: A case series. Eur J Plast Surg 37, 227–232 (2014). https://doi.org/10.1007/s00238-013-0923-3
Received:

Accepted:

Published:

Issue Date:
Keywords
Diabetic foot

Abductor digiti minimi

Foot reconstruction

Intrinsic muscle

Local flaps

Diabetic foot ulcer

DFU