Abstract
Background
Mesotherapy has become a new method for the treatment of different types of alopecia. However, there is a paucity of data in the literature about its efficacy and side effects. In this retrospective study, safety, efficacy, and feasibility of platelet-rich plasma (PRP) injections were assessed.
Methods
Between October 2009 and October 2010, 42 patients (8 women and 34 men) with hair loss or androgenic alopecia were included in this study. Before each session, the hair pull test was performed three times. A total volume of 8–12 cc was injected by using 32 or 30.5 G needles. The treatment was repeated five times over a period of 2 months. Outcome measures were assessed after 3 months by clinical examination, macroscopic photos, pull clinical test, and the patient's overall satisfaction.
Results
Before treatment, 90.5 % of our patients had a positive pull test with a mean number of eight hairs. After the third session, the pull test was negative in all patients with an average number of three hairs. Global pictures showed a significant improvement in hair volume and quality, which was confirmed by a high overall patient satisfaction. The results were even more obvious in patients who suffered from alopecia for less than 2 years. Poorer results were found in patients with marked alopecia type VI–VII according Norwood classification in men.
Conclusions
PRP injections are simple and efficient, have minimal morbidity with a low cost-to-benefit ratio and can be regarded a valuable alternative for the treatment of alopecia.
Level of Evidence: Level IV, therapeutic study.
Access options
Buy single article
Instant access to the full article PDF.
USD 39.95
Price excludes VAT (USA)
Tax calculation will be finalised during checkout.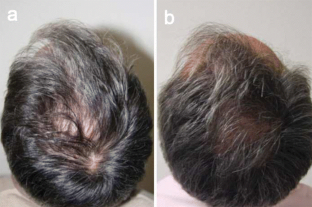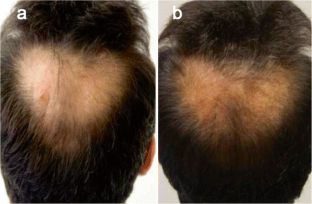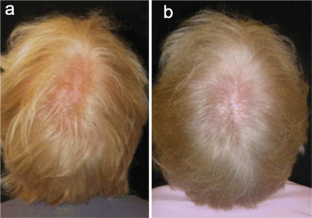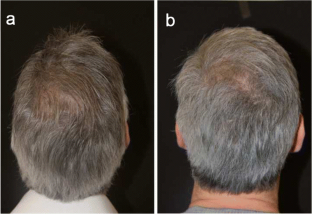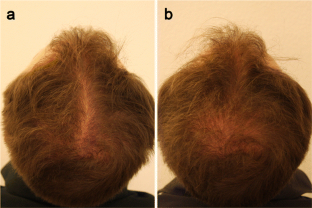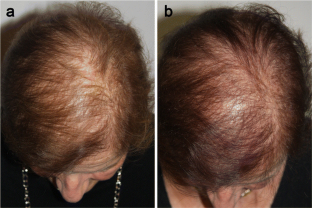 References
Powell BC, Rogers GE (1997) The role of keratin proteins and their genes in the growth, structure and properties of hair. In: Jollès P, Zahn, H., Höcker, H. (eds) Formation and structure of human hair. Birkhäuser Verlag, Basel, p 59–148

Castanet J, Ortonne JP (1997) Hair melanin and hair color. EXS 78:209–225

Headington JT (1984) Transverse microscopic anatomy of the human scalp. A basis for a morphometric approach to disorders of the hair follicle. Arch Dermatol 120(4):449–456

Abdel Fattah NS, Darwish YW (2011) Androgenetic alopecia and insulin resistance: are they truly associated? Int J Dermatol 50(4):417–422. doi:10.1111/j.1365-4632.2010.04677.x

Rotunda AM, Kolodney MS (2006) Mesotherapy and phosphatidylcholine injections: historical clarification and review. Dermatol Surg 32(4):465–480. doi:10.1111/j.1524-4725.2006.32100.x

Kadry R, Hamadah I, Al-Issa A, Field L, Alrabiah F (2008) Multifocal scalp abscess with subcutaneous fat necrosis and scarring alopecia as a complication of scalp mesotherapy. J D Dermatol: JDD 7(1):72–73

Wells PA, Willmoth T, Russell RJ (1995) Does fortune favour the bald? Psychological correlates of hair loss in males. Br J Psychol 86(Pt 3):337–344

Jandali S, Low DW (2010) From surgery to pharmacology to gene therapy: the past, present, and future of hair restoration. Ann Plast Surg 65(4):437–442. doi:10.1097/SAP.0b013e3181d59f60

Fan J, Raposio E, Nordstrom RE (1997) Minigraft preparation in surgical hair replacement. Scand J Plast Reconstr Surg Hand Surg 31(1):83–86

Rangwala S, Rashid RM (2012) Alopecia: a review of laser and light therapies. Dermatol Online J 18(2):3

Messenger AG (2000) Medical management of male pattern hair loss. Int J Dermatol 39(8):585–586

Arca E, Acikgoz G, Tastan HB, Kose O, Kurumlu Z (2004) An open, randomized, comparative study of oral finasteride and 5 % topical minoxidil in male androgenetic alopecia. Dermatology 209(2):117–125. doi:10.1159/000079595

Rudkin GH, Miller TA (1996) Growth factors in surgery. Plast Reconstr Surg 97(2):469–476

Gardner MJ, Demetrakopoulos D, Klepchick PR, Mooar PA (2007) The efficacy of autologous platelet gel in pain control and blood loss in total knee arthroplasty. An analysis of the haemoglobin, narcotic requirement and range of motion. Int Orthop 31(3):309–313. doi:10.1007/s00264-006-0174-z

Glover JL, Weingarten MS, Buchbinder DS, Poucher RL, Deitrick GA 3rd, Fylling CP (1997) A 4-year outcome-based retrospective study of wound healing and limb salvage in patients with chronic wounds. Adv Wound Care: J Prev Healing 10(1):33–38

Uebel CO, da Silva JB, Cantarelli D, Martins P (2006) The role of platelet plasma growth factors in male pattern baldness surgery. Plast Reconstr Surg 118(6):1458–1466. doi:10.1097/01.prs.0000239560.29172.33, discussion 1467

Vogt PM, Lehnhardt M, Wagner D, Jansen V, Krieg M, Steinau HU (1998) Determination of endogenous growth factors in human wound fluid: temporal presence and profiles of secretion. Plast Reconstr Surg 102(1):117–123

Katsuoka K, Schell H, Wessel B, Hornstein OP (1987) Effects of epidermal growth factor, fibroblast growth factor, minoxidil and hydrocortisone on growth kinetics in human hair bulb papilla cells and root sheath fibroblasts cultured in vitro. Arch Dermatol Res 279(4):247–250

Akiyama M, Smith LT, Holbrook KA (1996) Growth factor and growth factor receptor localization in the hair follicle bulge and associated tissue in human fetus. J Investig Dermatol 106(3):391–396
Acknowledgments
The authors would like to thank the Regenlab for providing the materials for this study.
Conflict of Interest
None
About this article
Cite this article
Betsi, EE., Germain, E., Kalbermatten, D.F. et al. Platelet-rich plasma injection is effective and safe for the treatment of alopecia. Eur J Plast Surg 36, 407–412 (2013). https://doi.org/10.1007/s00238-013-0816-5
Received:

Accepted:

Published:

Issue Date:

DOI: https://doi.org/10.1007/s00238-013-0816-5
Keywords
Platelets

Hair loss

Alopecia

Receptors

Growth factor