Abstract
As an indication for the treatment of sequelae of conservative breast cancer surgery, fat transfer in the breast raises two questions: the efficiency of the procedure in terms of volume and curve, and its impact on both breast imaging and oncological evolution. From April 2005 to April 2009, our prospective study included ten consecutive patients. They underwent one-step lipostructure according to Coleman's technique for the treatment of the sequelae of conservative surgery for breast cancer. We studied the patients' overall treatment satisfaction graded from 0 to 10 at the first and third months, and 3 years post-intervention. Patients evaluated the rate of fat resorbed in their breast at 1, 3, and 9 months and 3 years post-intervention. They were submitted to mammary computed tomography (CT) scan before lipofilling and 3 and 9 months later and after 3 years in order to obtain an objective evaluation of fat resorption by a three-dimensional (3D) approach. All patients underwent mammography before lipofilling and 3 years after. The patients were asked if lipofilling had been a significant surgical procedure and if they would accept another one. We noticed that patients' long-term satisfaction remained constantly good. Seventy percent were satisfied with the total treatment after 3 years. Average fat resorption values evaluated by the patients and by CT scan were quite close, which suggests a reliability of subjective patient evaluation. The experience of the average fat resorption shows that surgeons can repeat the procedure after 9 months thanks to the stabilization of fat resorption. Long term fat resorption after 3 years was estimated to be on average 44% on CT scan evaluation and 53% on patients; this confirms the usually agreed concept in clinical practice, which advises an overcorrection of 30 to 50% in order to offset for future fat resorption. All patients considered lipofilling to be a minimally invasive technique. We encountered no difficulty in patient follow-up post-lipofilling. Thanks to mammography, ultrasonography and RMI for suspect images, radiological follow-up allowed 90% of the cases to distinguish post-lipofilling images from radiological abnormality due to breast cancer. Lipofilling provides an elegant technique to treat the sequelae of conservative breast surgery. It is a less invasive technique that results in a high level of patient satisfaction and satisfactory follow-up attendance. Nevertheless this procedure may require further injections to obtain fully satisfying results.
Access options
Buy single article
Instant access to the full article PDF.
USD 39.95
Price excludes VAT (USA)
Tax calculation will be finalised during checkout.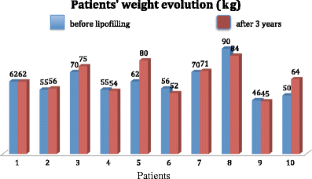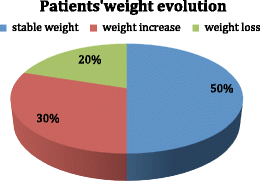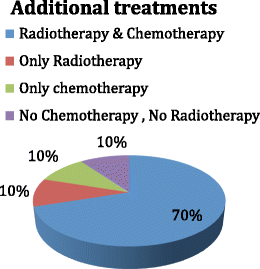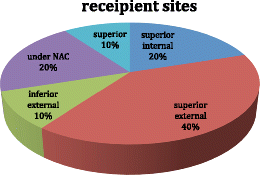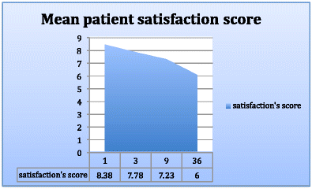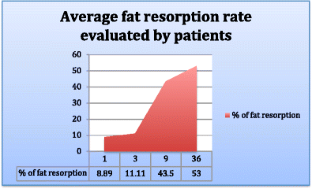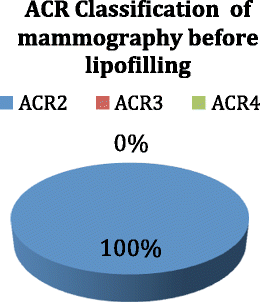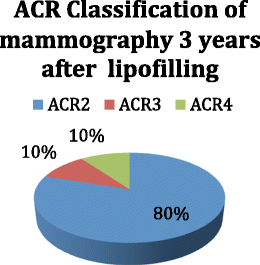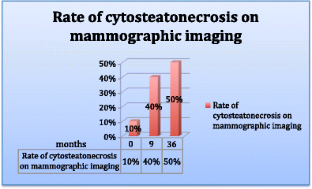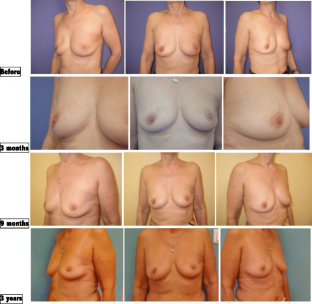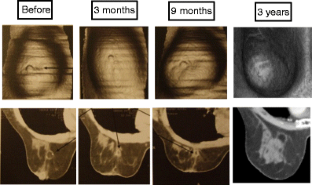 References
Allemand H, Seradour B, Weill A, Ricordeau P (2008) Decline in breast cancer incidence in 2005 and 2006 in France: a paradoxical trend. Bull Cancer 95(1):11–15

Clough KB, Baruch J (1992) Plastic surgery and conservative treatment of breast cancer Indications and results. Ann Chir Plast Esthet 37(6):682–692

Coleman SR (1997) Facial recon touring with lipostructure. Clin Plast Surg 24(2):347–367

Coleman SR (1995) Long-term survival of fat transplants: controlled demonstrations. Aesthetic Plast Surg 19(5):421–425

Coleman SR (2001) Structural fat grafts: the ideal filler? Clin Plast Surg 28(1):111–119

Coleman SR (2002) Hand rejuvenation with structural fat grafting. Plast Reconstr Surg 110(7):1731–1744, discussion 1745–1747

Clough KB, Lewis JS, Couturier B, Mitosis A, Nosy C, Falcon MC (2003) Neoplastic techniques allow extensive resections for breast-conserving therapy of breast carcinomas. Ann Surg 237(1):26–34

Czerny V (1895) Plastic her Ersatz deer Brustdrüse durch ein lipom. Zentralb Chir 27:72

Bircoll M, Novack BH (1987) Autologous fat transplantation employing liposuction techniques. Ann Plast Surg 18(4):327–329

Bircoll M (1987) Cosmetic breast augmentation utilizing autologous fat and liposuction techniques. Plast Reconstr Surg 79(2):267–271

Bircoll M (1988) Autologous fat transplantation to the breast. Plast Reconstr Surg 82(2):361–362

Procedure, ASPRS Ad-Hoc Committee on new techniques. Report on autologous fat transplantation, September 30, 1987

Pierrefeu-Lagrange AC, Delay E, Guerin N, Chekaroua K, Delaporte T (2006) Radiological evaluation of breasts reconstructed with lipomodeling. Ann Chir Plast Esthet 51(1):18–28

Chan CW, McCulley SJ, Macmillan RD (2008) Autologous fat transfer—a review of the literature with a focus on breast cancer surgery. J Plast Reconstr Aesthet Surg 61(12):1438–1448

Gosset J, Flageul G, Toussoun G, Guérin N, Tourasse C, Delay E (2008) Lipomodelling for correction of breast conservative treatment sequelae Medicolegal aspects. Expert opinion on five problematic clinical cases. Ann Chir Plast Esthet 53(2):190–198

Kneeshaw PJ, Lowry M, Manton D, Hubbard A, Drew PJ, Turnbull LW (2006) Differentiation of benign from malignant breast disease associated with screening detected microcalcifications using dynamic contrast enhanced magnetic resonance imaging. Breast 15(1):29–38

Chala LF, de Barros N, de Camargo MP, Endo E, Kim SJ, Pincerato KM, Carvalho FM, Cerri GG (2004) Fat necrosis of the breast: mammographic, sonographic, computed tomography, and magnetic resonance imaging findings. Curr Probl Diagn Radiol 33(3):106–126

Jiang Y, Nishikawa RM, Schmidt RA, Metz CE (2006) Comparison of independent double readings and computer–aided diagnosis (CAD) for the diagnosis of breast calcifications. Acad Radiol 13(1):84–94

Leibman AJ, Styblo TM, Bostwick J 3rd (1997) Mammography of the postreconstruction breast. Plast Reconstr Surg 99(3):698–704

Mendelson EB (1992) Evaluation of the postoperative breast. Radiol Clin North Am 30(1):107–138

Delay E, Gosset J, Toussoun G, Delaporte T, Delbaere M (2008) Efficacy of lipomodelling for the management of sequelae of breast cancer conservative treatment. Ann Chir Plast Esthet 53(2):153–168

Delay E (2006) Lipomodeling of the reconstructive breast. In: Spear SE (ed) Surgery of the breast: principes and art, 2nd ed. Philadelphia

Gosset J, Guerin N, Toussoun G, Delaporte T, Delay E (2008) Radiological evaluation after lipomodelling for correction of breast conservative treatment sequelae. Ann Chir Plast Esthet 53(2):178–189

Zocchi ML, Zuliani F (2008) Bicompartmental breast lipostructuring. Aesthetic Plast Surg 32(2):313–328

Spear SL, Wilson HB, Lockwood MD (2005) Fat injection to correct contour deformities in the reconstructed breast. Plast Reconstr Surg 116(5):1300–1305

Missana MC, Laurent I, Barreau L, Balleyguier C (2007) Autologous fat transfer in reconstructive breast surgery: indications, technique and results. Eur J Surg Oncol 33(6):685–690

Peer LA (1950) Loss of weight and volume in human fat graft, with postulation of a «cell survival theory». Plast Reconstr Surg 5:217–219

Ellenbogen R (1986) Free autogenous pearl fat grafts in the face—a preliminary report of a rediscovered technique. Ann Plast Surg 16(3):179–194

Niechajev I, Sevćuk O (1994) Long-term results of fat transplantation: clinical and histologic studies. Plast Reconstr Surg 94(3):496–506

Carpaneda CA, Ribeiro MT (1993) Study of the histologic alterations and viability of adipose graft in humans. Aesthetic Plast Surg 17(1):43–47

de Pedroza LV (2000) Fat transplantation to the buttocks and legs for aesthetic enhancement or correction of deformities: long-term results of large volumes of fat transplant. Dermatol Surg 26(12):1145–1149

Sinna R, Delay E, Garson S, Mojallal A (2006) Scientific bases of fat transfer. Critical review of the literature. Ann Chirur Plast Esthétique 51:223–230

Hoerl HW, Feller AM (2001) Autologous fat volume retention: Evaluation by magnetic resonance imaging. Shiffman, New York, p 31

Giebler FRG (2001) Fat transplant to the glaella and forehead. Shiffman, New York

Zheng DN, Li QF, Lei H, Zheng SW, Xie YZ, Xu QH, Yun X, Pu LL (2008) Autologous fat grafting to the breast for cosmetic enhancement: experience in 66 patients with long-term follow up. J Plast Reconstr Aesthet Surg 61(7):792–798

Kim SM, Park JM (2004) Mammographic and ultrasonographic features after autogenous myocutaneous flap reconstruction mammoplasty. J Ultrasound Med 23(2):275–282

Fischer U, Baum F, Obenauer S, Luftner-Nagel S, von Heyden D, Vosshenrich R, Grabbe E (2002) Comparative study in patients with microcalcifications: full-field digital mammography vs screen-film mammography. Eur Radiol 12(11):2679–2683

Yunus M, Ahmed N, Masroor I, Yaqoob J (2004) Mammographic criteria for determining the diagnostic value of microcalcifications in the detection of early breast cancer. J Pak Med Assoc 54(1):24–29
About this article
Cite this article
Beck, M., Amar, O., Bodin, F. et al. Evaluation of breast lipofilling after sequelae of conservative treatment for cancer. Eur J Plast Surg 35, 221–228 (2012). https://doi.org/10.1007/s00238-011-0606-x
Received:

Accepted:

Published:

Issue Date:

DOI: https://doi.org/10.1007/s00238-011-0606-x
Keywords
Fat grafting

Lipofilling

Breast reconstruction