Abstract
Burn injuries are a common form of trauma, it occurs in 1% of the population of Australasia each year. Of these injuries, the devastating effects of high-voltage electrical burns in deep-tissue injury causing compartment syndrome and subsequent Volkmann's ischemic contracture are well documented. This report highlights the importance of early recognition of the severe electrical burn injury and its clinical consequences. Early identification through vigilant monitoring and diagnostic adjuncts, together with early intervention, whether conservative monitoring or operative management is of utmost importance in the prevention of ongoing complications and recovery from injury.
Access options
Buy single article
Instant access to the full article PDF.
USD 39.95
Price includes VAT (USA)
Tax calculation will be finalised during checkout.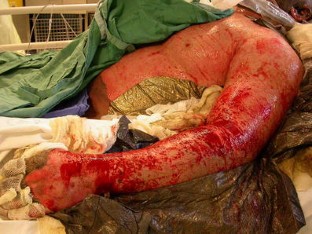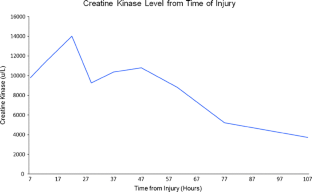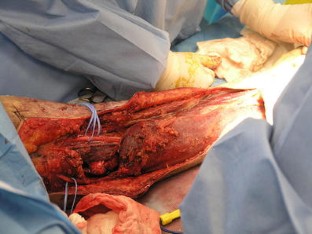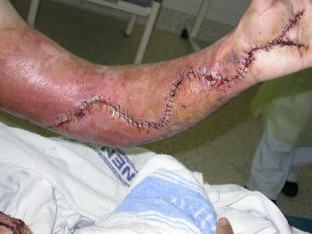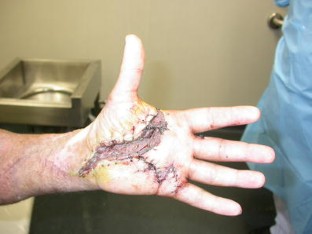 References
1.

Arnoldo BD, Purdue GF, Kowalske K, Hem PA, Burris A, Hunt JL (2004) Electrical injuries: a 20-year review. J Burn Care Rehabil 25(6):479

2.

Handschin AE, Vetter S, Jung FJ, Guggenheim M, Kunzi W, Giovanoli P (2009) A case-matched controlled study on high-voltage electrical injuries vs thermal burns. J Burn Care Research 30(3):1

3.

Ore T, Casini V (1996) Electrical fatalities among US construction workers. JOEM 38(6):587

4.

Lee RC, Zhang D, Hannig J (2000) Biophysical injury mechanisms in electrical shock trauma. Annu Rev Biomed Eng 02:477

5.

Brandt M-M, McReynolds MC, Ahrns KS, Wahl WL (2002) Burn centers should be involved in prevention of occupational electrical injuries. J Burn Care Rehabil 23(2):132

6.

Ying SY, Ho WS (2001) An analysis of 550 hospitalized pediatric burn patients in Hong Kong. J Burn Care Rehabil 22(3):228

7.

Noble J, Gomez M, Fish J (2006) Quality of life and return to work following electrical burns. Burns 32:159

8.

Kennedy PJ, Young WM, Deva AK, Haertsch PA (2006) Burns and amputations: a 24-year experience. J Burn Care Research 27(2):183

9.

Leblebici B, Adam M, Bagis S et al (2006) Quality of life after burn injury: the impact of joint contracture. J Burn Care Research 27(6):864

10.

Hussman J, Kucan J, Russell R, Bradley T, Zamboni W (1995) Electrical injuries—morbidity, outcome and treatment rationale. Burns 21:530

11.

Australia and New Zealand burn association. emergency management of severe burns–course manual 2008 pp 13–6, 74

12.

Arnoldo B, Klein M, Gibran NS (2006) Practice guidelines for the management of electrical injuries. J Burn Care Research 27(4):439

13.

Ferreiro I, Meleandez J, Regalado J, Bejar FJ, Gabilondo FJ (1998) Factors influencing the sequelae of high tension electrical injuries. Burns 24:649

14.

Tuttnauer A, Mordzynski SC, Weiss GY (2006) Electrical and lightning injuries. Contemporary Critical Care Journal 4(7):1

15.

Block TA, Aarsvold JN, Matthews KL et al (1995) Nonthermally mediated muscle injury and necrosis in electrical trauma (The 1995 Lindberg award). J Burn Care Rehabil 16(6):581

16.

Ogilvie MP, Panthaki ZJ (2008) Electrical burns of the upper extremity in the pediatric population. J Craniofac Surg 19(4):1040

17.

Tomkins KL, Holland AJA (2008) Electrical burn injuries in children. J Paediatr Child Health 44:727

18.

Ultee J, Hovius SER (2005) Functional results after treatment of Volkmann's ischaemic contracture. Clin Orthop Relat Res 431:42

19.

Matava MJ, Whitesides TE, Seiler JG, Hewan-Lowe K, Hutton WC (1994) Determination of the compartment pressure threshold of muscle ischaemia in a canine model. J Trauma 37(1):50

20.

Prasarn ML, Ouellette EA, Livingstone A, Giuffrida AY (2009) Acute pediatric upper extremity compartment syndrome in the absence of fracture. J Pediatr Orthop 29(3):263

21.

Bae DS, Kadiyala RK, Waters PM (2001) Acute compartment syndrome in children: contemporary diagnosis, treatment and outcome. J Pediatr Orthop 21:680

22.

Parshley PF, Kilgore J, Pulito JF, Smiley PW, Miller SH (1985) Aggressive approach to the extremity damaged by electric current. Am J Surg 150:78

23.

Matsen FA, Winquest RA, Krugmire RB (1980) Diagnosis and management of compartmental syndromes. J Bone Joint Surg 62A(2):286

24.

Yowler CJ, Mozingo DW, Ryan JB, jr Pruitt BA (1998) Factors contributing to delayed extremity amputation in burn patients. J Trauma 45(3):522

25.

Salcido R, Lepre SJ (2007) Compartment syndrome: wound care considerations. Adv Skin Wound Care 20(10):559

26.

Nettelblad H, Thuomas K-A, Sjoberg F (1996) Magnetic resonance imaging: a new diagnostic aid in the care of high-voltage electrical burns. Burns 22(2):117

27.

Uliasz A, Ishida JT, Fleming JK, Yamamoto LG (2003) Comparing the methods of measuring compartment pressures in acute compartment syndrome. Am J Emerg Med 21(2):143

28.

Sheridan GW, Matsen FA (1976) III. Fasciotomy in the treatment of acute compartment syndrome. J Bone Jt Surg 58-A(1):113

29.

Mann R, Gibran N, Engrav L, Heimbach D (1996) Is immediate decompression of high voltage electrical injuries to the upper extremity always necessary? J Trauma 40(4):584

30.

Chuang DC, Carver N, Wei FC (1996) A new strategy to prevent the sequelae of severe Volkmann's ischaemia. Plast Reconstr Surg 98(6):1023

31.

Seddon HJ (1956) Volkmann's contracture: treatment by excision of the infarct. J Bone Jt Surg 38B(1):152

32.

Tsuge K (1975) Treatment of established Volkmann's contracture. J Bone Joint Surg Am 57:925
About this article
Cite this article
Ahn, C.S., Maitz, P.K.M. Volkmann's contracture in high-voltage electrical injury. Eur J Plast Surg 33, 323–329 (2010). https://doi.org/10.1007/s00238-010-0508-3
Received:

Accepted:

Published:

Issue Date:
Keywords
Electrical burn/injury

Compartment syndrome

Volkmann's contracture