Abstract
A number of techniques for reduction of hypertrophic labia minora have been described. Some of them involve just a wedge resection to shorten the vertical dimension of the labia minora. Nevertheless, labial hypertrophy encompasses not only the length but also the width. Attempts to reduce a wider labium by a large inferior wedge resection usually results in a thin ischemic superior flap, which eventually leads to dehiscence problems and even tip flap necrosis. On the other hand, the deepithelialization technique effectively reduces the labial width, although it fails to shorten the labial length, which appears redundant and festooned. In this report, we present a technique for reduction of the labia in width and length dimensions by deepithelialization and a smaller inferior wedge resection. This association provides a tension-free closure and ensures adequate vascularization to the healing edges of the superior labial flap, which seems to reduce the chances of wound dehiscence. It also obtains excellent cosmetic results, preserving the labial border and avoiding a festooned appearance.
Access options
Buy single article
Instant access to the full article PDF.
USD 39.95
Price excludes VAT (USA)
Tax calculation will be finalised during checkout.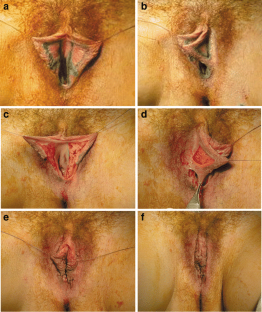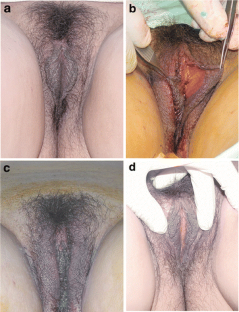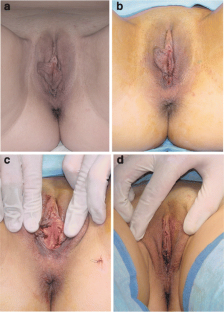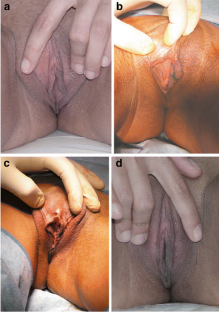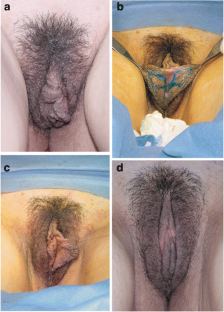 References
Capraro VJ (1971) Congenital anomalies. Clin Obstet Gynecol 14(4):988–1012

Radman HM (1976) Hypertrophy of the labia minora. Obstet Gynecol 48(1 Suppl):78S–79S

Sakamoto H, Ichikawa G, Shimizu Y et al (2004) Extreme hypertrophy of the labia minora. Acta Obstet Gynecol Scand 83(12):1225–1226

Alter GJ (1998) A new technique for labia minora reduction. Ann Plast Surg 41(6):685–686

Giraldo F, Gonzalez C, de Haro F (2004) Central wedge nimphectomy with a 90-degree Zplasty for aesthetic reduction of the labia minora. Plast Reconstr Surg 113(6):1820–1825

Rouzier R, Louis-Sylvestre C, Paniel BJ et al (2000) Hypertrophy of labia minora: experience with 163 reductions. Am J Obstet Gynecol 182(1 Pt 1):35–40

Munhoz AM, Filassi JR, Ricci MD et al (2006) Aesthetic labia minora reduction with inferior wedge resection and superior pedicle flap reconstruction. Plast Reconstr Surg 118(5):1248–1250

Choi HY, Kim KT (2000) A new method for aesthetic reduction of labia minora (the deepithelialized reduction of labioplasty). Plast Reconstr Surg 105(1):419–422

Hodgkinson DJ, Hait G (1984) Aesthetic vaginal labioplasty. Plast Reconstr Surg 74(3):414–416

Maas SM, Hage JJ (2000) Functional and aesthetic labia minora reduction. Plast Reconstr Surg 105(4):1453–1456

Felicio Y (2007) Labial surgery. Aesthet Surg J 27:322–328

Alter GJ (2008) Aesthetic labia minora and clitoral hood reduction using extended central wedge resection. Plast Reconstr Surg 122(6):1780–1789

Laub DR (2000) A new method for aesthetic reduction of labia minora (the deepithelialized reduction of labioplasty) discussion. Plast Reconstr Surg 105(1):423–424
Conflict of interest statement
None of the authors has a financial interest to disclose in relation to the content of this paper.
About this article
Cite this article
Mayer, H.F., de Elizalde, M.L.B., Duh, N. et al. Bidimensional labia minora reduction. Eur J Plast Surg 34, 345–350 (2011). https://doi.org/10.1007/s00238-010-0487-4
Received:

Accepted:

Published:

Issue Date:

DOI: https://doi.org/10.1007/s00238-010-0487-4
Keywords
Bidimensional

Labia minora reduction

Labioplasty

Labiaplasty

Deepithelialization

Inferior wedge resection