Abstract
Recurrence of giant cell tumors of the tendon sheath in the hand has continued to be a problem since it was first described. Authors have tried to identify factors to predict the chance of recurrence and have found several. This paper reports our experience with resection of GCTTS in the hand, and the predisposing factors of recurrence were studied. The recurrence rate of 16% is similar to that of earlier published results. The predisposing factors for recurrence such as pressure erosion on X-ray and presence of degenerative changes could not be confirmed.
Access options
Buy single article
Instant access to the full article PDF.
US$ 39.95
Tax calculation will be finalised during checkout.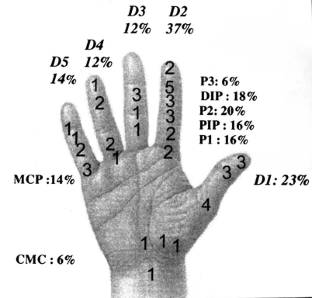 References
1.

Al-Qattan M (2001) Giant cell tumours of tendon sheath: classification and recurrence rate. Br J Hand Surg 26B:72–75

2.

Chaissaignac EDM (1852) Cancer de la gaines des tendons. Gaz Hospitaux Militaires 47:185–186

3.

Dal Cin P et al (1994) Cytogenetic characterization of tenosynovial giant cell tumors (nodular tenosynovits). Cancer Res 54:3986–3987

4.

Dal Cin P et al (1996) A new cytogenetic subgroup in tenosynovial giant cell tumors (nodular tenosynovitis) is characterized by involvement of 16q24. Cancer Genet Cytogenet 87:85–87

5.

Fyfe IS et al (1980) Pigmented villo-nodular synovitis of the hand. Hand 12:179–188

6.

Glowacki K (1995) Giant cell tumors of tendon sheath. Hand Clin 2:245–253

7.

Granowitz SP, et al (1976) The pathogenesis and long term end results of pigmented villonodular synovitis. Clin Orthop 114:335–351

8.

Grover R, Grobbelaar A, Richman P, Smith T (1998) Measurement of an invasive potential provides an accurate prognostic marker for giant cell tumor of tendon sheath. J Hand Surg 27B:728–734

9.

Jones FE, et al (1969) Fibrous xanthoma of the synovium (giant-cell tumor of tendon sheath, pigmented nodular synovitis): a study of one hundred and eighteen cases. J Bone Joint Surg 51A:76–86

10.

Lorea P, Van De Walle H, Kinnen L, Ledoux P, Meermans JP, Van Den Heule B (2004) Giant cell tumours of tendon sheath: lack of correlation between NM23-H1 expression and recurrence. J Hand Surg 29B:67–70

11.

Martens M, et al (1972) Pigmented villonodular synovitis of joints, tendons and bursae. Acta Orthop Belg 38:233–255

12.

Masahiro, et al (1986) Giant cell tumor of the tendon sheath (nodular tenosynovitis). A study of 207 cases to compare large joint group with the common digit group. Cancer 57:875–884

13.

Monaghan H, et al (2001) Giant cell tumour of the tendon sheath (localised nodular tenosynovitis): clinicopathological features of 71 cases. J Clin Pathol 54:404–407

14.

Moore JR, et al (1984) Localised nodular tenosynovitis: experience with 115 cases. J Hand Surg 9A:412–417

15.

Prakash P, Kotwal, et al (2000) Giant-cell tumour of the tendon sheath: is radiotherapy indicated to prevent recurrence after surgery? Br J Bone Joint Surg 82B:571–573

16.

Rao AS, Vigorita VJ (1984) Pigmented villonodular synovitis (giant cell tumour of tendon sheath and synovial membrane): a review of 81 cases. J Bone Joint Surg Am 66:76–94

17.

Reilly K, et al (1999) Recurrent giant cell tumors of the tendon sheath. J Hand Surg Am 24A:1298–1302

18.

Rodrigues C, et al (1998) Giant cell tumor of the tendon sheath: a retrospective study of 28 cases. J Surg Oncol 68:100–103

19.

Shultz RJ, et al (1983) Tumors in the hand. J Hand Surg 8:803–808

20.

Wright CJE (1951) Benign giant cell synovioma: an investigation of 85 cases. Br J Surg 38:257–271
About this article
Cite this article
Lowyck, H., De Smet, L. Recurrence rate of giant cell tumors of the tendon sheath. Eur J Plast Surg 28, 385–388 (2006). https://doi.org/10.1007/s00238-005-0791-6
Received:

Accepted:

Published:

Issue Date:
Keywords
Tumor

Tendon sheath

Soft tissue

Giant cell

Nodular tenosynovitis