Abstract
Purpose
This study aimed to investigate the relationship between the artery diameter ratio (ADR) after recanalization and clinical outcomes.
Methods
Patients with middle cerebral artery occlusion confirmed by DSA from 1 January 2018, to 31 December 2019, were retrospectively analyzed. All patients confirmed TICI grade 2b or 3. The ADR was calculated as M2 segment diameter/M1 segment diameter. Multivariate regression analysis was used to describe clinical outcomes of two groups (ADR < 0.6 and ≥ 0.6). ROC curves were used to compare different models and find the best cutoff.
Results
A total of 143 patients were included in the study, including 77 males and 66 females, with an average age of 67.79 ± 12 years. The NIHSS at discharge was significantly higher in the ADR < 0.6 group than another group (mean, 16.37 vs. 6.19, P < 0.001). At 90 days, the cases of functional independence was significantly less in the ADR < 0.6 group (20.97% vs. 83.95%, OR 0.05, 95% CI 0.02–0.12, P < 0.001). The ADR < 0.6 group had a higher incidence of cerebral edema (P = 0.027) and sICH (P = 0.038). The ADR had the strongest power to distinguish mRS > 2 (AUC = 0.851) and DC (AUC = 0.805), and the best cutoff value are 0.6 (specificity 85.19%, sensitivity 75.81%) and 0.58 (specificity 65.96%, sensitivity 100%), respectively.
Conclusion
The low ADR is associated with poor outcomes. The decrease in ADR may be an indirect manifestation of the loss of cerebrovascular autoregulation.
Access options
Buy single article
Instant access to the full article PDF.
USD 39.95
Price excludes VAT (USA)
Tax calculation will be finalised during checkout.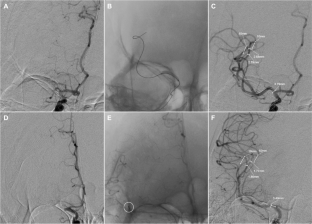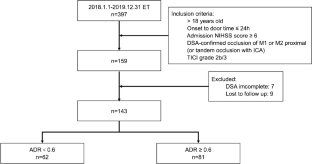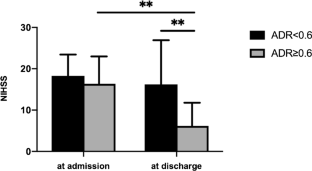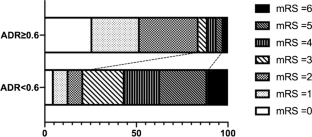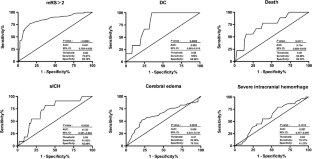 Acknowledgements
Special thanks to all colleagues for their contribution to this study and continued support. And also special thanks to ZL for the helping in statistical analysis and figure production.
Funding
The research belongs to a topic of clinical therapy technology of acute ischemic stroke (item number: 2018XLC2022) and received some grant from it.
Ethics declarations
Ethics approval
Ethical approval was obtained from the Ethics Committee of Army Medical Center of PLA Approval of Medical Research Involving People Ethical.
Consent to participate
Obtained.
Competing interests
All authors declare that they have no competing interests.
Additional information
Publisher's note
Springer Nature remains neutral with regard to jurisdictional claims in published maps and institutional affiliations.
About this article
Cite this article
Huang, S., Liu, C., Li, X. et al. Artery diameter ratio after recanalization in endovascular therapy for acute ischemic stroke: a new predictor of clinical outcomes. Neuroradiology 64, 785–793 (2022). https://doi.org/10.1007/s00234-021-02841-5
Received:

Accepted:

Published:

Issue Date:

DOI: https://doi.org/10.1007/s00234-021-02841-5
Keywords