Abstract
A 37-year-old female presented with gradually progressive asymmetric ascending paraesthesia and weakness involving bilateral upper and lower limbs. The MRI spine images revealed expansile intramedullary, solid cystic, peripherally enhancing lesion with a haemosiderin cap along the lower margin. The lesion extended into the left C5 and C6 nerve root exit zones, along with thickening and enhancement of the nerve roots. She underwent excision of the lesion, which revealed intramedullary schwannoma on histopathological examination. Presence of the cap, an extension of the lesion into the nerve root exit zone, with associated thickening and enhancement of the dorsal nerve roots should alert the radiologist to consider the possibility of intramedullary schwannoma rather than ependymoma.

Access options
Buy single article
Instant access to the full article PDF.
USD 39.95
Price excludes VAT (USA)
Tax calculation will be finalised during checkout.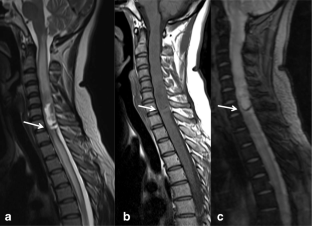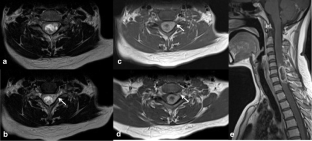 References
Teo L-C, Shen C-Y, Tsai C-H, Liu J-T (2012) Intramedullary schwannoma of the cervical spinal cord. Formosan Journal of Surgery 45:146–152

Yang T, Wu L, Deng X, Yang C, Xu Y (2014) Clinical features and surgical outcomes of intramedullary schwannomas. Acta Neurochir 156:1789–1797

Kyoshima K, Horiuchi T, Zenisaka H, Nakazato F (2005) Thoracic dumbbell intra- and extramedullary schwannoma. J Clin Neurosci 12:481–484

Conti P, Pansini G, Mouchaty H, Capuano C, Conti R (2004) Spinal neurinomas: retrospective analysis and long-term outcome of 179 consecutively operated cases and review of the literature. Surg Neurol 61:34–43

Prasad GL, Kongwad LI, Valiathan MG (2016) Spinal intradural schwannoma with acute intratumoural haemorrhage: case report and review. J Clin Diagn Res 10:PD01

Ng PY (2001) Schwannoma of the cervical spine presenting with acute haemorrhage. J Clin Neurosci 8:277–278

Ji C, Ahn JG, Huh HY, Park CK (2010) Cervical schwannoma presenting with acute intracranial subarachnoid hemorrhage. Journal of Korean Neurosurgical Society 47:137–139

Nadeem M, Mansoor S, Assad S et al (2017) Spinal schwannoma with intradural intramedullary hemorrhage. Cureus 9:e1082

Koeller KK, Rosenblum RS, Morrison AL (2000) Neoplasms of the spinal cord and filum terminale: radiologic-pathologic correlation. RadioGraphics 20:1721–1749

Hdeib A, Goodwin CR, Sciubba D, Bydon A, Wolinsky JP, Witham T, Gokaslan ZL (2016) Hemorrhagic thoracic schwannoma presenting with intradural hematoma and acute paraplegia after spinal manipulation therapy. International journal of spine surgery 10:42

Jenkins AL III, Ahuja A, Oliff AH, Sobotka S (2015) Spinal schwannoma presenting due to torsion and hemorrhage: case report and review of literature. Spine J 15:e1–e4
Funding
No funding was received for this study.
Ethics declarations
Conflicts of interest
The authors declare that they have no conflict of interest.
Ethical approval
All procedures in this short report involving patient were in accordance with ethical standards of institutional and or national research committee and with the 1964 Helsinki Declaration and its later amendments or comparable ethical standards.
Informed consent
Informed consent was obtained from the patient.
Additional information
Publisher's note
Springer Nature remains neutral with regard to jurisdictional claims in published maps and institutional affiliations.
About this article
Cite this article
Sekar, S., Vinayagamani, S., Thomas, B. et al. Haemosiderin cap sign in cervical intramedullary schwannoma mimicking ependymoma: how to differentiate?. Neuroradiology 61, 945–948 (2019). https://doi.org/10.1007/s00234-019-02229-6
Received:

Accepted:

Published:

Issue Date:

DOI: https://doi.org/10.1007/s00234-019-02229-6
Keywords