Abstract
Purpose
Sinonasal angiomatous polyps (SAPs) can be misdiagnosed as malignant tumors due to aggressive clinical behaviors. The purpose of this study was to evaluate the diagnostic accuracy of multiparametric MRI in differentiating SAPs from malignant tumors.
Methods
This retrospective study included 31 patients with pathologically proven SAPs and 36 patients with malignant tumors in maxillary sinus and nasal cavity. All the patients underwent conventional MRI and dynamic contrast-enhanced (DCE) MRI on 3T MR scanners. Diffusion-weighted (DW) MR imaging was performed in 45 patients. All the MR images were retrospectively analyzed independently by two authors.
Results
Significant differences were found in T1 homogeneity, T2 signal intensity ratio, peripheral hypointense rim on T2WI, and soft tissue infiltration between SAP and malignant tumors (P = 0.004, < 0.001, < 0.001, and = 0.001, respectively). SAPs usually show heterogeneous signal intensity on T1WI, peripheral hypointense rim on T2WI, and higher T2 signal intensity ratio. The tumor size of SAP (4.01 ± 1.08 cm) was slightly smaller than that of malignant tumors (4.56 ± 1.12 cm) (P = 0.045). There were significant differences in DCE-MRI parameters including Tpeak, CImax, WR, TIC types, and progressive enhancement (P = 0.009, < 0.001, = 0.001, = 0.001, and < 0.001, respectively) between SAPs and malignant tumors. All the 31 SAPs showed progressive enhancement on DCE-MRI, while none of the malignant tumors showed progressive enhancement (accuracy 100%). The mean ADC of SAP (1.75 ± 0.30 × 10−3 mm2/s) was higher than that of malignant tumors (1.18 ± 0.31 × 10−3 mm2/s) (P < 0.001).
Conclusion
Multiparametric MRI showed high diagnostic performance in differentiating SAPs from malignant tumors. Progressive enhancement on DCE-MRI is the most effective feature of SAP.
Access options
Buy single article
Instant access to the full article PDF.
USD 39.95
Price excludes VAT (USA)
Tax calculation will be finalised during checkout.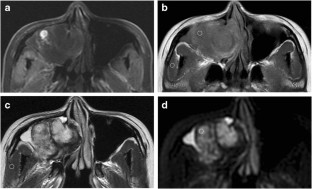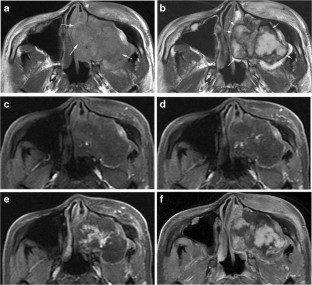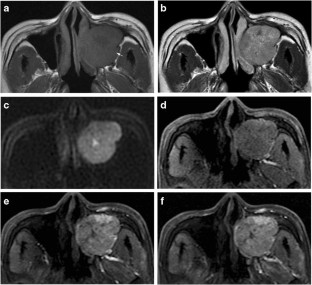 References
Yfantis HG, Drachenberg CB, Gray W, Papadimitriou JC (2000) Angiectatic nasal polyps that clinically simulate a malignant process: report of 2 cases and review of the literature. Arch Pathol Lab Med 124:423–426

Tam YY, Wu CC, Lee TJ, Lin YY, Chen TD, Huang CC (2016) The clinicopathological features of sinonasal angiomatous polyps. Int J Gen Med 9:207–212

Han MW, Lee BJ, Jang YJ, Chung YS (2010) Clinical value of office-based endoscopic incisional biopsy in diagnosis of nasal cavity masses. Otolaryngol Head Neck Surg 143:341–347

Zou J, Man F, Deng K, Zheng Y, Hao D, Xu W (2014) CT and MR imaging findings of sinonasal angiomatous polyps. Eur J Radiol 83:545–551

Dai LB, Zhou SH, Ruan LX, Zheng ZJ (2012) Correlation of computed tomography with pathological features in angiomatous nasal polyps. PLoS One 7:e53306

Lee HK, Smoker WR, Lee BJ, Kim SJ, Cho KJ (2007) Organized hematoma of the maxillary sinus: CT findings. AJR Am J Roentgenol 188:W370–W373

Nishiguchi T, Nakamura A, Mochizuki K, Tokuhara Y, Yamane H, Inoue Y (2007) Expansile organized maxillary sinus hematoma: MR and CT findings and review of literature. AJNR Am J Neuroradiol 28:1375–1377

Wang YZ, Yang BT, Wang ZC, Song L, Xian JF (2012) MR evaluation of sinonasal angiomatous polyp. AJNR Am J Neuroradiol 33:767–772

Batsakis JG, Sneige N (1992) Choanal and angiomatous polyps of the sinonasal tract. Ann Otol Rhinol Laryngol 101:623–625

Robin TP, Jones BL, Gordon OM, Phan A, Abbott D, McDermott JD, Goddard JA, Raben D, Lanning RM, Karam SD (2017) A comprehensive comparative analysis of treatment modalities for sinonasal malignancies. Cancer 123:3040–3049

Wang XY, Yan F, Hao H, Wu JX, Chen QH, Xian JF (2015) Improved performance in differentiating benign from malignant sinonasal tumors using diffusion-weighted combined with dynamic contrast-enhanced magnetic resonance imaging. Chin Med J 128:586–592

Thoeny HC, De Keyzer F, King AD (2012) Diffusion-weighted MR imaging in the head and neck. Radiology 263:19–32

Wang X, Zhang Z, Chen Q, Li J, Xian J (2014) Effectiveness of 3 T PROPELLER DUO diffusion-weighted MRI in differentiating sinonasal lymphomas and carcinomas. Clin Radiol 69:1149–1156

Sasaki M, Eida S, Sumi M, Nakamura T (2011) Apparent diffusion coefficient mapping for sinonasal diseases: differentiation of benign and malignant lesions. AJNR Am J Neuroradiol 32:1100–1106

Xian J, Zhang Z, Wang Z, Li J, Yang B, Chen Q, Chang Q, He L (2010) Evaluation of MR imaging findings differentiating cavernous haemangiomas from schwannomas in the orbit. Eur Radiol 20:2221–2228

Jiang JX, Tang ZH, Zhong YF, Qiang JW (2017) Diffusion kurtosis imaging for differentiating between the benign and malignant sinonasal lesions. J Magn Reson Imaging 45:1446–1454
Funding
High Level Health Technical Personnel of Bureau of Health in Beijing (2014-2-005); Beijing Municipal Administration of Hospitals Clinical Medicine Development of Special Funding Support (ZYLX201704); National Key Technology Research and Development Program of the Ministry of Science and Technology of China (2015BAll6H00); "Key Talent Project" of Beijing (2014001); "Set Sail Project" of Fujian Medical University (2017XQ1016).
Ethics declarations
Conflict of interest
The authors declare that they have no conflict of interest.
Ethical approval
All procedures performed in studies involving human participants were in accordance with the ethical standards of the institutional and/or national research committee and with the 1964 Helsinki declaration and its later amendments or comparable ethical standards. For this type of study formal consent is not required.
Informed consent
For this type of retrospective study formal consent is not required.
Additional information
Publisher's note
Springer Nature remains neutral with regard to jurisdictional claims in published maps and institutional affiliations.
About this article
Cite this article
Wang, X., Liu, Y., Chen, Q. et al. Evaluation of multiparametric MRI differentiating sinonasal angiomatous polyp from malignant tumors. Neuroradiology 61, 891–896 (2019). https://doi.org/10.1007/s00234-019-02225-w
Received:

Accepted:

Published:

Issue Date:

DOI: https://doi.org/10.1007/s00234-019-02225-w
Keywords