Abstract
Purpose
According to the revised World Health Organization (WHO) Classification of Tumors of the Central Nervous System (CNS) of 2016, oligodendrogliomas are now defined primarily by a specific molecular signature (presence of IDH mutation and 1p19q codeletion). The purpose of our study was to assess the value of dynamic susceptibility contrast MR imaging (DSC-MRI) and diffusion-weighted imaging (DWI) to characterize oligodendrogliomas and to distinguish them from astrocytomas.
Methods
Seventy-one adult patients with untreated WHO grade II and grade III diffuse infiltrating gliomas and known 1p/19q codeletion status were retrospectively identified and analyzed using relative cerebral blood volume (rCBV) and apparent diffusion coefficient (ADC) maps based on whole-tumor volume histograms. The Mann-Whitney U test and logistic regression were used to assess the ability of rCBV and ADC to differentiate between oligodendrogliomas and astrocytomas both independently, but also related to the WHO grade. Prediction performance was evaluated in leave-one-out cross-validation (LOOCV).
Results
Oligodendrogliomas showed significantly higher microvascularity (higher rCBVMean ≥ 0.80, p = 0.013) and higher vascular heterogeneity (lower rCBVPeak ≤ 0.044, p = 0.015) than astrocytomas. Diffuse gliomas with higher cellular density (lower ADCMean ≤ 1094 × 10−6 mm2/s, p = 0.009) were more likely to be oligodendrogliomas than astrocytomas. Histogram analysis of rCBV and ADC was able to differentiate between diffuse astrocytomas (WHO grade II) and anaplastic astrocytomas (WHO grade III).
Conclusion
Histogram-derived rCBV and ADC parameter may be used as biomarkers for identification of oligodendrogliomas and may help characterize diffuse gliomas based upon their genetic characteristics.
This is a preview of subscription content, log in to check access.
Access options
Buy single article
Instant access to the full article PDF.
US$ 39.95
Price includes VAT for USA
Subscribe to journal
Immediate online access to all issues from 2019. Subscription will auto renew annually.
US$ 199
This is the net price. Taxes to be calculated in checkout.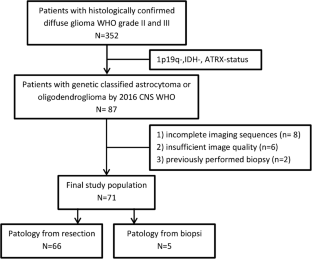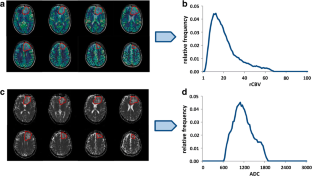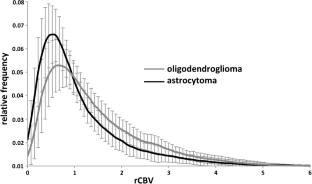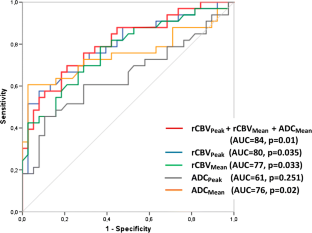 References
1.

van den Bent MJ, Brandes AA, Taphoorn MJ, Kros JM, Kouwenhoven MC, Delattre JY, Bernsen HJ, Frenay M, Tijssen CC, Grisold W, Sipos L, Enting RH, French PJ, Dinjens WN, Vecht CJ, Allgeier A, Lacombe D, Gorlia T, Hoang-Xuan K (2013) Adjuvant procarbazine, lomustine, and vincristine chemotherapy in newly diagnosed anaplastic oligodendroglioma: long-term follow-up of EORTC brain tumor group study 26951. J Clin Oncol 31(3):344–350. https://doi.org/10.1200/jco.2012.43.2229

2.

Cairncross G, Wang M, Shaw E, Jenkins R, Brachman D, Buckner J, Fink K, Souhami L, Laperriere N, Curran W, Mehta M (2013) Phase III trial of chemoradiotherapy for anaplastic oligodendroglioma: long-term results of RTOG 9402. J Clin Oncol 31(3):337–343. https://doi.org/10.1200/jco.2012.43.2674

3.

Buckner JC, Shaw EG, Pugh SL, Chakravarti A, Gilbert MR, Barger GR, Coons S, Ricci P, Bullard D, Brown PD, Stelzer K, Brachman D, Suh JH, Schultz CJ, Bahary JP, Fisher BJ, Kim H, Murtha AD, Bell EH, Won M, Mehta MP, Curran WJ Jr (2016) Radiation plus procarbazine, CCNU, and vincristine in low-grade glioma. N Engl J Med 374(14):1344–1355. https://doi.org/10.1056/NEJMoa1500925

4.

Sanson M, Marie Y, Paris S, Idbaih A, Laffaire J, Ducray F, El Hallani S, Boisselier B, Mokhtari K, Hoang-Xuan K, Delattre JY (2009) Isocitrate dehydrogenase 1 codon 132 mutation is an important prognostic biomarker in gliomas. J Clin Oncol 27(25):4150–4154. https://doi.org/10.1200/jco.2009.21.9832

5.

Louis DN, Perry A, Reifenberger G, von Deimling A, Figarella-Branger D, Cavenee WK, Ohgaki H, Wiestler OD, Kleihues P, Ellison DW (2016) The 2016 World Health Organization Classification of Tumors of the Central Nervous System: a summary. Acta Neuropathol 131(6):803–820. https://doi.org/10.1007/s00401-016-1545-1

6.

Ballester LY, Huse JT, Tang G, Fuller GN (2017) Molecular classification of adult diffuse gliomas: conflicting IDH1/IDH2, ATRX and 1p/19q results. Hum Pathol 69:15–22. https://doi.org/10.1016/j.humpath.2017.05.005

7.

Sahm F, Reuss D, Koelsche C, Capper D, Schittenhelm J, Heim S, Jones DT, Pfister SM, Herold-Mende C, Wick W, Mueller W, Hartmann C, Paulus W, von Deimling A (2014) Farewell to oligoastrocytoma: in situ molecular genetics favor classification as either oligodendroglioma or astrocytoma. Acta Neuropathol 128(4):551–559. https://doi.org/10.1007/s00401-014-1326-7

8.

Giannini C, Scheithauer BW, Weaver AL, Burger PC, Kros JM, Mork S, Graeber MB, Bauserman S, Buckner JC, Burton J, Riepe R, Tazelaar HD, Nascimento AG, Crotty T, Keeney GL, Pernicone P, Altermatt H (2001) Oligodendrogliomas: reproducibility and prognostic value of histologic diagnosis and grading. J Neuropathol Exp Neurol 60(3):248–262

9.

Lev MH, Ozsunar Y, Henson JW, Rasheed AA, Barest GD, Harsh GR, Fitzek MM, Chiocca EA, Rabinov JD, Csavoy AN, Rosen BR, Hochberg FH, Schaefer PW, Gonzalez RG (2004) Glial tumor grading and outcome prediction using dynamic spin-echo MR susceptibility mapping compared with conventional contrast-enhanced MR: confounding effect of elevated rCBV of oligodendrogliomas [corrected]. AJNR Am J Neuroradiol 25(2):214–221

10.

Law M, Oh S, Babb JS, Wang E, Inglese M, Zagzag D, Knopp EA, Johnson G (2006) Low-grade gliomas: dynamic susceptibility-weighted contrast-enhanced perfusion MR imaging--prediction of patient clinical response. Radiology 238(2):658–667. https://doi.org/10.1148/radiol.2382042180

11.

Knopp EA, Cha S, Johnson G, Mazumdar A, Golfinos JG, Zagzag D, Miller DC, Kelly PJ, Kricheff II (1999) Glial neoplasms: dynamic contrast-enhanced T2*-weighted MR imaging. Radiology 211(3):791–798. https://doi.org/10.1148/radiology.211.3.r99jn46791

12.

Le Bihan D (1991) Molecular diffusion nuclear magnetic resonance imaging. Magn Reson Q 7(1):1–30

13.

Kono K, Inoue Y, Nakayama K, Shakudo M, Morino M, Ohata K, Wakasa K, Yamada R (2001) The role of diffusion-weighted imaging in patients with brain tumors. AJNR Am J Neuroradiol 22(6):1081–1088

14.

Chawla S, Krejza J, Vossough A, Zhang Y, Kapoor GS, Wang S, O'Rourke DM, Melhem ER, Poptani H (2013) Differentiation between oligodendroglioma genotypes using dynamic susceptibility contrast perfusion-weighted imaging and proton MR spectroscopy. AJNR Am J Neuroradiol 34(8):1542–1549. https://doi.org/10.3174/ajnr.A3384

15.

Emblem KE, Scheie D, Due-Tonnessen P, Nedregaard B, Nome T, Hald JK, Beiske K, Meling TR, Bjornerud A (2008) Histogram analysis of MR imaging-derived cerebral blood volume maps: combined glioma grading and identification of low-grade oligodendroglial subtypes. AJNR Am J Neuroradiol 29(9):1664–1670. https://doi.org/10.3174/ajnr.A1182

16.

Fellah S, Caudal D, De Paula AM, Dory-Lautrec P, Figarella-Branger D, Chinot O, Metellus P, Cozzone PJ, Confort-Gouny S, Ghattas B, Callot V, Girard N (2013) Multimodal MR imaging (diffusion, perfusion, and spectroscopy): is it possible to distinguish oligodendroglial tumor grade and 1p/19q codeletion in the pretherapeutic diagnosis? AJNR Am J Neuroradiol 34(7):1326–1333. https://doi.org/10.3174/ajnr.A3352

17.

Jenkinson MD, du Plessis DG, Smith TS, Brodbelt AR, Joyce KA, Walker C (2010) Cellularity and apparent diffusion coefficient in oligodendroglial tumours characterized by genotype. J Neuro-Oncol 96(3):385–392. https://doi.org/10.1007/s11060-009-9970-9

18.

Jenkinson MD, Smith TS, Joyce KA, Fildes D, Broome J, du Plessis DG, Haylock B, Husband DJ, Warnke PC, Walker C (2006) Cerebral blood volume, genotype and chemosensitivity in oligodendroglial tumours. Neuroradiology 48(10):703–713. https://doi.org/10.1007/s00234-006-0122-z

19.

Whitmore RG, Krejza J, Kapoor GS, Huse J, Woo JH, Bloom S, Lopinto J, Wolf RL, Judy K, Rosenfeld MR, Biegel JA, Melhem ER, O'Rourke DM (2007) Prediction of oligodendroglial tumor subtype and grade using perfusion weighted magnetic resonance imaging. J Neurosurg 107(3):600–609. https://doi.org/10.3171/jns-07/09/0600

20.

Louis DN, Ohgaki H, Wiestler OD, Cavenee WK, Burger PC, Jouvet A, Scheithauer BW, Kleihues P (2007) The 2007 WHO classification of tumours of the central nervous system. Acta Neuropathol 114(2):97–109. https://doi.org/10.1007/s00401-007-0243-4

21.

Scheie D, Andresen PA, Cvancarova M, Bo AS, Helseth E, Skullerud K, Beiske K (2006) Fluorescence in situ hybridization (FISH) on touch preparations: a reliable method for detecting loss of heterozygosity at 1p and 19q in oligodendroglial tumors. Am J Surg Pathol 30(7):828–837. https://doi.org/10.1097/01.pas.0000213250.44822.2e

22.

Natte R, van Eijk R, Eilers P, Cleton-Jansen AM, Oosting J, Kouwenhove M, Kros JM, van Duinen S (2005) Multiplex ligation-dependent probe amplification for the detection of 1p and 19q chromosomal loss in oligodendroglial tumors. Brain Pathol (Zurich, Switzerland) 15(3):192–197

23.

Emblem KE, Nedregaard B, Nome T, Due-Tonnessen P, Hald JK, Scheie D, Borota OC, Cvancarova M, Bjornerud A (2008) Glioma grading by using histogram analysis of blood volume heterogeneity from MR-derived cerebral blood volume maps. Radiology 247(3):808–817. https://doi.org/10.1148/radiol.2473070571

24.

Emblem KE, Pinho MC, Zollner FG, Due-Tonnessen P, Hald JK, Schad LR, Meling TR, Rapalino O, Bjornerud A (2015) A generic support vector machine model for preoperative glioma survival associations. Radiology 275(1):228–234. https://doi.org/10.1148/radiol.14140770

25.

Pope WB, Kim HJ, Huo J, Alger J, Brown MS, Gjertson D, Sai V, Young JR, Tekchandani L, Cloughesy T, Mischel PS, Lai A, Nghiemphu P, Rahmanuddin S, Goldin J (2009) Recurrent glioblastoma multiforme: ADC histogram analysis predicts response to bevacizumab treatment. Radiology 252(1):182–189. https://doi.org/10.1148/radiol.2521081534

26.

Kapoor GS, Gocke TA, Chawla S, Whitmore RG, Nabavizadeh A, Krejza J, Lopinto J, Plaum J, Maloney-Wilensky E, Poptani H, Melhem ER, Judy KD, O'Rourke DM (2009) Magnetic resonance perfusion-weighted imaging defines angiogenic subtypes of oligodendroglioma according to 1p19q and EGFR status. J Neuro-Oncol 92(3):373–386. https://doi.org/10.1007/s11060-009-9880-x

27.

Yoon HJ, Ahn KJ, Lee S, Jang JH, Choi HS, Jung SL, Kim BS, Jeun SS, Hong YK (2017) Differential diagnosis of oligodendroglial and astrocytic tumors using imaging results: the added value of perfusion MR imaging. Neuroradiology 59:665–675. https://doi.org/10.1007/s00234-017-1851-x

28.

Walker C, Haylock B, Husband D, Joyce KA, Fildes D, Jenkinson MD, Smith T, Broome J, Kopitzki K, du Plessis DG, Prosser J, Vinjamuri S, Warnke PC (2006) Genetic and metabolic predictors of chemosensitivity in oligodendroglial neoplasms. Br J Cancer 95(10):1424–1431. https://doi.org/10.1038/sj.bjc.6603390

29.

Shinozaki N, Uchino Y, Yoshikawa K, Matsutani T, Hasegawa A, Saeki N, Iwadate Y (2011) Discrimination between low-grade oligodendrogliomas and diffuse astrocytoma with the aid of 11C-methionine positron emission tomography. J Neurosurg 114(6):1640–1647. https://doi.org/10.3171/2010.11.jns10553

30.

Herholz K, Pietrzyk U, Voges J, Schroder R, Halber M, Treuer H, Sturm V, Heiss WD (1993) Correlation of glucose consumption and tumor cell density in astrocytomas. A stereotactic PET study. J Neurosurg 79(6):853–858. https://doi.org/10.3171/jns.1993.79.6.0853

31.

Brock CS, Young H, O'Reilly SM, Matthews J, Osman S, Evans H, Newlands ES, Price PM (2000) Early evaluation of tumour metabolic response using [18F]fluorodeoxyglucose and positron emission tomography: a pilot study following the phase II chemotherapy schedule for temozolomide in recurrent high-grade gliomas. Br J Cancer 82(3):608–615. https://doi.org/10.1054/bjoc.1999.0971

32.

Cha S, Tihan T, Crawford F, Fischbein NJ, Chang S, Bollen A, Nelson SJ, Prados M, Berger MS, Dillon WP (2005) Differentiation of low-grade oligodendrogliomas from low-grade astrocytomas by using quantitative blood-volume measurements derived from dynamic susceptibility contrast-enhanced MR imaging. AJNR Am J Neuroradiol 26(2):266–273

33.

Johnson DR, Diehn FE, Giannini C, Jenkins RB, Jenkins SM, Parney IF, Kaufmann TJ (2017) Genetically defined oligodendroglioma is characterized by indistinct tumor borders at MRI. AJNR Am J Neuroradiol 38:678–684. https://doi.org/10.3174/ajnr.A5070

34.

Smits M (2016) Imaging of oligodendroglioma. Br J Radiol 89(1060):20150857. https://doi.org/10.1259/bjr.20150857

35.

Wesseling P, van den Bent M, Perry A (2015) Oligodendroglioma: pathology, molecular mechanisms and markers. Acta Neuropathol 129(6):809–827. https://doi.org/10.1007/s00401-015-1424-1

36.

Lin Y, Xing Z, She D, Yang X, Zheng Y, Xiao Z, Wang X, Cao D (2017) IDH mutant and 1p/19q co-deleted oligodendrogliomas: tumor grade stratification using diffusion-, susceptibility-, and perfusion-weighted MRI. Neuroradiology 59(6):555–562. https://doi.org/10.1007/s00234-017-1839-6

37.

Leu K, Ott GA, Lai A, Nghiemphu PL, Pope WB, Yong WH, Liau LM, Cloughesy TF, Ellingson BM (2017) Perfusion and diffusion MRI signatures in histologic and genetic subtypes of WHO grade II-III diffuse gliomas. J Neuro-Oncol 134:177–188. https://doi.org/10.1007/s11060-017-2506-9

38.

Delgado AF, Delgado AF (2017) Discrimination between glioma grades II and III using dynamic susceptibility perfusion MRI: a meta-analysis. AJNR Am J Neuroradiol 38(7):1348–1355. https://doi.org/10.3174/ajnr.A5218

39.

Franco-Hernandez C, Martinez-Glez V, de Campos JM, Isla A, Vaquero J, Gutierrez M, Casartelli C, Rey JA (2009) Allelic status of 1p and 19q in oligodendrogliomas and glioblastomas: multiplex ligation-dependent probe amplification versus loss of heterozygosity. Cancer Genet Cytogenet 190(2):93–96. https://doi.org/10.1016/j.cancergencyto.2008.09.017

40.

van den Bent MJ (2010) Interobserver variation of the histopathological diagnosis in clinical trials on glioma: a clinician's perspective. Acta Neuropathol 120(3):297–304. https://doi.org/10.1007/s00401-010-0725-7

41.

Kim SI, Lee Y, Won JK, Park CK, Choi SH, Park SH (2017) Reclassification of mixed oligoastrocytic tumors using a genetically integrated diagnostic approach. J Pathol Transl Med 52:28–36. https://doi.org/10.4132/jptm.2017.09.25

42.

Brat DJ, Verhaak RG, Aldape KD, Yung WK, Salama SR, Cooper LA, Rheinbay E, Miller CR, Vitucci M, Morozova O, Robertson AG, Noushmehr H, Laird PW, Cherniack AD, Akbani R, Huse JT, Ciriello G, Poisson LM, Barnholtz-Sloan JS, Berger MS, Brennan C, Colen RR, Colman H, Flanders AE, Giannini C, Grifford M, Iavarone A, Jain R, Joseph I, Kim J, Kasaian K, Mikkelsen T, Murray BA, O'Neill BP, Pachter L, Parsons DW, Sougnez C, Sulman EP, Vandenberg SR, Van Meir EG, von Deimling A, Zhang H, Crain D, Lau K, Mallery D, Morris S, Paulauskis J, Penny R, Shelton T, Sherman M, Yena P, Black A, Bowen J, Dicostanzo K, Gastier-Foster J, Leraas KM, Lichtenberg TM, Pierson CR, Ramirez NC, Taylor C, Weaver S, Wise L, Zmuda E, Davidsen T, Demchok JA, Eley G, Ferguson ML, Hutter CM, Mills Shaw KR, Ozenberger BA, Sheth M, Sofia HJ, Tarnuzzer R, Wang Z, Yang L, Zenklusen JC, Ayala B, Baboud J, Chudamani S, Jensen MA, Liu J, Pihl T, Raman R, Wan Y, Wu Y, Ally A, Auman JT, Balasundaram M, Balu S, Baylin SB, Beroukhim R, Bootwalla MS, Bowlby R, Bristow CA, Brooks D, Butterfield Y, Carlsen R, Carter S, Chin L, Chu A, Chuah E, Cibulskis K, Clarke A, Coetzee SG, Dhalla N, Fennell T, Fisher S, Gabriel S, Getz G, Gibbs R, Guin R, Hadjipanayis A, Hayes DN, Hinoue T, Hoadley K, Holt RA, Hoyle AP, Jefferys SR, Jones S, Jones CD, Kucherlapati R, Lai PH, Lander E, Lee S, Lichtenstein L, Ma Y, Maglinte DT, Mahadeshwar HS, Marra MA, Mayo M, Meng S, Meyerson ML, Mieczkowski PA, Moore RA, Mose LE, Mungall AJ, Pantazi A, Parfenov M, Park PJ, Parker JS, Perou CM, Protopopov A, Ren X, Roach J, Sabedot TS, Schein J, Schumacher SE, Seidman JG, Seth S, Shen H, Simons JV, Sipahimalani P, Soloway MG, Song X, Sun H, Tabak B, Tam A, Tan D, Tang J, Thiessen N, Triche T Jr, Van Den Berg DJ, Veluvolu U, Waring S, Weisenberger DJ, Wilkerson MD, Wong T, Wu J, Xi L, Xu AW, Yang L, Zack TI, Zhang J, Aksoy BA, Arachchi H, Benz C, Bernard B, Carlin D, Cho J, DiCara D, Frazer S, Fuller GN, Gao J, Gehlenborg N, Haussler D, Heiman DI, Iype L, Jacobsen A, Ju Z, Katzman S, Kim H, Knijnenburg T, Kreisberg RB, Lawrence MS, Lee W, Leinonen K, Lin P, Ling S, Liu W, Liu Y, Liu Y, Lu Y, Mills G, Ng S, Noble MS, Paull E, Rao A, Reynolds S, Saksena G, Sanborn Z, Sander C, Schultz N, Senbabaoglu Y, Shen R, Shmulevich I, Sinha R, Stuart J, Sumer SO, Sun Y, Tasman N, Taylor BS, Voet D, Weinhold N, Weinstein JN, Yang D, Yoshihara K, Zheng S, Zhang W, Zou L, Abel T, Sadeghi S, Cohen ML, Eschbacher J, Hattab EM, Raghunathan A, Schniederjan MJ, Aziz D, Barnett G, Barrett W, Bigner DD, Boice L, Brewer C, Calatozzolo C, Campos B, Carlotti CG Jr, Chan TA, Cuppini L, Curley E, Cuzzubbo S, Devine K, DiMeco F, Duell R, Elder JB, Fehrenbach A, Finocchiaro G, Friedman W, Fulop J, Gardner J, Hermes B, Herold-Mende C, Jungk C, Kendler A, Lehman NL, Lipp E, Liu O, Mandt R, McGraw M, McLendon R, McPherson C, Neder L, Nguyen P, Noss A, Nunziata R, Ostrom QT, Palmer C, Perin A, Pollo B, Potapov A, Potapova O, Rathmell WK, Rotin D, Scarpace L, Schilero C, Senecal K, Shimmel K, Shurkhay V, Sifri S, Singh R, Sloan AE, Smolenski K, Staugaitis SM, Steele R, Thorne L, Tirapelli DP, Unterberg A, Vallurupalli M, Wang Y, Warnick R, Williams F, Wolinsky Y, Bell S, Rosenberg M, Stewart C, Huang F, Grimsby JL, Radenbaugh AJ, Zhang J (2015) Comprehensive, integrative genomic analysis of diffuse lower-grade gliomas. N Engl J Med 372(26):2481–2498. https://doi.org/10.1056/NEJMoa1402121

43.

Valera-Mele M, Mateo Sierra O, Sola Vendrell E, Guzman de Villoria LJ, Carvajal Diaz L, Gil de Sagredo Del Corral OL, Garcia Leal R (2018) Evaluación del impacto del cambio diagnóstico de los gliomas aplicando la nueva clasificación de la OMS de 2016 sobre una serie de casos. In: Assessment of the impact of glioma diagnostic reclassification following the new 2016 WHO classification on a series of cases. Neurocirugia. https://doi.org/10.1016/j.neucir.2018.09.002

44.

van den Bent MJ, Smits M, Kros JM, Chang SM (2017) Diffuse infiltrating oligodendroglioma and astrocytoma. J Clin Oncol 35(21):2394–2401. https://doi.org/10.1200/jco.2017.72.6737

45.

Eckel-Passow JE, Lachance DH, Molinaro AM, Walsh KM, Decker PA, Sicotte H, Pekmezci M, Rice T, Kosel ML, Smirnov IV, Sarkar G, Caron AA, Kollmeyer TM, Praska CE, Chada AR, Halder C, Hansen HM, McCoy LS, Bracci PM, Marshall R, Zheng S, Reis GF, Pico AR, O'Neill BP, Buckner JC, Giannini C, Huse JT, Perry A, Tihan T, Berger MS, Chang SM, Prados MD, Wiemels J, Wiencke JK, Wrensch MR, Jenkins RB (2015) Glioma groups based on 1p/19q, IDH, and TERT promoter mutations in tumors. N Engl J Med 372(26):2499–2508. https://doi.org/10.1056/NEJMoa1407279

46.

Gadji M, Fortin D, Tsanaclis AM, Drouin R (2009) Is the 1p/19q deletion a diagnostic marker of oligodendrogliomas? Cancer Genet Cytogenet 194(1):12–22. https://doi.org/10.1016/j.cancergencyto.2009.05.004

47.

Waitkus MS, Diplas BH, Yan H (2016) Isocitrate dehydrogenase mutations in gliomas. Neuro-Oncology 18(1):16–26. https://doi.org/10.1093/neuonc/nov136
Funding
This work was funded by the Southeastern Norway Regional Health Authority Extended Career Grants 2017073, 2013069 (KEE), the Research Council of Norway Grant ES435705 (KEE), Deutsche Forschungsgemeinschaft/Germany (DFG PA930/9, DFG PA930/12) (JP), the Leibniz Society/Germany (SAW-2015-IPB-2) (JP), HelseSØ/Norway (2016062) (JP), Norsk forskningsrådet/Norway (247179 NeuroGeM, 251290 FRIMEDIO, 260786 PROP-AD) (JP) and Horizon 2020/European Union (643417 (PROP-AD) (JP).
Ethics declarations
Conflict of interest
KEE has intellectual property rights with NordicNeuroLaB, Bergen Oslo.
Ethical approval
All procedures performed in the studies involving human participants were in accordance with the ethical standards of the institutional and/or national research committee and with the 1964 Helsinki Declaration and its later amendments or comparable ethical standards.
Informed consent
Informed consent was obtained from all individual participants included in the study.
Additional information
Publisher's note
Springer Nature remains neutral with regard to jurisdictional claims in published maps and institutional affiliations.
Electronic supplementary material
About this article
Cite this article
Latysheva, A., Emblem, K.E., Brandal, P. et al. Dynamic susceptibility contrast and diffusion MR imaging identify oligodendroglioma as defined by the 2016 WHO classification for brain tumors: histogram analysis approach. Neuroradiology 61, 545–555 (2019). https://doi.org/10.1007/s00234-019-02173-5
Received:

Accepted:

Published:

Issue Date:
Keywords
Diffuse glioma

Perfusion MRI

Diffusion MRI