Abstract
Purpose
A small, benign high-signal lesion (HSL) posterior to the intracranial vertebral artery (VA) at the foramen magnum is a new entity revealed by a 3D FLAIR sequence. However, this entity has not been sufficiently investigated. We aimed to investigate the MR imaging findings of HSLs posterior to the intracranial VA that were incidentally detected by 3D FLAIR.
Methods
We retrospectively evaluated 3717 patients using a 3-T MR unit. HSLs on 3D FLAIR were assessed for prevalence, size, contact with the spinal accessory nerve (SAN), and size changes on follow-up images.
Results
Of 3717 patients, 127 (3.4%) (58 males and 69 females; age, 60.0 ± 18.9 years) showed 142 HSLs posterior to the intracranial VA. In total, 114 patients (89.8%) had a single lesion, whereas 13 patients (10.2%) had multiple lesions. The mean lesion size was 3.8 ± 1.6 mm. All HSLs showed contact with the ipsilateral SAN. Of 69 HSLs that were imaged during follow-up, the size was stable in 91.3% and increased in 8.7%.
Conclusion
HSLs posterior to the intracranial VA were incidentally detected in 3.4% of patients by 3D FLAIR. Our results indicated a possible association between HSLs and SAN. These lesions appear to be benign in etiology and thus would not require any surgical intervention without continuous growth in a short period or relevant signs and symptoms.
This is a preview of subscription content, log in to check access.
Access options
Buy single article
Instant access to the full article PDF.
US$ 39.95
Price includes VAT for USA
Subscribe to journal
Immediate online access to all issues from 2019. Subscription will auto renew annually.
US$ 199
This is the net price. Taxes to be calculated in checkout.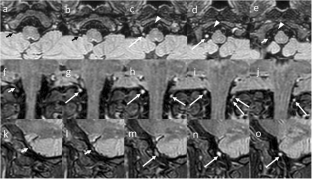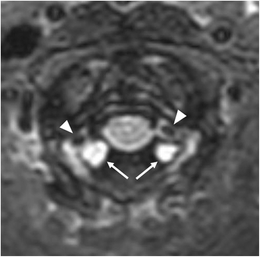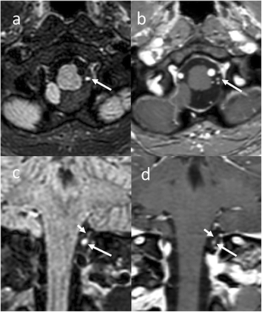 Abbreviations
FFE:

Fast field-echo

HSL:

High-signal lesion

SAN:

Spinal accessory nerve

VA:

Vertebral artery

VFA:

Variable flip angle
References
1.

Maeda M, Yagishita A, Yamamoto T, Sakuma H, Takeda K (2003) Abnormal hyperintensity within the subarachnoid space evaluated by fluid-attenuated inversion-recovery MR imaging: a spectrum of central nervous system diseases. Eur Radiol 13(Supple 4):L192–L201

2.

Stuckey SL, Goh TD, Heffernan T, Rowan D (2007) Hyperintensity in the subarachnoid space on FLAIR MRI. AJR Am J Roentgenol 189(4):913–921

3.

Tha KK, Terae S, Kudo K, Miyasaka K (2009) Differential diagnosis of hyperintense cerebrospinal fluid on fluid-attenuated inversion recovery images of the brain. Part II: non-pathological conditions. Br J Radiol 82(979):610–614

4.

Naganawa S, Koshikawa T, Nakamura T, Kawai H, Fukatsu H, Ishigaki T, Komada T, Maruyama K, Takizawa O (2004) Comparison of flow artifacts between 2D-FLAIR and 3D-FLAIR sequences at 3 T. Eur Radiol 14(10):1901–1908

5.

Naganawa S (2015) The technical and clinical features of 3D-FLAIR in neuroimaging. Magn Reson Med Sci 14(2):93–106

6.

McGuinness BJ, Morrison JP, Brew SK, Moriarty MW (2017) Benign enhancing foramen magnum lesions: clinical report of a newly recognized entity. AJNR Am J Neuroradiol 38(4):721–725

7.

De Coene B, Hajnal JV, Gatehouse P, Longmore DB, White SJ, Oatridge A, Pennock JM, Young IR, Bydder GM (1992) MR of the brain using fluid-attenuated inversion recovery (FLAIR) pulse sequences. AJNR Am J Neuroradiol 13(6):1555–1564

8.

Mugler JP (2014) Optimized three-dimensional fast-spin-echo MRI. J Magn Reson Imaging 39(4):745–767

9.

Tubbs RS, Lancaster JR, Mortazavi MM, Loukas M, Shoja MM, Hattab EM, Cohen-Gadol AA (2012) Do grossly identifiable ganglia lie along the spinal accessory nerve? A gross and histologic study with potential neurosurgical significance. World Neurosurg 77(2):349–351

10.

Tubbs RS, Mortazavi MM, Loukas M, Shoja MM, Cohen-Gadol AA (2011) The intracranial denticulate ligament: anatomical study with neurosurgical significance. J Neurosurg 114(2):454–457

11.

Mascalchi M, Bianchi A, Basile M, Gulino P, Trifan MR, Difeo D, Bartolini E, Defilippi C, Diciotti S (2016) Effectiveness of 3D T2-weighted FLAIR FSE sequences with fat suppression for detection of brain MR imaging signal changes in children. AJNR Am J Neuroradiol 37(12):2376–2381

12.

Tsuchiya K, Aoki C, Hachiya J (2004) Evaluation of MR cisternography of the cerebellopontine angle using a balanced fast-field-echo sequence: preliminary findings. Eur Radiol 14(2):239–242

13.

Moon WJ, Roh HG, Chung EC (2009) Detailed MR imaging anatomy of the cisternal segments of the glossopharyngeal, vagus, and spinal accessory nerves in the posterior fossa: the use of 3D balanced fast-field echo MR imaging. AJNR Am J Neuroradiol 30(6):1116–1120
Ethics declarations
Funding
The work was funded by grants from the JSPS KAKENHI (Grant no. JP16K10315 and Grant no. JP16K10314).
Conflict of interest
The authors declare that they have no conflict of interest.
Ethical approval
All procedures performed in this study involving human participants were in accordance with the ethical standards of the institutional and/or national research committee and with the 1964 Helsinki Declaration and its later amendments or comparable ethical standards. For this type of study formal consent is not required.
Informed consent
For this type of retrospective study formal consent is not required.
About this article
Cite this article
Kogue, R., Maeda, M., Umino, M. et al. Small high-signal lesions posterior to the intracranial vertebral artery incidentally identified by 3D FLAIR: retrospective study of 127 patients. Neuroradiology 60, 591–597 (2018). https://doi.org/10.1007/s00234-018-2027-z
Received:

Accepted:

Published:

Issue Date:
Keywords
Magnetic resonance imaging

3D FLAIR

Spinal accessory nerve

Foramen magnum

Vertebral artery