Abstract
Purpose
Pineal cysts are common incidental findings in children undergoing magnetic resonance imaging (MRI). Several studies have suggested MRI follow-up if the cyst is larger than 10 mm. However, cysts do not usually change during follow-up. Prevalence, growth, and structure of the pineal cysts were analyzed to decide if follow-up MRI is necessary.
Methods
A retrospective review between 2010 and 2015 was performed using 3851 MRI examinations of children aged 0–16 years to detect pineal cysts having a maximum diameter ≥ 10 mm. Eighty-one children with pineal cysts were identified and 79 of them had been controlled by MRI. Cysts were analyzed for the size, growth, and structure.
Results
A total of 1.8% of the children had a pineal cyst with a diameter ≥ 10 mm. Cysts were present in 48 girls (59.3%) and 33 boys (40.7%). Most pineal cysts (70/79) did not significantly grow during the follow-up (median 10 months, range 3–145 months). A total of 11.4% (9/79) of the cysts grew with the biggest change measured from the outer cyst wall sagittal anteroposterior dimension (mean 3.4 mm ± 1.7 mm). Only one cyst grew more than 5 mm. We found no factors correlating with the cyst growth among 9 cysts that grew > 2 mm.
Conclusions
A majority of pineal cysts remained unchanged during the MRI follow-up. Results of this study suggest that routine MRI follow-up of pineal cysts is not necessary in the absence of unusual radiological characteristics or related clinical symptoms.
Access options
Buy single article
Instant access to the full article PDF.
USD 39.95
Price includes VAT (USA)
Tax calculation will be finalised during checkout.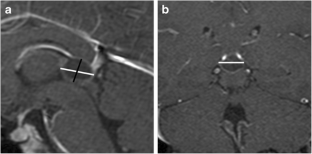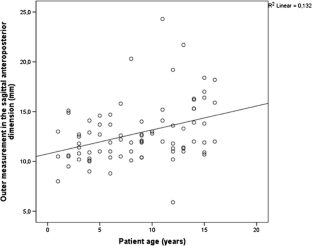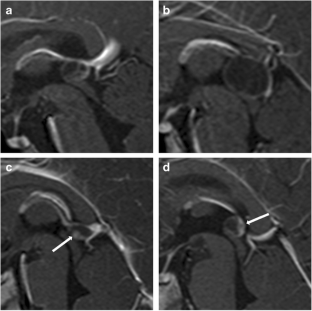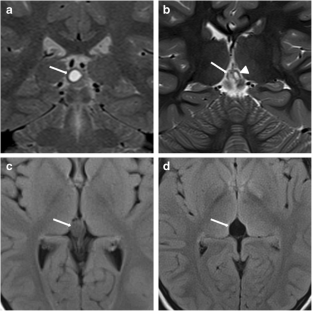 References
1.

Al-Holou WN, Garton HJ, Muraszko KM, Ibrahim M, Maher CO (2009) Prevalence of pineal cysts in children and young adults. J Neurosurg Pediatr 4:230–236

2.

Al-Holou WN, Maher CO, Muraszko KM, Garton HJ (2010) The natural history of pineal cysts in children and young adults. J Neurosurg Pediatr 5:162–166

3.

Kahilogullari G, Massimi L, Di Rocco C (2013) Pineal cysts in children: case-based update. Childs Nerv Syst 29:753–760

4.

Pu Y, Mahankali S, Hou J, Li J, Lancaster JL, Gao JH, Appelbaum DE, Fox PT (2007) High prevalence of pineal cysts in healthy adults demonstrated by high-resolution, noncontrast brain MR imaging. AJNR Am J Neuroradiol 28:1706–1709

5.

Whitehead MT, Oh CC, Choudhri AF (2013) Incidental pineal cysts in children who undergo 3-T MRI. Pediatr Radiol 43:1577–1583

6.

Bumb JM, Brockmann MA, Groden C, Al-Zghloul M, Nolte I (2012) TrueFISP of the pediatric pineal gland: volumetric and microstructural analysis. Clin Neuroradiol 22:69–77

7.

Gur RE, Kaltman D, Melhem ER, Ruparel K, Prabhakaran K, Riley M, Yodh E, Hakonarson H, Satterthwaite T, Gur RC (2013) Incidental findings in youths volunteering for brain MRI research. AJNR Am J Neuroradiol 34:2021–2025

8.

Nevins EJ, Das K, Bhojak M, Pinto RS, Hoque MN, Jenkinson MD, Chavredakis E (2016) Incidental pineal cysts: is surveillance necessary? World Neurosurg 90:96–102

9.

Sener RN (1995) The pineal gland: a comparative MR imaging study in children and adults with respect to normal anatomical variations and pineal cysts. Pediatr Radiol 25:245–248

10.

Nolte I, Brockmann MA, Gerigk L, Groden C, Scharf J (2010) TrueFISP imaging of the pineal gland: more cysts and more abnormalities. Clin Neurol Neurosurg 112:204–208

11.

Pastel DA, Mamourian AC, Duhaime AC (2009) Internal structure in pineal cysts on high-resolution magnetic resonance imaging: not a sign of malignancy. J Neurosurg Pediatrics 4:81–84

12.

Mandera M, Marcol W, Bierzynska-Macyszyn G, Kluczewska E (2003) Pineal cysts in childhood. Childs Nerv Syst 19:750–755

13.

Maher CO, Piatt JH Jr, Section on Neurologic Surgery, American Academy of Pediatrics (2015) Incidental findings on brain and spine imaging in children. Pediatrics 135:e1084–e1096

14.

Hayashida Y, Hirai T, Korogi Y, Kochi M, Maruyama N, Yamura M, Yamashita Y (2004) Pineal cystic germinoma with syncytiotrophoblastic giant cells mimicking MR imaging findings of a pineal cyst. AJNR Am J Neuroradiol 25:1538–1540

15.

Sirin S, de Jong MC, Galluzzi P, Maeder P, Brisse HJ, Castelijns JA, de Graaf P, Goericke SL, European Retinoblastoma Imaging Collaboration (ERIC) (2016) MRI-based assessment of the pineal gland in a large population of children aged 0-5 years and comparison with pineoblastoma: part II, the cystic gland. Neuroradiology 58:713–721

16.

de Jong MC, Kors WA, de Graaf P, Castelijns JA, Kivela T, Moll AC (2014) Trilateral retinoblastoma: a systematic review and meta-analysis. Lancet Oncol 15(10):1157–1167

17.

de Jong MC, Kors WA, de Graaf P, Castelijns JA, Moll AC, Kivela T (2015) The incidence of trilateral retinoblastoma: a systematic review and meta-analysis. Am J Ophthalmol 160(6):1116–1126.e5

18.

Gupta AK, Jones M, Prelog K, Bui J, Zhu J, Ng A, Dalla-Pozza L (2016) Pineal cysts-a benign association with familial retinoblastoma. Pediatr Hematol Oncol 33(6):408–414

19.

Fakhran S, Escott EJ (2008) Pineocytoma mimicking a pineal cyst on imaging: true diagnostic dilemma or a case of incomplete imaging? AJNR Am J Neuroradiol 29:159–163

20.

Barboriak DP, Lee L, Provenzale JM (2001) Serial MR imaging of pineal cysts: implications for natural history and follow-up. AJR Am J Roentgenol 176:737–743

21.

Al-Holou WN, Terman SW, Kilburg C, Garton HJ, Muraszko KM, Chandler WF, Ibrahim M, Maher CO (2011) Prevalence and natural history of pineal cysts in adults. J Neurosurg 115:1106–1114

22.

Cauley KA, Linnell GJ, Braff SP, Filippi CG (2009) Serial follow-up MRI of indeterminate cystic lesions of the pineal region: experience at a rural tertiary care referral center. AJR Am J Roentgenol 193:533–537

23.

Fetell MR, Bruce JN, Burke AM, Cross DT, Torres RA, Powers JM, Stein BM (1991) Non-neoplastic pineal cysts. Neurology 41:1034–1040

24.

Michielsen G, Benoit Y, Baert E, Meire F, Caemaert J (2002) Symptomatic pineal cysts: clinical manifestations and management. Acta Neurochir 144:233–242

25.

Milroy CM, Smith CL (1996) Sudden death due to a glial cyst of the pineal gland. J Clin Pathol 49:267–269

26.

Seifert CL, Woeller A, Valet M, Zimmer C, Berthele A, Tolle T, Sprenger T (2008) Headaches and pineal cyst: a case-control study. Headache 48:448–452

27.

Osborn AG, Preece MT (2006) Intracranial cysts: radiologic-pathologic correlation and imaging approach. Radiology 239:650–664

28.

Di Chirico A, Di Rocco F, Velardi F (2001) Spontaneous regression of a symptomatic pineal cyst after endoscopic third-ventriculostomy. Childs Nerv Syst 17:42–46

29.

Gaillard F, Jones J (2010) Masses of the pineal region: clinical presentation and radiographic features. Postgrad Med J 86:597–607

30.

Golzarian J, Balériaux D, Bank WO, Matos C, Flament-Durand J (1993) Pineal cyst: normal or pathological? Neuroradiology 35:251–253

31.

Mamourian AC, Yarnell T (1991) Enhancement of pineal cysts on MR images. AJNR Am J Neuroradiol 12:773–774

32.

Smith AB, Rushing EJ, Smirniotopoulos JG (2010) From the archives of the AFIP: lesions of the pineal region: radiologic-pathologic correlation. Radiographics 30:2001–2020

33.

Fleege MA, Miller GM, Fletcher GP, Fain JS, Scheithauer BW (1994) Benign glial cysts of the pineal gland: unusual imaging characteristics with histologic correlation. AJNR Am J Neuroradiol 15:161–166

34.

Steven DA, McGinn GJ, McClarty BM (1995) A choroid plexus papilloma arising from an incidental pineal cyst. AJNR 17:939–942

35.

Cauldwell C (2011) Anesthesia risks associated with pediatric imaging. Pediatr Radiol 41:949–950

36.

Hao D, Ai T, Goerner F, Hu X, Runge VM, Tweedle M (2012) MRI contrast agents: basic chemistry and safety. J Magn Reson Imaging 36:1060–1071
Ethics declarations
Funding
No funding was received for this study.
Conflict of interest
The authors declare that they have no conflict of interest.
Ethical approval
All procedures performed in the studies involving human participants were in accordance with the ethical standards of Oulu University Hospital and/or national research committee and with the 1964 Helsinki Declaration and its later amendments or comparable ethical standards. For this type of study formal consent is not required.
Informed consent
Informed consent was obtained from all individual participants included in the study.
About this article
Cite this article
Jussila, MP., Olsén, P., Salokorpi, N. et al. Follow-up of pineal cysts in children: is it necessary?. Neuroradiology 59, 1265–1273 (2017). https://doi.org/10.1007/s00234-017-1926-8
Received:

Accepted:

Published:

Issue Date:
Keywords
Pineal cyst

Brain MRI

Children

Incidental findings

Follow-up