Abstract
Purpose
Thromboembolic complication is a serious concern following coil embolization for aneurysms involving the anterior choroidal artery (AChA). To minimize this complication and to improve packing density, we present a technical concept of coil embolization.
Methods
We attempted packing of the aneurysmal sac by lowering the microcatheter approach angle into an aneurysm to secure AChA origin as well as to improve coil packing density of the aneurysm. This technical concept involves approaching the aneurysm sac with an adjusted shaping of the microcatheter tip to achieve the effect which was not obtained when the microcatheter approach angle into the aneurysm sac was high (≥90°). We evaluated immediate angiographic outcome by the Raymond classification, coil packing density, and follow-up results (modified Rankin Scale (mRS) and recurrence) in seven aneurysms involving AChA in six patients.
Results
We achieved immediate angiographic outcome of the Raymond classes I or II with 31% mean packing density. The AChA origin was preserved without any procedure-related complication. There was neither clinical event (mRS = 0) nor aneurysm recurrence confirmed on the source image of magnetic resonance angiography during 6–9 months follow-up.
Conclusions
The technical concept of low-angled microcatheter approach can be useful to improve coil packing density and to secure AChA origin when AChA arises near the aneurysm.
Access options
Buy single article
Instant access to the full article PDF.
USD 39.95
Price excludes VAT (USA)
Tax calculation will be finalised during checkout.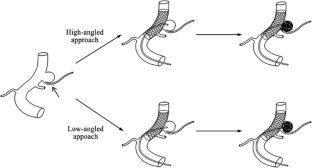 Abbreviations
AChA:

Anterior choroidal artery

MRS:

Modified Rankin scale
References
Kim BM, Kim DI, Shin YS, Chung EC, Kim DJ, Suh SH et al (2008) Clinical outcome and ischemic complication after treatment of anterior choroidal artery aneurysm: comparison between surgical clipping and endovascular coiling. AJNR Am J Neuroradiol 29:286–290

Kim BM, Park SI, Kim DJ, Kim DI, Suh SH, Kwon TH et al (2010) Endovascular coil embolization of aneurysms with a branch incorporated into the sac. AJNR Am J Neuroradiol 31:145–151

Roy D, Milot G, Raymond J (2001) Endovascular treatment of unruptured aneurysms. Stroke 32:1998–2004

Kwon OK, Kim SH, Kwon BJ, Kang HS, Kim JH, Oh CW et al (2005) Endovascular treatment of wide-necked aneurysms by using two microcatheters: techniques and outcomes in 25 patients. AJNR Am J Neuroradiol 26:894–900

Kwon OK, Kim SH, Oh CW, Han MH, Kang HS, Kwon BJ et al (2006) Embolization of wide-necked aneurysms with using three or more microcatheters. Acta Neurochir 148:1139–1145 discussion 1145

Lubicz B, Lefranc F, Levivier M, Dewitte O, Pirotte B, Brotchi J et al (2006) Endovascular treatment of intracranial aneurysms with a branch arising from the sac. AJNR Am J Neuroradiol 27:142–147

Heo YJ, Yang KH, Jung SC, Park JC, Lee DH (2016) "Two-coil technique" for embolization of small internal carotid artery aneurysms incorporating the origin of the anterior choroidal artery. Interv Neuroradiol 22:396–401

Cho YD, Lee JY, Seo JH, Lee SJ, Kang HS, Kim JE et al (2013) Coil protection using small helical coils for wide-neck intracranial aneurysms: a novel approach. AJNR Am J Neuroradiol 34:164–168
Ethics declarations
Funding
No funding was received for this study.
Conflict of interest
The authors declare that they have no conflict of interest.
Ethical approval
All procedures performed in studies involving human participants were in accordance with the ethical standards of the institutional and/or national research committee and with the 1964 Helsinki Declaration and its later amendments or comparable ethical standards.
Informed consent
Informed consent was obtained from all individual participants included in the study.
About this article
Cite this article
Sheen, J.J., Suh, D.C. Low-angled microcatheter approach for coil embolization of the anterior choroidal artery aneurysm. Neuroradiology 59, 1053–1056 (2017). https://doi.org/10.1007/s00234-017-1879-y
Received:

Accepted:

Published:

Issue Date:

DOI: https://doi.org/10.1007/s00234-017-1879-y
Keywords
Aneurysm

Coil

Embolic

Technique