Abstract
Purpose
Predicting which patients are at risk for hemicraniectomy can be helpful for triage and can help preserve neurologic function if detected early. We evaluated basal ganglia imaging predictors for early hemicraniectomy in patients with large territory anterior circulation infarct.
Methods
This retrospective study evaluated patients with ischemic infarct admitted from January 2005 to July 2011. Patients with malignant cerebral edema refractory to medical therapy or with herniating signs such as depressed level of consciousness, anisocoria, and contralateral leg weakness were triaged to hemicraniectomy. Admission images were reviewed for presence of caudate, lentiform nucleus (putamen and globus pallidus), or basal ganglia (caudate + lentiform nucleus) infarction.
Results
Thirty-one patients with large territory MCA infarct, 10 (32%), underwent hemicraniectomy. Infarction of the caudate nucleus (9/10 vs 6/21, p = 0.002) or basal ganglia (5/10 vs 2/21, p = 0.02) predicted progression to hemicraniectomy. Infarction of the lentiform nucleus only did not predict progression to hemicraniectomy. Sensitivity for patients who did and did not have hemicraniectomy were 50% (5/10) and 90.5% (19/21). For caudate nucleus and caudate plus lentiform nucleus infarcts, the crude- and age-adjusted odds of progression to hemicraniectomy were 9.5 (1.4–64.3) and 6.6 (0.78–55.4), respectively.
Conclusion
Infarction of the caudate nucleus or basal ganglia correlated with patients progressing to hemicraniectomy. Infarction of the lentiform nucleus alone did not.
This is a preview of subscription content, log in to check access.
Access options
Buy single article
Instant access to the full article PDF.
US$ 39.95
Price includes VAT for USA
Subscribe to journal
Immediate online access to all issues from 2019. Subscription will auto renew annually.
US$ 199
This is the net price. Taxes to be calculated in checkout.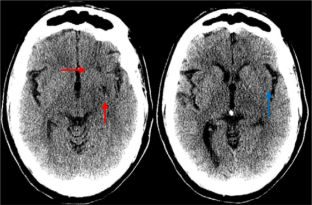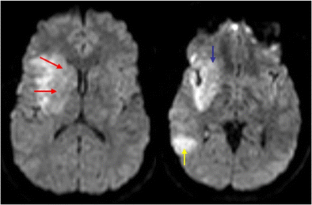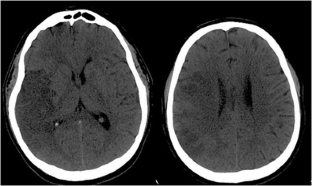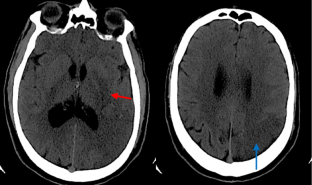 References
1.

Hacke W, Schwab S, Horn M, Spranger M, De Georgia M, von Kummer R (1996) 'Malignant' middle cerebral artery territory infarction: clinical course and prognostic signs. Arch Neurol 53(4):309–315

2.

Hofmeijer J, Kappelle LJ, Algra A et al (2009) Surgical decompression for space-occupying cerebral infarction (the hemicraniectomy after middle cerebral artery infarction with life-threatening edema trial [HAMLET]): a multicentre, open, randomised trial. Lancet Neurol 8(4):326–333

3.

Juttler E, Schwab S, Schmiedek P et al (2007) Decompressive surgery for the treatment of malignant infarction of the middle cerebral artery (DESTINY): a randomized, controlled trial. Stroke 38(9):2518–2525

4.

Vahedi K, Vicaut E, Mateo J et al (2007) Sequential-design, multicenter, randomized, controlled trial of early decompressive craniectomy in malignant middle cerebral artery infarction (DECIMAL trial). Stroke 38(9):2506–2517

5.

Arnaout OM, Aoun SG, Batjer HH, Bendok BR (2011) Decompressive hemicraniectomy after malignant middle cerebral artery infarction: rationale and controversies. Neurosurg Focus 30(6):E18

6.

Rahme R, Curry R, Kleindorfer D, Khoury JC et al (2012) How often are patients with ischemic stroke eligible for decompressive hemicraniectomy? Stroke 43(2):550–552

7.

Staykov D, Gupta R (2011) Hemicraniectomy in malignant middle cerebral artery infarction. Stroke 42(2):513–516

8.

Barber PA, Demchuk AM, Zhang J, Buchan AM (2000) Validity and reliability of a quantitative computed tomography score in predicting outcome of hyperacute stroke before thrombolytic therapy. ASPECTS study group. alberta stroke programme early CT score. Lancet 355(9216):1670–1674

9.

Puetz V, Dzialowski I, Hill MD, Demchuk AM (2009) The Alberta stroke program early CT score in clinical practice: what have we learned? Int J Stroke 4(5):354–364

10.

Barber PA, Hill MD, Eliasziw M et al (2005) Imaging of the brain in acute ischaemic stroke: comparison of computed tomography and magnetic resonance diffusion-weighted imaging. J Neurol Neurosurg Psychiatry 76(11):1528–1533

11.

Mitomi M, Kimura K, Aoki J et al (2014) Comparison of CT and DWI findings in ischemic stroke patients within 3 hours of onset. J Stroke Cerebrovasc Dis 23(1):37–42

12.

Delashaw JB, Broaddus WC, Kassell NF et al (1990) Treatment of right hemispheric cerebral infarction by hemicraniectomy. Stroke 21(6):874–881

13.

Back L, Nagaraja V, Kapur A et al (2015) Role of decompressive hemicraniectomy in extensive middle cerebral artery strokes: a meta analysis of randomised trials. Intern Med J 45(7):711–717

14.

Rieke K, Schwab S, Krieger D et al (1995) Decompressive surgery in space-occupying hemispheric infarction: results of an open, prospective trial. Crit Care Med 23(9):1576–1587

15.

Rengachary SS, Batnitzky S, Morantz RA, Arjunan K, Jeffries B (1981) Hemicraniectomy for acute massive cerebral infarction. Neurosurgery 8(3):321–328

16.

Yang MH, Lin HY, Fu J et al (2015) Decompressive hemicraniectomy in patients with malignant middle cerebral artery infarction: a systematic review and meta-analysis. Surgeon 13(4):230–240

17.

Zhao J, Su YY, Zhang Y et al (2012) Decompressive hemicraniectomy in malignant middle cerebral artery infarct: a randomized controlled trial enrolling patients up to 80 years old. Neurocrit Care 17(2):161–171

18.

Staykov D, Schwab S (2012) Should age be considered when proposing decompressive hemicraniectomy in malignant stroke, and if so where is the limit? Neurocrit Care 17(2):159–160

19.

Juttler E, Bosel J, Amiri H et al (2011) DESTINY II: DEcompressive surgery for the treatment of malignant INfarction of the middle cerebral arterY II. Int J Stroke 6(1):79–86

20.

Juttler E, Unterberg A, Woitzik J et al (2014) Hemicraniectomy in older patients with extensive middle-cerebral-artery stroke. N Engl J Med 370(12):1091–1100

21.

Holtkamp M, Buchheim K, Unterberg A et al (2001) Hemicraniectomy in elderly patients with space occupying media infarction: improved survival but poor functional outcome. J Neurol Neurosurg Psychiatry 70(2):226–228

22.

Uhl E, Kreth FW, Elias B et al (2004) Outcome and prognostic factors of hemicraniectomy for space occupying cerebral infarction. J Neurol Neurosurg Psychiatry 75(2):270–274

23.

Hao Z, Chang X, Zhou H, Lin S, Liu M (2015) A cohort study of decompressive craniectomy for malignant middle cerebral artery infarction: a real-world experience in clinical practice. Bix. G, ed. Medicine 94(25):e1039

24.

van Swieten JC, Koudstaal PJ, Visser MC, Schouten HJ, van Gijn J (1988) Interobserver agreement for the assessment of handicap in stroke patients. Stroke 19(5):604–607
Ethics declarations
Funding
No funding was received for this study.
Conflict of Interest
The authors declare that they have no conflict of interest.
Ethical approval
All procedures performed in studies involving human participants were in accordance with the ethical standards of the institutional and/or national research committee and with the 1964 Helsinki declaration and its later amendments or comparable ethical standards. For this type of study formal consent is not required.
Informed consent
Statement of informed consent was not applicable since the manuscript does not contain any patient data.
About this article
Cite this article
Mian, A.Z., Edasery, D., Sakai, O. et al. Radiological imaging features of the basal ganglia that may predict progression to hemicraniectomy in large territory middle cerebral artery infarct. Neuroradiology 59, 477–484 (2017). https://doi.org/10.1007/s00234-017-1823-1
Received:

Accepted:

Published:

Issue Date:
Keywords
Stroke

Basal ganglia

Hemicraniectomy

CT

MRI