Abstract
Introduction
Head and neck arteriovenous malformations (H&N AVM) are associated with considerable clinical and psychosocial burden and present a significant treatment challenge. We evaluated the presentation, response to treatment, and outcome of patients with H&N AVMs treated by endovascular means at our institution.
Methods
Patients with H&N AVMs treated by endovascular means from 1984 to 2012 were evaluated retrospectively. These included AVMs involving the scalp, orbit, maxillofacial, and upper neck localizations. Patient's clinical files, radiological images, catheter angiograms, and surgical reports were reviewed.
Results
Eighty-nine patients with H&N AVMs (46 females, 43 males; 48 small, 41 large) received endovascular therapy. The goals of treatment were curative (n = 30), palliative (n = 34), or presurgical (n = 25). The total number of endovascular treatment sessions was 244 (average of 1.5 per patient). The goal of treatment was met in 92.1 % of cases. Eventual cure was achieved in 42 patients accounting for 58.4 % (52/89) of all patients who underwent treatment for any goal. Twenty-eight of these patients were cured by embolization alone (28/89, 31.4 %) of which 18 were single-hole AVFs. Twenty-four were cured by planned surgical excision after presurgical embolization (24/89, 27 %). Seven patients (7/89, 7.2 %) suffered transient and two (2/89, 2.2 %) permanent endovascular treatment complications.
Conclusion
Endovascular treatment is effective for H&N AVMs and relatively safe. It is particularly effective for symptom palliation and presurgical aid. Embolization is curative mostly in small lesions and single-hole fistulas. In patients with large non-curable H&N AVMs, endovascular therapy is often the only palliative option.
Access options
Buy single article
Instant access to the full article PDF.
USD 39.95
Price excludes VAT (USA)
Tax calculation will be finalised during checkout.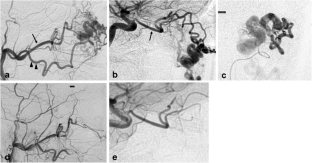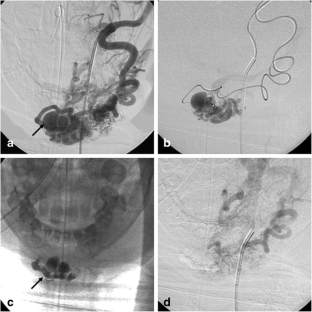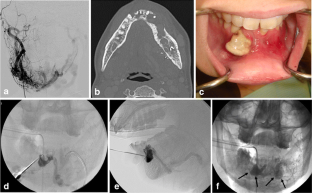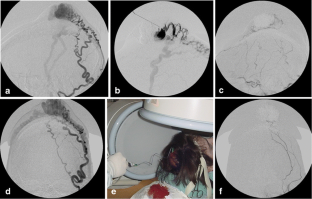 References
Schultz RC, Hermosillo CX (1980) Congenital arteriovenous malformation of the face and scalp. Plast Reconstr Surg 65(4):496–501

Fisherjeffes ND, Domingo Z, Madden M, Devilliers JC (1995) Arteriovenous-malformations of the scalp. Neurosurgery 36(4):656–660

Coleman CC (1973) Diagnosis and treatment of congenital arteriovenous fistulas of head and neck. Am J Surg 126(4):557–565. doi:10.1016/S0002-9610(73)80049-2

Nagasaka S, Fukushima T, Goto K, Ohjimi H, Iwabuchi S, Maehara F (1996) Treatment of scalp arteriovenous malformation. Neurosurgery 38(4):671–677

Stillman RM, Powers JC, Fitzgerald JF (1977) Cosmetic excision of an isolated extracranial arteriovenous malformation using gelfoam embolization. Brit J Surg 64(11):784–785. doi:10.1002/bjs.1800641108

Marotta TR, Berenstein A, Zide B (1994) The combined role of embolization and tissue expanders in the management of arteriovenous malformations of the scalp. Am J Neuroradiol 15(7):1240–1246

Berenstein A, Scott J, Choi IS, Persky M (1986) Percutaneous embolization of arteriovenous fistulas of the external carotid artery. Am J Neuroradiol 7(5):937–942

Buckmiller LM, Richter GT, Suen JY (2010) Diagnosis and management of hemangiomas and vascular malformations of the head and neck. Oral Dis 16(5):405–418. doi:10.1111/j.1601-0825.2010.01661.x

Zheng JW, Zhou Q, Yang XJ, Wang YA, Fan XD, Zhou GY, Zhang ZY, Suen JY (2010) Treatment guideline for hemangiomas and vascular malformations of the head and neck. Head Neck 32(8):1088–1098. doi:10.1002/hed.21274

Cohen JE, Gomori JM, Grigoriadis S, Sibly Z, Rajz G (2009) Complete and persistent occlusion of arteriovenous malformations of the mandible after endovascular embolization. Neurol Res 31(5):467–471. doi:10.1179/174313208x355468

Dobbelaere P, Pellerin P, Donazzan M, Clarisse J (1984) Selective embolization in maxillofacial disorders. Rev Stomatol Chir 85(1):3–11

Barnwell SL, Halbach VV, Dowd CF, Higashida RT, Hieshima GB (1989) Endovascular treatment of scalp arteriovenous fistulas associated with a large varix. Radiology 173(2):533–539

Hemingway AP, Allison DJ (1987) Embolization in the management of external carotid arteriovenous malformations. Brit J Radiol 60(716):800–801

Mathis JM, Denardo AJ, Mathis JM, Denardo AJ, Jensen ME, Lin KY, Dion JE (1994) Arteriovenous fistula of the scalp after hair transplantation treated by endovascular embolization. Ann Plas Surg 33(6):633–637. doi:10.1097/00000637-199412000-00013

Legiehn GM, Heran MK (2006) Classification, diagnosis, and interventional radiologic management of vascular malformations. Orthop Clin N Am 37(3):435–474. doi:10.1016/j.ocl.2006.04.005, vii-viii

Lasjaunias P, ter Brugge KG, Berenstein A (2006) Cerebrofacial arteriovenous metameric syndrome. Surgical Neuroangiography: Clinical and Interventional Aspects in Children:359–388.

Bhattacharya JJ, Luo CB, Suh DC, Alvarez H, Rodesch G, Lasjaunias P (2001) Wyburn-Mason or Bonnet-Dechaume-Blanc as cerebrofacial arteriovenous metameric syndromes (CAMS)—a new concept and a new classification. Interv Neuroradiol 7(1):5–17

Han MH, Seong SO, Kim HD, Chang KH, Yeon KM, Han MC (1999) Craniofacial arteriovenous malformation: preoperative embolization with direct puncture and injection of n-butyl cyanoacrylate. Radiology 211(3):661–666

Erdmann MWH, Jackson JE, Davies DM, Allison DJ (1995) Multidisciplinary approach to the management of head and neck arteriovenous malformations. Ann R Coll Surg 77(1):53–59

Hurwitz DJ, Kerber CW (1981) Hemodynamic considerations in the treatment of arteriovenous malformations of the face and scalp. Plast Reconstr Surg 67(4):421–432

Wu JK, Bisdorff A, Gelbert F, Enjolras O, Burrows PE, Mulliken JB (2005) Auricular arteriovenous malformation: evaluation, management, and outcome. Plast Reconstr Surg 115(4):985–995

Wu IC, Orbach DB (2009) Neurointerventional management of high-flow vascular malformations of the head and neck. Neuroimaging Clin N Am 19(2):219–240. doi:10.1016/j.nic.2009.01.005, Table of Contents

Jeong HS, Baek CH, Son YI, Kim TW, Lee BB, Byun HS (2006) Treatment for extracranial arteriovenous malformations of the head and neck. Acta Otolaryngol 126(3):295–300. doi:10.1080/00016480500388950

Marler JJ, Mulliken JB (2005) Current management of hemangiomas and vascular malformations. Clin Plast Surg 32(1):99–116. doi:10.1016/j.cps.2004.10.001, ix

Zheng LZ, Fan XD, Zheng JW, Su LX (2009) Ethanol embolization of auricular arteriovenous malformations: preliminary results of 17 cases. Am J Neuroradiol 30(9):1679–1684. doi:10.3174/ajnr.A1687

Yakes WF, Rossi P, Odink H (1996) How I do it. Arteriovenous malformation management. Cardiovasc Intervent Radiol 19(2):65–71

Richter GT, Suen J, North PE, James CA, Waner M, Buckmiller LM (2007) Arteriovenous malformations of the tongue: a spectrum of disease. Laryngoscope 117(2):328–335. doi:10.1097/01.mlg.0000249954.77551.98

Churojana A, Khumtong R, Songsaeng D, Chongkolwatana C, Suthipongchai S (2012) Life-threatening arteriovenous malformation of the maxillomandibular region and treatment outcomes. Interv Neuroradiol 18(1):49–59

Dupuis-Girod S, Ginon I, Saurin JC, Marion D, Guillot E, Decullier E, Roux A, Carette MF, Gilbert-Dussardier B, Hatron PY, Lacombe P, Lorcerie B, Riviere S, Corre R, Giraud S, Bailly S, Paintaud G, Ternant D, Valette PJ, Plauchu H, Faure F (2012) Bevacizumab in patients with hereditary hemorrhagic telangiectasia and severe hepatic vascular malformations and high cardiac output. JAMA 307(9):948–955. doi:10.1001/jama.2012.250

Walker EJ, Su H, Shen FX, Degos V, Jun K, Young WL (2012) Bevacizumab attenuates VEGF-induced angiogenesis and vascular malformations in the adult mouse brain. Stroke 43(7):1925–1930. doi:10.1161/Strokeaha.111.647982

Do YS, Yakes WF, Shin SW, Lee BB, Kim DI, Liu WC, Shin BS, Kim DK, Choo SW, Choo IW (2005) Ethanol embolization of arteriovenous malformations: interim results. Radiology 235(2):674–682. doi:10.1148/radiol.2352040449
Acknowledgments
We would like to thank Dr. O. Antonyshyn of the Sunnybrook Health Sciences Centre and Drs. Pat Gullane and Ralph Gilbert of the University Health Network for their invaluable assistance in the surgical management of our mutual patients.
Conflict of interest
We declare that we have no conflict of interest.
About this article
Cite this article
Dmytriw, A.A., ter Brugge, K.G., Krings, T. et al. Endovascular treatment of head and neck arteriovenous malformations. Neuroradiology 56, 227–236 (2014). https://doi.org/10.1007/s00234-014-1328-0
Received:

Accepted:

Published:

Issue Date:

DOI: https://doi.org/10.1007/s00234-014-1328-0
Keywords
Facial AVM

Head and neck

Arteriovenous malformation

Endovascular

Embolization