Abstract
Introduction
The study attempts to identify notable factors predicting poor outcome, death, and intracranial hemorrhage in patients with acute ischemic stroke undergoing mechanical thrombectomy with stent retriever. These data could be useful to improve the selection of patients for thrombectomy.
Methods
Patients with acute ischemic stroke treated with the Solitaire FR device were retrospectively analyzed from a prospectively collected database. We assessed the effect of selected demographic characteristics, clinical and imaging factors on poor outcome at 3 months (modified Rankin score 3–6), mortality at 3 months, and hemorrhage at day 1 (symptomatic and asymptomatic).
Results
From May 2010 to April 2012, 59 consecutive patients with an acute ischemic stroke underwent mechanical thrombectomy. At 3 months, 57.6 % of the patients were functionally independent (modified Rankin Scale 0–2) and mortality was 20.4 %. Multivariate analyses revealed that a thrombus length > 14 mm (p = 0.02; OR 7.55; 95 % CI 1.35–42.31) and longer endovascular procedure duration (p = 0.01; OR 1.04; 95 % CI 1.01–1.07) were independently associated with poor outcome. A higher baseline Alberta Stroke Program Early CT (ASPECT) score (p = 0.04; OR 0.79 per point; 95 % CI 0.63–0.99) and successful recanalization (p = 0.02; OR 0.07; 95 % CI 0.01–0.72) were independent predictors of good functional outcome. Baseline ASPECT score (p < 0.01; OR 0.65; 95 % CI 0.54–0.78) independently predicted symptomatic intracranial hemorrhage at day 1.
Conclusion
Absolute baseline ASPECT score reflects early symptomatic hemorrhage risk and functional outcome at 3 months. Thrombus length measured on MRI play an important role on functional outcome at 3 months after thrombectomy. Further analyses are needed to determine its importance in the selection of patients for mechanical thrombectomy.
Access options
Buy single article
Instant access to the full article PDF.
USD 39.95
Price excludes VAT (USA)
Tax calculation will be finalised during checkout.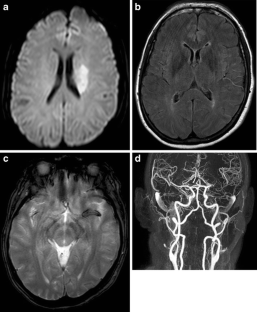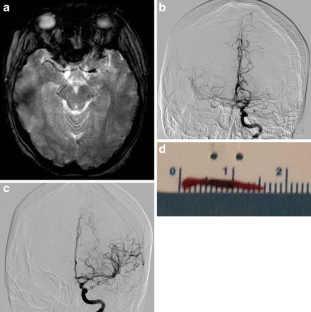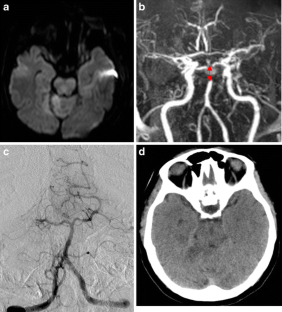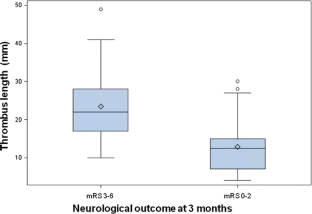 References
Hacke W, Kaste M, Bluhmki E, Investigators ECASS et al (2008) Thrombolysis with alteplase 3 to 4.5 hours after acute ischemic stroke. N Engl J Med 359:1317–1329

Furlan A, Higashida R, Wechsler L, for the PROACT Investigators, et al (1999) Intra-arterial prourokinase for acute ischemic stroke. The PROACT II study: a randomized controlled trial. Prolyse in Acute Cerebral Thromboembolism. JAMA 282:2003–2011

Smith WS, Sung G, Saver J et al (2008) Mechanical thrombectomy for acute ischemic stroke: final results of the Multi MERCI trial. Stroke 39:1205–1212

Penumbra Pivotal Stroke Trial Investigators (2009) The Penumbra pivotal stroke trial: safety and effectiveness of a new generation of mechanical devices for clot removal in intracranial large vessel occlusive disease. Stroke 40:2761–2768

Saver JL, Jahan R, Levy EI, Trialists SWIFT et al (2012) Solitaire flow restoration device versus the Merci Retriever in patients with acute ischaemic stroke (SWIFT): a randomised, parallel-group, non-inferiority trial. Lancet 380:1241–1249

Nogueira RG, Lutsep HL, Gupta R, TREVO 2 Trialists, et al (2012) Trevo versus Merci retrievers for thrombectomy revascularisation of large vessel occlusions in acute ischaemic stroke (TREVO 2): a randomised trial. Lancet 380:1231–1240

THRACE: trial and cost effectiveness evaluation of intra-arterial thrombectomy in acute ischemic stroke. http://clinicaltrials.gov/ct2/show/NCT01062698. Accessed 3 Feb 2010

Khatri P, Hill MD, Palesch YY, Interventional Management of Stroke III Investigators et al (2008) Methodology of the Interventional Management of Stroke III trial. Int J Stroke 3:130–137

Rai AT, Jhadhav Y, Domico J, Hobbs GR (2011) Procedural predictors of outcome in patients undergoing endovascular therapy for acute ischemic stroke. Cardiovasc Intervent Radiol 35:1332–1339

Nogueira RG, Liebeskind DS, Sung G, MERCI; Multi MERCI Writing Committee, et al (2009) Predictors of good clinical outcomes, mortality, and successful revascularization in patients with acute ischemic stroke undergoing thrombectomy: pooled analysis of the Mechanical Embolus Removal in Cerebral Ischemia (MERCI) and Multi MERCI Trials. Stroke 40:3777–3783

Shi ZS, Loh Y, Liebeskind DS et al (2012) Leukoaraiosis predicts parenchymal hematoma after mechanical thrombectomy in acute ischemic stroke. Stroke 43:1806–1811

Kimura K, Iguchi Y, Shibazaki K et al (2008) Large ischemic lesions on diffusion-weighted imaging done before intravenous tissue plasminogen activator thrombolysis predicts a poor outcome in patients with acute stroke. Stroke 39:2388–2391

Costalat V, Lobotesis K, Machi P et al (2012) Prognostic factors related to clinical outcome following thrombectomy in ischemic stroke (RECOST Study). 50 patients prospective study. Eur J Radiol 81:4075–4082

Soize S, Kadziolka K, Estrade L, Serre I, Backchine S, Pierot L et al (2013) Mechanical thrombectomy in acute stroke: prospective pilot trial of the Solitaire FR™ device while under conscious sedation. AJNR Am J Neuroradiol 34(2):360–365. doi:10.3174/ajnr.A3200

Higashida RT, Furlan AJ, Roberts H et al (2003) Trial design and reporting standards intra-arterial cerebral thrombolysis for acute ischemic stroke. Stroke 34:109–137

Pexman JH, Barber PA, Hill MD et al (2001) Use of the Alberta Stroke Program Early CT Score (ASPECTS) for assessing CT scans in patients with acute stroke. AJNR Am J Neuroradiol 22:1534–1542

Tei H, Uchiyama S, Usui T, Ohara K (2010) Posterior circulation ASPECTS on diffusion-weighted MRI can be a powerful marker for predicting functional outcome. J Neurol 57:767–773

Kapeller P, Barber R, Vermeulen RJ et al (2003) European Task Force of Age Related White Matter Changes. Visual rating of age-related white matter changes on magnetic resonance imaging: scale comparison, interrater agreement, and correlations with quantitative measurements. Stroke 34:441–445

Fiorelli M, Bastianello S, von Kummer R et al (1999) Hemorrhagic transformation within 36 hours of a cerebral infarct: relationships with early clinical deterioration and 3-month outcome in the European Cooperative Acute Stroke Study I (ECASS I) cohort. Stroke 30:2280–2284

Adams HP Jr, Bendixen BH, Kappelle LJ et al (1993) Classification of subtype of acute ischemic stroke. Definitions for use in a multicenter clinical trial. TOAST. Trial of Org 10172 in Acute Stroke Treatment. Stroke 24:35–41

Cho KH, Kwon SU, Lee DH et al (2012) Early infarct growth predicts long-term clinical outcome after thrombolysis. J Neurol Sci 316:99–103

Neumann-Haefelin T, Hoelig S, Berkefeld J, Stroke Group MR et al (2006) Leukoaraiosis is a risk factor for symptomatic intracerebral hemorrhage after thrombolysis for acute stroke. Stroke 37:2463–2466

Riedel CH, Zimmermann P, Jensen-Kondering U, Stingele R, Deuschl G, Jansen O (2011) The importance of size: successful recanalization by intravenous thrombolysis in acute anterior stroke depends on thrombus length. Stroke 42:1775–1777

Rovira A, Orellana P, Alvarez-Sabín J et al (2004) Hyperacute ischemic stroke: middle cerebral artery susceptibility sign at echo-planar gradient-echo MR imaging. Radiology 232:466–73

Zhu L, Liebeskind DS, Jahan R et al (2012) Thrombus branching and vessel curvature are important determinants of middle cerebral artery trunk recanalization with Merci thrombectomy devices. Stroke 143:787–92

Kruetzelmann A, Köhrmann M, Sobesky J et al (2011) Pretreatment diffusion-weighted imaging lesion volume predicts favorable outcome after intravenous thrombolysis with tissue-type plasminogen activator in acute ischemic stroke. Stroke 42:1251–1254

Poppe AY, Majumdar SR, Jeerakathil T, Ghali W, Buchan AM, Hill MD, Canadian Alteplase for Stroke Effectiveness Study Investigators (2009) Admission hyperglycemia predicts a worse outcome in stroke patients treated with intravenous thrombolysis. Diabetes Care 32:617–622
Conflict of interest
LP consults for Covidien/ev3.
About this article
Cite this article
Soize, S., Barbe, C., Kadziolka, K. et al. Predictive factors of outcome and hemorrhage after acute ischemic stroke treated by mechanical thrombectomy with a stent-retriever. Neuroradiology 55, 977–987 (2013). https://doi.org/10.1007/s00234-013-1191-4
Received:

Accepted:

Published:

Issue Date:

DOI: https://doi.org/10.1007/s00234-013-1191-4
Keywords