Abstract
Introduction
From anatomical and angiographic studies, it is well known that there are several variations of the anterior cerebral artery (ACA). However, ACA variations have rarely been studied by magnetic resonance (MR) angiography. The purpose of this study was to investigate not only the type, location, configuration, and incidence of ACA variations, but also coexisting arterial pathology such as aneurysms detected by cranial MR angiography.
Methods
We retrospectively reviewed cranial MR angiography images of 891 patients at our institution. All images were obtained with one of two 1.5-T scanners using the three-dimensional time-of-flight technique. Maximum intensity projection (MIP) images in the horizontal rotation view were displayed stereoscopically. We reviewed these horizontal MIP images, inferosuperior MIP images, and source images, and identified variations of the ACA.
Results
We found 50 instances (5.6%) of unilateral A1 segment aplasia, 27 (3.0%) of three A2 segments, 18 (2.0%) of an unpaired A2 segment, and 11 (1.2%) fenestrations of the A1 and/or A2 segment. Seven anterior communicating artery (ACoA) aneurysms and one ACA territory embolic infarction were found among the 50 patients with unilateral A1 segment aplasia. One ACoA aneurysm and one pericallosal infarction were found in the 27 patients with three A2 segments. Two distal ACA aneurysms were detected among the 18 patients with an unpaired A2 segment. No associated aneurysm was seen at the fenestrations.
Conclusion
Although the clinical significance of ACA variations is usually minor, an associated aneurysm is found relatively frequently. Thus, recognizing ACA variations during the interpretation of cranial MR angiograms is important.
This is a preview of subscription content,
to check access.
Access this article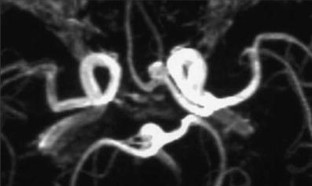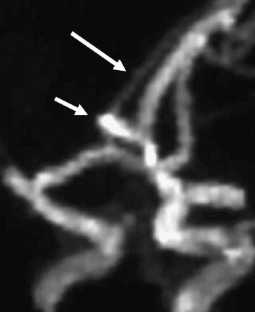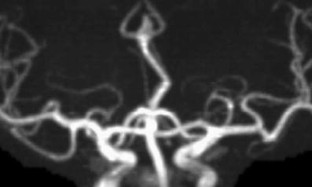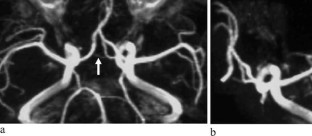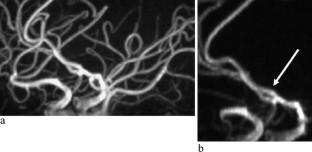 References
Baptista AG (1963) Studies on the arteries of the brain. II. The anterior cerebral artery: some anatomic features and their clinical implications. Neurology 13:825–835

Sanders WP, Sorek PA, Mehta BA (1993) Fenestration of intracranial arteries with special attention to associated aneurysms and other anomalies. AJNR Am J Neuroradiol 14:675–680

Krabbe-Hartkamp MJ, van der Grond J, de Leeuw FE et al (1998) Circle of Willis: morphologic variation on three-dimensional time-of-flight MR angiograms. Radiology 207:103–111

Wollschlaeger G, Wollschlaeger PB (1974) The circle of Willis. In: Newton TH, Potts DG (eds) Radiology of the skull and brain angiography, vol. 2. Mosby, St. Louis, pp 1171–1201

Stehbens WE (1963) Aneurysms and anatomical variation of cerebral arteries. Arch Pathol 75:45–64

Yamaguchi K, Uchino A, Sawada A, Takase Y, Kuroda Y, Kudo S (2004) Bilateral anterior cerebral artery territory infarction associated with unilateral hypoplasia of the A1 segment: report of two cases. Radiat Med 22:422–425

Yanaka K, Shirai S, Shibata Y, Nose T (2000) Ruptured aneurysm at the origin of the median artery of the corpus callosum associated with accessory middle cerebral artery. Case report. Neurol Med Chir (Tokyo) 40:511–514

Huber P, Braun J, Hirschmann D, Agyeman JF (1980) Incidence of berry aneurysms of the unpaired peri-callosal artery: angiographic study. Neuroradiology 19:143–147

Hernesniemi J, Tapaninaho A, Vapalahti M, Niskanen M, Kari A, Luukkonen M (1992) Saccular aneurysms of the distal anterior cerebral artery and its branches. Neurosurgery 31:994–999

Cinnamon J, Zito J, Chalif DJ et al (1992) Aneurysm of the azygos pericallosal artery: diagnosis by MR imaging and MR angiography. AJNR Am J Neuroradiol 13:280–282

Topsakal C, Ozveren MF, Erol FS, Cihangiroglu M, Cetin H (2003) Giant aneurysm of the azygos pericallosal artery: case report and review of the literature. Surg Neurol 60:524–533

Ito J, Washiyama K, Kim CH, Ibuchi Y (1981) Fenestration of the anterior cerebral artery. Neuroradiology 21:277–280

Taylor R, Connolly ES Jr, Duong H (2000) Radiographic evidence and surgical confirmation of a saccular aneurysm on a hypoplastic duplicated A1 segment of the anterior cerebral artery. Case report. Neurosurgery 46:482–484
Acknowledgement
We thank Kaori Ayabe for her assistance in the preparation of the manuscript.
Conflict of interest statement
We declare that we have no conflict of interest.
About this article
Cite this article
Uchino, A., Nomiyama, K., Takase, Y. et al. Anterior cerebral artery variations detected by MR angiography. Neuroradiology 48, 647–652 (2006). https://doi.org/10.1007/s00234-006-0110-3
Received:

Accepted:

Published:

Issue Date:

DOI: https://doi.org/10.1007/s00234-006-0110-3
Keywords