Abstract
Two methods of quantifying hemispheric language dominance (HLD) in neurosurgical patients are compared: (1) an average magnitudes (AM) method, which is a calculation of the average signal intensity variation in regions of interest for each patient that were predefined in a group analysis for each task, and (2) a lateralization indices (LI) method, which is based on the number of activated pixels in regions of interest predefined in each individual patient. Four language tasks [a living/nonliving (LNL) judgment, word stem completion (WSC), semantic associate (SA) and a phonological associate (PA) task] were compared with "gold standard" measures such as the Wada test or electrocortical stimulation. Results showed that the LI method was more accurate (73% agreement with gold standard methods) than the AM method (only 40% agreement) across tasks and subjects. Furthermore, by varying the threshold used for determining laterality, the ability of functional magnetic resonance imaging (fMRI) to predict HLD was influenced for the AM method, whereas the LI method was relatively unaffected by changing the threshold. Using the LI method, the SA task was the most accurate for quantifying HLD (100% agreement with gold standard methods) with respect to the other three language tasks (80% accuracy for WSC, 65% for the LNL and 63% for phonological task). Depending on the method and the task, fMRI may be a promising tool for assessing HLD in neurosurgical patients.
This is a preview of subscription content, log in to check access.
Access options
Buy single article
Instant access to the full article PDF.
US$ 39.95
Price includes VAT for USA
Subscribe to journal
Immediate online access to all issues from 2019. Subscription will auto renew annually.
US$ 199
This is the net price. Taxes to be calculated in checkout.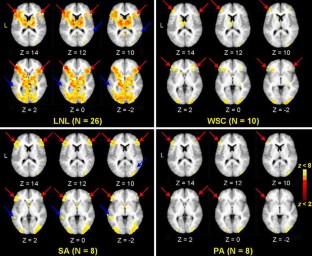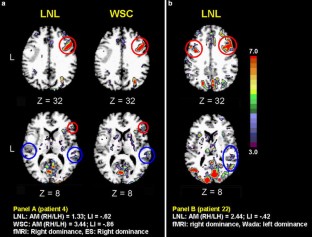 References
1.

Adcock JE, Wise RG, Oxbury JM et al (2003) Quantitative fMRI assessment of the differences in lateralization of language-related brain activation in patients with temporal lobe epilepsy. Neuroimage 18:423–438

2.

Baciu M, Kahane P, Minotti L et al (2001) Functional MRI assessment of the hemispheric predominance for language in epileptic patients using a simple rhyme detection task. Epileptic Disord 3:117–124

3.

Baciu MV, Watson JM, McDermott KB et al (2003) Functional MRI reveals an interhemispheric dissociation of frontal and temporal language regions in a patient with focal epilepsy. Epilepsy Behav 4:776–780

4.

Bahn MM, Lin W, Silbergeld DL et al (1997) Localization of language cortices by functional MR imaging compared with intracarotid amobarbital hemispheric sedation. AJR Am J Roentgenol 169:575–579

5.

Binder JR, Swanson SJ, Hammeke TA et al (1996) Determination of language dominance using functional MRI: a comparison with the Wada test. Neurology 46:978–984

6.

Desmond JE, Sum JM, Wagner AD et al (1995) Functional MRI measurement of language lateralization in Wada-tested patients. Brain 118:1411–1419

7.

FitzGerald DB, Cosgrove GR, Ronner S et al (1997) Location of language in the cortex: a comparison between functional MR imaging and electrocortical stimulation. Am J Neuroradiol 18:1529–1539

8.

Gaillard WD, Balsamo L, Xu B et al (2002) Language dominance in partial epilepsy patients identified with an fMRI reading task. Neurology 59:256–265

9.

Hertz-Pannier L, Gaillard WD, Mott SH et al (1997) Noninvasive assessment of language dominance in children and adolescents with functional MRI: a preliminary study. Neurology 48:1003–1012

10.

Lee GP, Park YD, Hempel A et al (2002) Effect of Wada methodology in predicting lateralized memory impairment in pediatric epilepsy surgery candidates. Epilepsy Behav 3:439–447

11.

Lehericy S, Cohen L, Bazin B et al (2000) Functional MR evaluation of temporal and frontal language dominance compared with the Wada test. Neurology 54:1625–1633

12.

McDermott KB, Petersen SE, Watson JM et al (2003) A procedure for identifying regions preferentially activated by attention to semantic and phonological relations using functional magnetic resonance imaging. Neuropsychologia 41:293–303

13.

Miezin FM, Maccotta L, Ollinger JM et al (2000) Characterizing the hemodynamic response: effects of presentation rate, sampling procedure, and the possibility of ordering brain activity based on relative timing. Neuroimage 11:735–759

14.

Nagata SI, Uchimura K, Hirakawa I et al (2001) Method for quantitatively evaluating the lateralization of linguistic function using functional MR imaging. AJNR Am J Neuroradiol 22:985–991

15.

Ojemann G, Ojemann J, Lettich E et al (1989) Cortical language localization in left, dominant hemisphere. An electrical stimulation mapping investigation in 117 patients. J Neurosurg 71:316–326

16.

Ruge MI, Victor J, Hosain S et al (1999) Concordance between functional magnetic resonance imaging and intraoperative language mapping. Stereotact Funct Neurosurg 72:95–102

17.

Rutten GJ, Ramsey NF, van Rijen PC et al (2002) Development of a functional magnetic resonance imaging protocol for intraoperative localization of critical temporoparietal language areas. Ann Neurol 51:350–360

18.

Rutten GJ, Ramsey NF, van Rijen PC et al (2002) Reproducibility of fMRI-determined language lateralization in individual subjects. Brain Lang 80:421–437

19.

Sabbah P, Chassoux F, Leveque C et al (2003) Functional MR imaging in assessment of language dominance in epileptic patients. Neuroimage 18:460–467

20.

Spreer J, Arnold S, Quiske A et al (2002) Determination of hemisphere dominance for language: comparison of frontal and temporal fMRI activation with intracarotid amytal testing. Neuroradiology 44:467–474

21.

Springer JA, Binder JR, Hammeke TA et al (1999) Language dominance in neurologically normal and epilepsy subjects: a functional MRI study. Brain 122:2033–2046

22.

Talairach J and Tournoux P (1988) Co-planar stereotaxic atlas of the human brain. Thieme, New York

23.

van der Kallen BF, Morris GL, Yetkin FZ et al (1998) Hemispheric language dominance studied with functional MR: preliminary study in healthy volunteers and patients with epilepsy. AJNR Am J Neuroradiol 19:73–77

24.

Wada J, Rasmussen T (1958) Intracarotid injection of sodium amytal for the lateralization of cerebral speech dominance. J Neurosurg 17:266–282

25.

Woermann FG, Jokeit H, Luerding R et al (2003) Language lateralization by Wada test and fMRI in 100 patients with epilepsy. Neurology 61:699–701

26.

Yetkin FZ, Mueller WM, Morris GL et al (1997) Functional MR activation correlated with intraoperative cortical mapping. AJNR Am J Neuroradiol 18:1311–1315

27.

Yetkin FZ, Swanson S, Fischer M et al (1998) Functional MR of frontal lobe activation: comparison with Wada language results. AJNR Am J Neuroradiol 19:1095–1098
Acknowledgements
We thank Steve Petersen and Brad Schlaggar for helpful discussion throughout this project, Kristina Visscher and Christine Kang for help with the analyses and for comments on an earlier version of this manuscript, and Kate O'Brien and Margaret Sheridan for help with data collection. We also thank Abraham Snyder and Mark McAvoy for help with data processing and analysis. Support for this research project was provided by the McDonnell Center for Higher Brain Function and NIH/NINDS Grant NS41272.
About this article
Cite this article
Baciu, M.V., Watson, J.M., Maccotta, L. et al. Evaluating functional MRI procedures for assessing hemispheric language dominance in neurosurgical patients. Neuroradiology 47, 835–844 (2005). https://doi.org/10.1007/s00234-005-1431-3
Received:

Accepted:

Published:

Issue Date:
Keywords
Functional MRI

Hemispheric language dominance

lateralization

Epilepsy

Wada test

Electrocortical stimulation