Abstract
We report a clinical and imaging case of suspected herpes simplex encephalitis subsequently diagnosed as neurosyphilis based on positive antibodies in the CSF. MRI of the brain showed cortical and subcortical lesions in the mesial temporal region, septal area, insula and cingulated gyrus of the right cerebral hemisphere. Neurosyphilis should be included in the differential diagnosis of mesial temporal region lesions on MRI.
Access options
Buy single article
Instant access to the full article PDF.
USD 39.95
Price includes VAT (USA)
Tax calculation will be finalised during checkout.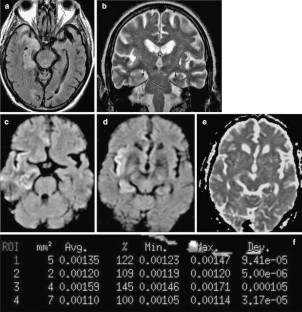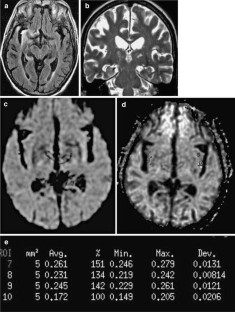 References
1.

Bash S, Hathout GM, Cohen S (2001) Mesiotemporal T2-weighted hyperintensity: neurosyphilis mimicking herpes encephalitis. AJNR Am J Neuroradiol 22:314–316

2.

Smith Michelle M, Anderson James C (2000) Neurosyphilis as a cause of facial and vestibulocochlear nerve dysfunction: MR imaging features. AJNR Am J Neuroradiol 21:1673–1675

3.

Brightbsill TC, Ihmeidan IH, Post MJ, Berger JR, Katz DA (1995) Neurosyphilis in HIV-positive and HIV-negative patients: neuroimaging findings. AJNR Am J Neuroradiol 16: 703–711

4.

Denays R, Collier A, Rubinstein M, Atsama P (1999) A 51 year-old woman with disorientation and amnesia: case report. Lancet 354:1786

5.

Kanamalla US, Ibarra RA, Jinkins JR (2000) Imaging of cranial meningitis and ventriculitis. Neuroimaging Clin N Am 10:309–331

6.

Schaefer Pamela W, Grant PE, Gonzalez RG (2000) Diffusion-weighted MR imaging of the brain. Radiology 217:331–345

7.

Marano E, Briganti F, Tortora F, Elefante A, De Rosa A, Maiuri F, Filla A (2004) Neurosyphilis with complex partial status epilepticus and mesiotemporal MRI abnormalities mimicking herpes simplex encephalitis. J Neurol Neurosurg Psychiatry75:833

8.

Demaerel P, Wilms G, Robberecht W, Johannik K, Van Hecke P, Carton H, Baert AL (1992) MRI of herpes simplex encephalitis. Neuroradiology 34:490–493

9.

Kapur N, Barker S, Burrows EH, Ellison D, Brice J, Illis LS, Scholey K, Colbourn C, Wilson B, Loates M (1994) Herpes simplex encephalitis: long term magnetic resonance imaging and neuropsychological profile. J Neurol Neurosurg Psychiatry 57:1334–1342
About this article
Cite this article
Vieira Santos, A., Matias, S., Saraiva, P. et al. Differential diagnosis of mesiotemporal lesions: case report of neurosyphilis. Neuroradiology 47, 664–667 (2005). https://doi.org/10.1007/s00234-005-1414-4
Received:

Accepted:

Published:

Issue Date:
Keywords
Neurosyphilis

Mesial temporal lesions

MRI