Abstract
We report the rare occurrence of a pyogenic brain abscess at the site of a preceding intracerebral haemorrhage in a 58-year-old man. The diagnosis was based on clinical observations, isolation of Staphylococcus aureus from blood cultures, and characteristic cerebrospinal fluid and cerebral computed tomography findings. The patient had a favourable response to antibiotic therapy.
Access options
Buy single article
Instant access to the full article PDF.
USD 39.95
Price includes VAT (USA)
Tax calculation will be finalised during checkout.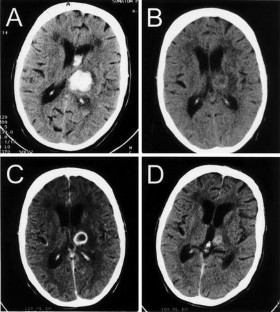 References
1.

Bert F, Maubec E, Garddye C, Branger C, Lambert-Zechovsky N (1995) Staphylococcal brain abscess following hematogenous seeding of an intracranial hematoma. Eur J Microbiol Infect Dis 14: 366–367

2.

Biller J, Adams Jr P, Godersky JC, Johnson R (1985) Preeclampsia complicated by cerebral hemorrhage and brain abscess. J Neurol 232: 378–380

3.

Chen ST, Tang LM, Ro LS (1995) Brain abscess as a complication of stroke. Stroke 26: 696–698

4.

Inamasu J, Hiroshi H, Nakamura Y, Saito R, Niimi M, Ichikizaki K (2002) Brain abscess developing at the site of preceding intracerebral hemorrhage. J Neurol 249: 221–223

5.

Kurihara H, Mitsui T, Kohno N (1989) Brain abscess following intracerebral hematoma (in Japanese with English abstract). No Shinkei Geka 17: 1037–1040

6.

Lee KS, Bae WK, Bae HG, Doh JW, Yun IG (1994) Brain abscess from a ganglionic hemorrhage: a case report. J Korean Med Sci 9: 259–263

7.

Loring KE, Anderson DC, Kozak AJ (2000). Meningitis, encephalitis and brain abscess. In: Tintinalli JE, Kelen GD, Stapczynski JS (eds) Emergency medicine, 5th edn. McGraw-Hill, New York, pp 1485–1491

8.

Lutz TW, Landolt M, Wasner M, Gratzl O (1994) Diagnosis and management of abscesses in the basal ganglia and thalamus. Acta Neurochir 127: 91–98

9.

Mashimoto H, Maesaki S, Akari J, Asai S, Sawatari K, Kaku M, Koga H (1994) A case of brain abscess associated with enterococcal endocarditis (in Japanese with English abstract). Kansenshogaku Zasshi 68: 254–258

10.

Okami N, Kawamata T, Sasahara A, Yamasato M, Kawamura H (2000) Brain abscess following thalamic hemorrhage: a case report (in Japanese with English abstract). No Shinkei Geka 28: 275–279

11.

Sumioka S, Kajikawa H, Yamamura K, Furuse M, Kajikawa M, Pant B (1996) Putaminal abscess occurring at the site of hemorrhage: a case report (in Japanese with English abstract). No Shinkei Geka 24: 859–863

12.

Yan SY (1981) Brain abscess: a review of 400 cases. J Neurosurg 55:794–799

13.

Zimmermann RD, Weingarten K (1991) Neuroimaging of cerebral abscesses. Neuroimaging Clin North Am 1: 1–16
About this article
Cite this article
Nowak, D.A., Rodiek, SO. & Topka, H. Pyogenic brain abscess following haematogenous seeding of a thalamic haemorrhage. Neuroradiology 45, 157–159 (2003). https://doi.org/10.1007/s00234-002-0908-6
Received:

Accepted:

Published:

Issue Date:
Keywords
Brain abscess

Intracerebral haemorrhage

Computed tomography