Abstract
Annexin V (ANXV), mostly characterized by its ability to interact with biological membranes in a calcium-dependent manner. ANXV interacts mainly with phosphatidylserine (PS), for that fluorescent ANXV widely produced and used as a sensitive and specific probe to mark apoptotic cells or any PS-containing bilayers membranes. Many reports described the prokaryotic expression of recombinant human ANXV. To overcome some of E. coli expression limitations, we aimed in this work to investigate unconventional alternative expression system in mammalian cells for producing secreted human ANXV in fusion with the super folder green fluorescent protein (sfGFP). HEK239T cells were transfected using polyethylenimine (PEI) and pcDNA-sfGFP-ANXV plasmid. Forty-eight hours post transfection, direct fluorescence measurement, immunoblotting and ELISA confirmed the presence of secreted sfGFP-ANXV in cells supernatant. The yield of secreted 6 × His-tagged sfGFP-ANXV after affinity purification was estimated to be around 2 µg per 1 ml of cells supernatant. The secretion system was proper to produce a fully functional sfGFP-ANXV fusion protein in quantities enough to recognize and bind PS-containing surfaces or liposomes. Besides, biological assays such as flow cytometry and fluorescent microscopy confirmed the capacity of the secreted sfGFP-ANXV to detect PS exposure on apoptotic cells. Taken together, we present mammalian expression as a quick, affordable and endotoxin-free system to produce sfGFP-ANXV fusion protein. The secreted sfGFP-ANXV in eukaryotic system is a promising biotechnological tool, it opens up new horizons for additional applications in the detection of PS bearing surfaces and apoptosis in vitro and in vivo assays.
Graphic Abstract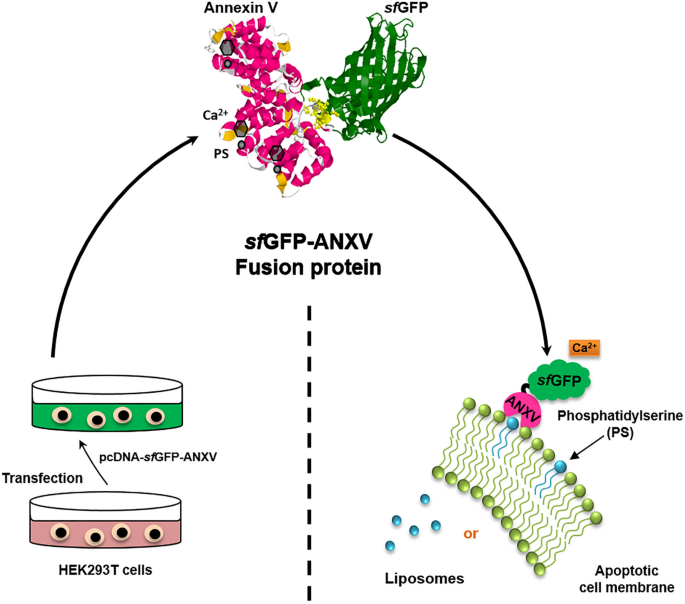 Access options
Buy single article
Instant access to the full article PDF.
US$ 39.95
Tax calculation will be finalised during checkout.
Subscribe to journal
Immediate online access to all issues from 2019. Subscription will auto renew annually.
US$ 119
Tax calculation will be finalised during checkout.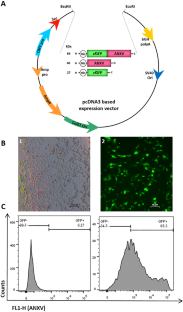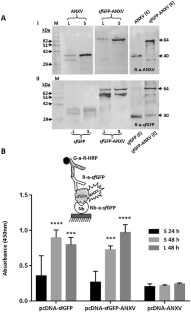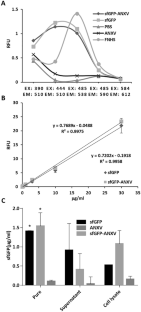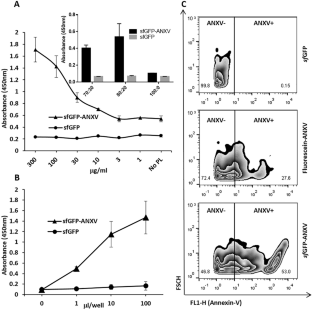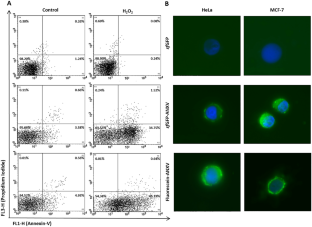 Availability of Data and Materials
This manuscript has no associate data and materials can be provided upon reasonable request to the corresponding author.
Abbreviations
ANXV:

Annexin V

ELISA:

Enzyme-linked immunosorbant assay

sfGFP:

Super folder green fluorescent protein

PI:

Probidium iodide

PS:

Phosphatidylserine
References
Abbady AQ, Twair A, Ali B, Murad H (2017) Characterization of Annexin V fusion with the superfolder GFP in liposomes binding and apoptosis detection. Front Physiol 8:317. https://doi.org/10.3389/fphys.2017.00317

Al-Homsi L, Al-Assad JM, Kweider M, Al-Okla S, Abbady AQ (2012) Construction of pRSET-sfGFP plasmid for fusion-protein expression, purification and detection Jordan. J Biol Sci 5:279–288

Arnold P, Lu X, Amirahmadi F, Brandl K, Arnold JM, Feng Q (2014) Recombinant human annexin A5 inhibits proinflammatory response and improves cardiac function and survival in mice with endotoxemia. Crit Care Med 42:e32-41. https://doi.org/10.1097/CCM.0b013e3182a63e01

Aronson DE, Costantini LM, Snapp EL (2011) Superfolder GFP is fluorescent in oxidizing environments when targeted via the Sec translocon. Traffic 12:543–548. https://doi.org/10.1111/j.1600-0854.2011.01168.x

Backliwal G, Hildinger M, Hasija V, Wurm FM (2008) High-density transfection with HEK-293 cells allows doubling of transient titers and removes need for a priori DNA complex formation with PEI. Biotechnol Bioeng 99:721–727. https://doi.org/10.1002/bit.21596

Baldi L, Hacker DL, Adam M, Wurm FM (2007) Recombinant protein production by large-scale transient gene expression in mammalian cells: state of the art and future perspectives. Biotechnol Lett 29:677–684. https://doi.org/10.1007/s10529-006-9297-y

Barnes LM, Bentley CM, Dickson AJ (2003) Stability of protein production from recombinant mammalian cells. Biotechnol Bioeng 81:631–639. https://doi.org/10.1002/bit.10517

Boersma HH et al (2005) Past, present, and future of annexin A5: from protein discovery to clinical applications. J Nucl Med 46:2035–2050

Boussif O, Zanta MA, Behr JP (1996) Optimized galenics improve in vitro gene transfer with cationic molecules up to 1000-fold. Gene Therapy 3:1074–1080

Brunner D, Frank J, Appl H, Schoffl H, Pfaller W, Gstraunthaler G (2010) Serum-free cell culture: the serum-free media interactive online database. Altex 27:53–62. https://doi.org/10.14573/altex.2010.1.53

Ernst JD, Yang L, Rosales JL, Broaddus VC (1998) Preparation and characterization of an endogenously fluorescent annexin for detection of apoptotic cells. Anal Biochem 260:18–23. https://doi.org/10.1006/abio.1998.2677

Feng J, Feng T, Yang C, Wang W, Sa Y, Feng Y (2018) Feasibility study of stain-free classification of cell apoptosis based on diffraction imaging flow cytometry and supervised machine learning techniques. Apoptosis 23:290–298. https://doi.org/10.1007/s10495-018-1454-y

Geisse S, Fux C (2009) Recombinant protein production by transient gene transfer into Mammalian cells. Methods Enzymol 463:223–238. https://doi.org/10.1016/S0076-6879(09)63015-9

Gemmill TR, Trimble RB (1999) Overview of N- and O-linked oligosaccharide structures found in various yeast species. Biochem Biophys Acta 1426:227–237. https://doi.org/10.1016/s0304-4165(98)00126-3

Gerke V, Creutz CE, Moss SE (2005) Annexins: linking Ca2+ signalling to membrane dynamics. Nat Rev Mol Cell Biol 6:449–461. https://doi.org/10.1038/nrm1661

Giepmans BN, Adams SR, Ellisman MH, Tsien RY (2006) The fluorescent toolbox for assessing protein location and function. Science 312:217–224. https://doi.org/10.1126/science.1124618

Godbey WT, Wu KK, Mikos AG (1999) Poly(ethylenimine) and its role in gene delivery. J Control Release 60:149–160. https://doi.org/10.1016/s0168-3659(99)00090-5

Hu J et al (2018) A fusion-protein approach enabling mammalian cell production of tumor targeting protein domains for therapeutic development. Protein Sci 27:933–944. https://doi.org/10.1002/pro.3399

Iaccarino L et al (2011) Anti-annexins autoantibodies: their role as biomarkers of autoimmune diseases. Autoimmun Rev 10:553–558. https://doi.org/10.1016/j.autrev.2011.04.007

Jarvis DL, Kawar ZS, Hollister JR (1998) Engineering N-glycosylation pathways in the baculovirus-insect cell system. Curr Opin Biotechnol 9:528–533. https://doi.org/10.1016/s0958-1669(98)80041-4

Kang TH et al (2020) Annexin A5 as an immune checkpoint inhibitor and tumor-homing molecule for cancer treatment. Nat Commun 11:1137. https://doi.org/10.1038/s41467-020-14821-z

Kennedy JR (2015) Attenuating a sickle cell crisis with annexin V. Med Hypotheses 84:434–436. https://doi.org/10.1016/j.mehy.2015.01.037

Khan KH (2013) Gene expression in Mammalian cells and its applications. Adv Pharm Bull 3:257–263. https://doi.org/10.5681/apb.2013.042

Kichler A, Remy JS, Boussif O, Frisch B, Boeckler C, Behr JP, Schuber F (1995) Efficient gene delivery with neutral complexes of lipospermine and thiol-reactive phospholipids. Biochem Biophys Res Commun 209:444–450. https://doi.org/10.1006/bbrc.1995.1522

Kim TK, Eberwine JH (2010) Mammalian cell transfection: the present and the future. Anal Bioanal Chem 397:3173–3178. https://doi.org/10.1007/s00216-010-3821-6

Lee K, Bae KH, Lee Y, Lee SH, Ahn CH, Park TG (2010) Pluronic/polyethylenimine shell crosslinked nanocapsules with embedded magnetite nanocrystals for magnetically triggered delivery of siRNA. Macromol Biosci 10:239–245. https://doi.org/10.1002/mabi.200900291

Lee SH, Lee PH, Kim BG, Hong J, Jang AS (2018) Annexin A5 protein as a potential biomarker for the diagnosis of asthma. Lung 196:681–689. https://doi.org/10.1007/s00408-018-0159-x

Legastelois I, Buffin S, Peubez I, Mignon C, Sodoyer R, Werle B (2017) Non-conventional expression systems for the production of vaccine proteins and immunotherapeutic molecules. Hum Vaccine Immunother 13:947–961. https://doi.org/10.1080/21645515.2016.1260795

Longo PA, Kavran JM, Kim MS, Leahy DJ (2013) Transient mammalian cell transfection with polyethylenimine (PEI). Methods Enzymol 529:227–240. https://doi.org/10.1016/B978-0-12-418687-3.00018-5

Mamat U et al (2015) Detoxifying Escherichia coli for endotoxin-free production of recombinant proteins. Microb Cell Fact 14:57. https://doi.org/10.1186/s12934-015-0241-5

Nelson CA, McCoy WH, Fremont DH (2014) Eukaryotic expression systems for structural studies. Methods Mol Biol 1140:107–116. https://doi.org/10.1007/978-1-4939-0354-2_8

Nickel W (2005) Unconventional secretory routes: direct protein export across the plasma membrane of mammalian cells. Traffic 6:607–614. https://doi.org/10.1111/j.1600-0854.2005.00302.x

Pari GS, Keown WA (1997) Experimental strategies in efficient transfection of mammalian cells. Calcium phosphate and DEAE-dextran. Methods Mol Biol 62:301–306. https://doi.org/10.1385/0-89603-480-1:301

Park JH et al (2016) Annexin A5 increases survival in murine sepsis model by inhibiting HMGB1-mediated pro-inflammation and coagulation. Mol Med 22:424–436. https://doi.org/10.2119/molmed.2016.00026

Pedelacq JD, Cabantous S, Tran T, Terwilliger TC, Waldo GS (2006) Engineering and characterization of a superfolder green fluorescent protein. Nat Biotechnol 24:79–88. https://doi.org/10.1038/nbt1172

Rand JH, Wu XX, Lin EY, Griffel A, Gialanella P, McKitrick JC (2012) Annexin A5 binds to lipopolysaccharide and reduces its endotoxin activity. mBio. https://doi.org/10.1128/mBio.00292-11

Rizzo MA, Davidson MW, Piston DW (2009) Fluorescent protein tracking and detection: fluorescent protein structure and color variants. Cold Spring Harb Protoc 2009:pdb top63. https://doi.org/10.1101/pdb.top63

Rodriguez EA et al (2017) The growing and glowing toolbox of fluorescent and photoactive proteins. Trends Biochem Sci 42:111–129. https://doi.org/10.1016/j.tibs.2016.09.010

Rueda F, Cano-Garrido O, Mamat U, Wilke K, Seras-Franzoso J, Garcia-Fruitos E, Villaverde A (2014) Production of functional inclusion bodies in endotoxin-free Escherichia coli. Appl Microbiol Biotechnol 98:9229–9238. https://doi.org/10.1007/s00253-014-6008-9

Shao R, Xiong C, Wen X, Gelovani JG, Li C (2007) Targeting phosphatidylserine on apoptotic cells with phages and peptides selected from a bacteriophage display library. Mol Imaging 6:417–426

Sohma H et al (2013) Evaluation of annexin A5 as a biomarker for Alzheimer's disease and dementia with lewy bodies. Front Aging Neurosci 5:15. https://doi.org/10.3389/fnagi.2013.00015

Spector DL, Goldman RD (2010) Constructing and expressing fluorescent protein fusions. Cold Spring Harb Protoc 2010:pdb top87. https://doi.org/10.1101/pdb.top87

Spector DL, Goldman RD (2010) Transfection of mammalian cells with fluorescent protein fusions. Cold Spring Harb Protoc 2010:pdb prot5517. https://doi.org/10.1101/pdb.prot5517

Stocker M, Pardo A, Hetzel C, Reutelingsperger C, Fischer R, Barth S (2008) Eukaryotic expression and secretion of EGFP-labeled annexin A5. Protein Expr Purif 58:325–331. https://doi.org/10.1016/j.pep.2007.12.009

Thomas P, Smart TG (2005) HEK293 cell line: a vehicle for the expression of recombinant proteins. J Pharmacol Toxicol Methods 51:187–200. https://doi.org/10.1016/j.vascn.2004.08.014

Twair A, Al-Okla S, Zarkawi M, Abbady AQ (2014) Characterization of camel nanobodies specific for superfolder GFP fusion proteins. Mol Biol Rep 41:6887–6898. https://doi.org/10.1007/s11033-014-3575-x

Tzima E, Trotter PJ, Orchard MA, Walker JH (1999) Annexin V binds to the actin-based cytoskeleton at the plasma membrane of activated platelets. Exp Cell Res 251:185–193. https://doi.org/10.1006/excr.1999.4553

Uhlen M, Forsberg G, Moks T, Hartmanis M, Nilsson B (1992) Fusion proteins in biotechnology. Curr Opin Biotechnol 3:363–369. https://doi.org/10.1016/0958-1669(92)90164-e

van Genderen HO, Kenis H, Hofstra L, Narula J, Reutelingsperger CP (2008) Extracellular annexin A5: functions of phosphatidylserine-binding and two-dimensional crystallization. Biochim Biophys Acta 1783:953–963. https://doi.org/10.1016/j.bbamcr.2008.01.030

Vangelista L, Cesco-Gaspere M, Lorenzi R, Burrone O (2002) A minimal receptor-Ig chimera of human FcepsilonRI alpha-chain efficiently binds secretory and membrane IgE. Protein Eng 15:51–57. https://doi.org/10.1093/protein/15.1.51

Vermeulen K, Van Bockstaele DR, Berneman ZN (2005) Apoptosis: mechanisms and relevance in cancer. Ann Hematol 84:627–639. https://doi.org/10.1007/s00277-005-1065-x

Walsh MT, Celestin OM, Thierer JH, Rajan S, Farber SA, Hussain MM (2020) Model systems for studying the assembly, trafficking, and secretion of apoB lipoproteins using fluorescent fusion proteins. J Lipid Res 61:316–327. https://doi.org/10.1194/jlr.RA119000259

Wang J et al (2015) Quantitative analysis of annexin V-membrane interaction by flow cytometry. Eur Biophys J 44:325–336. https://doi.org/10.1007/s00249-015-1026-9

Wurm FM (2004) Production of recombinant protein therapeutics in cultivated mammalian cells. Nat Biotechnol 22:1393–1398. https://doi.org/10.1038/nbt1026
Acknowledgements
The authors would like to thank the Director General of the Atomic Energy Commission of Syria and the head of the Molecular Biology and Biotechnology department for their continuous support throughout this work.
Funding
This research did not receive any specific grant from funding agencies in the public, commercial, or not-for-profit sectors.
Ethics declarations
Conflict of interest
The authors declare that they have no conflict of interest.
Additional information
Publisher's Note
Springer Nature remains neutral with regard to jurisdictional claims in published maps and institutional affiliations.
Supplementary Information
Below is the link to the electronic supplementary material.
About this article
Cite this article
Twair, A., Kassem, I., Murad, H. et al. Secretion of Recombinant Human Annexin V in Fusion with the Super Folder GFP for Labelling Phosphatidylserine-Exposing Membranes. J Membrane Biol (2021). https://doi.org/10.1007/s00232-021-00169-y
Received:

Accepted:

Published:
Keywords
Annexin V

sfGFP

Eukaryotic expression

Mammalian transfection

Phospholipids

Apoptosis