Abstract
Hepatoprotective agents could prevent tissue damage and reduce morbidity and mortality rates; such agents may include folkloric or alternative treatments. The present study evaluated the protective effects of the flavonoid-rich fraction from rhizomes of Smilax glabra Roxb. (SGF) on carbon tetrachloride (CCl4)-induced hepatotoxicity in rats. Sprague-Dawley male rats were orally treated with SGF daily and received CCl4 intraperitoneally twice a week for 4 weeks. Our results showed that SGF at doses of 100, 300 and 500 mg/kg significantly reduced the elevated activities of serum aminotransferases (ALT and AST), alkaline phosphatase and lactate dehydrogenase and the level of hepatic thiobarbituric acid–reactive substances compared to the CCl4-treated group. Moreover, SGF treatment was also found to significantly increase the activities of superoxide dismutase, catalase, glutathione peroxidase, glutathione reductase, glutathione-S-transferase and glutathione compared with CCl4-induced intoxicated liver. Histopathologic examination revealed that CCl4-induced hepatic damage was markedly reversed by SGF. The results suggest that SGF has hepatoprotective and antioxidant properties in CCl4-induced liver injury in rats.
Access options
Buy single article
Instant access to the full article PDF.
US$ 39.95
Tax calculation will be finalised during checkout.
Subscribe to journal
Immediate online access to all issues from 2019. Subscription will auto renew annually.
US$ 119
Tax calculation will be finalised during checkout.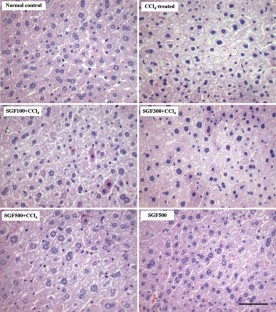 References
Aebi H (1974) Catalase. In: Bergmayer HU (ed) Methods of enzymatic analysis. Academic Press, New York, pp 673–677

Aydin C, Ay Y, Basel H, Kavak S, Inan B, Bektaş H, Gümrükçüoğlu HA, Ekim H, Demir H (2012) Analysis of the influences of short-term levosimendan exposure on oxidant/antioxidant status and trace-element levels in the physiological status of the thoracic aorta of rats. J Membr Biol 245:827–832

Bansal AK, Bansal M, Soni G, Bhatnagar D (2005) Protective role of vitamin E pre-treatment N-nitrosodiethylamine induced oxidative stress in rat liver. Chem Biol Interact 156:101–111

Cengiz N, Kavak S, Güzel A, Ozbek H, Bektas H, Him A, Erdoğan E, Balahoroğlu R (2013) Investigation of the hepatoprotective effects of sesame (Sesamum indicum L) in carbon tetrachloride–induced liver toxicity. J Membr Biol 246:1–6

Chen T, Li JX, Cao JX, Xu Q, Komatsu K, Namba T (1999) A new flavanone isolated from rhizoma Smilacis glabrae and the structural requirements of its derivatives for preventing immunological hepatocyte damage. Planta Med 65:56–59

Chen T, Li JX, Xu Q (2000) Phenylpropanoid glycosides from Smilax glabra. Phytochemistry 53:1051–1055

Chu KT, Ng TB (2006) Smilaxin, a novel protein with immunostimulatory, antiproliferative, and HIV-1-reverse transcriptase inhibitory activities from fresh Smilax glabra rhizomes. Biochem Biophys Res Commun 340:118–124

Ellman GL (1959) Tissue sulfhydryl groups. Arch Biochem Biophys 82:70–77

Galhena PB, Samarakoon SR, Thabrew MI, Weerasinghe GA, Thammitiyagodage MG, Ratnasooriya WD, Tennekoon KH (2012) Anti-inflammatory activity is a possible mechanism by which the polyherbal formulation comprised of Nigella sativa (seeds), Hemidesmus indicus (root), and Smilax glabra (rhizome) mediates its antihepatocarcinogenic effects. Evid Based Complement Alternat Med. doi:10.1155/2012/108626

Hsu YW, Tsai CF, Chang WH, Ho YC, Chen WK, Lu FJ (2008) Protective effects of Dunaliella salina—a carotenoid-rich alga, against carbon tetrachloride-induced hepatotoxicity in mice. Food Chem Toxicol 46:3311–3317

Khan RA, Khan MR, Sahreen S, Shah NA (2012) Hepatoprotective activity of Sonchus asper against carbon tetrachloride–induced injuries in male rats: a randomized controlled trial. BMC Complement Altern Med 12:90

Leaver MJ, George SG (1998) A piscine glutathione S-transferase which efficiently conjugates the end-products of lipid peroxidation. Mar Environ Res 46:71–74

Marklund S, Marklund G (1974) Involvement of superoxide anion radical in autooxidation of pirogallol as convenient assay for superoxide dismutase. Eur J Biochem 47:469–474

Naik SR, Panda VS (2007) Antioxidant and hepatoprotective effects of Ginkgo biloba phytosomes in carbon tetrachloride-induced liver injury in rodents. Liver Int 27:393–399

Ng TB, Yu YL (2001) Isolation of a novel heterodimeric agglutinin from rhizomes of Smilax glabra the Chinese medicinal material tufuling. Int J Biochem Cell B 33:269–277

Ooi LS, Sun SS, Wang H, Ooi VE (2004) New mannose-binding lectin isolated from the rhizome of sarsaparilla Smilax glabra Roxb. (Liliaceae). J Agric Food Chem 52:6091–6095

Pinto C, Duque AL, Rodríguez-Galdón B, Cestero JJ, Macías P (2012) Xanthohumol prevents carbon tetrachloride-induced acute liver injury in rats. Food Chem Toxicol 50:3405–3412

Preethi KC, Kuttan R (2009) Hepato and reno protective action of Calendula officinalis L flower extract. Indian J Exp Biol 47:163–168

Reiter RJ, Tan D, Osuna C, Gitto E (2000) Actions of melatonin in the reduction of oxidative stress. J Biomed Sci 7:444–458

Sa F, Gao JL, Fung KP, Zheng Y, Lee SMY, Wang YT (2008) Anti-proliferative and pro-apoptotic effect of Smilax glabra Roxb. extract on hepatoma cell lines. Chem Biol Interact 171:1–14

Saxena G, Flora SJS (2004) Lead-induced oxidative stress and hematological alterations and their response to combined administration of calcium disodium EDTA with a thiol chelator in rats. J Biochem Mol Toxicol 18:221–233

Szachowicz-Petelska B, Dobrzyńska I, Skrzydlewska E, Figaszewski Z (2012) Protective effect of blackcurrant on liver cell membrane of rats intoxicated with ethanol. J Membr Biol 245:191–200

Szymonik-Lesiuk S, Czechowska G, Stryjecka-Zimmer M, Słomka M, Madro A, Celiński K, Wielosz M (2003) Catalase superoxide dismutase and glutathione peroxidase activities in various rat tissues after carbon tetrachloride intoxication. J Hepatobiliary Pancreat Surg 10:309–315

Thabrew MI, Mitry RR, Morsy MA, Hughes RD (2005) Cytotoxic effects of a decoction of Nigella sativa, Hemidesmus indicus, and Smilax glabra on human hepatoma HepG2 cells. Life Sci 77:1319–1330

Xia DZ, Yu XF, Liao SP, Shao QJ, Mou HL, Ma W (2010) Protective effect of Smilax glabra extract against lead-induced oxidative stress in rats. J Ethnopharmacol 130:414–420

Xia DZ, Yu XF, Zhu ZY, Zou ZD (2011) Antioxidant and antibacterial activity of six edible wild plants (Sonchus spp) in China. Nat Prod Res 25:1893–1901

Zhang RR, Hu YY, Yuan JY, Wu DZ (2009) Effects of Puerariae radix extract on the increasing intestinal permeability in rat with alcohol-induced liver injury. J Ethnopharmacol 126:207–214
Acknowledgments
This work was supported by the National Natural Science Foundation of China (Grant 81102861), the Zhejiang Provincial Natural Science Foundation of China (Grant Y2110031) and the China Postdoctoral Science Foundation (Grants 2012T50562, 20110491827).
About this article
Cite this article
Xia, D., Fan, Y., Zhang, P. et al. Protective Effects of the Flavonoid-Rich Fraction from Rhizomes of Smilax glabra Roxb. on Carbon Tetrachloride-Induced Hepatotoxicity in Rats. J Membrane Biol 246, 479–485 (2013). https://doi.org/10.1007/s00232-013-9560-9
Received:

Accepted:

Published:

Issue Date:
Keywords
Smilax glabra Roxb.

Flavonoids

Membrane breakdown

Hepatoprotection

Carbon tetrachloride

Antioxidant