Abstract
Selenium is an essential chemopreventive antioxidant element to oxidative stress, although high concentrations of selenium induce toxic and oxidative effects on the human body. However, the mechanisms behind these effects remain elusive. We investigated toxic effects of different selenium concentrations in human promyelocytic leukemia HL-60 cells by evaluating Ca2+ mobilization, cell viability and caspase-3 and -9 activities at different sample times. We found the toxic concentration and toxic time of H2O2 as 100 μm and 10 h on cell viability in the cells using four different concentrations of H2O2 (1 μm–1 mm) and six different incubation times (30 min, 1, 2, 5, 10, 24 h). Then, we found the therapeutic concentration of selenium to be 200 nm by cells incubated in eight different concentrations of selenium (10 nm–1 mm) for 1 h. We measured Ca2+ release, cell viability and caspase-3 and -9 activities in cells incubated with high and low selenium concentrations at 30 min and 1, 2, 5, 10 and 24 h. Selenium (200 nm) elicited mild endoplasmic reticulum stress and mediated cell survival by modulating Ca2+ release, the caspases and cell apoptosis, whereas selenium concentrations as high as 1 mm induced severe endoplasmic reticulum stress and caused cell death by activating modulating Ca2+ release, the caspases and cell apoptosis. In conclusion, these results explained the molecular mechanisms of the chemoprotective effect of different concentrations of selenium on oxidative stress-induced apoptosis.
Access options
Buy single article
Instant access to the full article PDF.
USD 39.95
Price includes VAT (USA)
Tax calculation will be finalised during checkout.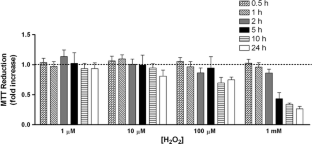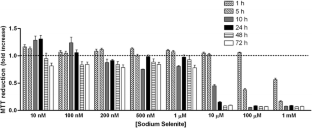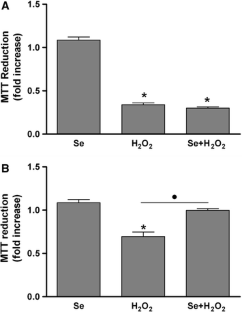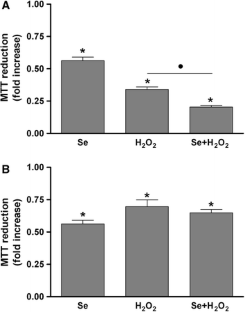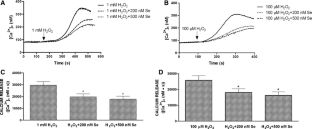 References
Brookes PS, Yoon Y, Robotham JL, Anders MW, Sheu SS (2004) Calcium, ATP, and ROS: a mitochondrial love-hate triangle. Am J Physiol 287:C817–C833

Brough D, Schell MJ, Irvine RF (2005) Agonist-induced regulation of mitochondrial and endoplasmic reticulum motility. Biochem J 1:291–297

Chandra J, Samali A, Orrenius S (2000) Triggering and modulation of apoptosis by oxidative stress. Free Radic Biol Med 29:323–333

Chen T, Wong YS (2009) Selenocystine induces caspase-independent apoptosis in MCF-7 human breast carcinoma cells with involvement of p53 phosphorylation and reactive oxygen species generation. Int J Biochem Cell Biol 41:666–676

Demaurex N, Distelhorst C (2003) Cell biology. Apoptosis—the calcium connection. Science 300:65–67

Espino J, Mediero M, Bejarano I, Lozano GM, Ortiz A, García JF, Rodríguez AB, Pariente JA (2009) Reduced levels of intracellular calcium releasing in spermatozoa from asthenozoospermic patients. Rep Biol Endocrinol 7. doi:10.1186/1477-7827-7-11

Giorgi C, De Stefani D, Bononi A, Rizzuto R, Pinton P (2009) Structural and functional link between the mitochondrial network and the endoplasmic reticulum. Int J Biochem Cell B. doi:10.1016/j.biocel.2009.04.010

González D, Espino J, Bejarano I, López JJ, Rodríguez AB, Pariente JA (2009) Caspase-3 and -9 are activated in human myeloid HL-60 cells by calcium signal. Mol Cell Biochem. doi:10.1007/s11010-009-0215-1

Gopee NV, Johnson VJ, Sharma RP (2004) Selenite-induced apoptosis in murine B-lymphoma cells is associated with inhibition of protein kinase C-δ, nuclear factor κB, and inhibitor of apoptosis protein. Toxicol Sci 78:204–214

Grynkiewicz C, Poenie M, Tsien RY (1985) A new generation of Ca2+ indicators with greatly improved fluorescence properties. J Biol Chem 260:3440–3450

Guan L, Han B, Li J, Li Z, Huang F, Yang Y, Xu C (2009) Exposure of human leukemia NB4 cells to increasing concentrations of selenite switches the signaling from pro-survival to pro-apoptosis. Ann Hematol 88:733–742

Hajnóczky G, Csordas G, Das S, Garcia-Perez C, Saotome M, Roy SS, Yi M (2006) Mitochondrial calcium signaling and cell death: approaches for assessing the role of mitochondrial Ca2+ uptake in apoptosis. Cell Calcium 40:553–560

Halliwell B (2006) Oxidative stress and neurodegeneration: where are we now? J Neurochem 97:1634–1658

Heemskerk JW, Feijge MA, Henneman L, Rosing J, Hemker HC (1997) The Ca2+-mobilizing potency of alpha-thrombin and thrombin receptor-activating peptide on human platelets concentration and time effects of thrombin-induced Ca2+ signalling. Eur J Biochem 249:547–555

Hyslop PA, Hinshaw DB, Halsey WA Jr, Schraufstatter IU, Sauerheber RD, Spragg RG, Jackson JH, Cochrane CG (1988) Mechanisms of oxidant-mediated cell injury. The glycolytic and mitochondrial pathways of ADP phosphorylation are major intracellular targets inactivated by hydrogen peroxide. J Biol Chem 263:1665–1675

Jiang C, Hu H, Malewicz B, Wang Z, Lü J (2004) Selenite-induced p53 Ser-15 phosphorylation and caspase-mediated apoptosis in LNCaP human prostate cancer cells. Mol Cancer Ther 3:877–884

Li GX, Hu H, Jiang C, Schuster T, Lü J (2007) Differential involvement of reactive oxygen species in apoptosis induced by two classes of selenium compounds in human prostate cancer cells. Int J Cancer 120:2034–2043

Meldolesi J, Pozzan T (1998) The endoplasmic reticulum Ca2+ store: a view from the lumen. Trends Biochem Sci 23:10–14

Nazıroğlu M (2007a) New molecular mechanisms on the activation of TRPM2 channels by oxidative stress and ADP-ribose. Neurochem Res 32:1990–2001

Nazıroğlu M (2007b) Molecular mechanisms of vitamin E on intracellular signaling pathways in brain. In: Goth L (ed) Reactive oxygen species and diseases. Research Signpost Press, Kerala, pp 239–256

Nazıroğlu M (2009) Role of selenium on calcium signaling and oxidative stress–induced molecular pathways in epilepsy. Neurochem Res. doi:10.1007/s11064-009-0015-8

Papp LV, Lu J, Holmgren A, Khanna KK (2007) From selenium to selenoproteins: synthesis, identity, and their role in human health. Antioxid Redox Signal 9:775–806

Rayman MP (2000) The importance of selenium to human health. Lancet 356:233–241

Shi Y (2002) Apoptosome: the cellular engine for the activation of caspase-9. Structure 10:285–288

Stridh H, Kimland M, Jones DP, Orrenius S, Hampton MB (1998) Cytochrome c release and caspase activation in hydrogen peroxide- and tributyltin-induced apoptosis. FEBS Lett 429:351–355

Susin SA, Lorenzo HK, Zamzami N, Marzo I, Snow BE, Brothers GM, Mangion J, Jacotot E, Costantini P, Loeffler M, Larochette N, Goodlett DR, Aebersold R, Siderovski DP, Penninger JM, Kroemer G (1999) Molecular characterization of mitochondrial apoptosis-inducing factor. Nature 397:441–446

Uezono Y, Toyohira Y, Yanagihara N, Wada A, Taniyama K (2006) Inhibition by selenium compounds of catecholamine secretion due to inhibition of Ca2+ influx in cultured bovine adrenal chromaffin cells. J Pharmacol Sci 101:223–229

Vinceti M, Wei ET, Malagoli C, Bergomi M, Vivoli G (2001) Adverse health effects of selenium in humans. Rev Environ Health 16:233–251

Wang X (2001) The expanding role of mitochondria in apoptosis. Genes Dev 15:2922–2933

Yoon SO, Kim MM, Park SJ, Kim D, Chung J, Chung AS (2002) Selenite suppresses hydrogen peroxide–induced cell apoptosis through inhibition of ASK1/JNK and activation of PI3-K/Akt pathways. FASEB J 16:111–113

Zeng H, Combs GF (2008) Selenium as an anticancer nutrient: roles in cell proliferation and tumor cell invasion. J Nutr Biochem 19:1–7

Zhao R, Domann FE, Zhong W (2006) Apoptosis induced by selenomethionine and methioninase is superoxide mediated and p53 dependent in human prostate cancer cells. Mol Cancer Ther 5:3275–3284
Acknowledgements
J. A. P. and M. N. formulated the present hypothesis and were responsible for writing the report. A. C. U., J. E., I. B., D. G. and A. B. R. were responsible analyses the data. J. A. P. and M. N. made critical revisions to the manuscript.
About this article
Cite this article
Uğuz, A.C., Nazıroğlu, M., Espino, J. et al. Selenium Modulates Oxidative Stress-Induced Cell Apoptosis in Human Myeloid HL-60 Cells Through Regulation of Calcium Release and Caspase-3 and -9 Activities. J Membrane Biol 232, 15 (2009). https://doi.org/10.1007/s00232-009-9212-2
Received:

Accepted:

Published:
Keywords
Selenium

Endoplasmic reticulum stress

Apoptosis

Oxidative stress