Abstract
Hot-air drying is a slow energy-extensive process. Use of intermittent microwave (IM) in hot-air (HA) drying of food products is characterized with advantages including reduced process time, energy saving, and improved final quality. In this study, the effect of IM-HA drying following an osmotic dehydration (OD) pretreatment was analyzed on qualitative and quantitative properties of the output (i.e. effective moisture diffusion coefficient (Deff), shrinkage, bulk density, rehydration and energy consumption). Temperature and airflow velocity were fixed at 40°C and 1 m/s, respectively. The process variables included sucrose solution concentration at five levels (0 or control, 10, 30, 50 and 70 w/w%), microwave output power at four levels (0 or control, 360, 600 and 900 W), and pulse ratio at four levels (1, 2, 3 and 4). Use of osmotic dehydration in combination with IM-HA drying reduced the drying time by up to about 54%. Increasing the osmotic solution concentration to 30% and using higher pulse ratios increased the Deff. The lowest shrinkage and bulk density as well as the highest rehydration belonged to the 900 W microwave power and pulse ratio of 4. The lowest energy consumption was observed when using the 900 W power level, showing 63.27% less consumption than the HA drying method.
Access options
Buy single article
Instant access to the full article PDF.
USD 39.95
Price excludes VAT (USA)
Tax calculation will be finalised during checkout.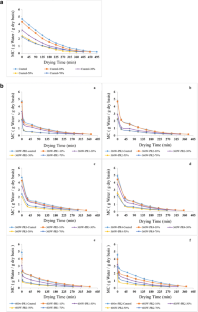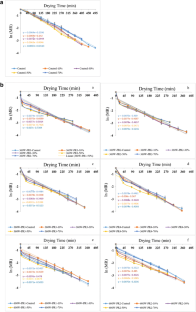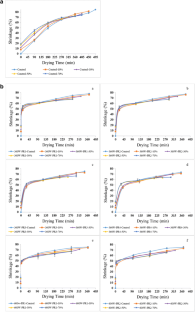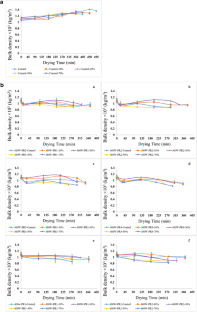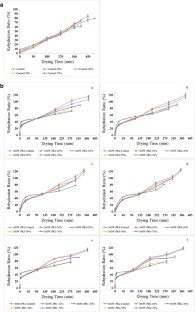 References
Wang R, Zhang M, Mujumdar AS (2010) Effect of osmotic dehydration on microwave freeze-drying characteristics and quality of potato chips. Dry Technol 28:798–806

Markowski M, Bondaruk J, Błaszczak W (2009) Rehydration behavior of vacuum-microwave-dried potato cubes. Dry Technol 27:296–305

Dehghannya J, Gorbani R, Ghanbarzadeh B (2016b) Determination of bulk density of Mirabelle plum during hot air drying as influenced by ultrasound-osmotic pretreatment. J Food Measure Character 10:738–745

Aghilinategh N, Rafiee S, Gholikhani A, Hosseinpur S, Omid M, Mohtasebi SS, Maleki N (2015) A comparative study of dried apple using hot air, intermittent and continuous microwave: evaluation of kinetic parameters and physicochemical quality attributes. Food Sci Nutr 3:519–526

Yadav DN, Anand T, Sharma M, Gupta RK (2014) Microwave technology for disinfestation of cereals and pulses: an overview. J Food Sci Technol 51:3568–3576

Wray D, Ramaswamy HS (2015) Microwave-osmotic/microwave-vacuum drying of whole cranberries: comparison with other methods. J Food Sci 80:E2792–E2802

Soysal Y, Ayhan Z, Eştürk O, Arıkan MF (2009b) Intermittent microwave–convective drying of red pepper: drying kinetics, physical (colour and texture) and sensory quality. Biosyst Eng 103:455–463

Kumar C, Karim MA, Joardder MUH (2014) Intermittent drying of food products: a critical review. J Food Eng 121:48–57

Maskan M (2000) Microwave/air and microwave finish drying of banana. J Food Eng 44:71–78

Torringa E, Esveld E, Scheewe I, van den Berg R, Bartels P (2001) Osmotic dehydration as a pre-treatment before combined microwave-hot-air drying of mushrooms. J Food Eng 49:185–191

Sharma GP, Prasad S (2004) Effective moisture diffusivity of garlic cloves undergoing microwave-convective drying. J Food Eng 65:609–617

Dehghannya J, Emam-Djomeh Z, Sotudeh-Gharebagh R, Ngadi M (2006) Osmotic dehydration of apple slices with carboxy-methyl cellulose coating. Dry Technol 24:45–50

Dehghannya J, Gorbani R, Ghanbarzadeh B (2015) Effect of ultrasound-assisted osmotic dehydration pretreatment on drying kinetics and effective moisture diffusivity of Mirabelle plum. J Food Process Pres 39:2710–2717

Dehghannya J, Naghavi E-A, Ghanbarzadeh B (2016c) Frying of potato strips pretreated by ultrasound-assisted air-drying. J Food Process Pres 40:583–592

Dehghannya J, Gorbani R, Ghanbarzadeh B (2017) Influence of combined pretreatments on color parameters during convective drying of Mirabelle plum (Prunus domestica subsp. syriaca). Heat Mass Transf. https://doi.org/10.1007/s00231-00017-01995-00236

Crank J (1975) The Mathematic of Diffusion, 2nd edn Claredon Press, Oxford

Dehghannya J, Gorbani R, Ghanbarzadeh B (2016a) Shrinkage of Mirabelle plum during hot air drying as influenced by ultrasound-assisted osmotic dehydration. Int J Food Prop 19:1093–1103

Antonio GC, Alves DG, Azoubel PM, Murr FEX, Park KJ (2008) Influence of osmotic dehydration and high temperature short time processes on dried sweet potato (Ipomoea batatas Lam). J Food Eng 84:375–382

Chayjan RA, Kaveh M, Khayati S (2015) Modeling drying characteristics of hawthorn fruit under microwave-convective conditions. J Food Process Pres 39:239–253

Singh RP, Heldman DR (2014) Introduction to Food Engineering, 5th edition Academic Press (Elsevier Inc.), San Diego

Emam-Djomeh Z, Dehghannya J, Gharabagh RS (2006) Assessment of osmotic process in combination with coating on effective diffusivities during drying of apple slices. Dry Technol 24:1159–1164

Akbarian M, Ghanbarzadeh B, Sowti M, Dehghannya J (2015) Effects of pectin-CMC-based coating and osmotic dehydration pretreatments on microstructure and texture of the hot-air dried quince slices. J Food Process Pres 39:260–269

Therdthai N, Visalrakkij T (2012) Effect of osmotic dehydration on dielectric properties, microwave vacuum drying kinetics and quality of mangosteen. Int J Food Sci Technol 47:2606–2612

Azoubel PM, da Rocha Amorim M, Oliveira SSB, Maciel MIS, Rodrigues JD (2015) Improvement of water transport and carotenoid retention during drying of papaya by applying ultrasonic osmotic pretreatment. Food Eng Rev 7:185–192

Bai Y, Rahman MS, Perera CO, Smith B, Melton LD (2002) Structural changes in apple rings during convection air-drying with controlled temperature and humidity. J Agr Food Chem 50:3179–3185

Gamboa-Santos J, Montilla A, Cárcel JA, Villamiel M, Garcia-Perez JV (2014) Air-borne ultrasound application in the convective drying of strawberry. J Food Eng 128:132–139

Tan M, Chua K, Mujumdar A, Chou S (2001) Effect of osmotic pre-treatment and infrared radiation on drying rate and color changes during drying of potato and pineapple. Dry Technol 19:2193–2207

Bilbao-Sáinz C, Andrés A, Chiralt A, Fito P (2006) Microwaves phenomena during drying of apple cylinders. J Food Eng 74:160–167

Pan YK, Zhao LJ, WB H (1998) The effect of tempering-intermittent drying on quality and energy of plant materials. Dry Technol 17:1795–1812

Wang J, Xiong Y-S, Yu Y (2004) Microwave drying characteristics of potato and the effect of different microwave powers on the dried quality of potato. Eur Food Res Technol 219:500–506

Rahman MS, Lamb J (1991) Air drying behavior of fresh and osmotically dehydrated pineapple. J Food Process Eng 14:163–171

Simal S, Deya E, Frau M, Rosello C (1997) Simple modelling of air drying curves of fresh and osmotically predehydrated apple cubes. J Food Eng 33:139–150

Yadollahinia A, Jahangiri M (2009) Shrinkage of potato slice during drying. J Food Eng 94:52–58

Reyes A, Ceron S, Zuniga R, Moyano P (2007) A comparative study of microwave-assisted air drying of potato slices. Biosyst Eng 98:310–318

Rastogi NK, Nayak CA, Raghavarao KSMS (2004) Influence of osmotic pre-treatments on rehydration characteristics of carrots. J Food Eng 65:287–292

Noshad M, Mohebbi M, Shahidi F, Mortazavi SA (2012) Kinetic modeling of rehydration in air-dried quinces pretreated with osmotic dehydration and ultrasonic. J Food Process Pres 36:383–392

Jindarat W, Sungsoontorn S, Rattanadecho P (2015) Analysis of energy consumption in a combined microwave–hot air spouted bed drying of biomaterial: coffee beans. Exp Heat Transfer 28:107–124

Soysal Y, Arslan M, Keskin M (2009a) Intermittent microwave-convective air drying of oregano. Food Sci Technol Int 15:397–406
Ethics declarations
Conflict of interest
On behalf of all authors, the corresponding author states that there is no conflict of interest.
About this article
Cite this article
Dehghannya, J., Bozorghi, S. & Heshmati, M.K. Low temperature hot air drying of potato cubes subjected to osmotic dehydration and intermittent microwave: drying kinetics, energy consumption and product quality indexes. Heat Mass Transfer 54, 929–954 (2018). https://doi.org/10.1007/s00231-017-2202-5
Received:

Accepted:

Published:

Issue Date:

DOI: https://doi.org/10.1007/s00231-017-2202-5
Keywords
Energy consumption

Intermittent microwave drying

Low temperature drying

Osmotic dehydration

Rehydration

Shrinkage